By 2016, total mobile payment transactions will reach $27.05 billion, with users spending an average of $721.47 annually. Total mobile payment sales will rise faster than average spending per user in 2016 because of the growth in the number of overall users of the technology.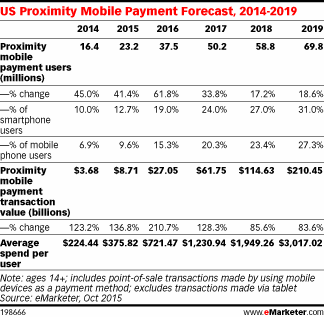 Are you wondering about the reasons behind the substantial rise in mobile payments?
There are several factors that have spearheaded the growth of mobile payments in the U.S. In 2015, we witnessed several mobile wallets like Apple Pay, Android Pay and Samsung Pay becoming a standard feature on newly launched smartphones. Merchants can attract new users by mobile payments at point of sales systems.
Advantages of Mobile Payments for Business
Enhanced customer experience:
Mobile payment ensures a seamless user experience while making the final payment. You can not only save time, but also reduce the chances of errors at point-of-sale. Several new and emerging technologies such as beacon technology have opened up new frontier to improve user experience. An in-store beacon connects with an app on the customer's phone using Bluetooth technology. This allows access to information such as store layouts, product details, deals and payment.
Security & Privacy:
Undoubtedly, robust security and privacy will deeply impact the overall acceptance of mobile payments. Despite several attempts to tighten security, credit card fraud continues to be one of the biggest pain areas. On the other hand, Apple Pay takes the potential of mobile payment security to new heights. The device uses encrypted NFC technology for connection with the payment terminal wirelessly and requires the user to touch the phone's built in fingerprint scanner to confirm identity. As a result, sensitive customer details are not compromised. This protects customer's privacy and merchant from data theft.
Cash flow management:
Mobile payment makes it relatively easier to keep a track of money spend. It also contributes to effective and seamless cash flow management, allowing organizations to manage all transactions from a single terminal.
Starbucks and Mobile Payment App Success Story
Undoubtedly the success of Starbucks mobile payment app comes to our minds. A leader in mobile payments, Starbuck encouraged consumers to use mobile apps to make payment. Starbuck announced that 11% of sales volume comes from its own mobile wallet in late October 2013. This effectively means about four million mobile payments per week and eight million consumers using mobile apps to pay.
Innovation, Technology and Simplicity: Key to the most successful wallet apps in the US
Back in 2009, Starbuck launched its mobile card app in 16 stores. The encouraging response to this program resulted in nationwide expansion. This program allows consumers to pay by allowing scanning of a barcode at the point of sale. At a time when most technology experts were skeptical about 2D barcode and the way it's used, Starbuck's team took 2D barcode and reversed the use by allowing the register to scan the 2D barcode instead of user scanning a 2D barcode.
Simply Brilliant & Elegant
This new program effectively utilized existing POS found at each and every Starbucks. Quintessentially, it was brilliant use of the technology, rather than reinventing the technology for change. Starbucks had one of the most successful retail loyalty programs in the US. But this success was based on diligent and meticulous research of the team. The company worked for decades to chart out the perfect program. This was not an overnight success story.
It is obvious that Starbucks app is helping the business at different levels. For instance, the app has helped lift its loyalty program My Starbucks Rewards. This app makes it easy to track purchases and get free drinks and other perks.
Finally
While we are still few years away from mass adoption of mobile payments as the new norm across merchants and consumers, there is a very urgent requirement for businesses to embrace this technology and prepare themselves to ensure they don't lag behind competitors and always stay ahead.