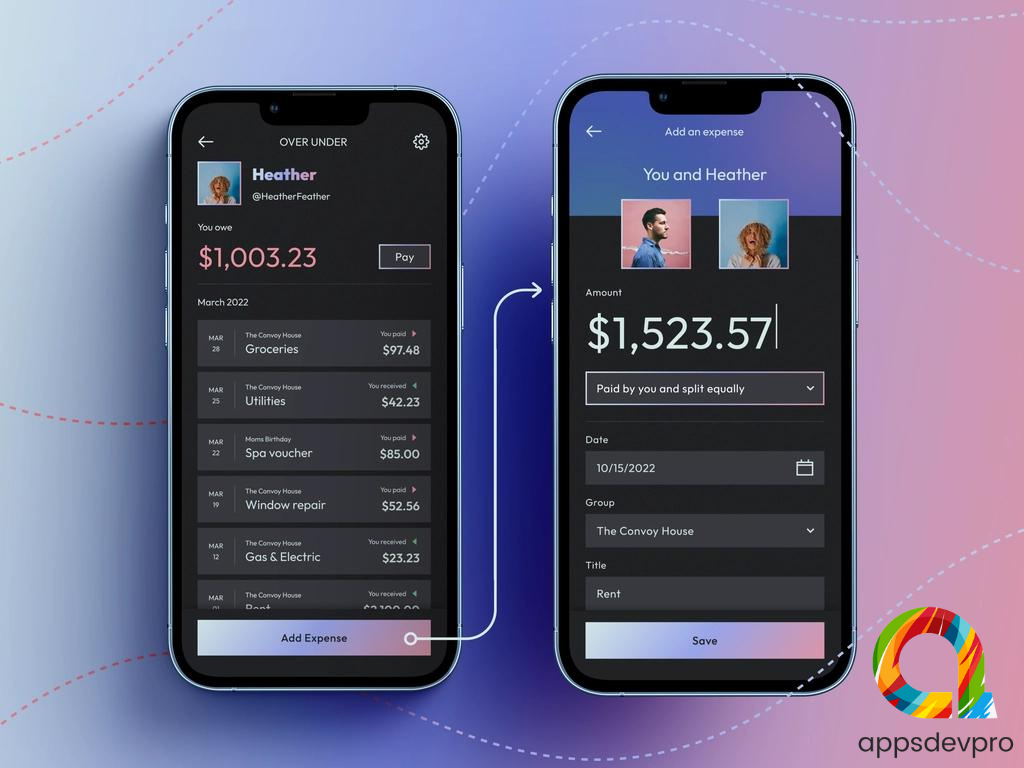 Isn't it challenging to keep a track of expenses and split the bill with pals when going out with friends, colleagues, or groups? But you can simplify the task by choosing to create an app like Splitwise to equally divide the bill among friends. Here's this blog that will explain the features, tech stack, and cost to create a bill-splitting app.
So are you looking for simple ways to create an app like Splitwise but not sure exactly what things to consider and how to get started? If yes, then you have landed at the right place!
This blog has covered everything right from cost to creating a bill-splitting app to a step-by-step app development guide.
Developing a bill-splitting app is an uncommon app idea, but in this technology-driven era, anything could become possible to develop with the help of expert coders. But before you jump straight on developing an app Splitwise, it is worth understanding what exactly it is.
What is a Bill-Splitting Application?
A bill-splitting app is an app that offers you the easiest ways to divide expenses between friends or family members and minimize the level of stress about who owes who. Split bill applications like Splitwise help you monitor, manage, and share expenses with coworkers without having to juggle paperwork and stress-full calculations.
To add the convenience of paying bills, some apps even allow you to connect your bank account details to pay the around right away.
Unlike traditional banking or money transfer apps, bill-splitting apps are developed with simple interfaces as they are usually used by students, youngsters, groups, or coworkers.
How Do Bill Spitting Apps Work?
Before directly jumping on the procedure to make a bill-splitting app like Splitwise, it is worth understanding, how it works. The workflow of the bill-splitting app is simple and easier. Before you get into the details of this app, let's quickly check out this video.
Bill split apps are basically designed and developed to eliminate the hassle of splitting payments. With such apps, people can enjoy splitting an amount in a few seconds. The best part about these apps is that they send notifications to everyone about the share and update the status about who has already paid and who left.
To make it easier to understand how useful and handy these apps are, you need to get into the details of who, when, and how these apps can be used.
1. For Corporates
Let's say a company is planning a corporate travel plan and every employee has to make a share in the commercials. That's where you can hire a mobile app developer in India to build an app to calculate the budget and make everyone pay their share equally. By using an app, every employee automatically got to know how much they have to pay for the trip and was able to make a payment using an in-app payment feature.
2. Roommates
In case, if you are living with roommates and you have to pay monthly rent, then how will you split the rent? Instead of calculating the expenses manually, one can use the bill split app and get things done in a quick time frame.
3. Friends or Colleagues
If you are going out with friends or colleagues and now it's time to ask for a bill and decide who pays how much. To seamlessly pay out the bill without having to ask anyone, you need to use the bill split app and make a payment.
These are the few most common situations while bill splitting apps can be used. But before you build a bill splitting app like Splitwise, let's understand how does it work? Let's get into the details …
A Step-By-Step Guide to Understanding Its Workflow
Here is a complete mechanism of bill-splitting apps that enables you to understand how these apps work:
Step 1: Send Invites To Your Friends To Download An App
By sending invites to your friends, you can make them familiar with bill-splitting apps, and let them download an app. To create an app like Splitwise, make sure you also offer simple login and free registration process. Also, you can share a link with your friends as well.
Step 2: Create Groups
Once your friends join the app, you can create a group by sending an invite to the desired members and enjoy effortless bill-splitting.
Step 3: Add Bank Account Details
To easily pay a bill through the app, make sure you hire app developers in India to add multi-payment methods and allow users to make payments right away. By using credit/debit card details, users can leverage the cashless payment benefits.
Step 4: Seamlessly Calculate And Pay
This is the main functionality of this app. All you need is to enter the amount and split it among desired users. It allows users to calculate and pay various informal debits such as shared meals, transport charges, room rents, and more.
Sounds simple!
If you have finally made a decision to create an app like Splitwise for Android, then decide, where you want to launch your app. Whether it's for Android or iOS users? If you're initially planning to launch on a single Native Platform, then it would be suggested to hire Android app developers in India as majorly of the app market share is captured by the Google play store.
But the question is what functionalities and features do you need to consider integrating into a bill-splitting app like Splitwise?
Key Features and Functionality To Include In a Bill-Splitting App
When you made a decision to create an app like Splitwise, then you need to make sure you add the most effective features to deliver an excellent experience.
Since it's the most important part of your app, hiring Indian Android app developers really make sense as they may help you pick the most impactful feature for your app.
App developers at AppsDevPro have already examined the top features of various bill Splitting apps like Splitwise, Tricount, Settle Up, and more, there can help you come up with a list of necessary features.
So let's find out what features you should include in a split bill app to make it popular and successful in the market.
Let's get started!
Features To Include In Bill Splitting App 
User Login: To get started with an app, allow users to download an app and log in to the app using multiple registration processes including mobile number, email ID, or social media profile. Make sure, your app UI must be simple to navigate and easy to use and allows users to access the app's service flawlessly.
In-App Calculator: With this feature, users can directly just enter the amount and able to split the expense fairly among friends and coworkers without juggling with paperwork.
Add Bank Details: To deliver a cashless experience, you can allow users to add their credit/debit card details and let them directly transfer the amount to the concerned person's account.
App Wallet: This would be an advanced feature of bill splitting app that can be easily created by hiring Indian software developers. with this feature, users can directly transfer money using their wallet credits.
Notification: Once the group is created and expense has been divided, an app will automatically send a notification to the group members about the amount they have to pay. Also, users can set reminders for paying monthly rent or utility bills.
OCR System: This could be one of the most important features in your app that automatically read bills, saving time for users and cutting down the hassle of manual calculations.
Authentication and Security: While it comes to using any FinTech app, security protection is one of the major concerns. Since bill-splitting apps are also dealing with money, so make sure that your app is encrypted.
Send Invite: To make your app work, make sure you add a feature that allows users to send invites to their friends and able create and edit groups that have already been built in-app.
Add Expense Details: Allow users to view the details of bills and money transfers coming from each group member. The accountable members can track who has paid and who's due.
These are the few most common features that you can consider including in the app by hiring Indian mobile app developers. There's a scope for adding more features as well, but the cost and time of app development will jump off accordingly. But how much does it cost to create a bill splitting app like Splitwise…
How Much Does It Cost To Create a Bill Splitting App Like Splitwise?
To create an app like Splitwise, you can expect to pay anywhere from $12,000 to $15,000+. However, the advanced version of bill-splitting apps like Splitwise may cost you around $20,000 to $25,000.
Wondering why it's so expensive in cost?
Well, the matter of fact is, it might look simple and straightforward app, but to make it work flawlessly, there are powerful technologies and features supporting the back of the app.
So if you are wondering why there is a huge difference in the above commercials, then you also need to understand the important factors affecting the app development cost. The cost can greatly vary depending on such below factors including:
Image Source: angularminds.com
The complexity of the app – Whether you are planning to create an MVP solution, Average Level app, or a modern app with all advanced features? The cost can according to to vary for the simple app it may cost $10,000+ whereas for advanced versions the cost may fall between $12,000 to $20,000.
The Choice of Operating System: Decide whether you are planning to create a native app or a hybrid app. By using a cross-platform app development frame, you can save up to 40% on development costs and make your app run on multiple devices without having to hire mobile app developers in India for any specific language.
The UI/UX Design: The cost can greatly depend on the complexity of the app design. Make sure you design a simple User-Interface which is easy to use and simple to access. To create a simple app design, you can hire a UI/UX designer with an hourly cost of $15 to $20.
App development Team: To create an app like Splitwise, you need to hire an app development team consisting of a business analyst, project manager, app developer, UI/UX designer, and quality assurance engineer. The hourly cost of the app developers can be ranging from $50 to $150 depending on the location you choose to hire developers.
So these are the major factors affecting the app development cost. But still, before you trust these estimations, keep in mind that these are just rough estimations. The real value will be depending upon the complexity of your project needs and business requirements.
Conclusion: How Do AppsDevPro Can Help You Build Bill Splitting App Like Splitwise?
In this digitized era, using such bill-splitting apps can be a great convenience for various people. But developing it with the right functionality, user-friendly interface, and strong backend will be a great challenge for businesses. So you can hire an Indian mobile app developer that can help you seamlessly integrate the right choice of features and able to create a design that enables you to generate revenue. But the question is where to hire the best app developers in India.
That's where AppsDevPro comes into the role and helps you hire dedicated app developers for your project with years of industry experience. So if you have any app development requirements and looking for a capable team, then you can drop a query below or contact us for the estimations.
FAQs
Is It Worthy To Develop Bill Splitting App?
Yes, it is completely worth investing in bill-splitting apps. According to the survey report, the global bill-splitting apps market will be generated $203.43 million in revenue in 2025. If you are a startup and looking for the best revenue-generating Fintech app ideas, then developing a bill-splitting app like Splitwise will be a worthy decision.
What Does Building a Bill-Splitting App Like Splitwise Is A Worthy FinTech App Idea?
As it adds a great level of convenience and allows users to easily split an expense and able to transfer the money the right way. So let's have a look at the reasons that make the bill-splitting app a worthy app idea:
Easy to use and simple to access by anyone.
Free to download and register.
Secure and safe app to conduct transactions.
No transaction fees or limits.
Easy money requirements.
No manual tracking and calculation for bill splitting.
Keep a transaction record.
How Much Does It Cost to Build a Bill Splitting App Like Splitwise?
The average cost to make a bill-splitting app like Splitwise will be ranging from $12,000 to $15000+, depending upon the complexity of the app.
How Long Does It Take To Build a Bill Splitting App?
The average time to develop a basic app version of Splitwise app will be 3 months to 5 months, but it can take up to 9 months for the advanced app version.
How Can You Make Money Through Bill Splitting App?
The simple way to make a profit from your bill Splitting app is to use the best monetizing strategies as mentioned below:
Charge transaction fees.
Offer premium features with a subscription plan.
Charge fees for creating unlimited groups.
You can also check our other services:
Hire Mobile App Developers in India, Hire Xamarin App Developer in India, Hire iPhone App Developers in India, Hire Android App Developers in India, Hire Flutter App Developer in India, Hire React Native Developers in India, Hire Kotlin Developer in India, Hire Web Developer in India, Hire PHP Developer in India, Hire Laravel Developer in India, Hire Nodejs Developer in India, Hire App Developers in India, Hire AI Developers in India, Hire Java Developers in India, Hire Python Developers in India, Hire Javascript Developer in India