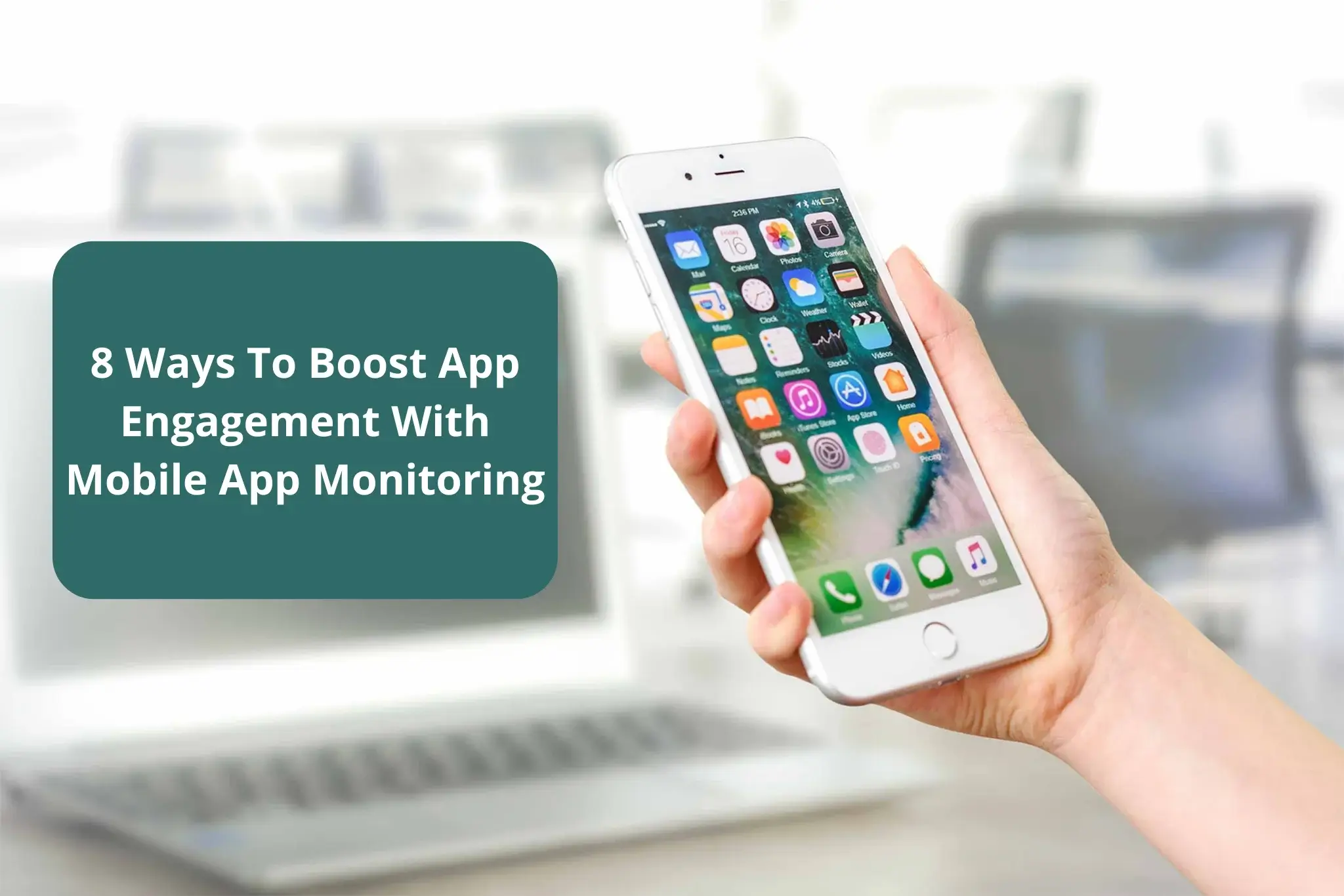 Maintaining mobile app performance and keeping it as responsive as it was in the early days isn't an easy feat. As your user base grows and the product has more features, it becomes more challenging to monitor its performance. However, this blog will help you find ways to boost app engagement with mobile applications.
Trying to boost app engagement with mobile application performance monitoring? But no idea what exactly it is, how to get started, and what monitoring tools you will need. If yes, then you are at the right place.
Let's quickly check out this video to understand super quick ways to increase user engagement with the app.
With the fact that the community of mobile users has grown to 95 million individuals, smartphones have turned out to be the ultimate platform for business promotions.
According to the statistics, on average, smartphone user spends 92% of their mobile time on mobile applications.
Also, a 45% increase is expected in app downloads in 2, bringing the total to 258 billion app downloads.

Image Source: www.data.ai
With these statistics, it won't be wrong to say mobile applications have become a great way to turn your visitors into potential customers. But the real challenge is how to keep them engaged with your app.
There are more than 4.5 million apps available in the Apple App Store and the Google Play Store. Every day, thousands of businesses are launching mobile apps with high-end features and functionalities. Therefore, with so much competition in the market, you need to ensure that your app is fully optimized for success.
If you are thinking that hiring mobile app developers in India is the quickest solution to increase your app downloads, then you might be mistaken. So how would businesses make sure their applications stand out from the crowd if they want to make sales and revenue streams?
For app developers looking to increase user engagement, performance monitoring can be an effective solution to boost app engagement with mobile application performance monitoring. It will help you fix bugs and improve app security.
Before you dig deep into the methods to boost app engagement with mobile app performance monitoring, let's have a quick look at the key highlights of the blog:
What is Mobile Application Performance Monitoring?

Why Is It Important to Monitor the Performance of Your App?

How Can You Measure Your App Performance to Boost App Engagement?

4 Proven Ways to Improve Your App Performance and Boost User Engagement

Conclusion: How AppsDevPro Help You Increase Your App Downloads and In-App Monitoring?
Let's get started with these points in detail to learn how to boost app engagement with mobile app performance monitoring.
What is Mobile Application Performance Monitoring?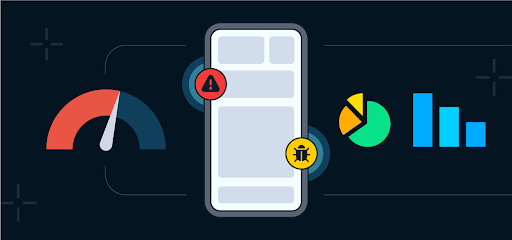 Image Source: blog.instabug.com
Mobile application performance monitoring (APM) solutions can help organizations proactively monitor their apps' user experience in real-time. With APM, you can keep track of app analytics and be able to take instant action when things aren't going well.
APM's foundational building blocks, analytics, and data visualization components that help expose the root cause of an issue, are followed by logging, alerting, and routing features that are triggered by pre-set rules or thresholds.
This way, any error or performance anomaly is caught before it escalates into a customer service incident.
Enterprises that care about their app's performance know the value of taking a proactive approach to managing app quality. Therefore, they'd better hire a mobile app developer in India to proactively keep an eye on app movement.
In today's competitive marketplace, businesses simply cannot afford the negative impact bad reviews can have on app ratings and revenue. In order to stay ahead of the curve, they need to be able to proactively identify and fix issues that could lead to unhappy customers.
Boosting App Engagement With Mobile Application Performance Monitoring: Why Is It Needed?
Why is app engagement important? You may have invested a huge amount in app development, but if you have come to this post, then that means you must be encountering any of these below issues:
Your app has a sudden drop in the number of users.

Might be your app fail to convert visitors.

Suddenly your app becomes slow or performs poorly.
That's where you need to hire software developers in India to conduct "Application Performance Monitoring". This is the simplest way to boost app engagement with mobile app monitoring.
In simple language, one could describe application performance monitoring as both a solution to problems and a proactive monitoring process. It will increase customer satisfaction and make it more difficult for competitors to take your business away.
So in a nutshell: The APM process can help you boost user engagement and app downloads by offering these below-mentioned technical and commercial advantages.
But app performance monitoring has become much more than identifying bugs, analyzing performance, and monitoring user metrics. To boost app engagement with a mobile app, you need to understand how to measure your app's performance.
How Can You Measure Your App Performance to Boost App Engagement?
When it comes to app performance, mobile users are picky. If your app loads slowly or crashes, they'll uninstall it and be gone forever.
Unfortunately, every day, organizations waste thousands of dollars when their apps fall short of user expectations.
Performance monitoring can be done by measuring various metrics on a regular basis. You may be thinking, I have seen my app in use, and it works. That doesn't mean your app is actually performing as well as it should be for your customers.
To boost engagement and increase customer loyalty, mobile application performance monitoring can help determine if an update will provide a meaningful return on investment.
So if you're willing to look at your performance numbers more frequently and take quick action on them, you can fix issues and boost engagement fast.
But the question is "How Can You Measure Your App Performance to Boost App Engagement? "
Here are the few important KPIs and mobile app engagement metrics to constantly monitor by hiring an app developer: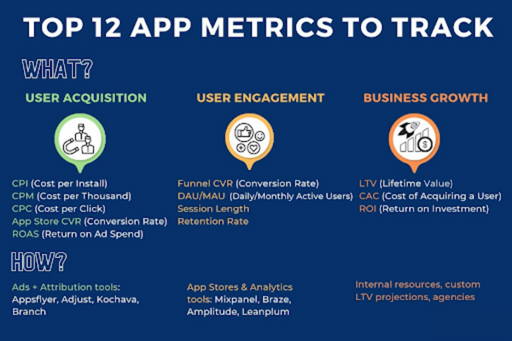 Using General App KPIs: Understanding Concepts and App KPIs To Boost Engagement
So, before we dive into this topic, let's discuss what KPIs are. A KPI is a key performance indicator – a number or ratio that tells you how your business is doing. There are many ways you can measure KPIs depending on the type of business and goals you have set.
General app KPIs are those measures that can be applied across all apps, regardless of the purpose of the app. In essence, KPIs measure how much the user interacts with the app on a day-to-day basis. That can range from engagement levels to retention rates and more.
Hence, businesses should know these metrics in order to boost app engagement with mobile app performance monitoring steps:
1# Monitoring Mobile App Download and Uninstallations
When determining the success of a mobile application, it is important to monitor how often it is downloaded. If the number grows, your app is most likely doing well. The best method to determine if this is true is to compare the number of downloads against the number of uninstallations.
If the former spikes unexpectedly or even begins to exceed the number of downloads, poor performance may be at play.
2# Frequently Tracking the User Growth Rate
If you want to measure the success of your app, you should not only look at who becomes a user but also at the rate at which your user base grows.
If you notice a sudden spike in users for your app, you ought to be able to determine where they came from. You can also choose to hire app developers in India to help you track these metrics. This allows you to measure the impact of the change and perhaps replicate the recipe in the future.
In addition to measuring the growth of your app's user base, you can predict future growth by calculating the number of daily active users over a period of time. The number can be used to plan and strategize future meetings.
3# Monitoring App Unistallations
One of the biggest problems app developers have is that as soon as an app gets installed, there is a huge risk that people will quickly uninstall it if they're not seeing any value. This is usually caused by one of two things: either their needs weren't met or they found another app to do what they wanted.
People won't be willing to stick around and give you time for all your features and benefits to the surface, so the quicker you can address a problem or fix something, the better.
If a lot of people are uninstalling, this may indicate an issue with your mobile app – you should address it immediately.
Read More: 12 Top Mobile App Development Trends You Can't Ignore In 2023
4# Compare Reaches Vs Impressions
Reach refers to the number of people you are connecting with. A high reach means your message is being seen by a wide audience. Impressions refer to the number of times someone viewed your content. A high impression is not as valuable if there was no interaction or response from viewers.
There's also time on the page, which measures how long an individual spends viewing and reading your post, tweets, or app screens. You want to create content that is engaging so they spend more time reading and watching what you have to offer.
An increase in shares can be a good indicator that users are engaged with your posts because they believe it has value for their friends too. Likes, shares, comments, retweets, and replies all show engagement levels because those actions require some form of active participation rather than just passive consumption of information.
So you can hire an iOS application developer in India to customize your post to be compatible with all operating systems. This will ultimately deliver an excellent user experience.
Considering UX and Performance KPIs
By keeping track of these metrics, you will be able to estimate the performance of your app from a technical standpoint and make changes that will positively affect the experience of your users.
Typically, you'll need some understanding of KPIs if you want to be able to properly read them.
5# Screen Resolution
You'll be able to make sure your app meets the expectations of popular devices when you know what screen resolutions are popular. You need to monitor the screen resolutions of your users to ensure you deliver an app that works correctly for everyone.
6# Analysing App Loading Speed
If you ask us, 'How long should my app take to load?' we'll have a more thoughtful answer for you. So the rule of thumb is that the faster an app responds, the better – otherwise, users get frustrated and just leave.
According to a market survey, an app should load in under 2 to 3 seconds. And a fast-site load time leads to a lower bounce rate.
Check out what Think with Google has to say about it: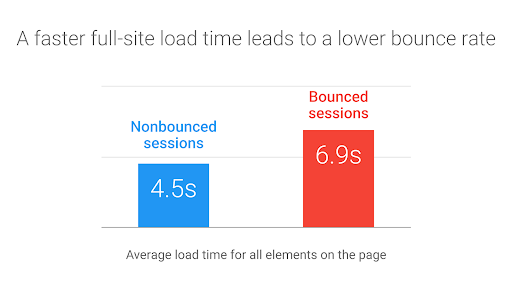 Image Source: storage.googleapis.com
7# Crash Reporting
It's important to know what went wrong, what caused the crash, and what the repercussions are when mobile apps break. Hiring app developers in India may be the best strategy for getting your app diagnosed. But still, keep in mind that poor memory management, unexpected API changes, or excessive code are some of the reasons why mobile apps crash.
Crash analytics will reveal these causes and consequences. Data-driven troubleshooting will save you time, and allow you to dedicate that time to delivering an even more pleasing user experience.
Read More: 60+ Top App Ideas For Startups To Launch In 2023
8# Monitoring Device Performance
Lastly, let's look at the three technical performance metrics: memory, power, and local storage. The former refers to "the average and maximum memory consumed by an application".
The larger its value, which is also a result of memory leaks, the higher the chance of the app crashing. An application's power consumption is an indication of how quickly it drains the device's battery, either because of the CPU, features, or how it is written.
Lastly, local storage is all about how well the application handles refreshing, loading, and cleaning data, especially in offline mode.
In a nutshell: Practicing these KPIs on regular basis will help you measure the success of your app. But now the question is how to boost app engagement with mobile app performance monitoring. Let's learn some impactful ways to improve the app performance and enhance user engagement..
Application performance monitoring is a key component of any successful business. It gives you visibility into what your users are experiencing with your app or website, ensuring it's performing optimally.
Proven Ways to Improve Your App Performance and Boost User Engagement
In this thriving mobile app development industry, developing a unique mobile app and getting thousands of app downloads is a big challenge.
So finally the time has come to look at the tips and tricks that make your app perform better. With the implementation of these points, you can boost app engagement with mobile application.
Here are the most important and effective actions to become competitive and boost app performance.
Tip 1# Create an Unforgettable Customer Experience
So what exactly is customer experience? It is basically a customer's view of your product and services. Based upon this review they create a brand image in mind and make a decision whether they want to continue with an app or not.
So how to deliver an excellent customer experience?
Basically, customer experience revolves around two primary points: Product and Customers!
No matter how brilliant a product or service you are launching, if there is an issue with an app, people look for customer support. The quality of the app depends on what type of app services you are offering. If customers don't receive it, they might stop using an app and won't recommend your products further,
And same goes with the other way round as well. You can make a great service by hiring the best iPhone application developers in India. They will make sure your app will work 24*7 seamlessly and ensure a good customer experience.
This ultimately helps you boost app engagement with mobile apps and ensure more app downloads.
Tip 2# Advertise Your Mobile App Engagement Strategy
You may have developed an exceptional app with AI-driven features. But what if the app is not getting any downloads?
Let people know about your app first! And the best idea to boost app engagement with mobile apps and increase app downloads is to pick a unique advertising strategy.
With ads, more and more people know about your app, and if it is encouraging, then they will buy the subscription as well. So here are the recommendations for the ad to increase app downloads:
In-App Advertising: You can take advantage of this strategy by using the ad space in any mobile app that offers third-party advertising. The perks of advertising are- using a large mobile app network, easy access to your app, and targeting selected groups.
Social Media Profile: One of the easiest ways to reach the masses, is to create a social media profile for your product.
Search ads on Google Play Store and Apple App Store: Search ads help users to discover your app when they browse the mobile app store.
Create a Website: You can hire a web developer in India to create a website to inform customers about the app and its functionality.
Content marketing strategies: Using blogs, social media platforms, and YouTube channels to boost app awareness.
In a nutshell: Using these advertising strategies will not only boost app engagement with mobile app but also allow you to monetize your app.
Let's check out the video to quickly learn about how to boost app engagement with mobile app. What things you need to measure and tips to follow…
How to Increase User Engagement With Mobile App From the Day 1?
Tip 3# Create a Flawless UI & UX(User Experience)
When it comes to creating an app with the aim of making it stand out from the crowd, most people make the common mistake of creating a complex UI and UX design. Wondering how it is related to user engagement?
Well, the complex user interface always keeps you confused about the accessibility of the app. And no user has that much patience to learn how to access things on the app. They have thousands of alternatives, so make a design in 3 mins whether they to stay or quit an app.
Hence, the user interface directly affects the entire user experience right from the moment they have downloaded an app.
Here are the pro tips for creating an excellent user experience:
Look for a simple, easy-to-access app design.

Analyze your user's needs and create a solution that resolves their pain points.

Hire software developers in India that understand important components of the UX design process. They may include research, analyzing, designing, and validating the idea.
In a nutshell: To create the best user experience, you need to analyze user's needs and accordingly create a design that can be flawlessly accessible.
Tip 4# Look For Personalising Features In App
Mobile app personalizing features are all about boosting the user experience with the mobile app. So if you are looking the ways to boost the user experience with mobile apps then look for app personalization tips:
Here are the personalized features that you can implement in your app:
Creating Pop-Ups and Dialogue Boxes: Leveraging advanced technologies, making a prediction of where and when the user will need a particular bit of advice, assistance, or information (while using the app), etc.
Adjusting the Displayed Content to Users' Needs: Content tailored to the user's needs, motivations, etc., provides a personalized experience. To tailor the content to your customers, you might find creating a user persona helpful.
Implementing Push Notifications: If your users receive a message (a notification) at just the right time and place, with relevant content, they will respond positively.
Location-based app personalization:

Based on the location of the user, you can create content, push notifications, recommendations, and search recommendations. This will help you

boost app engagement with a mobile application and ensure more downloads.

Discounts and Special Offers: It is always best to keep customers interested and new customers coming in with the latest offers. They're even more enticing when the discount is tailored to a specific user's profile. One such type of code is a coupon linked to what a person has bought in the past.
Search Recommendations: These are suggestions that are automatically provided by the app when you type in the search bar and make a request. The program also generates a sense of individuality, predicting what a user intends to type before he or she actually does so, which is very convenient for them.
In a nutshell: by measuring, analyzing, and implementing these tricks, you will help boost the user experience with the mobile app. In fact, you can hire an Indian mobile app developer to complete the app optimization process. This will ensure a seamless user experience and boost app engagement with the mobile application.
Conclusion:
How AppsDevPro Help You Increase Your App Downloads and In-App Monitoring?
AppsDevPro is a globally recognized mobile app development company that has been engaged in creating bespoke solutions for over a decade. Being backed by 500+ dedicated developers, they understand the market needs and can help you tailor a solution that meets your business goals.
So, whether you are looking for app development solutions or potential ways to boost app performance and increase app downloads, then AppsDevPro is the ultimate platform to hire a mobile app developer in India.
They have knowledge and expertise in customizing and optimizing mobile apps that will get you more app downloads and improve user experience.
So if your app is struggling with issues like low performance, poor user engagement, or fewer app downloads, then you can contact our experts right now to get the best deals.
FAQs
1. What Type of Monitoring Tools Do You Use to Analyse App Engagement?
Regardless of how good your design or interface may be, people will abandon it for another app if it takes too long to load. It's critical to not only monitor the outside response to your app but also your internal performance indicators in order to meet customer expectations. So how would you boost app engagement with mobile application?
Pay attention to metrics like average session length because this can tell you a lot about how successful your business is doing with customers. Here are a few of best choice of tools that you can use to monitor app performance:
By monitoring your app's performance with Localytics, you get key insights and find areas of improvement to increase user engagement. The product will offer a holistic view of your mobile app, including functionality, stability, and growth.
Google Analytics for iOS SDKs
The Google Analytics SDKs for iOS enable developers to add the measurement of ad impressions, events, and in-app conversion actions directly into their app. This is beneficial because it gives mobile developers a single system for monitoring user behavior across platforms.
Developers can access Mixpanel insights to know the right moment for push notification. It tracks conversion rates on in-app campaigns, as well as engagement rates and completion rates. The result is that you'll have all the data needed to make informed decisions about which marketing campaign will yield the best results.
2. How To Improve eCommerce Mobile App Performance?
With mobile apps, developers need only think about getting a high rating and how long the app will last on a device. They also need to worry about how often it is downloaded, used, and shared.
This can all be tracked by using mobile application performance monitoring tools. With these tools, you'll be able to see what users are experiencing when they're in your app as well as which devices and operating systems are performing the best.
Overall, this will help you easily boost app engagement with mobile app. To know more about mobile app performance monitoring tools and strategies, you can contact to our experts!
3. Why do we use performance metrics for mobile app development?
When you are analyzing the tips about how to boost app engagement with mobile app, performance metrics are important to consider. You need to ensure that the app is being used in an appropriate manner, and keep an eye on which areas of the app are getting better engagement.
The performance metrics are not just necessary when considering a business's profit margin and value on the stock market, but they can also help mobile application developers understand how users interact with their applications. When you have all this information at your fingertips, it's easier to see what changes need to be made.
4. How Do I Increase Mobile App Engagement?
How to boost app engagement with mobile app? Monitoring the performance of your mobile app is crucial in order to identify and correct potential app issues before they impact users. Through regular monitoring, you can uncover what features are driving user engagement and which features could use some tweaking in order to improve the overall experience.
Successive analytics will enable you to not only understand how your app is being used but also glean valuable insights into how users behave when interacting with it.
If users stop engaging with your app after an update, then there may be an issue impacting their experience.
You can also check our other services:
Hire Mobile App Developers, Hire Xamarin App Developer, Hire iPhone App Developers, Hire Android App Developers, Hire Flutter App Developer, Hire React Native Developer, Hire Kotlin Developer, Hire Web Developer, Hire PHP Developer, Hire Laravel Developer, Hire Nodejs Developer, Hire Microsoft Developer, Hire ASP.NET Developer, Hire Angularjs Developer, Hire Reactjs Developer, Hire Vue.js Developer, Hire E-commerce Developer, Hire Magento Developer, Hire WordPress Developer, Hire MERN Stack Developers, Hire MEAN Stack Developers, Hire Dedicated App Developer