How much does it cost to hire software developer? If you are looking forward to building an app for your business, then determining the cost of hiring software developer will be your first concern.
But don't worry! Here we have covered everything that helps you understand where to start, what to consider and what to count.
Usually, when you hire a software developer, the price you'll pay is typically determined by the amount of time that person works on your project and the difficulty level of the problem you're having them solve. 
Because we work with so many software developers, we decided to do some research to come up with a rough estimate of how much it costs to hire a software developer, depending on which service or product you're looking for, and how long you want them to work on it.
However, the results might surprise you!
Now hiring a software developer or estimating its recruitment cost is no more left a simple task. There is so much to understand and evaluate.
So let's get into the details to understand the cost to hire software developer in 2023.
How Much Does It Cost to Hire a Software Developer?
Whether you are a startup or a leading entrepreneur, how much does it cost to hire a software developer will be a pressing concern to everyone. But unfortunately, there is no straightforward answer to this question.
There is a different cost to hiring software developers to different businesses. So let's take a sneek peak of market survey reports and understand the opinion of market experts..
In a nutshell, the cost to hire an Indian app developer can widely vary depending upon many factors such as experience, certifications, additional skills, and more. Before you get straight into the process to hire Android app developers in India, it is worth understanding the factors affecting the cost to hire software developers.
What Are The Major Factors Affecting the Hourly Cost to Hire Software Developers?
A software developer's hourly rate is determined by many different factors, including their expertise, experience level and location. For example, in the United States, the average cost of a software developer ranges from $120-$200 per hour. Some of the additional factors that can affect hourly rates include: 

1. The Type of Project Being Done (i.e., maintenance vs. new development)
The cost to hire software developer majorly depends upon your project scope. Different projects may have different needs and accordingly, there comes a variation in hourly cost for the developers. A small project may need only one developer, but a large project may require more. 
In a nutshell, when shaping the scope of your project you should determine:
The complexity of the project;

The number of app developers required for the project;

Requirement of third-party integrations.
For example, for an app that tracks the items on your grocery list, you might only need one developer to work on the mobile app and web version of the app. But for an online shopping site with tens of thousands of products in its inventory, it will likely need more developers working on various aspects of its software. 
In a nutshell, the more complex and various technologies required, the higher custom software development cost will be.
2. Programming Language: Choosing Native or Cross-Platform Programming Language
Different programming languages also impact cost to hire software developer. Determine whether you are hiring an Android app developer in India with specific knowledge of Java or a React Native developer that can build an app compatible with multiple platforms. 
The hourly cost to hire software developer greatly depends on choice of programming language you pick for the project.
3. Developer's Experience and Skills
These are the important factors affecting the cost of hiring software developers. For example, cost of hiring software developers with five years or less experience will typically charge about $50-$75 an hour for their services. On the other hand, those with 15 or more years of experience can command rates as high as $80-$120 an hour. 
Similarly, hourly rates will range between $20-$50 per hour for those who are entry-level programmers but have intermediate programming languages knowledge (e.g., Java) while they will be closer to $150 per hour for those who are senior programmers and have extensive programming languages knowledge (e.g., C++).
4. Freelancer vs Full-Time Software Developers
If the company has a staff of full-time employees, then they will likely be paid higher wages than freelancers and contractors. Hiring someone as a contractor rather than a full-time employee could save companies as much as 50% per year on salary alone.
5. Cost To Hire Software Developer Can Vary As Per Location 
The cost of hiring software developers can also depend on where you are hiring software developers. The hourly cost to hire app developers will be different at different locations.
Let's understand the hourly cost of app developers at various locations:
Offshore programmers can be hired at about 25% less salary rates compared to those living in developed countries such as USA or Canada. However, these offshore teams may not provide 24/7 support for your business. They might charge a premium for emergency situations. 
On the other hand, if you're looking for talent in Europe or the Asia Pacific region, including India and China, the prices decrease dramatically due to the low cost of living and availability of high talent.
The average price range for freelance software developers falls between $75-$150 per hour depending on skill set. That equates to $30k-$60k annually assuming 40 hours per week and 8 weeks off per year. 
As a result, many companies choose to hire people on a freelance basis because there's no overhead. If you've got a lot of time-sensitive tasks coming up, and don't want to commit long-term yet, consider going the contract route. 
Alternatively, consider hiring someone full-time Indian mobile app developer as they can often deliver faster results over short periods of time. What's important to note is that most freelancers are able to cover all types of IT service areas so be sure you know what type of person would best suit your needs before deciding which avenue to take.
Read More: Top Software Development Trends To Look For In 2023
Software Development Price Guide & Hourly Rate Comparison 
While there are so many factors affecting the hourly cost to hire software developer, you must cost confused about determining the cost to hire Android app developers.
If you are still trying to figure out how much will it cost to hire a software developer , then you first need to understand the types of software development companies and its hourly rate comparison.
Basically, there are three options to hire software developers in India- Recruiting in-house developers, Freelancers and outsourcing software developers. The average cost to hire software developers are different from one another. 
So let's get into the details of each hiring model:

1. Hiring In-House Programmers
Payscale estimates that corporations in the US must pay $44 – $82/hour to hire in-house software developers to work on software development projects. In-house software developers offer many benefits, including feature customization, project control, and timely updates, but small businesses and startups would be limited to this option because it can be quite expensive.

Image Source:  payscale.com
2. Cost to Hire Freelancers
Based on the Glassdoor ratings, freelancers charge an annual rate of $82,978 per year and the cost will vary according to the project, ranging from small to enterprise. However, when hiring freelancers for large and enterprise-level projects, it can be a costly, but unrewarding, decision as the freelancer is more prone to abandoning projects, sometimes mid-project and sometimes unable to provide a continuous stream of support.
3. Cost To Outsource Developers
Outsourcing is considered the best choice for software development as you have access to worldwide talent with varying prices. Regardless of the size of your business, it is easy to find a software developer that fits your budget through this hiring option. Geniusee has been quoted saying that using an outsourced software developer can cost from $18 to $50 per hour depending on where they are from. 
Different options of hiring an app developer cost you different prices. So these options bring you an idea about how much each option will cost you in their own ways.
But how would you decide which option is best to choose and when?
A Detailed Analysis of Cost to Hire Software Developers and Their Comparison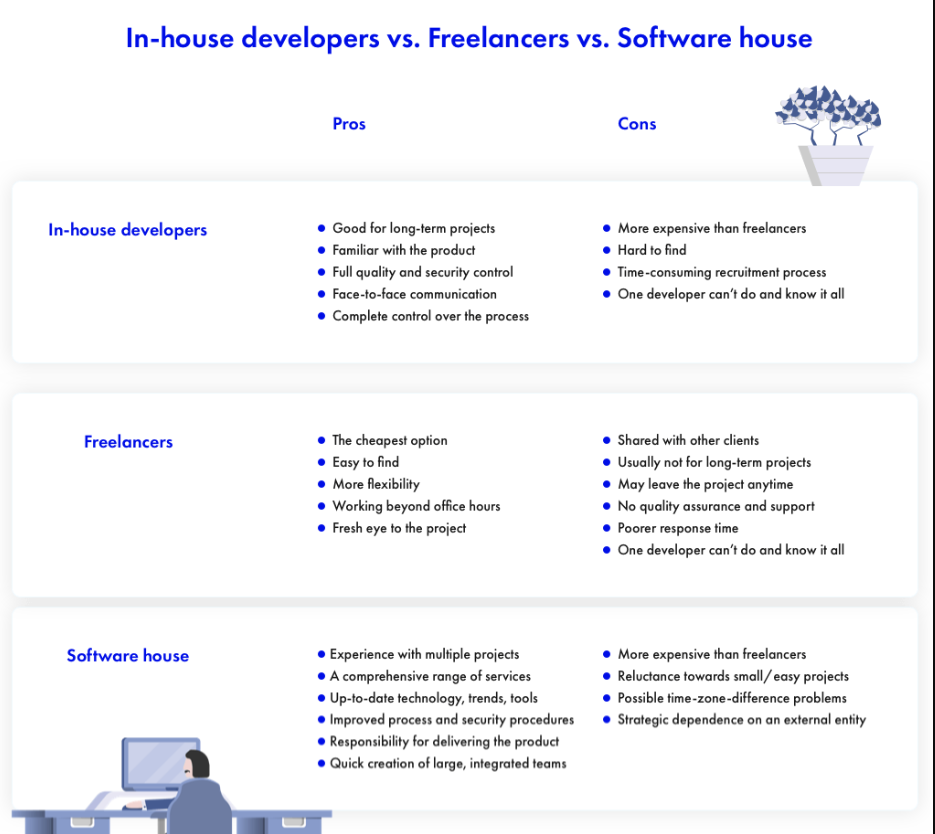 Image Source: tsh.io
Global Cost to Hire Software Developer: Details That You Can't Miss!
How much does it cost to hire software developer? Answering this question without knowing where your developers are located is quite challenging. To get an accurate estimation of the hourly cost to hire an iOS app developer and programmer, you need to check the software development cost region-wise.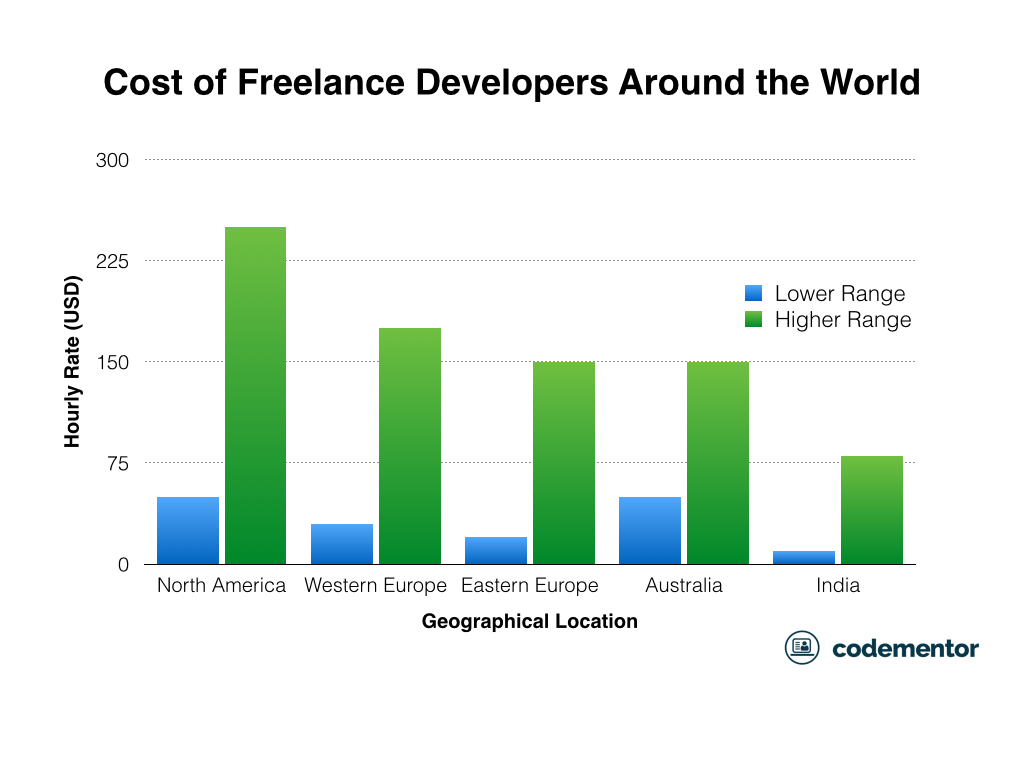 Image Source: cdn-employer-wp.arc.dev
Hourly Cost To Hire Software Developers in the USA
The average hourly cost to hire software developer in the United States is $110. However, that number can fluctuate depending on their experience and where they live. 
For example, an experienced software developer in the San Francisco Bay Area may charge $160 or more per hour while an entry-level programmer might only charge $60 per hour.
If you need someone to start immediately and are willing to pay more for them, you might be able to find someone charging as much as $250 per hour.
Hourly Cost To Hire Software Developers in Europe
It's easier than ever before to find freelance software developers for hire. But how do you know what price range is reasonable for your project? 
There are a few factors that determine the total cost to hire software developer, and it turns out that the hourly rate can vary drastically from country to country. For example, according to PayScale, an average developer in Denmark earns €68.3 per hour whereas their counterparts in Poland earn €8.7. That's more than six times as much!
To help you get started with setting your budget, we've compiled this handy list of average hourly rates across Europe:
Denmark – €68.3 Poland – €8.7 Spain – €19.5
Average Cost to Hire Software Developer in the India
The hourly cost to hire software developers in India is between $10 and $30 per hour. With these rates, it's easy to see how quickly the costs can pile up. 
But there are many other factors that affect the final price, such as: the size of the project; whether the developer will be working on it alone or with others; what software languages or frameworks need to be used; if there are any regulatory requirements for data protection or compliance; and whether you're looking for just an initial consultation.
Read More: 60+ Top App Ideas For Startups To Launch In 2023
How To Hire the Best Software Developers For Your Project?
The cost to hire software developers will vary depending on your budget and the type of developer you need. What is the best way to hire software developers? There are many factors that should be considered before making a decision. Below is a list of helpful parameters that you should consider when hiring software developers:
How much experience do you require in the field and what level of expertise do they need to have in order to complete the project successfully?

Do they need any certifications or formal training in order to obtain employment with your company? 

Do they want a full-time, part-time, contract, or freelance employment with your company? How long would they need to work for your company? 

What will their schedule look like, how often will they be available for contact during business hours? 

Is this just an entry-level position, or does it require years of experience in the industry? 

Will you provide benefits such as health insurance, paid time off, and other perks for this position?

Are they flexible to work according to different time zone?

Do they provide authorization for the project code?

Do they sign an NDA form to ensure project security?
Before you make any decision to hire an app developer in India, make sure you consider this checklist to onboard the best talent.
Conclusion
The cost of hiring a software developer will vary depending on factors such as the complexity of the project, whether or not you're hiring full-time or freelancing, and the country where the work is being done. This is why it's important to have in-depth conversations with potential developers about your needs before making any commitments.
In contrast with other fields like graphic design, which tend to charge by hour or project, software development costs are usually based on per-hour rates. These can range from $45/hour all the way up to $300/hour for complex projects. 
For this reason, it's important that you spend time upfront working out your budget and how many hours your project might require before contacting developers about their rates.
If you are still clueless about how much does it cost to hire software developers for your project then #AppsDevPro can be your trusted platform. Our experts will evaluate your app idea and let you know what type of development team you need to deploy on your project.
For more details, you can contact us or drop your query below.
FAQs
How Much Does It Cost To Hire Software Developer in India?
There are many benefits to hiring software developers from India. They are well known for their high-quality work and competitive prices. However, with so many companies and freelancers in the market, it is important to know how much you should be paying them. 
The following are some tips on how much you should be paying Indian software developers: 
Hourly rate of $30-$50 per hour 

Fixed Project prices can range from $500-$1500 per project 

Monthly retainer of $2000-$6000 per month
When considering what type of contract to offer an Indian developer, it is important that they know all the requirements upfront. This can help prevent any misunderstandings or issues down the line.
How Much Does It Cost Per Hour to Make An App? 
Factors such as the app's complexity, at $40 per hour the average cost would be between $40,000 and $60,000. Average app development costs – $60,000 to $150,000. Complex app development costs – anywhere from $300,000 to infinity.
You can also check our other services:
Hire Mobile App Developers in India, Hire Xamarin App Developer in India, Hire iPhone App Developers in India, Hire Android App Developers in India, Hire Flutter App Developer in India, Hire React Native Developers in India, Hire Kotlin Developer in India, Hire Web Developer in India, Hire PHP Developer in India, Hire Laravel Developer in India, Hire Nodejs Developer in India, Hire Microsoft Developer, Hire ASP.NET Developer in India, Hire Angular.js Developer in India, Hire React.js Developer, Hire E-commerce Developer in India, Hire Magento Developer in India, Hire WordPress Developer, Hire MERN Stack Developers, Hire MEAN Stack Developers, Hire App Developers in India, Hire C# Developers, Hire CMS Developers, Hire Open Source Developers, Hire Vue.js Developers in India, Hire Knockout.js Developers