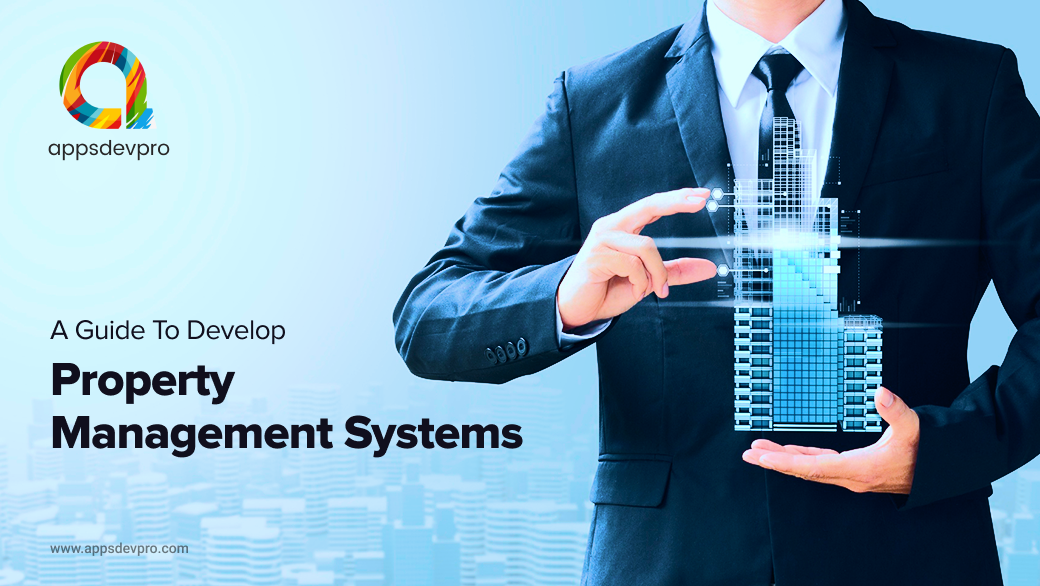 Quick Summary Blog:
Managing multiple properties at various locations at the same time can be a real headache. If you don't have a suitable property management system, handling and managing real estate can be challenging. Developing a property management system software can be the right decision in 2023. Here is a complete guide to create a real estate app in 2023.
How to build a property management systems in 2023? This is one of the most commonly asked questions in the field of real estate. Real estate can be an extremely lucrative business, but it does come with its share of challenges.
One of the major challenges are wrong handling of multiple properties which ultimately result in double bookings, property maintenance challenges, and tenant search complications.
The complexity of managing numerous properties escalates over time. This is precisely where a property management system comes to your aid.
The global property management market has experienced substantial growth recently and is projected to reach a value of $12.89 billion by 2025. The surge in adopting property management systems is driven by evolving consumer behaviors, preferences, and the demand for more streamlined customer support and issue resolution.
To excel in real estate management, peruse the following guide on developing a property management system. This blog will guide you detailed insights on how to build a property management system for the real estate business and its important components of personalized property management systems and strategies for its development.
So how to build a property management system in 2023? What app development approach you need to pick?
Let's discuss…
How To Build a Property Management System?
When it comes to developing a property management system, there are broadly two way to develop an property management solution. You can hire a full-stack app developer in India if you are looking for any specific property management solution. But before we discuss the cost to hire the best developers in India, we will get straight on the 2 ways of developing a property management system.
Procedure 1: Custom Development of Property Management System
Creating a property management system from the scratch is referred to as custom development. This approach is particularly useful for individuals chasing with challenges like handling multiple property management or overseeing multiple properties daily, keeping record of tenants and rentals.
Why Opt for Custom Development in Property Management System Creation?
Here are few reasons that why choosing custom development in property management system is a worthy decision:
Every aspect is aligned with your specific business requirements.
Flexibility to incorporate any desired functionality seamlessly to make the process easier.
By hiring a dedicate development team, you can yield the top-notch rental property management software.
Easily connect with APIs and tools like Stripe and PayPal and other integration.
Easy to scale up the system by adding more features whenever needed.
You can implement audience-centric customized user experience catering to your target demographic.
Do you need to hire a dedicated developer in India then you can read more to know how much does it cost to hire software developer in India?
Procedure 2: SaaS (Ready To Use Solution) Based Property Management System
SaaS (Software as a Service) offers a subscription-based model, providing an access to pre-built software for rental property management. Through a monthly subscription fee, users gain instant accessibility to the solution. These ready-made solutions are suitable to the startups who are looking for the standardized approach or managing a modest property portfolio.
Why Opt for SaaS in Property Management System Development?
If you're a startup and looking to create a property management solution, then here are the few reasons that why you should consider SaaS solution for your real estate venture:
Cost Efficiency: (e.g., Appfolio – $1.25 per unit/month, with a minimum monthly fee of $250).
Quick Implementation: Since its a ready to use solution therefore, minimal time required to start utilizing a SaaS solution.
In case you are looking to develop SaaS based solutions then you can hire a Android app developer in India.

In conclusion, the real estate and property management sectors have burgeoned in recent years, attracting increased investor interest and subsequently boosting the demand for property management systems.
To embark on creating a property management system, consider the following:
Define the property management system type based on your property portfolio.
Identify core features for your system.
Choose the preferred approach for system development.
With years of track record in building real estate websites, AppsDevPro possesses expertise in building marketplaces, management systems, and CRMs tailored to the industry. For those considering a custom property management system, our consultation services await your inquiry.
What is Property Management System?
Property Management System is a software that is designed for property management. This type of system automates, tracks and records all the transactions and activities of the day-to-day running of an apartment or real estate business.
Right from collecting rent payments from tenants, paying suppliers, taking care of maintenance and repairs, sending out invoices etc. Property Management Systems can help you reduce your workload and spend more time on strategic decision-making. But before you hire mobile app developers in India, make sure you know how exactly these systems work and how does it help you manage properties seamlessly.
Since, it also helps you keep track of cash flow, and set accurate budgets. Also, according to a survey report, one such application has helped over 3000 landlords save $3 Million in two years by eliminating administrative tasks while providing an efficient way to manage their properties.
The increased efficiency in workflows translates into higher profits which is why most landlords now prefer these systems over traditional paper based methods. With this technology at hand, the future of property management looks bright!
Why Should Businesses Invest in Property Management Systems in 2023?
The real estate industry is an increasingly competitive market. With competition so fierce, real estate agencies are looking for new ways to differentiate themselves. One of the best ways is through a property management system. However, you don't have to trust our words.
Here are the market statistics that help you understand the overview of the real estate industry.
Developing Property Management System in 2023- Where Does Real-Estate Market Stand?
According to the Grandview research report, the global property Management System market size was valued at USD 3.04 billion in 2021 which is expected to jump at 5.6% CAGR from 2022 to 2030.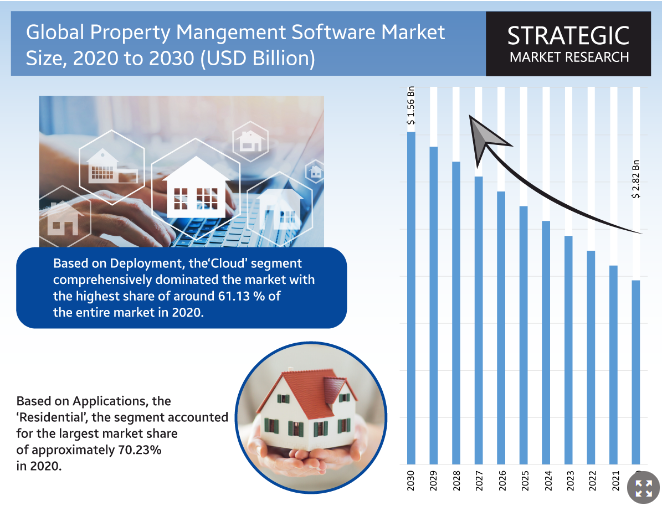 Image Source: globenewswire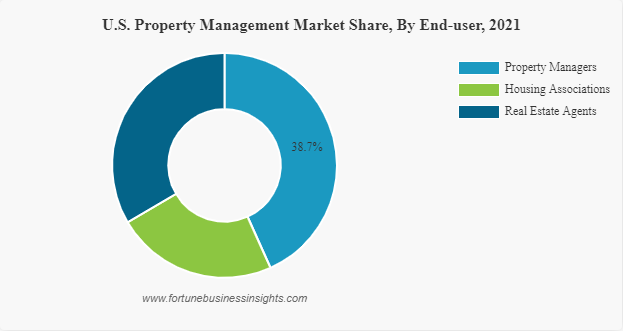 Image Source: fortunebusinessinsights
These statistics are encouraging enough to understand why property management systems are catching the hype. But what exactly sets property management systems on demand?
The following are some of the reasons why businesses should invest in property management systems in 2023.
What Reasons Are Driving This Real-Estate Industry on Boom?
There are several reasons why you should create your own property Management System in 2023. But here is a list of benefits that bring the real-estate industry on a boom: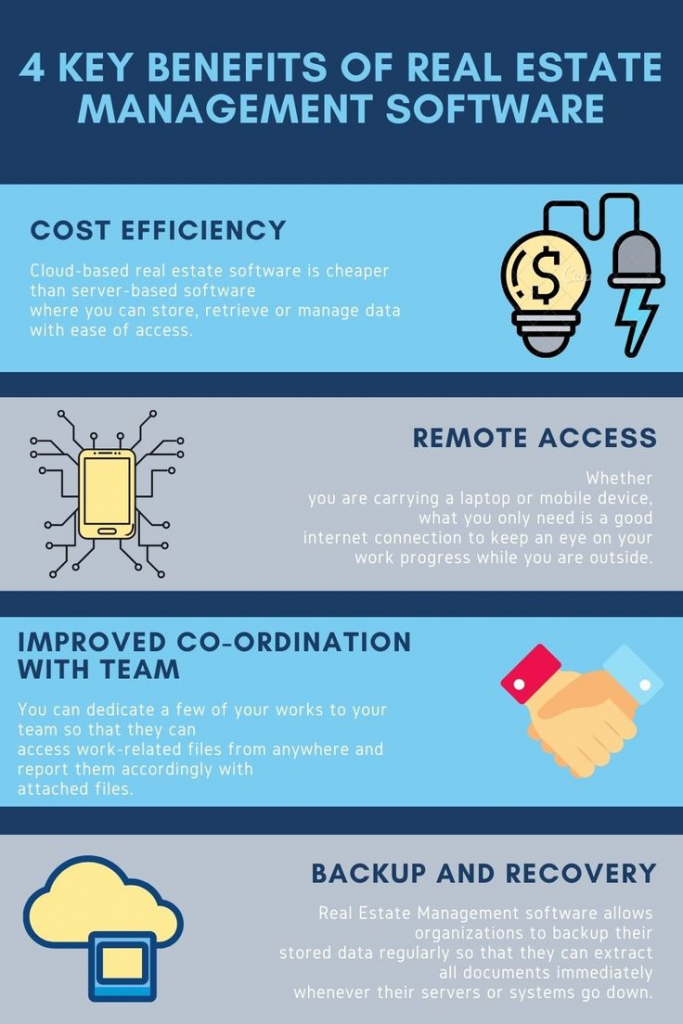 Image Source: google
Having an effective property Management System will make your life so much easier! The software can help you create a database of all your properties, keep track of finances and tenants, and so much more.
Property Management Systems will save you money because it helps you manage all your properties from one place.
Custom-tailored property management systems will also help generate revenue by providing statistics about how well the property is doing.
If you ever need to access information on a computer that doesn't have the same system, it can be downloaded onto any device.
Property Management Systems are customizable for each individual business and help streamline the process.
A Property Management System can help reduce overhead costs and increase your profits.
It also has security features in place to protect your personal information.
Finally, by hiring dedicated app developers in India you can have a Property Management System that ensures peace of mind for landlords who want to maintain control over their rental portfolio without losing time or money.
In a nutshell, a property management system can ensure you many benefits including helping landlords with their tenant's rent payments, giving insight into repairs needed, calculating profit margins and generating monthly reports that highlight trends in rents, lease agreements and general occupancy rates among other things. With these benefits combined there's no reason not to build a property management system today!
Knowing these benefits, you must be curious enough to get straight into the property management system in 2023. However, if you have finally made a decision to create a real-estate app, then what type of app you should build?
What Type of Property Management Systems You Should Develop?
The type of property Management System you want will depend on your business needs. There are many different options available, so it's important to do your research before making a decision. Here are some of the most popular types:
1. Property Management Systems
Property Management System can be very valuable for any real estate company. It is a database of all the properties that you are managing and it has features like lease management, tenant screening, landlord/tenant interactions, rent collection, maintenance requests, and much more.
Property Management System is really important for a business because it saves time and money by automating various tasks. It also helps you keep track of your property portfolio, which in turn helps with decision-making about when to sell or buy new properties.
2. Lease & Tenant Management Systems
Building Lease & Tenant Management Systems is a great way to help your company grow. It saves you time, creates a better customer experience and gathers necessary data for future decisions. How do you know if it's the right decision? Consider these:
Cost savings in terms of money and resources that would be used if you didn't build your own system.
Saves time by automating tedious processes such as leasing, tenant screening or creating lease agreements that would otherwise have to be done manually with tons of copy-pasting which inevitably leads to mistakes.
Creates a more personalized experience by giving users access only to the information they need, making it easier for them to find what they are looking for and making their work much more efficient.
These are just some of the benefits that building an in-house property Management System can provide – but there are many more!
3. Residential Property Management Systems
Residential property management is a service that handles the day-to-day functions of rental properties. This includes tenant screening, leasing, eviction, and maintenance. By hiring app developers in India, you can easily get started with the app solution. A residential property management system is an important tool for a residential property manager to ensure they are maximizing their efficiency while also meeting all regulatory requirements.
If you're considering launching your own residential property management service, there are many factors you should keep in mind when developing your business plan.
4. Commercial Property Management Systems
Property Management System for commercial real estate businesses is an important piece of the puzzle for most companies. If you are looking at starting a business in this field, make sure that you are prepared with the right tools. In addition to your website and marketing materials, investing in a high-quality property management system will give you an edge over competitors.
Property management systems can help simplify many aspects of your business including accounting, finding new tenants, coordinating repairs, and much more. There are a few key features to look for when shopping around:
Centralized database
Individual access rights
Customizable dashboard
Reporting tools
Instant notifications
Cloud based
As you can see, each type has its own benefits and drawbacks. Understanding them all will help you make an informed decision that is best for your company. No matter what type of property management system software you are trying to build, the central question is how to create an app.
How To Get Started With the Property Management System in 2023?
Property Management System can help you stay organized, give you the flexibility of doing work from anywhere, and have the ability to generate reports that will make it easier for you to monitor your business. If you're not sure how to start building a property Management System solution for your real estate business?
Here is a step-by-step process that can help you get started with the property management system in 2023:
Step 1: Research the Current Market
The goal is to identify what features you want to include in your property Management System, and how they can improve the experience of property owners, managers, maintenance staff and tenants. You can hire software developers in India to conduct market research. The more you know about what's out there and what's possible with property Management System, the better equipped you will be to make a decision on how you want to differentiate your product.
Step 2: Understand Your Target Audience
Before you get into the process of app development, make sure that understand to whom you are targeting your app. Whether your app is actually required in the market or not? This will help decide which features need to be included in your project plan so that it aligns with their needs.
Step 3: Brainstorm Ideas For Features
Whether you are developing an MVP solution, the choice of features can make a huge difference in your app's success. The most complex features you integrate into your app, the higher the app development cost will be. So the best way is to get started with the MVP solution and then gather user feedback. Based on user feedback, you can scale up the app and able to add features.
Step 4: Wireframing
The goal of wireframing/prototyping is to generate clickable prototypes of all the screens of your future software in order to check your understanding of user stories and finalize your ideas.
Step 5: UI/UX Design Development
This is where you get to see what the final product will look like, as well as have a chance to interact with and get a sense of the overall usability of what has been requested. Based on your feedback, the team finalized the tech stack, so now you can start to work out an estimate.
Step 6: App Development Team Required
The development stage is where your app is built, and the front-end and back-end functionality is implemented. So you can hire Android app developers in India which knowledge of leading frameworks like React Native, Java, Kotlin, Flutter and more. To create software Management System in 2023, you need a team of developers including app developers, business analysts, UI/UX designers, app testers and more.
Do you want to develop a property management software integrated with the AI features? If yes, then read more about the cost and process to hire AI developers in India.
Step 7: Testing and App Launch
Once you developed an app, it's time for testing the code. This is the process of testing and releasing the product and providing ongoing support. The platform can also be updated and maintained on an ongoing basis through a long-term support contract.
This process produces property Management System uniquely tailored to your needs and business goals. However, it can only be accomplished if your development team delivers what it promises. The alternative is a mess of buggy code, wasted time, and lost opportunities.
In a nutshell, this a simple step-by-step guide to building a property management system software for your business. However, it doesn't sound as simple as it may look here. So what are the challenges and concerns of developing property Management System in 2023?
Challenges and Concerns of Developing a Property Management Systems in 2023
The following are some of the challenges that come with building a property management system for your real estate business:
Building Property Management System for a company is not as easy as it seems, It takes a lot of time, money and resources. The system needs to be able to handle everything from financial data and client information to maintenance and leasing documents.
Finding and hiring web developers in India can be tough because there are many other projects they could be working on at the same time.
Keeping up with the current technologies can be difficult because they constantly change so frequently.
One problem that may arise when creating a new property Management System system is that you don't know what kind of requirements will need to be met in order to function properly.
Although this may seem like an easy process, in reality, it's anything but simple or inexpensive; companies spend thousands upon thousands on development only to find out their idea was terrible and have wasted all their money.
If you plan on developing a property management system, then here are some things you should take into consideration before spending any money: make sure you have enough funds to complete the project, hire an experienced team of developers and know what your requirements will need to be. What features do you need to integrate into your system…
What Features Should Be Implemented in Property Management Systems?
Property Management System can assist in everything from reducing costs and raising profits, to increasing tenant satisfaction. There are a lot of great features you can include for your property management system, but these are a few of the more popular ones: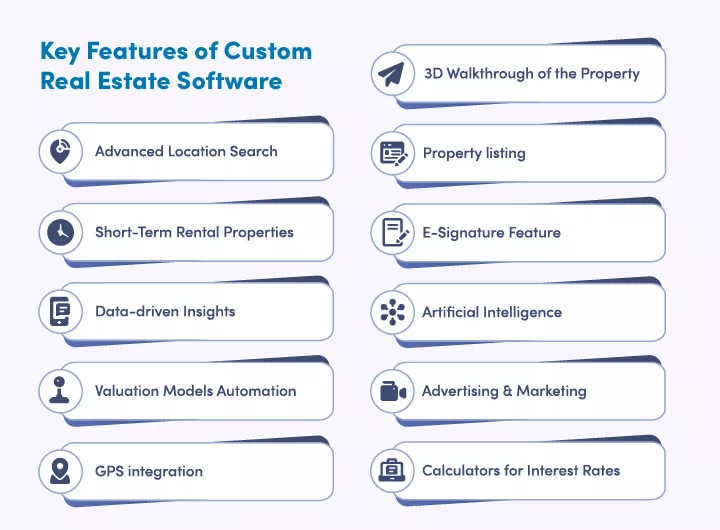 Image Source: google
Login ID: While developing a property management application, make sure you have a login feature so that users can easily access the app.
Lease Management: There are many software developers in India that can help you integrate lease management services which help with property rental and assisting with all of your tenant-related tasks.
Inventory control: This is crucial for industrial and commercial properties. Improves performance and lessens the likelihood of equipment malfunction.
Data Analytics: With this data analytic function, you'll be able to see valuable reports and data in an understandable way.
Tracking Bills: Bills and finance-related matters, from rent payments to utility bills to general maintenance costs, everything will be tracked by the property management system in 2023.
Property Maintenance Request: Tenant-management platforms such as those through online property managers help handle issues such as tenant requests and requests for repairs.
Scheduling Request: Administrative tools like e-mail, calendars, to-do lists, and all of those sorts of tools.
Housekeeping module: This feature can schedule and oversee the performance of housekeeping tasks and staff.
Booking Space: This module assists applicants in locating and booking spaces and allows landlords to pre-approve them.
These are the few common features that you can consider including in the property Management System in 2023. All you need is to hire mobile app developers in India. They will help you customize your app interface with exclusive features. But the central question is how much it cost to build a property management system in 2023.
How Much Does It Cost To Build a Property Management System in 2023?
There are a number of costs associated with building your own Property Management System for your real estate business. These can include software licenses, initial setup fees, annual maintenance fees, training costs, customization and additional functionality. In the end, you have to weigh out the cost and time investment against the advantages that come from having your very own custom-built Property Management System.
The average cost of developing a property management system is depending on the complexity of the app so here is a cost estimation for you:
The average cost to build a property management system for a small business will range between- $5,000-$15,000.
To build medium-level software, you can expect to invest anywhere from $15,000-$20,000.
The average cost to build a property management system for a large real estate agency can be ranging from $20,000-$250,000.
These are the estimation which can go up or down depending on your project requirements. So before you make any decision, it is important to consult experts.
Conclusion – Where to Get Started?
Property Management System can be a great tool for your business. Not only does it help you maintain records, but it also frees up time so you have more time to dedicate to tenants and other property-related tasks. By hiring mobile app developers in India, you can easily customize the solution that better suits your requirements. No matter what type of properties you are handling, there can be an app for it.
If you have an app idea but not sure where to get started then AppsDevPro can be your trusted platform to create your property Management System in 2023.
FAQs
What Is The Basic Functionality of Property Management System?
Property Management System is a must for businesses that own and manage a large number of properties. The software can help you keep track of your properties, tenants, leases, payments and other pertinent information. In addition to the practical benefits, it can provide an added layer of security for your business. 
Property Management System can also help you be more efficient by automating some parts of your business. This allows you to spend less time on administrative tasks and more time on what really matters – managing your properties!
How To Create a PMS System?
The first step is identifying the needs of your business. This will help you determine what features are important and which ones you can do without. The next step is determining the scope of your project. Once you've established what kind of system you want, it's time to start designing and coding your software. 
How long this takes depends on a number of factors including size and complexity, but for a basic PMS that handles only a few properties at a time, it shouldn't take more than two weeks or so. Finally, after you've tested and refined your product as much as possible, it's time to release it into the world!
You can also check our other services:
Hire Mobile App Developers in India, Hire Xamarin App Developer in India, Hire iPhone App Developers in India, Hire Android App Developers in India, Hire Flutter App Developer in India, Hire React Native Developers in India, Hire Kotlin Developer in India, Hire Web Developer in India, Hire PHP Developer in India, Hire Laravel Developer in India, Hire Nodejs Developer in India, Hire Microsoft Developer, Hire ASP.NET Developer in India, Hire Angular.js Developer in India, Hire React.js Developer, Hire E-commerce Developer in India, Hire Magento Developer in India, Hire WordPress Developer, Hire AI Developers in India, Hire Java Developers in India, Hire Python Developers in India, Hire Javascript Developer in India, Hire AR/VR Developers in India, Hire Blockchain Developers in India