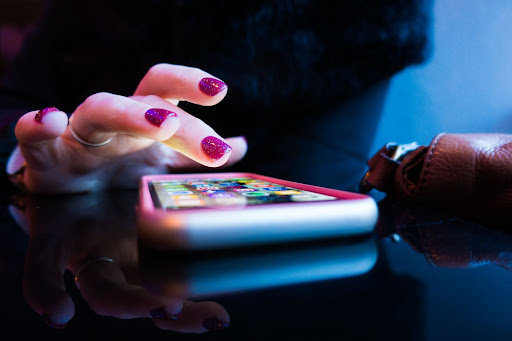 A Social Media app that keeps you connected. Individuals spend a lot of time online, looking at news sources on Instagram, Facebook, or Twitter.  The secret behind the popularity of such apps is the freedom they give to users. Social networking app development is one of the leading directions in the IT industry. So, If you want to find out how much it costs to create a social media app, feel free to read our guide below and find out the details like its benefits, types, tech stack, cost, etc.
If you're like most entrepreneurs, you're always on the lookout for the next big thing. And if there's one trend that shows no signs of slowing down, it's social media. So why not create a social media app? It's a great way to reach out to a wider audience and build your brand. But what does it cost to create a social media app, and what features should you consider? Keep reading to find out!
Did you know that the number of active social media users in 2020 was 5.196 billion, and is projected to reach 6.294 billion by 2022 end?
In other words, more than 5 billion people around the world are actively using social media apps such as Facebook, Twitter, Instagram, and others every single day!
Have a look at global social media users over time:

 Credit: Hootsuite
These social media apps are incredibly popular among both users and companies, but social media app development isn't always easy. If you're an entrepreneur, there's no better time to get involved in the social media app development process.
If you're looking to create a social media app, or you're just trying to better understand the process, this detailed guide has all the information you need to get started.
Top Benefits Of Social Media Applications For Your Business
These days, most businesses have some kind of social media presence or another, whether that's on their website, Facebook page, or YouTube channel. But are you maximizing the benefits of these applications to your business? 
Here are the top benefits of social media applications for your business to help you figure out if you're getting everything you can out of the many apps available to you!
The best way to promote your brand is through social media. Creating a branded page on Facebook and other networking sites allows you to communicate with current and potential customers in real-time. And don't forget about Twitter! 
More than 6 billion messages are sent per day, making it an incredibly powerful promotional tool. You can use Twitter to introduce new products or get customer feedback on products already on sale. 
Additionally, you can use these sites as forums for customer service issues.
Remember that social media shouldn't just be used as a passive form of advertising; it can also help you create deeper relationships with existing customers and create relationships with new ones at no cost! 
If all else fails, remember: A strong customer service track record goes a long way in creating consumer trust—and more sales
The audience for your content is an incredibly important part of any marketing effort. You need to have a firm grasp on who you're writing to and how to speak to them most effectively. 
While many companies aim their content at a wide variety of people, that isn't always going to be beneficial in today's world. 
In some cases, you may want to take a more focused approach with your content creation, targeting your message toward just one or two demographic groups or even individuals within those groups.
Providing a channel to gather feedback from your customers is one of the social media's many benefits. Customers can use it to give their input on existing products or services or talk about how their experience in your store was. 
This will allow you to improve what you offer and also learn more about what your customers want.
If there are some things that people are constantly unhappy with, it's better to know now than later down the line when you already have established a client base and they aren't likely to go elsewhere. 
Gathering customer feedback via social media is fairly easy to do and allows you access at any time so long as you have an internet connection.
By optimizing your social media and applications, you can easily boost your website traffic by a hundredfold.
Whether or not your company has a solid presence on social media, it's important to get involved with these applications so that you can reach out to more people across various communities and networks. 
By expanding your network through the use of social media and other online tools, you open yourself up to all sorts of opportunities, including those in digital marketing.
Also, if you are thinking to hire Indian app developers for your social media app development, make sure to check their portfolios if they have expertise in creating a similar app.
It's easier than ever to market yourself online because search engines are constantly analyzing web content and providing search results based on these analyses; what's more, they do so in an incredibly advanced manner.
In order to successfully promote your business on social media, you first need to take a step back and research your competitors. 
By identifying what tactics they're using to create a following and learning about their overall strategies, you can pinpoint which strategies are (and aren't) working well. 
This will help you avoid making costly mistakes while also better positioning yourself as an authority in your industry.
Which Type of Social Media App Is Right for You?
One of the best parts about using social media is that there are so many different types of social media apps to choose from! While you can't use them all, the right choice will depend on your personal interests and target market. 
Here are some of the more popular types of social media apps, along with tips on how to use them effectively!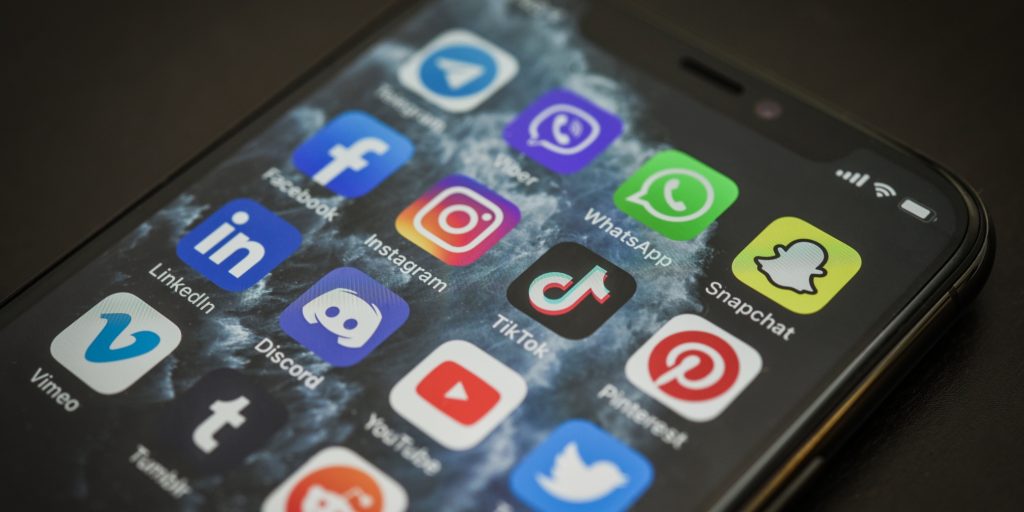 Image Source: tnmt.com
Social media apps allow you to connect with people all over the world. While there are many types, some are better suited to certain industries than others. 
For example, if you're a health care professional, you might want to use a medical social network. 
Social media apps can be useful in many ways. Some help with work connections and opportunities; others can be used for more personal use such as keeping up with friends or family members.
Both Snapchat and WhatsApp let you send texts, images, and videos to your friends. Both apps also offer a smartphone's standard calling features, as well as video calling. 
Facebook Messenger lets you call any of your Facebook friends via video chat, too. But neither is really a one-to-one messaging app. 
They're really more like social networking platforms with a messaging feature—with an emphasis on privacy that isn't always ideal for business use. Another key difference between these three apps is their capability to host multiple people in a single chat. 
Facebook Messenger can host up to 50 people at once, while both Snapchat and WhatsApp max out at one person per chat.
Social media has exploded and is no longer just something we log on to at night. Now, in addition to social networks that you already know and love, there are apps that revolve around dating. 
Whether you're into casual encounters or serious relationships, there's an app for that—and they're all free. 
A team communication app can help teams organize, plan, and stay on top of multiple projects at once. Some may also be equipped with features that allow you to share content and have discussions around them (i.e., work chat apps). 
Work chat apps are a great way to keep a team in sync throughout your day—for example, you can use Slack to discuss meeting times or deliverables, or Trello's cards feature to update teammates on project status.
Both help teams organize their thoughts digitally and streamline conversations about specific projects.
Besides, creating team communication apps need lots of expertise; therefore, you should hire software developers who carefully have knowledge in a similar niche.
Additionally, when used correctly these apps provide an extra layer of security by keeping conversations out of inboxes where they can get lost or spammy-looking emails might filter through.
Photo Editing & Sharing Network
Whether you're on a mobile device or computer, your images are available wherever you are. It's great for sharing with friends and family, but be mindful of privacy settings; you might want to adjust them so that others can't see where and when photos were taken. 
In addition to photos, people also use Instagram to share videos with one another. You can upload up to 60 seconds worth at a time. All types—from short clips to longer movies—can make it easy to share important moments with loved ones near and far. 
With Instagram Stories (also known as IGTV), you'll also find more ways to express yourself through moving images on your smartphone or tablet.
Broadcasting is an app where you can broadcast yourself live to people around you. It's kind of like Twitter in that it's real-time, but you have one-on-one conversations with people who are interested in what you have to say. 
Broadcasting is a great tool for sharing your message and having face-to-face conversations with someone who wants to hear from you.
If anyone ever told me there was too much marketing on social media, I'd definitely point them toward Broadcasting as an alternative that gives brands more exposure than ever before.
Blogging & Discussion Forums
Blogging is your typical, run-of-the-mill type of website. Like most social media websites, there's typically a theme or focus to a Blog. 
For example, there are political blogs, cooking blogs, and mommy blogs. While Blogs aren't extremely active on social media (see Facebook and Twitter below), they do have discussion forums where people can talk about their interests in relation to a particular Blog topic. 
For example, if you visit a political Blog with a forum attached to it, you can chat with others who share similar views about politics or express opposing views—just don't expect that forum to be thriving.
Top Features and Functionalities Your Social Media Apps Should Have
Have a look at some main and advanced features with the estimated cost of each feature: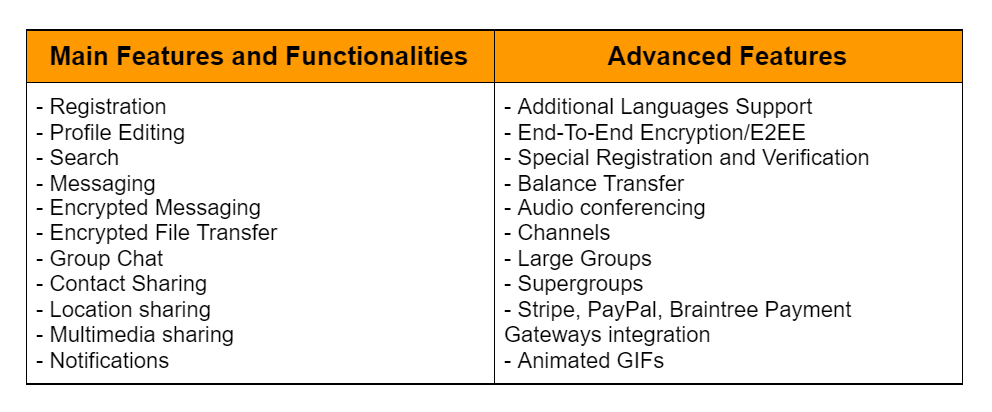 Team Required To Create A Social Media App
Developing an application can be a complex and overwhelming process, especially when your team members all have other duties to attend to as well. If you find yourself in this position and would like some guidance, you can hire iOS app developers or Android app developers! 
Our guide to building your next app will walk you through what steps are involved in developing an app, and how to determine if you have the necessary resources to complete it on your own or if you need to hire outside help. 
In addition, we'll also go over when it's best to simply outsource the development of your app, instead of trying to do everything in-house.

The frontend developer handles all of your design work, creating graphics and UI components as well as coding them in HTML and CSS. 
They are responsible for how your users see and interact with your product, so be sure to hire someone with creativity, technical skill, and attention to detail—there's no reason why they shouldn't be able to pull off both parts of their job description.
The backbone of any application, backend developers deal with code that works behind the scenes. 
They're typically focused on managing and writing code for APIs, which power many applications. To get into development, individuals will have to learn several programming languages like Ruby or Python as well as frameworks such as Django or Rails.
Mobile app developers code Android and iOS apps, which are applications that run on smartphones and tablets. When you hire Android app developers or iOS app developers, they ensure your apps are accessible, stable, fast, and secure on all devices. 
A project manager is responsible for leading, organizing, and controlling an entire project—not just their own tasks, but other people's tasks as well. 
They handle any situation that comes up, big or small; they understand each job intimately and work with other departments (and other teams) to ensure that everyone is on board and heading in one direction. 
The ideal candidate will be detail-oriented, able to juggle multiple projects at once, very organized, and comfortable communicating with others about their task or project.
QA engineers test code, applications, and websites using automated tools and manual methods before they're released. 
They also make sure that user interfaces are intuitive, data transfers are secure, and all elements of an app are working as expected. 
They might use script libraries like Selenium to simulate a series of user actions in order to detect problems quickly and comprehensively (if done right).
How Much Does It Cost To Create A Social Media App
The approximate cost to develop a simple social media app is $12,000 – $20,000. A medium complexity app costs you around $25,000 to $50,000. However, it can also cost much more depending on various factors such as the size of the app, functionality, and others. 
It's always important to estimate your final project cost from the beginning before starting with the development process in order to save money along the development process by knowing how much you will be spending on the design and development process. 
Making good estimates upfront can help you to plan better whether you want to go with fewer features or try adding more features to your app.
Conclusion
Building your own social networking app can be a lot of fun, but it's also a ton of work. There are an innumerable number of moving parts involved, and if any one thing falls through—the programming, integration, or any other aspect—your whole project could come crashing down around you. 
That said, we've found that once all of these aspects are taken care of and coming together in harmony, building your own platform is exciting and rewarding. You never know when (or if) Facebook will change its algorithm again, or what Twitter is up to. As such building, your own platform makes a lot of sense as long as it is not so huge that it becomes costly to manage and maintain.
If you're looking to hire mobile app developers, first make sure you have a defined project in mind. This can help determine how much money and resources you should put into developing an app. 
Also, be sure to talk with an expert about what kind of features your app needs in order to attract users—since it's not a good idea just to throw every possible feature into an app without knowing what people want. 
You can also check our other services:
Hire Mobile App Developers, Hire Xamarin App Developer, Hire iPhone App Developers, Hire Android App Developers, Hire Flutter App Developer, Hire React Native Developer, Hire Kotlin Developer, Hire Web Developer, Hire PHP Developer, Hire Laravel Developer, Hire Nodejs Developer, Hire Microsoft Developer, Hire ASP.NET Developer, Hire Angularjs Developer, Hire Reactjs Developer, Hire Vue.js Developer, Hire E-commerce Developer, Hire Magento Developer, Hire WordPress Developer, Hire MERN Stack Developers, Hire MEAN Stack Developers, Hire App Developers