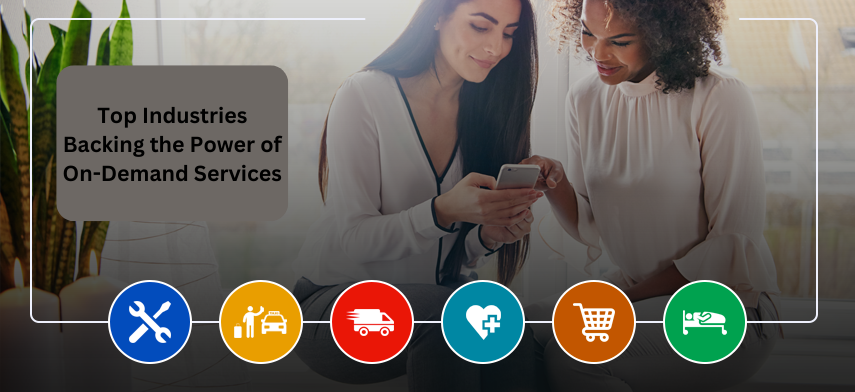 The on-demand economy has made many industries more efficient and easier to access, but where did this new trend come from? To get an idea of how far it's come and how much further it might go, and most importantly what opportunities it offers to businesses. We decided to take a look at the on-demand service industries that most deserve attention right now. Some are the names you know, while others are startups on the rise. Here's our list of the top 15 service industries that drive the on-demand economy right now.
Wake up to the reality of the sharp rise in on-demand services among various businesses.
Wondering why on-demand services have spread everywhere?
The on-demand services have truly made strides in the past few years to give us more convenience and flexibility than ever before. We're not just talking about ride-sharing or food delivery apps. The on-demand economy has become about anything you want at your fingertips, as long as you're willing to pay for it. 
From laundry and food delivery to massage therapists and house cleaners, these services give you unprecedented access to quick and convenient service at an incredibly low cost.
Whether you're an Uber driver, TaskRabbit runner, or Airbnb host, if you work in the on-demand economy, you're most likely engaging in some kind of service industry. But what exactly does that mean? Why do in-demand services have gained traction?
Understanding the Concept of On-demand Services and Its Benefits to Businesses?
The on-demand economy has been given several names, but it's basically the idea that if you need something, there's a product out there that can get it to you and do so in as little time as possible.
The same applies to services, like pet sitting or cleaning, but with the added convenience of being able to get this service on demand, rather than having to find someone and contact them in advance. 
Benefits of On-Demand Services to The Businesses
On-demand companies have created new and better ways for small businesses to thrive. Online commerce has made it easier than ever for small business owners to start up an eCommerce site, without any need for inventory or a storefront. 
By providing services through the app or web, these companies can be accessed by anyone, anywhere. One of the most significant benefits is that these on-demand startups require only a minimum investment from their founder and as such their potential growth is limitless.
Here are the highlights of the benefits:
It is easy to conveniently provide the best service with the goods and services fulfillment.

Customers are able to satisfy their needs in a cost-effective, scalable, and efficient manner.

Services of this kind can offer great profits, and traditional business and marketing methods are changed.

Flexible scheduling

You can provide your services to multiple companies

There will be more freelancers offering this kind of service

This service can be billed hourly or on-demand, enabling you to pay for what you need when you need it. 
Surely after knowing these benefits, you will get straight to hire a mobile app developer in India. But before that, you should understand how the on-demand economy is revolutionizing industries all across the world. 
Market Share of On-Demand Services and Its Future
The on-demand economy has taken the world by storm in recent years and shows no signs of slowing down anytime soon.
In fact, it has made it possible to consume various services at the click of a button, whether it's a ride in an Uber or a delivery of an Amazon package.
According to the survey report, the on-demand economy is expected to reach to a huge $335 billion by 2025.
For many consumers, this change in how they can purchase goods and services offers convenience and cost savings over traditional brick-and-mortar stores and restaurants.
According to the survey report of Harvard Business Review, the annual on-demand economy spending was $57.6 billion in 2016 and definitely, it must have increased thricely in 2022. 
Image Source: hbr.org
If you are wondering about how long on-demand delivery apps will stay in hype then you can consider the below market statistics.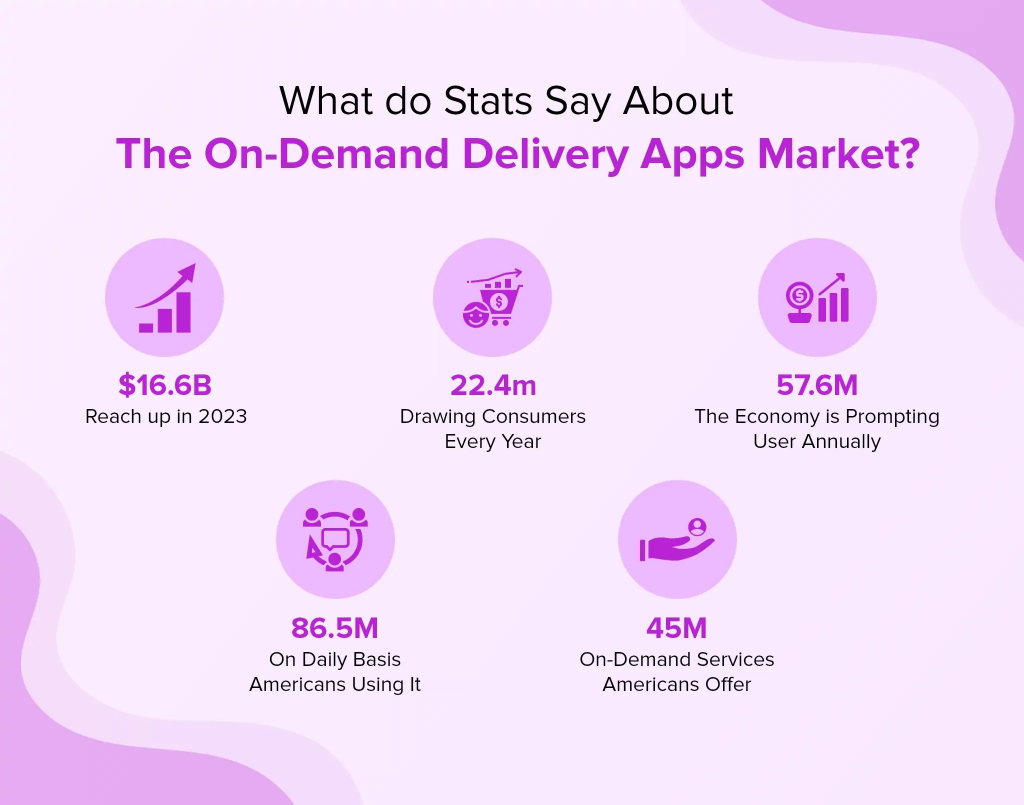 Image Source: appdukaan.com 
In a Nutshell: With these statistics, undoubtedly, on-demand services have strongly paved their way in various industry verticals. But what are some of the top service industries that drive the on-demand economy?
You need to know the answer to this question to decide whether you are a part of the thriving industry.  Let's get into the details of the top 15 in-demand service industries driving the on-demand economy.
Top 15 Industries Driving On the On-Demand Economy
On-demand services have changed the way businesses are operating their work modules. The impact of on-demand services totally varies from industry to industry. Let's check out the top service industries that are driving the on-demand economy.
1. Food Delivery Industry
The way on-demand food delivery apps like UberEats, Seamless, Grubhub, and DoorDash dominate the food delivery on-demand industry, seems to be an evergreen business model for startups. 
According to the survey report, the on-demand food delivery economy is expected to jump from $83 billion to $200 billion by 2025.
The simple reason behind the steep rise in this industry is the increasing demand for doorstep food deliveries and the convenience of ordering food.
On one side, the introduction of on-demand services into this vertical has privileged customers to order food in no time. While on the other side, it offers better opportunities for restaurant owners to sell their products to a large user segment. 

Read More: Create A Food Delivery App: How Much Does It Cost?
2. Travel and Tourism industry
With on-demand service apps like Uber, Lyft, and Airbnb, the transportation economy is booming to the next level. The hassle-free interface of booking rides on these apps offers immense convenience, saves time and money on travel. Hence more and more people are options for on-demand services in the travel industry. 
According to the survey reports, majorly 5 on-demand startups are responsible for raising 75% of funding in the transportation industry. And the fact to be noticed here is, that all five are "on-demand taxi booking apps".
According to the Market research report, the global on-demand transportation market will take a steep jump from $120.85 billion in 2020 to $493.56 in 2028.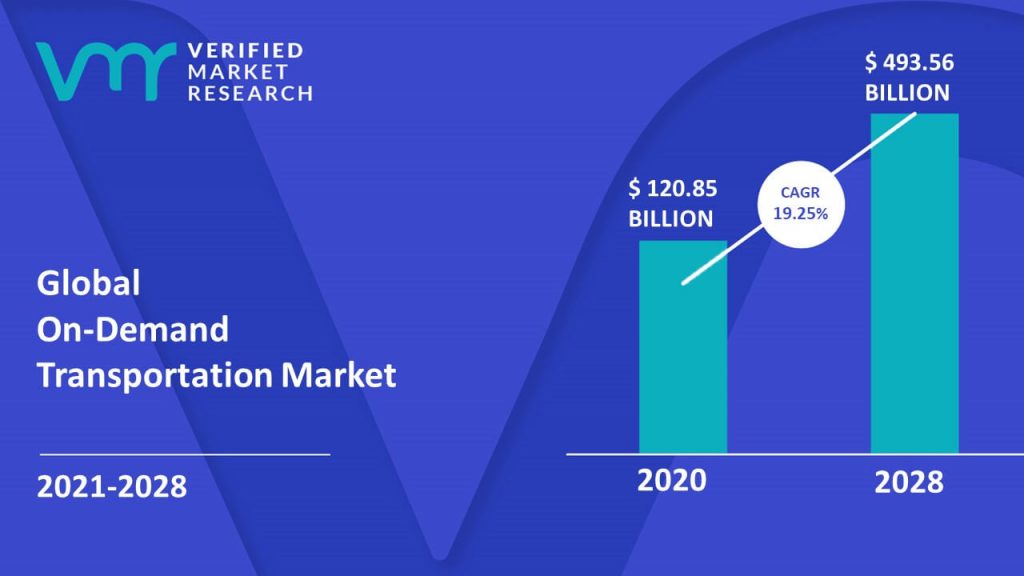 Image Source: verifiedmarketresearch.com
In a nutshell: If you are into the travel and tourism industry and still using that old tired traditional business model, then you must be missing a great opportunity. You can hire an app developer in India to become a part of this thriving industry. 
3. On-Demand Grocery Delivery Industry
One such in-demand economy that has seen surging popularity during pandemics is the on-demand grocery delivery services. Getting fresh groceries delivered to the doorstep in a hassle-free way is aiding in great convenience. 
The leading on-demand grocery delivery apps like Insacart, Walmart, Amazon, and Flipkart ventured into the on-demand services and witnessed an eye-popping success. 
If you are also planning to migrate your traditional grocery store into an on-demand grocery delivery model, then hire a software developer in India. 
4. Retailers and On-demand Marketplace
Retailers have been around for hundreds of years, but the on-demand economy makes buying much easier than ever before. The on-use economy has set its sights on global domination, and not just from retail giants like Amazon. Anyone can create a website or mobile app to sell their products and services, no matter how niche the customer base may be. 
A lot of retail brands have shifted their focus to offer products on the marketplace as well. Simple, there are numerous benefits including direct access to customers, reduced overhead costs, and having a website that is up 24/7.
According to the survey report, on-demand online marketplace is accounting for the biggest contribution of $35.5 billion in on-demand economy total revenue generation.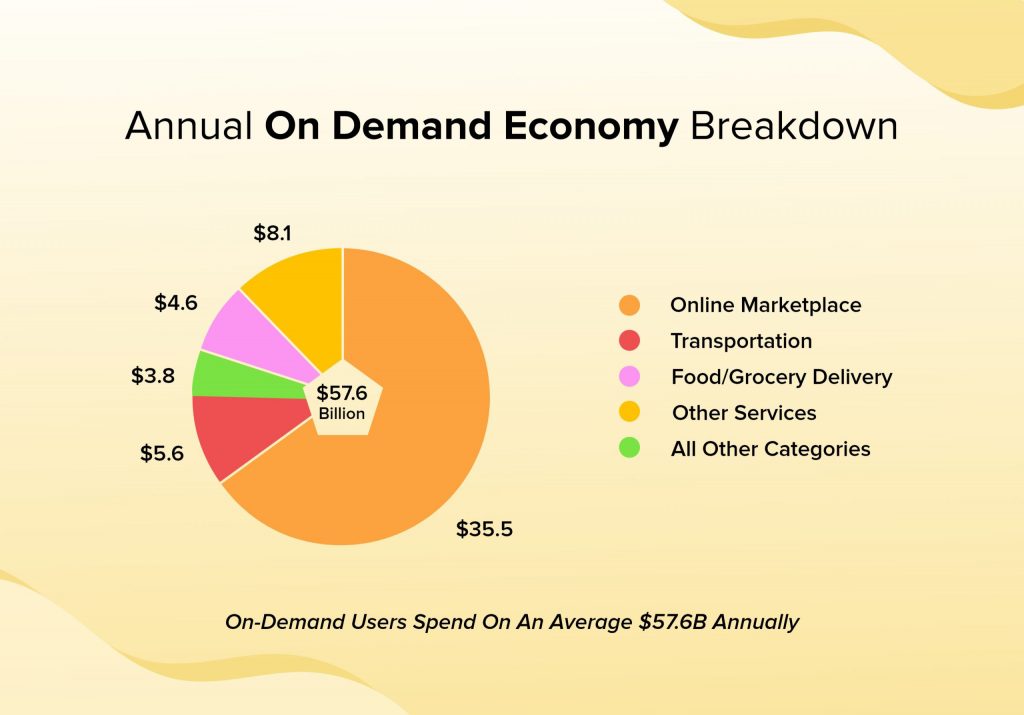 Image Source: apptunix.com
To get started with on-demand services, all you need is to hire a web developer in India that can understand your needs. To become successful in this competitive market, make sure you create a solution that offers advanced shopping features.  
Check out our video to have a quick overview of industries leveraging the on-demand economy!
5. Education /e-learning Industry
Other than searching and trying to find what you need, what is a better way to learn than to have access to knowledge as soon as you need it? 
Within the past few years, the on-demand services in the education industry have seen tremendous changes. A one-size-fits-all learning style has become ineffective and a perfect solution for all. It's undeniable that on-demand learning services are the future of learning.
Large corporate and educational organizations are introducing eLearning apps to meet the new trend. It provides a form of convenience, enhances engagement, and offers customization, and it's beneficial for those trying to take in the best out of learning and use their time as efficiently as possible. 
Now, working in the corporate world, employers and employees are able to both gain from the distance-learning approach. Instead of taking training on topics that might not be useful to them, employees can sign up for what they want to learn and learn at their own pace. 
Increasing engagement and productivity leads to save time which benefits employers as much as it does employees. 
According to the survey report, the on-demand education economy has witnessed 19% growth and accelerated at a CAGR of 20%.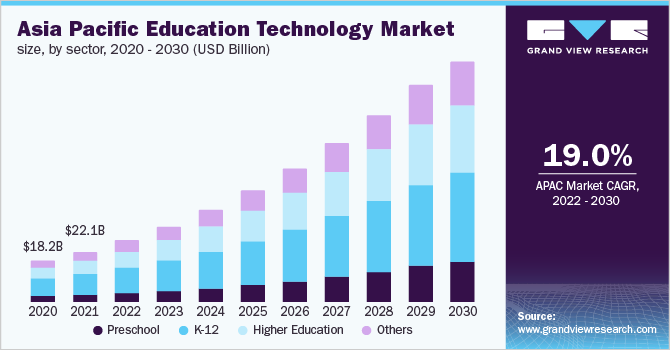 Image Source: grandviewresearch.com
Further, in the academic environment, students can pick the class they want to learn about, pursue in-depth understanding of an area of interest, and choose to study when they're at their most focused. On-demand services improve their learning experience and make it an interactive process.
Read More: How Much Does It Cost To Develop An On-Demand Tutor App?
6. Healthcare Industry
With the right blend of technologies in the healthcare industry, the on-demand healthcare industry is expected to grow at 26.9% CAGR by 2030. 
A vast majority of all consumers have at least one chronic health condition and most lack the resources and knowledge to manage their conditions on their own. 
As a result, healthcare providers are constantly seeking methods to increase patient convenience, in order to help them achieve optimum levels of health and wellness.
On-demand services for healthcare is not only a solution that increases convenience, but also improves outcomes by reducing access barriers such as long wait times, or inconvenient hours. 
And with more telemedicine options becoming available to patients in need, medical costs can be lower than visiting a traditional doctor's office for many procedures.
With the emergence of technologies in the healthcare sector, it has become the largest and fastest growing market in North America.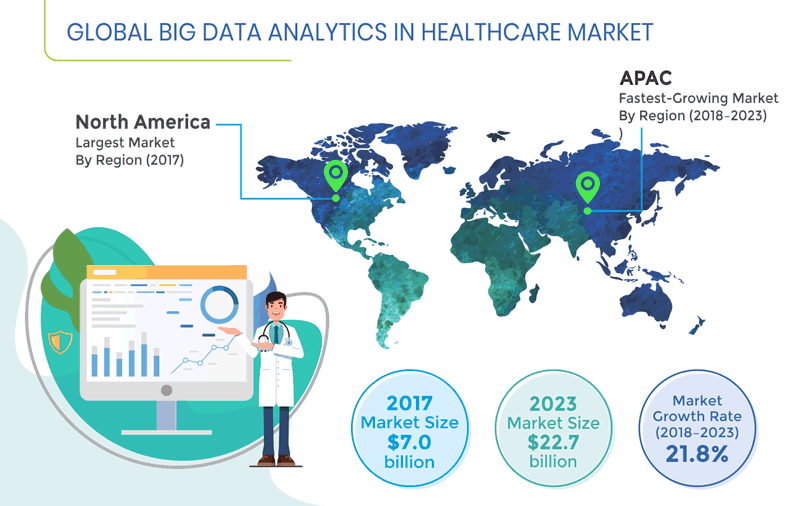 Image Source: psmarketresearch.com
Booming Industries Leveraging On-Demand Services
7. On-Demand Real-Estate Industry
When it comes to analyzing the economic growth of the real estate industry, Airbnb is the perfect example to consider. As per reports, Airbnb bookings have increased by 55% in 2021 from 193 million in 2020 to 300 million in 2021. 
This industry is a gateway to the on-demand economy. This is because many people like to rent out their homes, commercial spaces, or land for short periods of time. The property owners set the terms and pricing while renters book and pay for the space they need through platforms like Airbnb and HomeAway. 
If you are planning to create a clone app for Airbnb then you can hire a PHP developer to build a customized web app. 
However, real estate professionals are still needed because they can handle questions related to zoning laws, insurance requirements, etc. These specialists make sure that both parties have all the necessary information before entering into an agreement.
8. Packaging and Moving Industry
Packaging and Moving are good industries to be in with the on-demand economy. With technology we are able to take jobs that used to take weeks or months and turn them into one day, this is especially true for tasks like packing and moving.
 Need a team to help you pack up your entire home in an hour? Done. Need a truck full of workers to move all your stuff from point A to point B? No problem, book some time for what was going to be an eight-hour job and you'll get it done by lunch.
9. Salon and Beauty Industry 
The on-demand services in the beauty and salon industry provide a convenient, no-hassle solution for people who need a new look, or a hair appointment. The on-demand beauty and salon industry save money by cutting out the traditional brick-and-mortar store and only hiring freelance beauty experts when there are orders. 
This trend also offers time-saving advantages as you can order your haircut/style/makeup whenever you want it, without having to visit an upscale salon where you may have to wait months to get an appointment. 
Service providers in this industry usually charge $10-$30 depending on the size of the order, so this means that both the customer and service provider benefit by gaining flexibility over their schedules while earning extra cash in their spare time or profession.
10. Professional Services
Among the industries that have grown through the rise of the on-demand economy, one professional service stands out as the most adaptable: namely, ‍an industry that supports its professional workforce with incredible potential. 
This makes sense given the pros. Benefits are beneficial for the consumer and since they are meant to encompass all professional services. ‍It is noteworthy that those professions that cater to the widest array of needs (electrician, carpenter, etc.) ‍‍still appear to have a lucrative outlook in this environment.
The simple way to get started with the on-demand Professional service app is to hire an Indian Android app developer. They can help you create a multi-market app store where users can choose any professional services.
11. On-Demand Services in Entertainment (Video Streaming Apps)
In the field of entertainment, on-demand video streaming apps are responsible for contributing a major segment. 
If you have not tried on-demand video streaming apps yet, it is worth looking into to see if they can help you do the following: 
Enjoy movies, shows, documentaries and live TV from your mobile device for a fraction of the price of a traditional cable package. 

Access videos anytime and anywhere with an internet connection. (Does not require a TV or cables.) 

Watch entire seasons or reruns and other programming from previous years by pressing play. Many channels are free to watch if you don't mind advertisements, but some channels may require a small subscription fee. 
On-demand services have taken entertainment industry to the new heights and has given advanced entertainment solutions. 
12. On-Demand Services for Recruitment Industry
As the workforce changes, the recruitment industry must change with it. And in-demand services are the perfect solution to it!
Recruitment apps like Indeed have created a candidate request feature where business owners can post their open jobs to a job board, and qualified candidates can apply. 
These candidate requests will be sent directly to Indeed's network of top recruiting firms who are constantly scanning the Internet for potential candidates based on your desired skill set or industry.
If you are interested in becoming a part of this industry, then you can hire an iOS app developer in India that can help you build highly secure and scalable applications. 
13. Fuel Delivery On-Demand industry
Starting a business as a Fuel Delivery on-Demand Worker is an easy way to get into the growing on-demand economy and start making money with just your smartphone. You never know when you might need gas for your car, or for any other vehicle you happen to come across.
It is important that the fuel delivery industry is one that's always in high demand. It's been estimated that the world will require 2 million gallons of gas every day by 2020.
With this service industry gaining popularity, there are plenty of opportunities to start your own on-demand mobile fueling business in more than 170 countries around the world!
14. On-Demand Car Wash Services
Let's face it, no one wants to spend their weekend washing the car. That's why on-demand car wash services were created. Simply order a service when you need it and someone will be there in 30 minutes or less to wash and dry your car. 
The best part is, with new low prices, you can get all four seasons worth of washing done for the price of one! Some on-hose car wash companies even offer unlimited free washes for a monthly fee if you're located in an area where they operate.
15. On-Demand Fitness Services
Rise offers on-demand fitness services that's perfect for those with busy schedules. Rise helps people get motivated, get moving, and feel great by offering a personalized program that's easy to access from your phone whenever it's convenient for you. 
There are no contracts, long commitments, or surprises. All you need is an internet connection and a commitment to change your habits. You can visit their website for more information about the service offered.
If you are looking for an affordable, on-demand service then you should visit the company at risefit dot com to sign up or read more about what they offer.
Read More: Cost To Create A Fitness App: A Complete Guide To Know
Conclusion:
How AppsDevPro can help You Get Started With On-Demand Services?
Demand for on-demand services is high and shows no signs of slowing down. Entire industries are affected by the on-demand economy and they either adapt to the on-demand trend or face competition from others who do.
With all this facts and stats, it is clear that to pace up your business model, you need to switch to on-demand services. For this AppsDevPro can be a perfect platform to hire mobile app developers in India. They will offer you on-demand services that are accessible, secure, and mobile-friendly as possible as well as to be sure to attract more potential providers.
So if you are looking for ways to transform your business in better ways and discover new revenue streams, then it's high time to contact us. You can drop a query below for a detailed discussion or get a free estimation with our experts. 
FAQs
What is the On-demand Economy?
On-demand Economy is the phrase used to describe networked marketplaces that connect consumers and service providers with one another. A perfect example of this is Uber, which connects people who need a ride and drivers who want to provide one. 
Another great service we love is Postmates, which allows you to order anything your heart desires from local restaurants! The on-demand economy offers such incredible benefits because it increases efficiency, affordability, and quality. Plus, it's only limited by our imagination!
How does on-demand delivery work?
On-demand delivery refers to a system of commercial transactions and logistics, which enables retailers, manufacturers, eCommerce providers, restaurants, and supermarket chains, among others, to have customer demand for their goods or services fulfilled immediately.
How To Prepare Your Business For The On-Demand Economy?
Getting started with the on-demand app is quite simple and easy. All you need is to follow these few steps to prepare for the on-demand services:
Choose the industry carefully

Bring your app idea

Conduct market research and analyze the competitors

Decide the features and functionalities

Know the right tech stack and app development team required for the on-demand service app

Pick a right business model to make a profit

Test and launch an app to the app store
These are the few quick steps that you need to follow while preparing your business for the on-demand economy.
What Are The Important Features Included in the On-Demand Service Industries?
The choice of features is totally dependent upon the budget and requirements of your business. Still here are the most common features that you need to integrate in your app when looking for on-demand services:
Seamless User Registration

Edit profile and settings

Search Filters

Alerts/ Push notifications

Real-time tracking

Multi-payment integration

Multi-lingual support

Reviews and Ratings

Customer Support 

Offers and Discounts
Further you can tailor your application as per your choice by integrating such advanced features. All you need to is to discuss the project details without experts. 
You can also check our other services:
Hire Mobile App Developers, Hire Xamarin App Developer, Hire iPhone App Developers, Hire Android App Developers, Hire Flutter App Developer, Hire React Native Developer, Hire Kotlin Developer, Hire Web Developer, Hire PHP Developer, Hire Laravel Developer, Hire Nodejs Developer, Hire Microsoft Developer, Hire ASP.NET Developer, Hire Angularjs Developer, Hire Reactjs Developer, Hire Vue.js Developer, Hire E-commerce Developer, Hire Magento Developer, Hire WordPress Developer, Hire MERN Stack Developers, Hire MEAN Stack Developers, Hire Indian App Developer