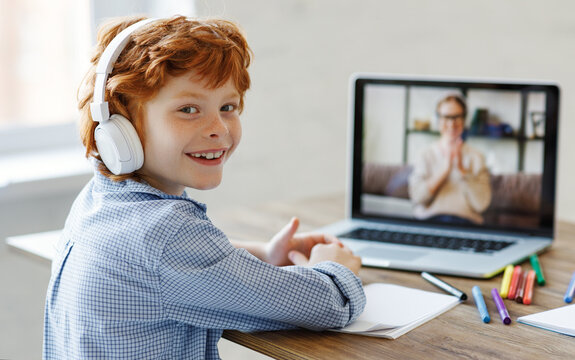 A wide range of online tutor apps are available out there these days, but they all have one thing in common – they all cost money to build an app. The question is, how much does it cost to build an online tutor app? Else, what exactly affects its cost, and what functionalities does it offer? In this article, we'll look at some different approaches for building your own tutor app and the cost estimates associated with each option.
Wondering why educational businesses are looking to develop an On-Demand Tutor App? Well, the severe outbreak of Covid-19 has drastically changed the scenario of various industries, and educational institutions are not an exception. Kids are sticking to online classes, and schools are partially reopening.
Overall, this has forced many parents to look for additional support for teaching. The idea of an on-demand tutor booking app has emerged as the biggest solution to this situation. The app's straightforward and user-friendly interface has inspired people to easily book a tutor online on an hourly, monthly, or annual basis, and that too, of their choice.
Homeschooling and online tutoring are becoming very serious alternatives to face-to-face learning. So there has been an exceptional increase in queries for developing an on-demand online tutoring app. 
Develop an On-Demand Tutor App: A Quick Look At The Market Size and Statistics 
Some predict that the online tutoring market will grow massively in the coming years. So it's worth taking a closer look at the factors that will determine such an application's future:
The online tutoring market is expected to be valued at nearly

$369.69 billion by 2025

.

The e-learning market in the K-12 section is expected to jump higher. It is predicted to grow at a whopping CAGR of 12% from 2019 to 2023.

This

forecast predicts

that by 2026, the private tutoring market is projected to grow by $8.37 billion. This growth will happen at a rate of 7.61% over that time.
In a nutshell: If you're someone who has already started with on-demand tutor app development or are looking forward to creating an on-demand tutor app, then this blog is just for you. However, before you look to hire a mobile app developer, you must be curious to know how much it costs to build an online tutor app.
How do I make a profit from this app? What are the essential features of building an on-demand online tutoring app? Let's dig deep into these factors below. 
How Much Will It Cost To Develop An On-Demand Tutor App?
Whether you are a startup or a leading entrepreneur, making an investment in app development is always a pressing concern. So you will most likely ask an app development company how much it will cost to create an on-demand tutor app. But trust me, even the most talented app developers can't provide you with an app development estimate without understanding your requirements.
If we consider a market survey, the average cost would be revolving around $15,000 to $30,000. Moreover, generally speaking, it takes three months to 9+ months in app development!
Now many of you are wondering why there is a huge difference between the app development cost and time. What exactly made up these cost estimations? How can I get it developed at the lowest budget?
Major Reasons Why There is a Cost Difference
Every business has different requirements and would require an app that is tailored to their needs. So far, there is no standard cost for developing an app. 
Developing an app is much more like buying a car. You need to select a car model, color, specifications, and more. In the same way, developing an app is all about what features and functionalities, technologies, and complexities you choose for the app development.
Cost Estimations Depending Upon Complexities
Depending upon such factors, the app development cost can greatly fluctuate. So here is the price estimation of developing an online tutoring app with different complexities:
a) Simple App Development: It may cost between $10,000 to $15,000+ and take 3 to 5 months in app development.
b) Medium-Level App Development: It will cost you approximately $15,000 to $20,000+ and take 5 to 8 months to develop.
c) Advanced Level App Development: The average cost may be around $20,000 to $25,000+ and may take 9+ months of development. 
MVP Solution for The Startups
If you are a startup and looking for ways to get started with the lowest investment, then MVP solutions are worth looking for. A Minimal Viable Product (MVP) is a basic version of the app that includes all the necessary functionalities. The biggest benefit of considering MVP is that it is quick to launch and enables you to evaluate customer feedback. Accordingly, you can scale up the app by integrating more features.
The app development cost depends upon what exactly you are integrating into it. Hence, before you hire an app developer, it makes sense to understand what exactly contributes to the app development cost. So, let's drill down into the essential features you need to build an online tutoring app. 
The process of creating an on-demand tutor app is as simple as other mobile apps. Still to keep it simple and straightforward, here we are providing you with an infographic of the development process: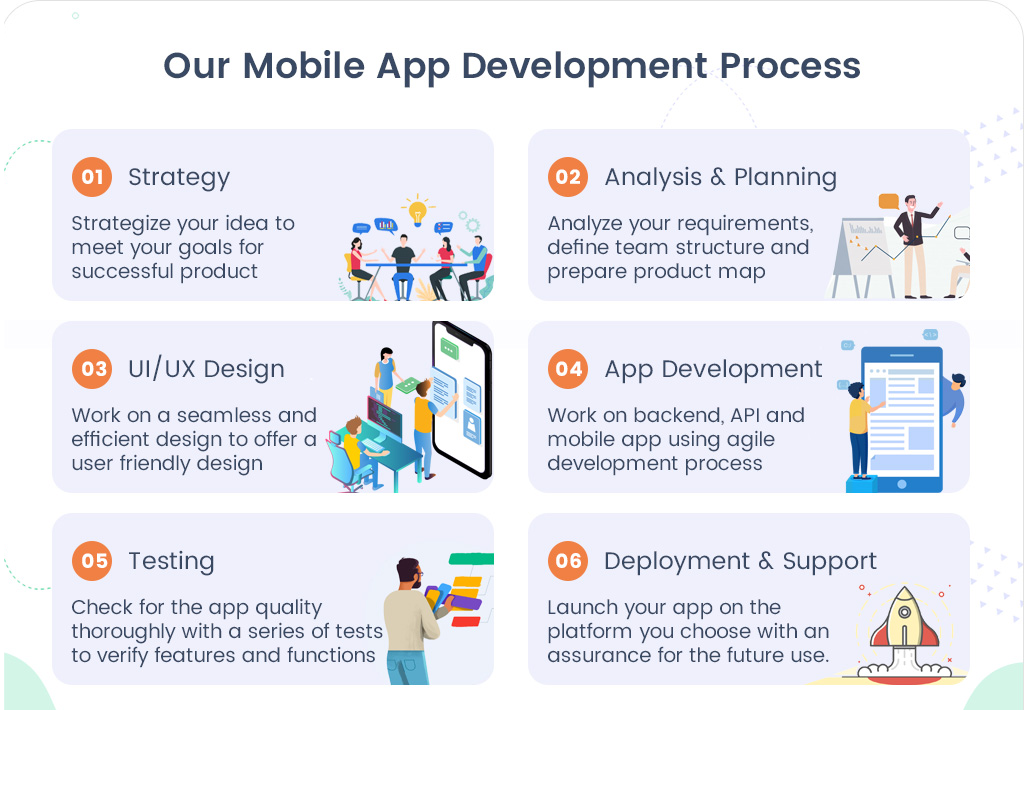 Essential Features to Develop an On-Demand Online Tutor App
Making an investment in an On-demand online tutor booking app is a good idea. However, it's only worth it when you know what features are to be added to the application. To create a winning tutoring app, you need to create a student panel, a tutor panel, and an admin panel. 
Features to Create a Student Panel
Assuming you want to create a student panel for an online tutoring app. So, here are some features you would need to include: 
Seamless Registration Process:  

Develop an on-demand tutor app that offers an unbeatable user experience of your app by offering a seamless sign-up process. Quickly register with a basic email ID, mobile number, or Facebook account to import data.

Push Notification:

The inclusion of push notifications allows users to stay updated on students via notifications when something new has occurred or when their due date is up. 

Search Tutor:

By using search filters, students can easily sort the most suitable tutors according to their particular needs, such as subjects, board exams, or classes.

Rating and Reviews: To find out how proficient and reliable a tutor is, simply take a look at the ratings and reviews they have given to other students. You can hire an Android app developer to integrate this feature. It allows students to search and choose from a wide range of options.
Select a Tutor:

Your app should allow your users to choose a tutor and book a session according to the time and other details of the tutor. 

Check Details of Tutor:

It provides the right information about their experience, proficiency, knowledge, and fee structure. An app developer in India can design an app to make this feature easy to use.

Enroll for the Course:

This feature provides the provision for choosing and enrolling in a class or seminar. This makes it easier for students to pick and choose the most relevant course. 

Post Education Requirements:

A student who uses this system can specify what he needs and then the tutors will be able to reach out to him through an app call or message. 

In-app Communication:

Via in-app chat or calling feature, students can get in touch with their tutors, who answer any of their questions promptly and reliably without any need for communication outside of the app.
Features to Create a Tutor Panel 
Simple Sign-in Process

: As the student panel, make sure you have a sign-in procedure for the tutors as well. Let them sign up an app using the same credentials given by the admin.

Background Verification: To increase the credibility of the app, you can hire an app developer who can customize the verification feature. Here tutors need to upload their education documents and experience certifications to get registered on the app. 
Create a Profile:

It's important to start by creating a tutor profile so you can see their work experience and the subjects they specialize in. A strong profile will help you increase your chances of being hired. 

Keep Track of Earnings:

The app provides teachers with access to how much they've earned each week or month. You can also integrate this feature that tracks and estimates your monthly or yearly earnings. 

Adjust Class Timing:

Provide the flexibility for the tutors or teachers to swap the class timings according to their availability. 

Availability:

Your app developer should integrate the tutor availability feature into the tutoring aspect. Tutors are able to indicate their availability, including days and times. Moreover, you can customize this feature in an engaging way.

Accept or Decline Request:

The tutor can accept or decline the student's request based on the availability of slots and/or the tutor's convenience.
Features to Create an Admin Panel 
Student Profile Management:

This feature allows the admin to manage the subjects and courses chosen by each student, as well as the fees paid by them. 

Tutor's Profile Management:

By using the app, the admin can manage all the information related to the tutor in terms of subject expertise, experience, and the batches booked and classes planned. 

Track Real-Time Analytics:

Provides the company with real-time, real-time insights into an employee's data profile (checking to see all the students and tutors who are in on the project), so both parties' performance can be viewed by simply glancing at the main console. 

Assigning Tasks to Tutors:

It's the duty of the administrator to assign tutors to students depending on their availability and schedule. If a slot remains empty, then it's the duty of the manager to match students with the next available tutor. 
These are the must-have features of creating an online tutor booking app. But if you are looking to develop an on-demand tutor app, then it is worth hiring a mobile app development company. They will help you integrate all the advanced features in the app.
In addition to that, the professionals have experience and understanding of implementing the right set of functionalities that make your app a winning solution. 
Advanced Features to Create an Online Tutor App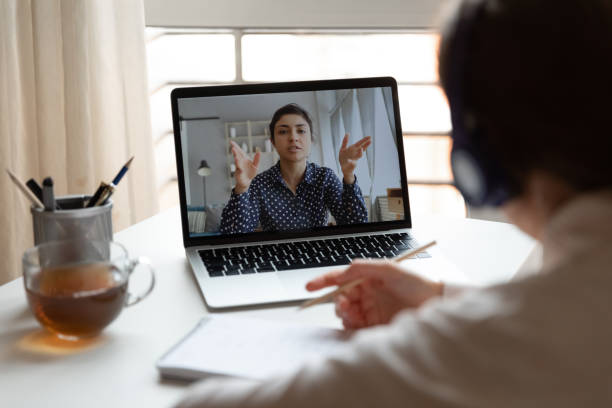 To make your app stand out in the crowd, you can consider integrating these advanced features. It ensures better functionality for the students and tutors.
Here is a list of the features that you can refer to:
Cloud Management:

In order to keep all your information safe and secure in your app, it is worthwhile to implement cloud management features along with other frameworks like MongoDB, etc. 

In-App Payment:

The integration of many payment options makes an app stand out and allows users to pay their fees or purchase materials quickly. 

Multilingual Support:

With such diversity in students' backgrounds, you should ask your app developer in India to include a multilingual option for teaching. That way, your app will be more appealing to all cultures. 

Referral Bonus:

By sharing your app with your social circles, students can earn a referral bonus. Basically, this could be an interactive feature for your app. 

Multiple Class Bookings:

One of the many benefits of the app is that it allows a person to take multiple classes at once, instead of just booking one course at a time. 
In a nutshell, developing your tutor app with these premium features will take around seven months. In addition, the price will range between $20,000 and $25,000+ depending.
It depends on the type of service provider you hire and the type of technology you choose. Finally, the final app development cost can easily go up and down according to the complexity of the app. 
Read More: 60+ Top App Ideas For Startups To Launch In 2023
Popular Tech Stacks To Build a Successful Online Tutor Booking App
Firstly, when it comes to creating an on-demand tutor app, you should carefully select a tech stack.  It will help you keep your app up with the varying user demands and add competition. Apps with good technical qualities can easily be the best on the charts and provide an outstanding user experience.
Therefore, it is important to ensure your app includes the following technical features. Including these features in your app will help you engage users longer on your app. 
Programming Languages: Swift, Kotlin, Java, React Native, Flutter
Push Notifications: Twilio, Push.io
Voice, SMS, and Phone Verification: Twilio, Nexmo
Payments: Stripe, GooglePay, Braintree & PayPal
Real–Time Analytics: Cisco, IBM, Hadoop, Spark, BigData, Apache Flink
Database: Cassandra, MailChimp Integration, MongoDB, Hbase, Postgres
Cloud Environments: Google, Azure, AWS
These are the common choices of tech-stacks that most of the online tutor booking apps like Byjus are already using. All you need to do is to hire an iOS app developer that can create a superior interface for the application and make it work flawlessly. 
Summary

Hopefully, this guide has given you useful insights into developing an online tutor booking app. Now you must know the right set of features and functionalities to create an app. To make your app idea stand out from the competition, it is always worthy to hire a mobile app development company that can blend the right skills and expertise into the app idea.
So, if you already have an Edtech idea, then AppsDevPro can be a one-stop platform to hire a team of mobile app developers. Their industry-best experience and expertise in crafting bespoke applications will help you develop an app that adds a competitive edge to your business. To discuss your app idea and get a free estimation, you can drop a query to our experts below!
————————————————————————————————————————————————–
You can also check our other services:
Hire Mobile App Developers, Hire Xamarin App Developer, Hire iPhone App Developers, Hire Android App Developers, Hire Flutter App Developer, Hire React Native Developer, Hire Kotlin Developer, Hire Web Developer, Hire PHP Developer, Hire Laravel Developer, Hire Nodejs Developer, Hire Microsoft Developer, Hire ASP.NET Developer, Hire Angularjs Developer, Hire Reactjs Developer, Hire Vue.js Developer, Hire E-commerce Developer, Hire Magento Developer, Hire WordPress Developer, Hire MERN Stack Developers, Hire MEAN Stack Developers, Hire App Developers