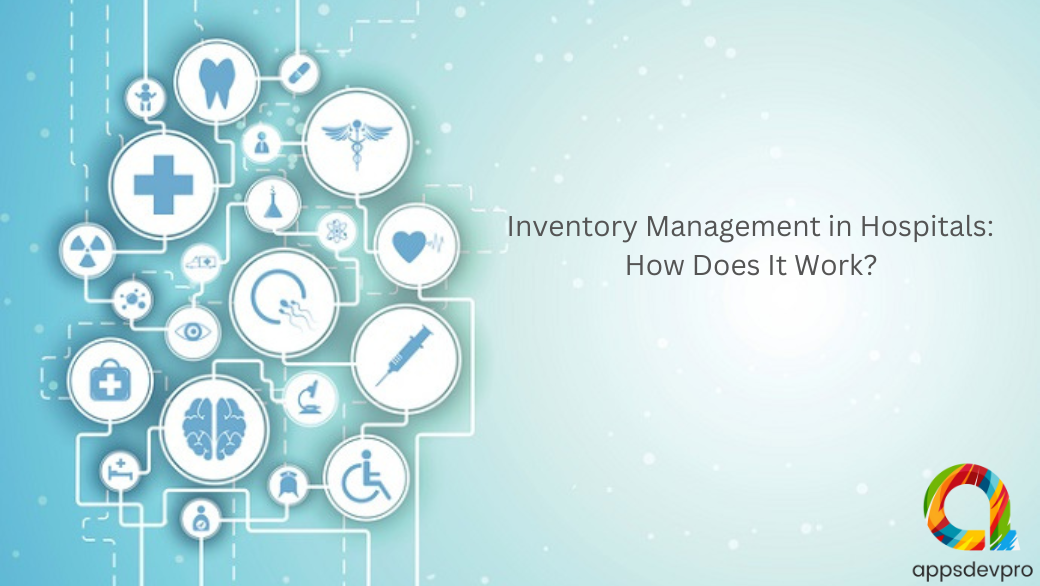 Quick Summary Blog:
Inventory management in hospitals is designed to increase the efficiency of healthcare supply chains and reduce medication waste. But if you're not sure how inventory management hospital systems work, its benefits and its importance in the healthcare industry, then this article is for you.
Inventory management in hospitals is no more remains a surprising thing for the healthcare industry. The way these systems are automating the inventory management process and allowing hospitals to keep track of every in and out, hospitals are able to ensure better care to their patients now. 
Wondering why inventory management systems in hospitals are strongly paving their way in the healthcare sector?
Hospitals are no longer just places to receive medical care, they are also a platform that facilitates all the services that ensure the most effective use of their equipment, supplies, and staff.
One element to managing this effectively is inventory management, which includes many different aspects from purchasing to stock control and more. Apart from this, here are the three major purposes of integrating inventory management in hospitals…
Major Purposes of Implementing Inventory Management in Hospitals
Here are a few urgent needs of the healthcare industry that needs to be addressed through inventory management software in hospitals.
A more effective inventory management program within hospitals reduces costs;
Inventory management in hospitals will help in optimizing workers' efficiency.
A well-managed healthcare system can improve patient safety.
Implementing this system is especially important when it comes to drugs that need to be administered on a timely basis to patients who are critically ill or have a compromised immune system.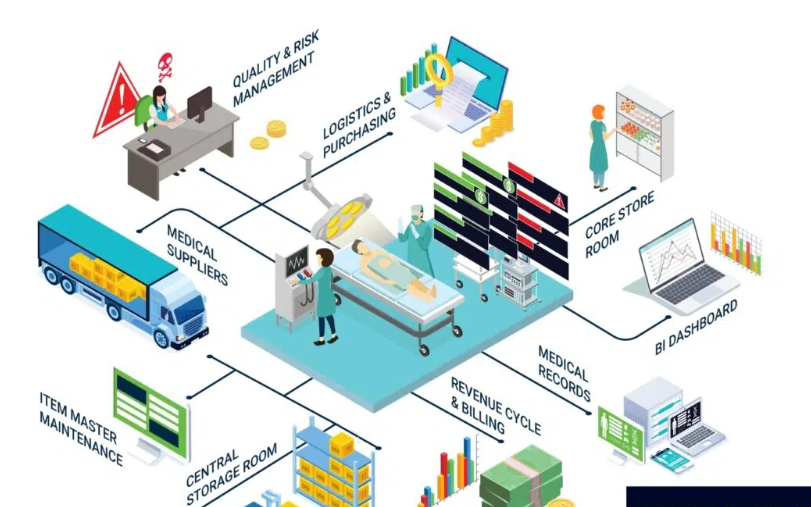 Image Source: identimedical
If you are also planning to create a full-fledged inventory management system that can handle all stock-keeping and reordering tasks, then you can hire software developers in India to kickstart your project. However, before you get started with inventory management in hospitals, you need to know what exactly inventory management in hospital pharmacy is.
This article will go through what hospital inventory management entails and how it can be integrated into your facility's existing structure so as not to disrupt daily operations.
What is Inventory Management Hospital Software?
Hospitals and other healthcare facilities need to keep track of their supplies – everything from clean linens to bandages. If you're running a hospital, inventory management software can help you organize your stock as well as generate reports on how much of each item you have left and what your costs were for things like equipment, rent, utilities and medications.
According to the Survey report, 82% saw boosts in the accuracy of supplies tracking and inventory management. 
On the other hand, 83% of hospitals are expecting hospital automation and 97% of hospitals expect dynamic workflow notifications to be sent to mobile devices by 2022.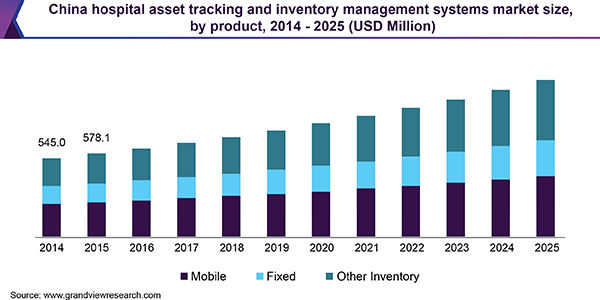 Image Source: grandviewresearch
This software lets you know when a specific item needs to be restocked or used up. It also gives you insight into product usage over time, so that if there's an issue with compliance rates or change in demand patterns, it can help highlight it in time. You'll also be able to anticipate future demand, which will give you a better idea of the amount of inventory you should carry at any given time.
Challenges In Hospital Inventory Management
As hospitals become larger and more complex, their inventories also increase in size and complexity. The day-to-day management of these inventories can be tricky and require very specific systems to ensure that supplies are available when they're needed but also aren't used when they are unnecessary.
If you work as an inventory manager in a hospital, this article will show you how inventory management in hospitals works, and what challenges you can encounter with the implementation of this software.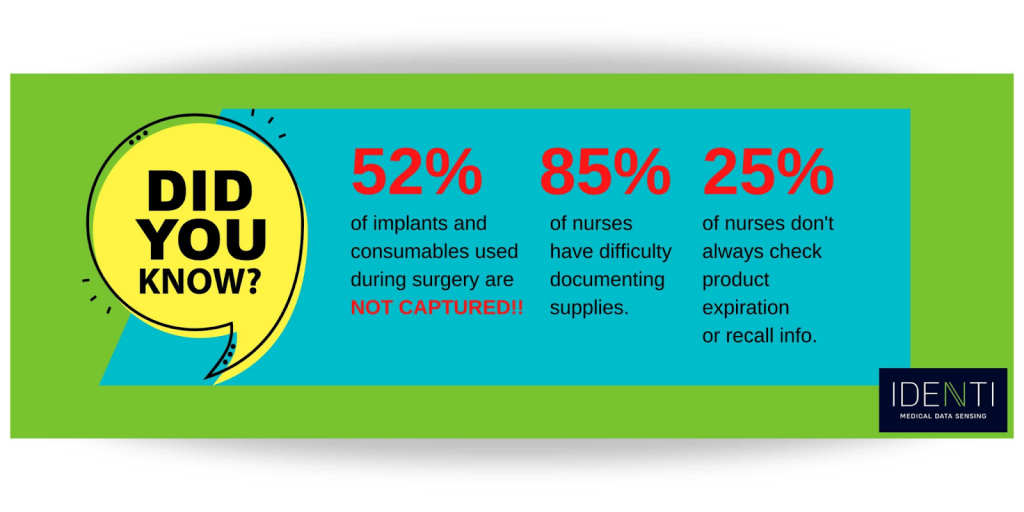 Image Source: identimedical
As the healthcare industry is growing, the problems of managing hospitals are also increasing at the same pace. That is where inventory management in hospitals comes in place and ensures a perfect solution to all issues.
But before we get to know how hospital inventory management systems work and benefit the healthcare industry, let's understand how inventory management in healthcare helps in overcoming these problems.
– Grading Medicines
As it turns out, nurses are typically in charge of coordinating hospital supplies, which not only ties up physicians with the job but they must also research lists of supplies they need to purchase.
– Shortage of Medicines in the Market
Incidents involving emergency situations are frequent in healthcare facilities. As such, it is imperative that an adequate supply of medical equipment and resources be maintained. Certain items do have a storage life. In fact, it is necessary to rotate them to avoid damaging the products.
– Generating Sales Report
Reports are invaluable when it comes to monitoring inventory, sales and profits, as well as analyzing trends and patterns in your business. The trick, however, lies in deciding how often you need these reports so that they don't become an unnecessary drain on your resources.
– Overstocking Medicines
Although hospitals should always be well-stocked, overstocking medicines can cause serious problems for hospitals. Not only does it pose health risks for patients and staff, but it's also uneconomical, making medicines less effective and less safe.
– Knowing the Expiry Date Of Drugs
This stockpiling of emergency medical items has the negative consequence of inhibiting staff's ability to easily keep tabs on the expiry dates of various items; moreover, healthcare providers sometimes erroneously supply patients with expired items.
– Labor Demands Less and Pays Better
Cutting down too much on cost-saving leads to inefficient and haphazard working methods sometimes. Low wages cause the staff to ignore tiny but necessary things like providing nourishing meals, which end up taking a huge toll on the patient's well-being.
Many hospitals have realized this problem and have initiated to development of hospital inventory management systems by hiring mobile app developers in India. This is because when hospitals overstock their medicine supplies they run a greater risk of expiring or becoming unusable while simultaneously wasting valuable space.
Do you want to develop a custom solution for inventory management in hospitals? If yes, then click here to read more about hiring an Android app developer in India. 
How Inventory Management in Hospitals Helps in Overcoming These Challenges?
One of the major problems hospitals face, which can cause them to overspend and under-save, is managing inventory. Hospitals have a lot of inventory that they need to monitor, which can take up a lot of time.
The hospital software helps by providing an easy way for hospital staff to track their inventory. It also helps with order management and procurement processes, which can be difficult without the right software in place.
The best part about this type of software is that it's customizable to each specific hospital's needs; you don't have to use what everyone else uses!
Hospitals have a lot of items to keep track of, but you need to prioritize the items that need urgent attention. There are many software developers to hire in India that can help you bring a perfect system in place. Hospitals inventory software can help with the following challenges:
Keeping track of what you need and when it's due for reordering.
Helping work out how much you need on hand at any given time, and what to order next.
Reducing wastage by making sure stock isn't being wasted or used up too quickly.
Allowing staff to focus on other tasks rather than spending their time trying to find supplies.
Inventory management in hospitals helps ensure that patients always have access to medical equipment and medicines when they need them, no matter the circumstances.
In case you are looking to develop any inventory management solution with specific features and functionalities, then you can hire full-stack developers in India. 
What are the Features of Inventory Management Hospital Systems?
Hospitals are unique when it comes to inventory management. First, hospitals deal with an abundance of different product types. Just about every area of hospital operation needs supplies that are unique in some way, from surgical instruments and medicines to bed sheets and janitorial products.
Hospitals also operate on a tight schedule and need constant access to these products regardless of where they're located. So there's no room for running out, either within a department or over a broader area like an entire hospital wing.
In order to meet demand, hospitals use inventory software which has features including:
Scheduling tools that set the order and timing for the delivery of essential items into the facility according to calculated usage rates.
Analytical tools designed specifically for hospital stock levels – including methods such as safety stocks which will ensure they never run out.
Reporting functions which allow administrators easy access to accurate data about their assets.
Integration with Electronic Medical Records (EMR) systems – meaning orders automatically match up with available supplies.
Using Barcode Scanners: Inventory management software also usually includes a barcode scanner, so you don't have to type in all of your items every day.
Sending Alerts and Reminders: The best functionality of inventory management in the hospital system is it started sending alerts to the admin for restocking or refilling the supplies. By hiring Indian mobile app developers, you can customize this functionality of the app. This way you never go out of stock or have to bear the burden of overstocking.
Check For Medicine Expiries: Inventory management in hospitals is also responsible to check the expiry of drugs. When medicine expires or needs to be changed out, the hospital inventory management app will send notifications to remind staff members and change them accordingly.
The right technology can create accountability throughout the supply chain process – ensuring patients always receive exactly what they need. Apart from these functionalities, what are the other benefits of implementing inventory management in hospitals?
Benefits of Inventory Management Software in Hospitals
There are many benefits to using inventory management software in hospitals. One of the most important benefits of inventory management in hospitals is that it enables them to track their inventory at all times, which helps them have better control over their supplies.
In addition, it's a time-saving solution for busy hospital staff members who would otherwise have to rely on inefficient paper and pen methods for tracking inventory. All thanks to professional app development companies that allow you to hire dedicated app developers in India that can understand your needs.
When they can get an accurate reading of what they have, hospitals can restock more efficiently and keep costs down by not buying unnecessary items.
They can also save money by avoiding making returns or paying penalties due to overages or out-of-stocks. These benefits make inventory management software an excellent investment for any hospital looking to stay efficient and well-stocked with the supplies they need to treat patients effectively.
Here is a quick list of benefits of inventory management in hospitals:
By automating data collection via your inventory management system, you can maintain accurate inventory counts in real time and set up reorder parameters to prevent waste.
The ability to maximize provider time – Nurses spend far too much time managing inventory. Automated inventory management systems reduce the amount of time they have to spend on supply chain management and give them more time to spend with patients.
The ability to track medical equipment, devices and medication with asset tags and barcodes will enable you to manage recalls and reduce expired products more efficiently. Keeping you informed about medical devices and medications is easy with alerts and notifications.
Analytics help you better understand inventory use, waste, and maintenance needs with hospital supply chain management and automated inventory management systems. As a result, you will be in a position to make better forecasting decisions based on data.
Hopefully these benefits are encouraging you to immediately get started with the inventory management software development process. By hiring a mobile app developer in India, you can start your project and able to transform your traditional process of managing hospital inventory practices.
Best Practices Of Inventory Management in Hospitals
The best practices for inventory management in hospitals are as follows:
The storeroom should be located in a low-traffic area and have ample storage space.
Inventory should be organized by room, lab, medical device or another appropriate way.
Each item should have an individual barcode to track usage.
A detailed list of items for the department and their locations should be documented and all inventories counted at least twice per year.
The best hospitals will also use an inventory management software system to eliminate redundant tasks and ensure accuracy when counting items like gloves and syringes.
While technology may help with tracking and managing inventory, it becomes easier to keep track of every in and out of hospital inventory.
Inventory management in hospitals will help you streamline the process to the next level. With inventory management systems in place, you can reduce operational costs, keep track of stock, check stock levels and ability to deliver better care to the patients.
Conclusion: Where To Go Next?
Inventory management software for hospitals can help to automate the process and also provide a more accurate count. This type of software for hospitals can also help with other areas such as supply chain and materials management. All you need is to hire a mobile app developer in India to get started with inventory management in hospitals. The software would handle the inventory, keeping track of what is on hand, what needs to be ordered, and when it needs to be ordered. It will even alert you if any supplies are running low or if there are any excess supplies that need to be discarded or sold off.
If you are also running a hospital and looking for solutions that can automate hospital inventory management, then AppsDevPro can help you build the right one. You can drop your query or contact us for details.
FAQs
Why You Should Consider Implementing Inventory Management in Hospitals?
Inventory management software for hospitals can help to automate the process and also provide a more accurate count. This type of software for hospitals can also help with other areas such as supply chain and materials management. 
All you need is to hire a mobile app developer in India to get started with inventory management in hospitals. The software would handle the inventory, keeping track of what is on hand, what needs to be ordered, and when it needs to be ordered by. It will even alert you if any supplies are running low or if there are any excess supplies that need to be discarded or sold off.
Is Inventory Management Important For Hospitals?
Inventory management in hospitals is important because it helps keep track of what items are available to be used. It also tracks the cost of each item and how often it's been used. Hospitals use this information for billing purposes, too, so that patients can be charged according to how much they've used each item.
How Can We Help You Management Hospital Inventory?
If you need help with inventory management, we can offer the solutions you are looking for. We offer a wide range of solutions to suit your needs and budget. We help you customize the solution by integrating the right choice of functionalities that enable you to enhance data security, reduce expenditures, control operational costs and more.
You can also check our other services:
Hire Mobile App Developers in India, Hire Xamarin App Developer in India, Hire iPhone App Developers in India, Hire Android App Developers in India, Hire Flutter App Developer in India, Hire React Native Developers in India, Hire Kotlin Developer in India, Hire Web Developer in India, Hire PHP Developer in India, Hire Laravel Developer in India, Hire Nodejs Developer in India, Hire Microsoft Developer, Hire ASP.NET Developer in India, Hire Angular.js Developer in India, Hire React.js Developer, Hire E-commerce Developer in India, Hire Magento Developer in India, Hire WordPress Developer, Hire AI Developers in India, Hire Java Developers in India, Hire Python Developers in India, Hire Javascript Developer in India, Hire AR/VR Developers in India, Hire Blockchain Developers in India