AI in automotive industry has unlocked hundreds of new opportunities for the industry and opened the doors for entrepreneurs to become a part of this thriving industry!
How many of you agreed with this statement?
Well, the emergence of AI in various industries acting as a potent transformation driver. And the Automotive industry is not an exception!
The automotive industry is experiencing a revolution with the introduction of artificial intelligence (AI). AI is transforming the way cars are manufactured, used, designed, and maintained. From self-driving vehicles to predictive maintenance, AI is playing an increasingly important role in the automotive industry.
Automotive manufacturers and AI-tech startups are leveraging the power of Artificial Intelligence and rigorously investing in this industry. You don't have to believe our words. Below are a few stats and facts to consider…
Apart, from this blog post, we will explore 10 ways that AI is revolutionizing the automotive industry, including its use cases, benefits, impacts, and challenges. So before you get into the process of hiring an AI developer in India, we will discuss how AI is transforming the industry..
Let's start with the important stats and facts of automotive industry and decide whether implementing AI in automotive industry is a worthy decision…
AI in Automotive Industry: Market Statistics and Revenue Growth of the Industry
The automotive industry is currently undergoing a major transformation thanks to advancements in AI technology. As this technology continues to evolve and become more affordable, more and more car manufacturers are beginning to incorporate AI into their cars.
In fact, the AI in Automotive industry was valued at $6 billion in 2022 and is estimated to grow at a CAGR of 55% from 2023 to 2032.
According to the survey report, the global AI market would predict a compound annual growth rate of 39.4% during the predicted period from 2022 to 2030 and will generate $1591 billion.
Image Source: precedenceresearch.com
AI-enabled applications are expected to improve the convenience, safety, and efficiency of automobiles, while also reducing costs associated with maintenance and repairs. This is why many leading car companies such as Ford, Volkswagen, BMW, Nissan, Hyundai, and Toyota have invested heavily in developing AI-based solutions for their vehicles.
In addition to car manufacturers, other businesses are now entering the automotive AI market.
For example, tech giants like Microsoft, Amazon, and Google have all developed products tailored to the automotive industry that can be integrated into cars. These include voice recognition software and driver monitoring systems.
Apart here are the few factors that support the growth of AI in automotive industry: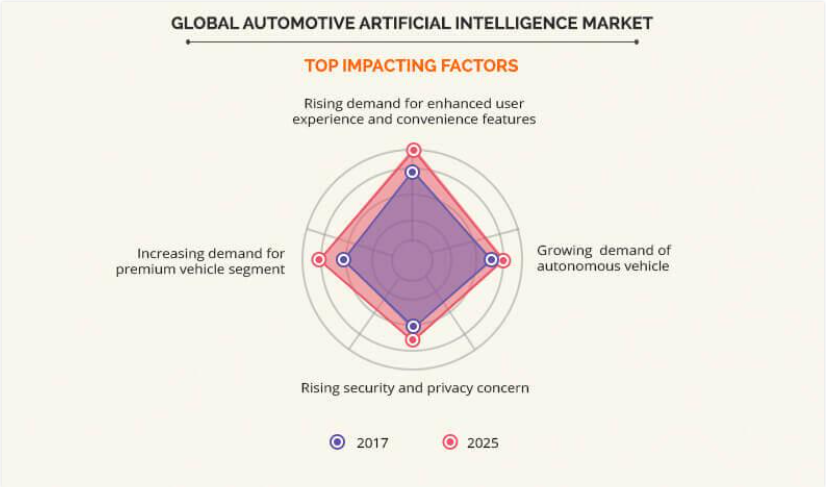 Image Source: alliedmarketresearch.com
Overall, the increasing demand for AI-enabled automobiles is creating a new economic opportunity for automotive companies. The AI in Automotive industry is expected to reach a value of $22 billion by 2027, making it one of the most lucrative markets for automotive companies. Companies that capitalize on this trend stand to benefit significantly from its growth.
But what are the benefits of Implementing AI in Automotive Industry?
Let's get into it!
Benefits of Implementing Artificial Intelligence in Automotive Industry
AI has a multitude of potential benefits for the automotive industry.
Here are some of the top benefits of AI in automotive industry that can be easily leveraged by hiring an AI developer in India:
Improved Safety: AI can help to make cars safer, by enabling them to identify hazards and respond appropriately. For example, AI-enabled autonomous cars can detect obstacles on the road or avoid collisions with other vehicles.
Enhanced Customer Experience: AI can be used to customize the driving experience for customers, allowing them to access information, entertainment, and other services tailored to their preferences. It can also be used to make services such as route navigation easier and more efficient.
Smarter Manufacturing: AI in automotive industry can help to streamline the production process by automating repetitive tasks and helping to identify potential problems quickly. This can lead to greater efficiency and cost savings.
New Business Models: AI can enable new business models in the automotive industry, such as subscription-based services and shared ownership models.
Predictive Maintenance: AI can be used to predict when parts need to be replaced or serviced, saving time and money.
Connected Cars: By connecting cars through networks, AI can enable a variety of services and features, such as enhanced navigation and improved safety.
Vehicle Health Diagnostics: AI in automotive industry can help diagnose vehicle problems quickly and accurately, reducing the time needed for repairs.
Detecting Fuel Efficiency: By analyzing driving patterns, AI can help reduce fuel consumption, save money and reduce emissions.
Emissions Reduction: AI can be used to identify and reduce emissions from vehicles, helping to combat climate change.
AR/VR for Automotive: By incorporating augmented and virtual reality into vehicles, AI can create immersive experiences for customers and improve safety.
These are the few top benefits of using AI in automotive but now the central question is " What are the top AI Use Cases Transforming the Automotive Industry?"
10 Top Use Cases of AI in Automotive Industry
For some time autonomous driving has been a central concern of the industry but that won't be possible without the help of AI. But the fact is, the implementation of AI in automotive industry has not been limited to just autonomous driving. Auto manufacturers and tech startups are racing hard to bring the best AI-driven auto solutions to the market.
So if you're also one of those who have been looking to implement AI in automotive industry but are not sure where to get started, then here are the few use cases of AI in automotive that you can initiate by hiring an Indian AI developer.
So let's get started with the use cases of AI in automotive:
AI For Driverless Cars
The development of autonomous driving technology is rapidly changing the automotive industry, and Artificial Intelligence (AI) is playing an increasingly important role. AI for driverless cars is an evolving technology that has the potential to revolutionize how people move around and experience transportation.
Recent advances in Artificial Intelligence have enabled machines to make decisions faster than ever before. By leveraging AI-based technologies such as computer vision, deep learning, and machine learning, driverless cars are able to detect, recognize, and respond to a variety of external stimuli. This makes it possible for the car to effectively and safely navigate roads without the need for a human driver.
According to Statista, the global market for autonomous vehicle technology is projected to grow to $556.67 billion by 2030. 
Image Source: Statista
This growth can be attributed to the increasing number of applications of AI in driverless cars, including improved safety, navigation systems, traffic management, and more. AI-enabled vehicles can detect potential hazards on the road and can take appropriate actions to avoid them. Additionally, AI-enabled vehicles are able to communicate with each other, allowing for better coordination and smarter decision-making.
AI For Smart Manufacturing
With AI in automotive industry, the market is witnessing a massive transformation from manual to automated manufacturing processes, thanks to advances in artificial intelligence. With AI, manufacturers are able to optimize production processes and eliminate potential inefficiencies.
One example of AI-driven automation is machine learning-driven vision systems, which are used to inspect parts and detect defects. AI-driven robots can also take on repetitive tasks such as welding, drilling, and painting, while computer vision systems can be used to accurately place components and conduct quality assurance checks.
In addition, AI is also being used to monitor factory conditions such as temperature, humidity, and lighting, as well as analyze operational data such as machine cycle times and maintenance needs. This helps automotive manufacturers identify opportunities for improved efficiency, better quality control, and cost savings.
Statistics show that AI-based automation could reduce the cost of production by up to 20%, resulting in an estimated $5 trillion saved annually by 2030. 
Another market survey report says that the global smart manufacturing market size will jump from $249.56 billion in 2019 to $658.41 billion in 2029.
Image Source: fortunebusinessinsights.com
Furthermore, AI-powered quality control could reduce waste from defective products by as much as 50%, leading to significant savings for automakers.
By using AI for predictive analytics, automakers can also anticipate customer demand and optimize supply chain logistics for faster production cycles.
AI For Smart Auto Designing
Automotive companies have long relied on manual methods to design and build cars, but AI in automotive industry is now revolutionizing the process. With AI-driven algorithms, automotive manufacturers can create more efficient designs, optimize production processes, and enable faster iterations of car models.
AI helps manufacturers develop smarter cars with improved safety features, increased fuel efficiency, and enhanced comfort and convenience for drivers. Using AI-powered simulations, companies can test designs virtually before making physical prototypes. This allows for quicker design iterations, which speeds up the development cycle and results in fewer expenses and faster time-to-market.
AI also allows automotive companies to automatically generate 3D models of car components from 2D drawings. When you hire app developers in India, it becomes easier for engineers to design custom parts that fit perfectly together. Additionally, AI can be used to detect and correct errors in design models. Automotive companies are already taking advantage of this technology to reduce defects and improve the quality of their products.
AI-powered analytics and insights enable automakers to track the performance of their vehicles in real time, making it easier to anticipate potential issues. This ensures that any problems can be addressed quickly and prevents costly recalls.
According to a survey conducted by Deloitte, nearly 62% of automotive executives believe that AI will help them reduce design times and recall costs. 
Overall, the implementation of AI in automotive industry has already been instrumental in transforming automotive design and development. AI allows automotive companies to create safer, better-performing, and more reliable vehicles than ever before. As the industry continues to innovate, these benefits will only increase with time.
Traffic Management
Traffic management is an area where AI can provide major benefits for the automotive industry. AI-based technologies are being used to improve navigation, reduce congestion, and optimize vehicle routes for safer, more efficient driving.
By leveraging data from sensors on vehicles and infrastructure, AI systems can gain insights into traffic patterns and suggest routes that can help drivers save time and fuel. AI can also be used to develop algorithms that can accurately predict potential traffic problems before they occur, allowing drivers to avoid congested areas or dangerous driving conditions.
Furthermore, AI in automotive industry can be used to develop intelligent traffic control systems that use data from road sensors and cameras to automatically adjust signal timing, allowing traffic to flow more smoothly and safely. With the help of AI, traffic management can be more efficient, cost-effective, and safer than ever before.
Offering Personalised In-Car Experience
AI-powered technology can be used to provide personalized in-car experiences for drivers. This technology can be used to tailor the audio, climate control, and navigation settings of a car to the preferences of the driver.
AI-based systems can also help drivers stay connected to the world around them by providing relevant news, entertainment, and other services on demand.
AI in automotive industry can also help drivers get more out of their trips by recommending routes, destinations, and activities based on their preferences.
For example, a driver's AI-powered assistant could suggest detours to scenic attractions or alternative routes that take into account real-time traffic conditions.
AI-based systems can also detect a driver's emotions and adjust the car's settings accordingly, such as lowering the music volume if they appear to be stressed or bored.
Personalized in-car experiences enabled by AI can lead to improved safety, convenience, and comfort while driving. Such systems can help drivers become more aware of their surroundings, potentially reducing the risk of accidents. Moreover, the usage of AI in automotive industry can give drivers access to up-to-date information on traffic patterns and other changes in their environment.
AI For Connected Cars
Connected cars are one of the most popular use cases of AI in automotive industry. Connected cars are vehicles that are equipped with an internet connection, enabling them to access a variety of data and information in real-time. This technology provides several benefits to drivers, such as increased safety, improved navigation and convenience, and a range of other services.
In recent years, connected cars have become increasingly popular with more than 50% of global vehicle sales now being connected vehicles.
A study by Juniper Research estimates that by 2024 this number will increase to over 80%. This rapid growth has led to more innovative connected car applications and features, such as:
Real-time traffic updates: Connected cars provide drivers with real-time traffic updates allowing them to plan the most efficient routes. This can save drivers time and money, as well as help reduce congestion on roads.
Voice-activated navigation: This feature allows drivers to search for directions and destinations hands-free. It can also provide drivers with alternative routes based on current traffic conditions.
Vehicle health diagnostics: Connected cars are equipped with sensors that can detect any issues with a car's performance. The data is then sent to the driver's phone or a service center in order to schedule maintenance appointments if needed.
Connected cars have a huge potential to improve safety on roads by helping drivers navigate more safely and avoiding accidents.
A recent study from the World Health Organization found that over 1.35 million people were killed in road crashes in 2018, and that connected cars could potentially prevent up to 60% of these fatalities.
In addition, connected cars could also help reduce emissions by providing drivers with data on their driving habits and suggesting improvements where necessary.
In a nutshell, connected cars are revolutionizing the automotive industry by providing drivers with a range of innovative features and benefits. With the increasing popularity of this technology, it is likely that we will see further advances in this area in the near future.
AI for Intelligent Parking
Intelligent parking is a growing trend in the automotive industry, and its impact on customer convenience and efficiency has been remarkable.
Image Source: miro.medium.com
According to a survey by INRIX, drivers spend an average of 17 hours per year searching for parking, costing them $345 in wasted fuel and time. With intelligent parking solutions, this can be reduced drastically. 
Intelligent parking solutions use artificial intelligence (AI) and sensors to identify and monitor open parking spots in real-time. This helps drivers find available parking spots quickly and easily, saving them time, effort and fuel. 
For example, Volkswagen recently launched a service called We Park which uses AI-based computer vision to detect open spots and provide directions to them. 
Apart from improving customer convenience, intelligent parking also has other advantages. It helps reduce emissions by reducing the amount of time that cars spend idling and searching for parking spaces. It also makes parking more secure by providing detailed insights into the occupancy of any given lot.
Finally, intelligent parking solutions enable cities to better manage their resources, as they can track the number of available spaces in any given area.
Overall, intelligent parking is revolutionizing the automotive industry and is becoming increasingly popular as more and more companies invest in the technology. As AI-driven solutions become more widely adopted, we can expect to see more efficient and cost-effective parking solutions in the near future.
AI For Improved Driver's Experience
AI has been used in the automotive industry to help improve the driver experience in several ways. AI-based technologies can offer drivers more personalized experiences, such as providing them with real-time traffic updates, route suggestions, and recommendations for restaurants or entertainment venues nearby.
AI can also provide an enhanced safety system, alerting the driver of potential risks and obstacles on the road. Additionally, AI-driven applications can monitor driver behavior and offer personalized coaching to help drivers improve their safety on the road.
Finally, AI in Automotive industry can be used to track driving habits, providing insights into fuel efficiency and identifying opportunities for improvement. This can help drivers save time, and money, and reduce their environmental impact.
AI For Predictive Maintenance
Predictive maintenance is an AI application that uses data from sensors, wearables, and other sources to predict when a vehicle will require servicing or repair. The predictive maintenance use case uses AI to identify potential problems before they arise, allowing for proactive maintenance that can reduce the need for costly repairs and downtime.
With predictive maintenance, AI algorithms are used to analyze data collected from various sources, such as fuel usage, engine temperature, tire pressure, and other parameters.
By tracking this data, AI can detect signs of wear and tear and alert mechanics or owners when a vehicle is in need of maintenance. This allows for more proactive maintenance and repairs, rather than waiting for an issue to manifest itself.
AI For CPQ Automation
AI-powered CPQ (Configure, Price, Quote) automation is gaining traction in the automotive industry. AI-powered CPQ enables companies to offer customers a customized experience when buying a car, by allowing them to configure their desired car models and customize the features.
By combining natural language processing, computer vision, and machine learning algorithms, AI-powered CPQ can accurately predict customer preferences and suggest features that are best suited to the customer's needs. To make it work flawlessly, you can consider hiring a software developer in India that enables you to implement AI in automotive industry flawlessly.
This technology is being widely adopted by leading automakers as it helps them provide customers with an enhanced buying experience. With AI-powered CPQ, customers can pick from a large variety of options when it comes to car models, parts, accessories and other features.
A recent survey revealed that over 90% of automotive companies have implemented AI-powered CPQ into their sales process, with more than 80% of them seeing improved customer satisfaction rates as a result.
Additionally, according to the same survey, 83% of automotive companies reported that they have achieved cost savings due to AI-powered CPQ automation. This is because automating the CPQ process allows companies to reduce manual errors and eliminate redundant tasks.
Predictive maintenance can also be used to identify trends in vehicle usage and performance, which can lead to improved fuel efficiency or other performance gains. For example, AI can analyze data from multiple vehicles to identify fuel-saving techniques or optimization strategies.
Overall, predictive maintenance is a powerful tool that can help reduce costs and increase safety and reliability. By predicting problems before they arise, predictive maintenance can reduce vehicle downtime and help automotive companies maximize their profits.
Conclusion: How Does AppsDevPro Can Help You Implement AI in Automotive Industry?
The use of AI in automotive industry is rapidly increasing, and it's changing the way vehicles are designed, manufactured, and driven. AppsDevPro can help you make the most of this technology by offering solutions that are tailored to your business needs. You can hire mobile app developers in India with the expertise and resources necessary to develop the right AI applications for your organization, helping you to quickly and securely implement AI capabilities into your existing systems.
Our team can help you develop advanced use cases such as automated driving and connected cars, as well as more traditional uses like CPQ automation, driverless cars, and enhanced customer experiences. We also offer solutions for predictive maintenance, traffic management, personalized in-car experiences, and vehicle health diagnostics. Our AI-driven solutions help automotive businesses unlock new insights and unlock the full potential of their vehicles.
At AppsDevPro, we understand that AI is a powerful tool for transforming the automotive industry. We are committed to providing you with the best solutions and services to help you take advantage of all of the benefits AI has to offer.
Contact us today to learn more about how we can help you implement AI in automotive industry.
FAQs
How Much Does It Cost to Integrate AI In Automotive Industry Solutions?
Integrating AI into automotive solutions can be a costly endeavor. The cost of AI integration depends on the scope of the project, the complexity of the AI solution, and whether or not you're looking to develop an in-house or a third-party solution.
For organizations looking to hire app developers in India to build an AI solution for the automotive industry should expect to pay between $20,000 to $100,000+ depending upon the complexity of the task.
What Are the Common Challenges of AI In Automotive Industry?
AI has the potential to revolutionize the automotive industry, but there are some challenges that must be addressed before it can reach its full potential. These challenges include:
1. Data privacy: Data privacy is a major concern when it comes to AI and the automotive industry. Automotive companies need to ensure that the data collected is secure and private and that AI models are not creating biases or violating any laws.
2. Safety: AI can provide improved safety features, but there is also the risk of accidents caused by AI-powered vehicles. Automakers must ensure that their AI-enabled vehicles can operate safely and without any incidents.
3. Implementation Cost: AI technology is expensive to develop and implement, and automakers must consider if the costs outweigh the benefits.
4. Regulatory framework: Automakers must also adhere to the relevant regulations and safety standards for AI-powered vehicles.
5. Security: With connected cars, there is a risk of cyber attacks, which could lead to theft or data breaches. Automakers must ensure that their vehicles are secure and protected from hackers.
These are the few common challenges of implementing AI in automotive industry which can be easily addressed by hiring software developers in India.
What Is The Future of AI In Automotive Industry?
The future of AI in automotive industry is bright. We can expect to see continued advances in driverless cars, smart factories, connected cars, predictive analytics, and more. By leveraging the power of AI, automakers will be able to innovate faster and deliver even better customer experiences.
AI can also be used for advanced predictive analytics in order to anticipate car problems before they arise. This will allow auto manufacturers and repair shops to provide proactive maintenance, resulting in lower costs and better customer service. Furthermore, AI can be used to optimize production processes in factories, allowing for higher efficiency and shorter lead times.
Finally, AI will enable even more comprehensive connected car services, allowing drivers to access real-time traffic updates, personalized driving advice, and more. All of these applications have the potential to reduce costs and provide a safer, smoother driving experience.
You can also check our other services:
Hire Mobile App Developers in India, Hire Xamarin App Developer in India, Hire iPhone App Developers in India, Hire Android App Developers in India, Hire Flutter App Developer in India, Hire React Native Developers in India, Hire Kotlin Developer in India, Hire Web Developer in India, Hire PHP Developer in India, Hire Laravel Developer in India, Hire Nodejs Developer in India, Hire Microsoft Developer, Hire ASP.NET Developer in India, Hire Angular.js Developer in India, Hire React.js Developer, Hire E-commerce Developer in India, Hire Magento Developer in India, Hire WordPress Developer, Hire MERN Stack Developers, Hire MEAN Stack Developers, Hire App Developers in India, Hire C# Developers, Hire CMS Developers, Hire Open Source Developers, Hire Vue.js Developers in India, Hire Knockout.js Developers, Hire AI Developers in India, Hire Java Developers in India, Hire Python Developers in India, Hire Javascript Developer in India