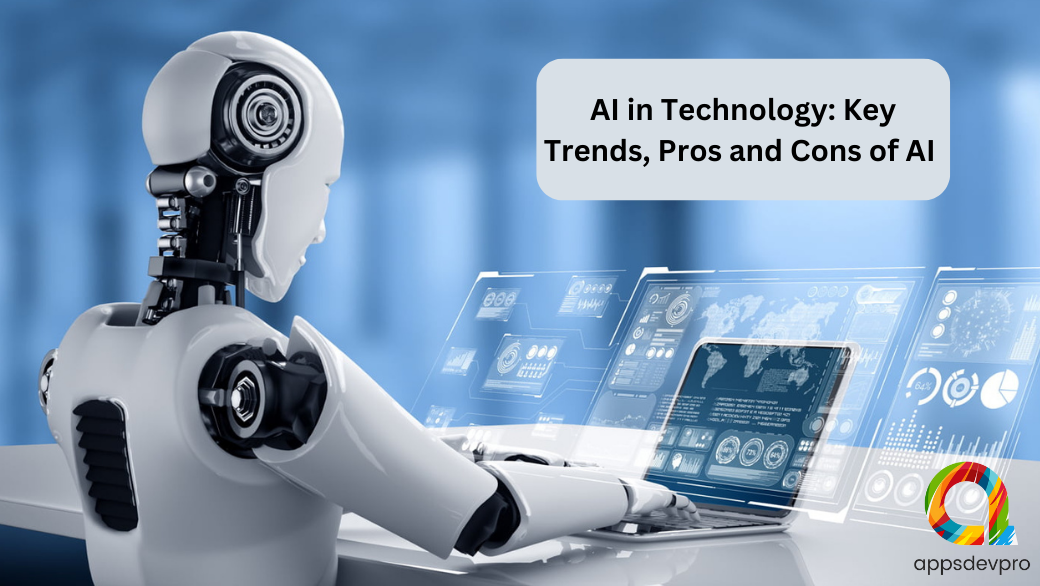 Though AI in technology has been the talk of techies, researchers and enterprises alike, there still exists a lot of scepticism and apprehensions in regard to the benefits and implications it can have on businesses in the future. This article looks at the pros and cons of AI in technology, as well as its potential effects on businesses large and small. 
With the introduction of AI in technology, businesses are profoundly changing the way of working. 
Companies from all across the world are rapidly transforming their traditional business methodologies with AI technology. The prime aim of incorporation is to improve work efficiency, generate accurate insights, and discover new market potential.
In fact, market statistics are supporting this statement and project that the global Artificial Intelligence market will reach $169.41 billion by 2025.
At the pace of Artificial Intelligence technology is roaring, many companies are getting their hands on AI-powered applications. The simple purpose of integrating AI-enabled apps aims to maximize sales, sharpen data security, optimize the supply chain, free up workers, minimize manual work, and much more. In fact, it's hard to think of an area in businesses, where AI will not have an impact. 
But the question is how far this statement is true and practically possible. 
Despite the powerful impact of AI technology on the industry, still, many companies have remained untouched by the power of AI technology.
In a nutshell, on one side enterprise leaders have determined the power of using Artificial Intelligence technology in businesses and leveraging better returns on inventment. On the other hand, they are facing various challenges which may include:
Coping up with the rapid changes implemented in the domain of AI as per various research. 

Determining the right use of AI technology as there is a multitude of use cases.

Identifying the best ways to reap the value of AI technology in businesses.
Hence, the rapid evolution of Artificial technology and the multitude of use cases can drag you into confusion that where AI technology can be used to yield the maximum profit of AI. Before you get into the process of hiring AI developers in India, let's start with an introductory explanation of AI in technology and how AI works. The importance and impact of AI on business are covered next, followed by various aspects of AI in technology.
Here are the Key Highlights of the Blog:
What is Artificial Intelligence and How Does It work?
Impact of AI on the Global Market
Why is Artificial Intelligence Important in the Enterprise?
What Are The Pros and Cons of AI Technology?
Conclusion: How To Get Started With AI Technology?
Let's get into the details of these points for better understanding…
What is Artificial Intelligence and How Does It work?
Artificial Intelligence is one of the most overused buzzwords in the world. With it coming up in every major technology company's press releases, it can be hard to separate the facts from fiction. 
But what is AI in Technology? How has it been used in business and how might it change our lives?
Artificial intelligence has been around since it was first invented in 1956 by computer scientist, John McCarthy. Since then, it has come a long way. Today, artificial intelligence is defined as machines with capabilities that can perform human tasks and think as humans do. 
This means computers have become powerful enough to analyse information, learn new skills and display decision-making abilities. 
It is still in its infancy but experts predict that over 50% of all jobs will be lost to robots by 2030 because of AI's presence in tech industries such as e-commerce, finance and even retail.
In a nutshell, it won't be wrong to say that it provides computers with the ability to do things that would normally require human intelligence, like discovering new knowledge. When you hire AI coder in India, you can better access the enterprise-grade application that can improve work efficiency. But you must be curious to know how AI in technology works.
How Does AI Technology Works?
AI technology is the use of machines that have the ability to learn and use their knowledge to solve complex problems. So to make this technology work, there are four basic types of AI that make it work flawlessly.
Supervised Learning:

It relies on training data that is labeled as 'correct' or 'incorrect' by humans. 

Unsupervised Learning:

It does not require labels and instead relies on data collected from observations. 

Deep Learning:

It also doesn't require labels, but rather finds patterns in raw data by using neural networks that mimic how the human brain works. 

Reinforced Learning:

It uses machine-learning algorithms to teach an agent (a computer program) how to behave in a particular environment without explicitly programming what to do in each situation.
So now you know what is AI in technology and its functionality. But before investing a huge budget in this technology, you should know its impact on global markets.
Impact of AI on the Global Market and Businesses
AI has the power to affect both the global market and businesses. AI's impact on global markets can be seen in how it has helped small businesses find international customers and how it has created new jobs. 
The impact of AI on business is shown in the way that AI is helping companies streamline their processes and increase productivity, which in turn lowers costs. If you are still wondering whether to hire a software developer in India to get started or set back, then you should know the below fact.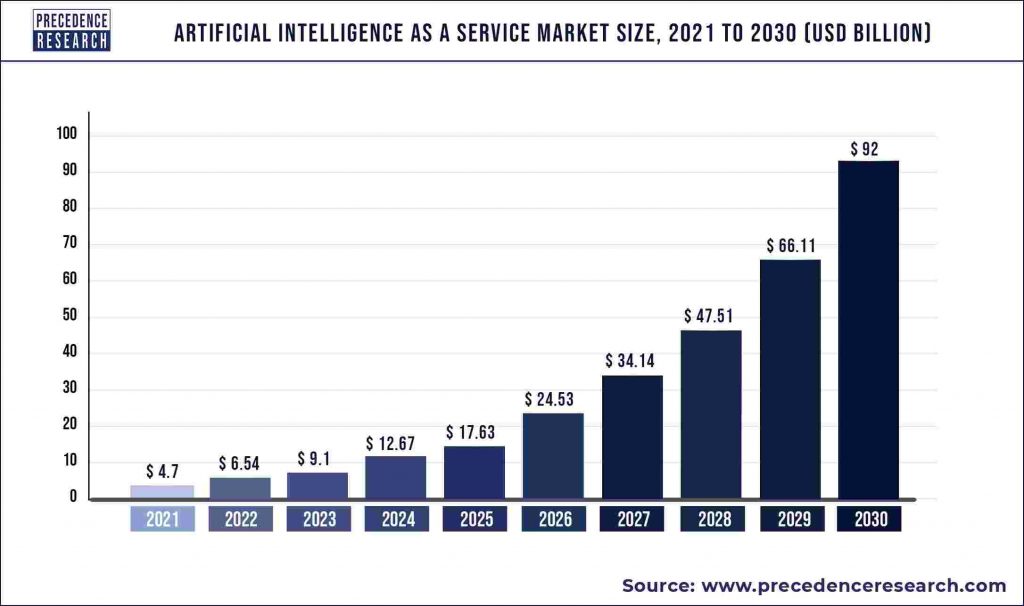 Image Source: precedenceresearch.com
The best way for businesses to take advantage of all that AI has to offer is to use it as an opportunity. Companies should not fear change because there is an upside for every downside, especially when it comes to AI. If you are still wondering whether now is the right time to invest in AI-powered solutions, then here are the statistics that you need to know.
According to the

PWC survey report

, the potential contribution of AI technology to the global economy will be $15.7 trillion by 2030.

In addition, it is predicted, that there is a

26% boost in GDP

for local economies from AI in 2030.

47% of digitally

matured businesses said that they have defined an AI strategy.
In a nutshell, these statistics are clearly representing how AI in technology is quickly paving its way in businesses and empowering them with better opportunities. 
Why is Artificial Intelligence Important in the Enterprise?
Artificial Intelligence technology is increasingly becoming important in the enterprise because it is becoming the primary way to manage information in this digital world.
Here are a few reasons why AI in Technology has become a central attraction of businesses: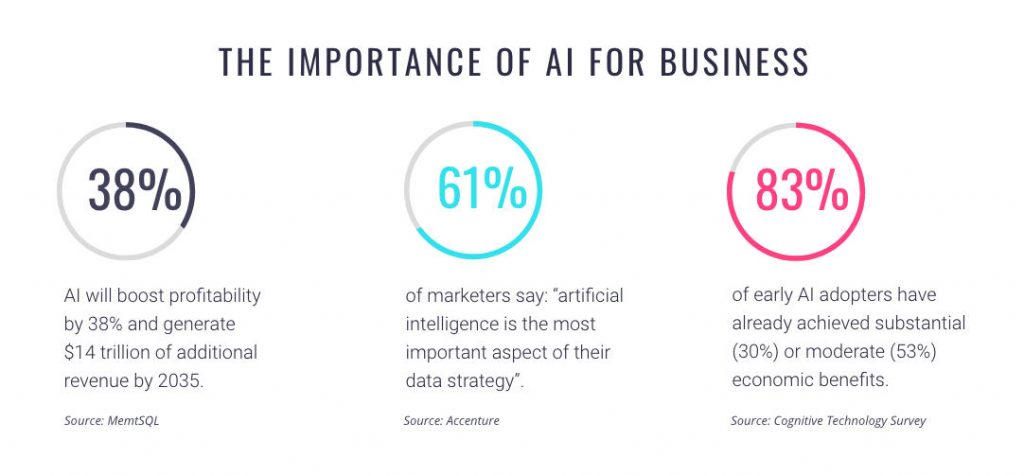 Image Source: thekeenfolks.com
Right from scanning emails, documents and websites in search of data to keeping a track of user data – Artificial intelligence can process enormous amounts of data faster than a human can and without making any mistakes.

It can also learn from its mistakes and improve itself over time. Machine learning algorithms are key in developing artificial intelligence. To reap the best benefit of this technology, it is better to hire a mobile app developer in India. The professionals will help you better understand such algorithms and how they have been used to create chatbots that handle customer service enquiries. Moreover, rightly build and predict an individual's intentions based on previous behaviour patterns. 

Identifying user behaviour and gathering business insights can help businesses make better decisions. The automated data-gathering process helps businesses save money by reducing staffing costs, while also ensuring customer satisfaction through increased customer service efficiency. 
All in all, the benefit of AI in technology lies in how organizations use these systems strategically. It could either be a major cost saver or it could be a blunder. Therefore, developing an AI application is a huge responsibility, so let's evaluate the benefits and risks of AI technology.
What Are The Pros and Cons of AI Technology?
There is no doubt in this fact the AI in technology has become a buzzword for various industries. But before getting straight into the process of developing AI software, you need to understand what are the features of Artificial Intelligence technology.
Reduction in Human Errors
One of the most beneficial ways that this technology has been used is in reducing human errors, which can be very costly when they occur. Errors are inevitable in any type of business, but there are some that might seem less likely to lead to mistakes such as being responsible for scheduling meetings, emailing recipients and other types of clerical work. 
However, while these tasks may not seem complicated, they are often done at high speeds which can cause problems with typos and other mistakes. This is where AI comes in to help since it works at speeds that humans cannot match and it does not make errors like humans do.
Using automation, businesses can provide better customer service. Chatbots and voice assistants have become popular because they let customers interact with businesses without having to wait on hold for long periods of time or interact with a person that doesn't understand their needs. 
According to the studies, humans remain productive only for 3 to 4 hours a day whereas AI remains 24*7 active. Therefore, industries are hiring dedicated app developers in India to implement chatbots. In fact, it is being already used in various industries for customer services as it offers various benefits including 24*7 customer support, reduced costs and enhanced efficiency.
For example, if you're running a business with customer service as one of the main tasks, employing an AI assistant can be extremely helpful. It can provide customers with the information they need without ever having to be available at certain hours of the day. This means that your employees won't be working overtime and you'll save on wages and other costs related to hiring people.
Another way that AI aids businesses is by reducing mistakes due to human error such as data input errors.
Today, data analysis is among the most important factors that companies should account for because of its power to change the way business functions. Compiling and interpreting the data could take a long time when businesses could need those same results to make immediate, strategic decisions.
AI enables you to collect data on the go and provide time-sensitive analysis when you need it most. All you need is to hire software developer in India to integrate Artificial Intelligence technology into business solutions. Using the right AI solutions, you could beat the competition by making on-the-fly decisions with an accurate analysis.
Automated Business Process
Is repetitive work a common activity among employees?
Is information entered manually into different programs?
Do they spend much time on actions that have little to do with their specialization?
With AI in technology, you are able to automate business processes, saving money and time for the organization. Your employees can focus on their strengths instead of wasting their time on simple tasks. Moreover, with AI technology, you can cut down on repetitive tasks and able to work under tight deadlines.
Improve Productivity and Efficiency 
AI technology can help to improve the efficiency of your business by automating tedious tasks and helping you to prioritize your work more effectively. For example, it can be helpful if you are trying to schedule meetings with people who are in different locations and don't have overlapping schedules. The system can calculate which time works best for everyone and send invites accordingly. 
With the help of an algorithm, it is possible to use machine learning tools to create predictions about how certain decisions will affect your company. This has been useful for various industries such as finance and healthcare that deal with large amounts of data on a regular basis. 
Bring New Customers/Clients Into Your Business
If you're struggling to grow your clientele base then it might be worth investing in an AI platform like Zuora Marketing Automation Platforms so that it's easier to find potential leads through social media channels like LinkedIn, Twitter, Facebook and Instagram.
Cons of AI in Technology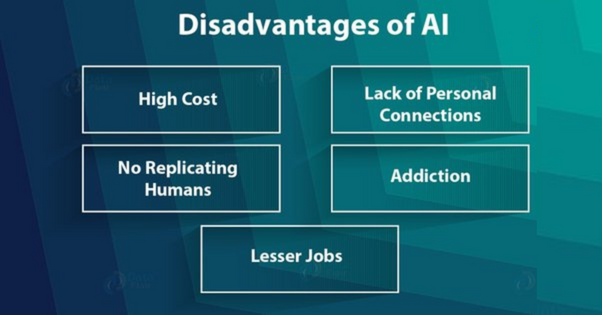 Image Source: qph.cf2.quoracdn.net
AI technology is sometimes seen as the ultimate answer to all of our problems. Well, It's not! 
There are some downsides to AI, and we should be aware of them before hiring an Indian mobile app developer to develop an AI strategy.
Expensive Development Cost
If you are thinking that the AI app development cost ends up with the final launch then you might be mistaken. 
Software and hardware need updating to meet AI's latest standards, and hardware may also require maintenance, which incurs additional costs. Making these things requires huge investments since they're so complicated.
There is no doubt, AI adds a great level of convenience to our lives. But with AI applications automating the majority of the work, humans tend to get addicted to these inventions, causing a problem for future generations.
Conclusion: How To Get Started With AI Technology?
AI is very much in the news these days. From being used to create images in computer games, to self-driving cars, it's clear that artificial intelligence has made its way into our lives. 
But what does this mean for businesses that use digital platforms and technology? Will AI replace human workers? 
The answer is complicated! To understand how AI technology can help you improve your business, you can choose to hire dedicated mobile app developers in India. And AppsDevPro is one of the globally recognised platforms to collaborate with dedicated AI developers that can transform your idea into reality.
Regardless of the industry domain, there is one thing that is clear AI in technology is empowering businesses with various benefits like reducing repetitive work, increasing productivity, tracking user behaviour, improving decision making and more. So all you need is to get the best AI professionals on the project to be competitive.
FAQs
What is AI In Technology?
Artificial Intelligence (AI) is the capability of machines to imitate intellectual human functions. The term can be used broadly to refer to any machine that exhibits intelligence, however, it is most often associated with cognitive processes. 
The development of AI has created opportunities and challenges for businesses. Artificial intelligence is an area of computer science that deals with making computers do things that would normally require human intelligence.
How Businesses Can Use AI Technology?
Many people are afraid of the rise of artificial intelligence in technology, but this is something that business owners should embrace. The following are some ways that businesses can use AI technology to improve their own operations: 
AI-driven Chatbots can be used as automated customer service agents and are able to respond quickly to emails and phone calls with pre-written responses. 

Customers can order products through chatbots on social media sites like Facebook Messenger. 

AI software helps power predictive analytics so managers know what products will sell well in the future. 

AI-powered software makes it possible to automate mundane tasks such as bookkeeping, freeing up time for employees to work on more meaningful projects. 

Artificial Intelligence is driven by workplace monitoring systems to offer insights into how your employees interact with one another, which can help prevent negative behaviors from becoming ingrained habits. 

Predictive data models help employers forecast worker demand and shift resources accordingly, which ensures that everyone has a job.
But the true benefits of artificial intelligence in business come from providing real insights into the business. Therefore, organizations need to stop looking at AI as a threat and look at it as an opportunity.
What Are The Best AI Trends You Can Implement in Business Solutions?
AI has been on the rise for years, as evidenced by its integration in various industries, including business solutions. Businesses have been making use of AI's abilities in order to streamline processes and make decisions quicker than ever before. The use of AI will only continue to grow, and it will be interesting to see what new AI trends emerge over time. So here are some of the best AI trends that businesses can integrate into their solutions right now.
Machine Learning
Natural Language Processing
Deep Learning
Predictive Analytics
These tools will give your company the competitive edge it needs in order to stay ahead of the curve.
How To Build An Effective AI Strategy For Enterprise?
A strategy is a plan of action designed to achieve one's goals. AI is no different in this regard, as it needs to be strategically deployed to yield the best results. That being said, here are some pointers on how to build an effective AI strategy for enterprise:
Clearly define your end goal and identify what exactly you want your AI to accomplish.

Formulate an AI strategy that aligns with corporate vision

Ensure that the tools used by the AI Development team are up-to-date and compatible with other programs /systems/products at the company. 
In a nutshell, developing an effective AI strategy requires careful planning and diligent implementation from both the top-level management and frontline employees. 
What's The Future of AI In Technology?
AI is one of the most powerful technologies in the world, and it's not just something that will happen in the distant future. It is already happening now, and its impact can be felt in many different industries. 
However, while it has plenty of benefits to offer, there are also some drawbacks which make many people wary of adopting this new technology.
But the way AI is strongly impacting global markets and contributing a major segment of the economy, it is safe enough to say that AI will stay here in the future. 
You can also check our other services:
Hire Mobile App Developers in India, Hire Xamarin App Developer in India, Hire iPhone App Developers in India, Hire Android App Developers in India, Hire Flutter App Developer in India, Hire React Native Developers in India, Hire Kotlin Developer in India, Hire Web Developer in India, Hire PHP Developer in India, Hire Laravel Developer in India, Hire Nodejs Developer in India, Hire Microsoft Developer, Hire ASP.NET Developer in India, Hire Angular.js Developer in India, Hire React.js Developer, Hire E-commerce Developer in India, Hire Magento Developer in India, Hire WordPress Developer, Hire MERN Stack Developers, Hire MEAN Stack Developers, Hire App Developers in India, Hire C# Developers, Hire CMS Developers, Hire Open Source Developers, Hire Vue.js Developers in India, Hire Knockout.js Developers