AppsDevPro Vs Turing, where to hire the best app developers in India in 2023?
With the fact that global revenue from mobile apps will take a steep shift from $318 billion in 2020 to $613 billion by 2025, it is fair enough to say that the mobile app industry is burgeoning.
Whether a tech startup or a leading entrepreneur, businesses worldwide have recognized the power of having a digital presence. With a well-developed business app, not only is it possible to reach the masses but also provides an entry to become a part of this thriving industry.
However, to get started with mobile app development, you need to hire app developers in India. But finding the right platform to hire mobile app developers can be a daunting task. There are a variety of platforms available, each has its own strengths and weaknesses.
When it comes to hiring the best app developers, the two most popular platforms are AppsDevPro and Turing. Before you get straight into the process of hiring an app programmer let's compare these two platforms to determine which is the best for your needs.
We'll look at features, pricing, and customer service to give you an idea of which platform is most suitable for your project. Evaluate each parameter to understand Turing alternative's AppsDevPro. Read on to learn more about AppsDevPro and Turing, and find out which is the best platform to hire mobile app developers.
AppsDevPro Vs Turing: Understanding The Core Difference
When it comes to hiring a mobile app developer, you have two great options – AppsDevPro Vs Turing. Both platforms offer different services and advantages, so it's important to understand the core differences between Turing alternative's AppsDevPro.
AppsDevPro- A Place to Hire Dedicated App Development Team
AppsDevPro is a reputed platform for companies to connect with and hire dedicated app developers from all over the world. The platform allows you to find the right developer for the project, saving you time and money. Developers can be hired on an hourly, monthly basis or for an entire project.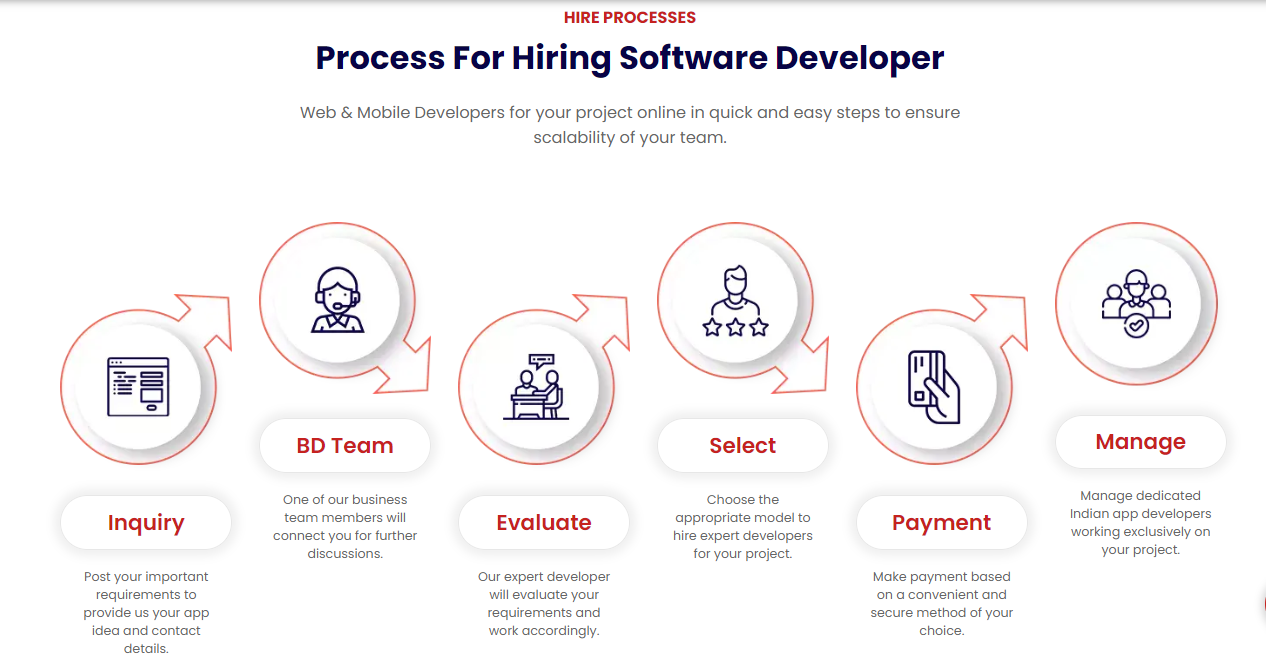 Image Source: appsdevpro.com
Key Highlights of Hiring Dedicated App Developers from AppsDevPro
Provide the opportunity to hire dedicated Android app developers in India and other locations.

Availability of a team of top-notch developers that have been in the industry for over 10 years.

Programmers are globally recognized for their experienced project management capabilities.

Expertise in developing native mobile apps on both iOS and Android.

Flexible engagement models based on hourly, monthly and fixed-price billing.

Scale up the team as per the project requirements.

Flexible to work in different time zones as per client's requirements.

Ensuring a balance between pricing and project quality.

Track record of project delivery and having clients from all over the world.

Hire programmers for a wide range of services such as website design and development, API development, app migration and updation and more.
Before you make any final decision to hire dedicated developers let's learn what exactly is in the bucket of Turing.
Turing – A Reputed Platform For Hire Freelance Developers
Turing is a US-based data-science-driven platform that allows companies from all across the world to sign up with world-class remote software developers. With thousands of developers available to hire on this platform, companies can easily choose the best talents for their app development needs.
The freelancers on Turing have the expertise and experience required to build and design apps from the ground up. They are also familiar with all major coding languages, frameworks, and platforms. By hiring Indian iOS app developers on Turing, you can easily build an app that can help you set a benchmark in the industry.
Here are the technologies for which you can hire a mobile app developer on Turing: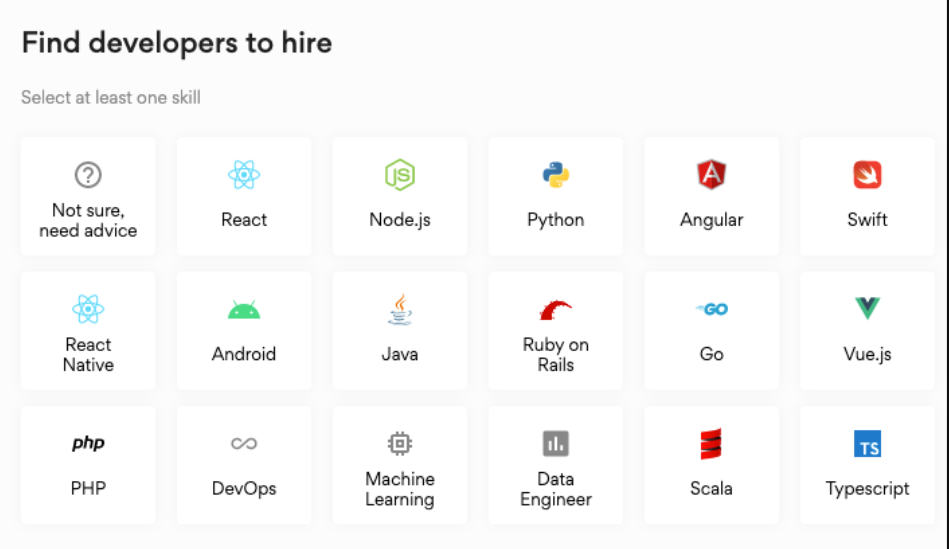 Image Source: turing.com
Key Highlights of Hiring Remote Developers on Turing
With Turing, companies can hire pre-vetted app developers.

It uses AI technology to source, vet, match, and manage over 2 million developers worldwide.

Companies can get access to a planetary pool of engineers at Turing.

Turing offers a guarantee that their developers are qualified and certified in the technology they work with.

Freelancers can be hired on an hourly basis or for monthly fees.
Both platforms have their own limitations and benefits. But when it comes to AppsDevPro Vs Turing, how would you decide which platform is better to hire Android app developers in India?
When it comes to choosing between AppsDevPro and Turing, It's important to evaluate your specific needs before making a decision. If you are looking for experienced developers who can deliver high-quality apps quickly, then AppsDevPro is a great choice. But if you need more flexibility in terms of cost or speed, then Turing could be the right choice for you.
In a Nutshell: After learning all about these platforms, how would you understand whether hiring dedicated app developers will be a better choice or whether you need to hire remote developers? To help you make an informed decision, let's get into the detailed comparison of hiring dedicated app developers vs freelancers.
Hiring a Dedicated Team Vs Freelancer: Which One Is Better For You?
When it comes to hiring mobile app developers, it can be difficult to decide between hiring a dedicated team or a freelancer. On the one hand, you want the best results for your project, but on the other, you want to save money in the process. Let's compare Turing alternative's AppsDevPro from different perspectives to make an informed decision.
Image Source: itchronicles.com
AppsDevPro Vs Turing: Expertise and Security
When it comes to hiring a dedicated development team, AppsDevPro has the advantage. This platform allows you to hire a dedicated team that can handle all aspects of your project from start to finish.
The developers are highly trained professionals who have experience in both Android and iOS development. To ensure high project security, AppsDevPro signs a Non-Disclosure Agreement (NDA) with their clients to maintain data confidentiality.
Turing is another popular platform to hire iOS app developers in India. It offers the same level of expertise as AppsDevPro, but the platform is more geared towards freelancers. While the quality of work is still very high, Turing does not offer the same level of security as AppsDevPro.
Furthermore, the freelancers on Turing are not held to the same standard as they are not bound to follow any agreement that keeps your project details secured. So it is important to do your due diligence when selecting a freelancer.
All in all Turing alternative's AppsDevPro has the upper hand when it comes to security and expertise.
Project Delivery Commitment
While comparing Turing alternative's AppsDevPro and hiring a dedicated development team, it means the team's entire focus will be on accomplishing the task without having to compromise on quality. On the other hand, things are much different with freelancers because they work in flexible and relaxed environments. Therefore, the chances are high to miss the deadlines.
Here are the key points that support the above statement:
Such reputed mobile app development companies like AppsDevPro, always thrive for their market reputation so they always go above and beyond to meet high-quality standards.

They have enough bandwidth for programmers and engineers with the right skills to work on your project. Hence, this means that your project will not face any delays and quality lack.

Frequent project progress reports have been shared with clients by the dedicated app development team so you can keep a track of progress and able expect project delivery as per the commitment.

The dedicated app developers prefer using agile methodologies.

Exposure to handling multiple projects therefore can resolve the issues in time.
Overall, AppsDevPro has an upper hand when it comes to on-time project delivery.
The app development process never ended with the product launch. To keep it running longer, you need constant maintenance and support services.
While hiring dedicated app developers for app development, you will be provided with proper app maintenance and support services. These services will be free of cost for a certain period and after that client can choose a yearly subscription plan.
On the other hand, you will have to pay additionally for maintenance and support services when you hire freelancers. Hence, Turing alternative's AppsDevPro is a winner here!
In order to meet the different needs of global clients, dedicated developers possess all the necessary in-house development resources and tools required to implement the project. However, freelance developers are limited to the basic version of the development tools.
As far as their pricing models are concerned, you can hire freelancers with an hourly cost of $10 to $25 depending on the skills. On the other hand, a dedicated app development team may cost a little higher.
But never fall for the cheaper cost of developers. An app developed by a lower-skilled developer may have a bundle of issues. What if you have to fix it? Ultimately, the end cost of hiring the experts will come to almost the same price.
So when it comes to costing, Turing alternative's AppsDevPro also offers some around the same hourly cost. But the major difference comes between their service quality, project commitment and delivery, and methodologies of handling the app development process.
Hiring a Dedicated Team Vs Freelancer: When To Choose What Option?
When it comes to finding the right mobile app developer, you have two main options: hiring a dedicated team or working with a freelancer. But which one is the right choice for you? Let's take a look at the pros and cons of each option so that you can make an informed decision.
When To Hire a Dedicated Development Team (AppsDevPro)
For starters, hiring a dedicated team of developers provides some distinct advantages. You'll get access to an experienced team of professionals who are all focused on delivering your project. AppsDevPro can help you hire software developers in India under a dedicated team of professionals that also includes a business analyst, project manager, UI/UX designer, and quality assurance engineers.
This means that you won't have to worry about finding and managing multiple freelancers, as everything will be handled by the dedicated team. Plus, this also reduces the chances of any delays caused by miscommunication or mismatched schedules.
When to Hire Freelance Developers (Turing)
On the other hand, working with a freelancer can be a great way to save money and gain access to some unique skill sets. You won't have to invest in the resources that would be necessary for a full-time hire and can instead cherry-pick the exact skills you need for each stage of your project.
It could be an ideal option when you have short-term project requirements like app migration, app updation, MVP development and more. Plus, you'll also have greater flexibility when it comes to scaling up or down as needed.
At the end of the day, both options can be valuable depending on your situation. If you're looking for a team of experienced professionals with a proven track record and the capacity to handle large projects, then hiring a dedicated team from Turing alternative's AppsDevPro is probably your choice.
However, if you're on a budget and just need a few specialized skill sets, then working with a freelancer could be the right decision. Ultimately, it all depends on what you're looking for and what your project needs.
Conclusion: AppsDevPro Vs Turing: Which is The Best Platform to Hire App Developers in India?
When it comes to hiring mobile app developers, both AppsDevPro and Turing offer their own unique advantages. There is no aim of declaring any winner among them as the ultimate choice of hiring mobile app developers in India is majorly dependent upon your project needs.
AppsDevPro has a proven track record of providing quality services, offering extensive features and customer support. On the other hand, Turing provides more flexibility and cost-effectiveness for users. Ultimately, the decision of which platform is best for you depends on your individual needs and preferences.