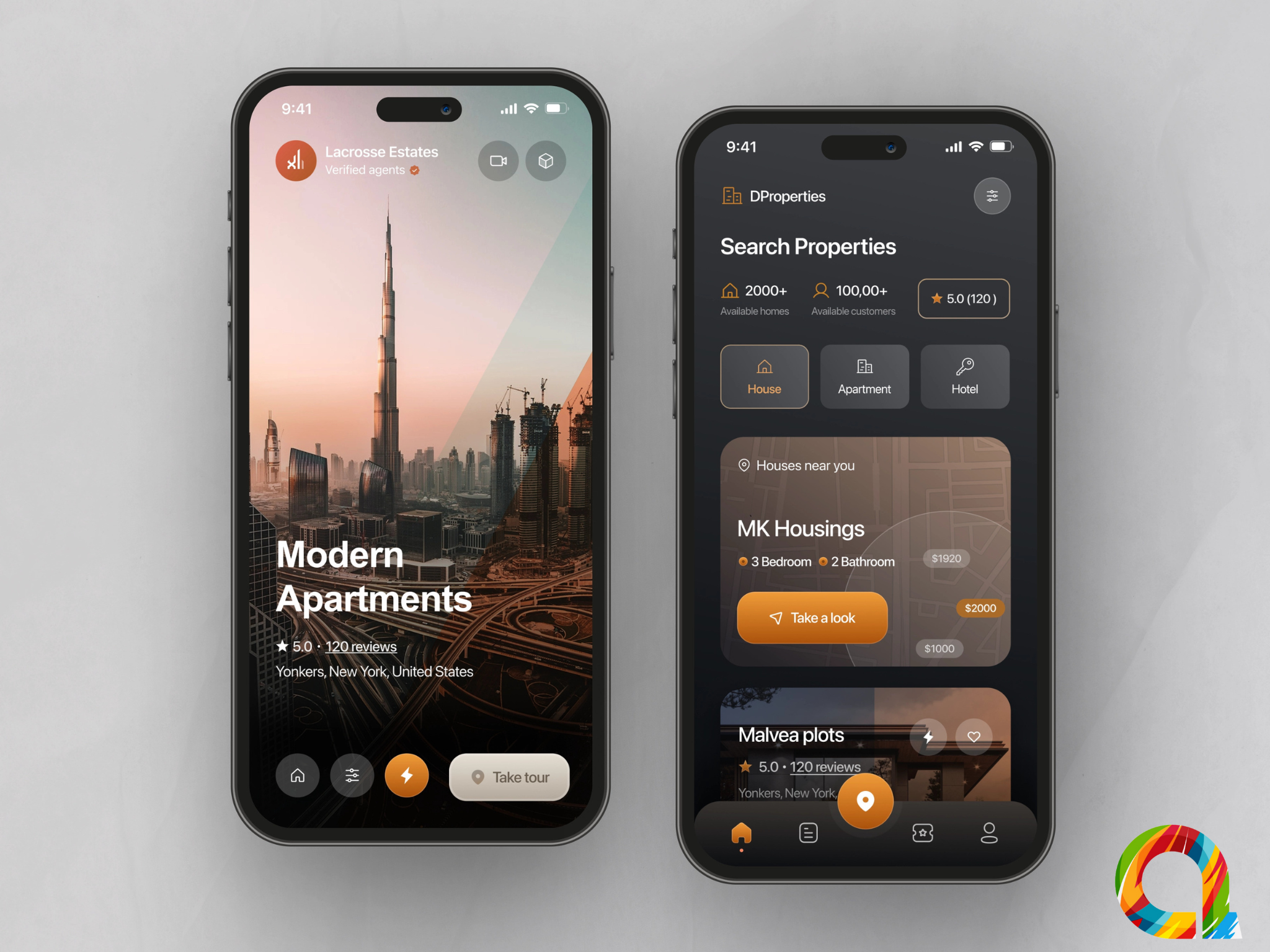 Looking for simple and secure ways to manage your property? If yes, then create a property management app to provide a better platform to your investors and manage everything right from financial agreements to lease agreements in one place. Here's a complete blog guide to understanding the features, cost, tech stack, and business model of the property management app.
Are you also planning to create a property management app? If yes, you are not alone.
Though Covid-19 has put a great pause on the real estate sector and dragged people into doom about how to manage their property and make money from it. 
But with the emerging technologies in the property management industry, property managers have got a new way to bounce back on their roots.
Here are the market statistics that explain to you the growing picture of real estate…
With the prediction, that the property management software market is expected to reach $4.7 billion in 2031 and will grow at a CAGR of 4.9%, it is fair enough to say that the property management market is growing at a rapid pace.
Knowing these statistics, it is worth developing property management software as it enables you to understand the changing real estate market preferences and helps you deliver the most satisfying solution to the customers.
Since technology has drastically changed the way things have been managed in the real-estate sector, therefore property managers and investors are eagerly looking for a unified technology-driven platform that offers an all-in-one solution.
You can hire a mobile app developer in India to create property management software that can handle everything right from financial reporting to tenant screening, and raising online maintenance requests to manage digital lease agreements. 
But before jumping straight into the process to hire app developers, you need to understand how property management software works. Let's check out the video here…
Now the central question is how to create a property management app that perfectly fits to the changing needs of the market.
Let's get to know this…
How to Create a Property Management App?
With the global property management market size valued at USD 17.69 billion in 2021 and expected to make $37.25 billion by 2029, the demand for developing a property management app is surging every year. But the central question is how to create a property management app in 2023.
Well, there are two major approaches to developing a property management app- Customer app development and Saas Development. So if you are seriously interested in developing a real estate app and planning to hire a software developer in India then you need to understand what app development approach you want to pick. 
Now many of you are in a dilemma that what is custom app development and Saas app development and what you should choose…
Here's an explanation…
1. Custom App Development
The custom development approach to building a property management app allows you to customize the app structure as per your unique requirements. Generally, this approach of app development is suitable for those property managers or real estate agents who have multiple properties to manage.
Why You Should Choose a Custom Development Approach To Create a Property Management App?
Here are the upsides of customizing the property management solution (PMS) from scratch…
Flexibility to integrate your choice of features that are tailored to your business needs.
App structure will be customized by keeping in mind your specific requirements.
Possibility to build a user-friendly app interface that leads to excellent user experience.
High-quality property management system that you can rely on.
Now let's jump straight to another approach to create a property management app…
2. SaaS (Software as a Service)
SaaS is a subscription-based service that offers you to use pre-developed property management software. To access SaaS services you need to pay monthly subscription fees. These types of services are ideal for those who have just entered the real estate industry and don't require an individual approach or don't have multiple properties to manage.
Why Choosing SaaS Services For Property Management Software
Using Software as a Service is an economical approach.
SaaS is an ideal option for real estate startups.
Takes less time to market an app.
No dependency on tech support.
Before you get started with the SaaS services, you need to understand its downsides as well…
It offers you a limited set of features.
No scope for customization.
There is a possibility to encounter tech issues with outdated technologies.
In a nutshell, over the years, the real estate industry has gone through tremendous changes and a lot of advancements have been done in the property management sector. So working with outdated solutions, will increase the risk of getting aside from the market competition. So all in all, hiring an Indian app developer will be a worthy option to customize an app with the right choice of features.
Before you get curious about implementing features to your app, let's decide what type of property management app you want to build…
What Type of Property Management Software Do You Want to Build?
Most people belonging to the hospitality industry are using real estate management software to seamlessly organize and manage the key process and sever better savings.
But the way things have changed over the past few years, people from other fields have also raised the demand for the property management system.
Here is an infographic showing the types of property management systems.
Image Source: nitrocdn.com
Let's discuss the few categories of property management apps in detail to help you make the right decision.
1. Residential Property Management Solution
This type of app is basically developed to manage residential properties located in different places. With this app, the property owner can keep things organized and centered. Here's how it will help you:
Cut down on paperwork;
Marketing and property promotions can be managed digitally;
Keep track of payments;
Manage property maintenance.
The most promising part of the residential property management app is it eliminates the risk of data loss and helps you track everything with the few tips on the app.
2. Apartment Management App 
Apartment management apps are basically developed for the builders and act as a third-party platform where landlords and tenants can come together to post and find properties available for rentals. With this type of app, landlords can handle such activities:
Listing a property for rental;
Management rental money;
Tracking property maintenance records;
Automate the screening and background check process;
In-app communication.
On the other side, tenants can find a systematic way to find properties in their preferred area and according to their budget without having to hire any real estate agent.
3. Hotel Property Management Software
Sure, the hospitality industry has the maximum scope for a property management app as it allows to manage various operations and help hoteliers in many ways including:
Managing multiple properties at various locations;
Managing room bookings;
Track and distribute the available spaces;
Keep track of check-ins and check-outs of the day;
Maintain guest records;
Handle payments.
To create a property management app for hotels, it is worth hiring software developers in India from the same background knowledge.
No matter what type of property management solution you choose to develop, make sure it has all the right features in place that enables you to deliver an excellent user experience.
The Must-Have Features of Property Management App
Managing multiple properties with manual procedures can be a great headache. But with the right property management app, you can automate the process, keep track of several things, and able to conduct seamless communication between landlords and tenants.
So let's check out the various features that need to be integrated into property management solutions.
When it comes to developing a PMS solution, make sure you build two panels including the user panel and the admin panel.
Image Source: storyblok.com/
Must-Have Features to Create User/broker's Panel of PMS
User Registration: Allow users or brokers to signup for their account or get registered with an app using their mobile number or email ID.
Profile Verification: Whether it is used by a broker or a tenant, make sure you have a feature in the app for profile verification. To make it work, allow an application to send a verification code on the user's ID or phone number. After entering that code, the app will ask for further details like ID proofs, location, type of property, budget, contact details, and more. Once they complete the details, the user will get registered on the app.
Search Property: The moment users landed on the home page, they will immediately look for the search box. So it is worth keeping it on the homepage.
User Search Filters: To easily narrow down the options, allow users to apply various search filters such as area, budget, property type, and more.
Property Description: Make sure all the properties that have been listed on your site are well descriptive with fair details. This will help users to make quick decisions about the property.
Add Images: Allow landlords to list their property with high-definition quality pictures from all necessary angles to provide a fair view of your property.
In-app Call/Chat: With the in-app chat or calling feature, users can directly contact the property owners without any need of sharing private numbers. This is one of the most essential features that help you convert potential queries into leads.
Multi-Language Support: In case your app is allowed to list properties from various cities, then make sure it supports various local languages of respective locations.
Features to Create Admin Panel of Property Management App
Managing Users: With this feature in place, the admin panel can get full control over multiple buyers, sellers, agents, and users. Tracking and monitoring the activities can help you streamline the entire process of property management.
Track Records of Payment: Admin reserves the right to closely analyze, track and maintain the record of every payment transaction happening through this app.
Management Property Deals: Depending on the market fluctuations and changing needs of the users, the Admin can launch a property deal, discounts, or special offers on the property.
The list of features is unlimited, but these are the essential features that you can't skip. The more features you will be adding to the application, the more development time and cost will be increasing.
But how much does cost to create a property management app in reality?
Let's check it out…
How Much Does It Cost to Create a Property Management App?
Calculating the exact price of developing a property management app can be a daunting task especially when you have no idea about what parameters exactly contribute to its development cost.
Usually, the average cost to create a property management app is ranging between $12,000 to $15,000+ and may take around 6-9 months to complete. But what exactly covers under this estimation and what parameters are affecting the development cost?
Well, the major factor that affects the app development cost is the complexity of the app. Decode whether you want to develop a simple app with basic features or an advanced app with full-fledged features.
A simple app will be much more like MVP property management solution that will cost somewhere $10,000+ and may take around 3 months to develop.
On the other hand, the advanced app version fully loaded with modern features will take around 7-9 months and may cost around $15,000 to $20,000+ depending upon the complexity of the app.
Apart from the complexity of the app, its UI/UX design, the app development team you choose to hire, app type, technology, and more affect the app development cost.
To know the exact app development cost, you can book a free consultation slot with our experts. They will analyze your requirements and evaluate the cost estimation.
How To Monetize Your Property Management Software (PMS)?
The ultimate goal of investing a huge among of money and efforts in app development is to identify the ways to make money from the app. So how will you make a profit from the app? What are the best monetizing strategies for your PMS solution?
Here are a few ways that you can adopt to make money from property management apps:
Offer subscription plan: Provide an access to premium features of the app like special discount offers, priority on the property listing, and more. All they have to do is to pay a subscription fee on a weekly, monthly, or yearly basis.
Convenience fee: You can change a convenience fee on every transaction made into the app. You can either set a certain amount or choose the percentage.
Third-party Ads: Allow third-party businesses to run advertisements on your app and in return, you can charge an Advt fee.
So these are the few most potential ways of making money from your property management app.
Conclusion: How Does AppsDevPro Can Help You Develop a Perfect Property Management Software Under Budget?
Hopefully this blog has given you a detailed insight into the property management app market and why it is surging in popularity. So if you have finally made up a decision to create a property management app but are not sure about the technicalities, then hire a mobile app developer in India. 
AppsDevPro is one such trusted platform to hire app developers with the best industry knowledge and experience. So if you have any app requirements, you can drop a query below or directly contact our experts to get a perfect solution for your business.
FAQs
What is Property Management Software?
Property management software is an online platform designed to help property owners and managers oversee their rental properties. It allows users to keep track of tenants, rental payments, leases, maintenance requests, and more. The software streamlines processes and makes it easier to manage multiple properties from one central dashboard. Property management software also helps property owners stay organized, saves time, and minimizes the risk of errors and missed payments.
What Are The Upsides of Property Management Apps?
The property management software can help you in many ways such as:
• Streamline maintenance requests
• Automated rent collection
• Easy tenant communication
• Improved security for payments and data
• Easily track tenant payments
• Easier access to financial records and documents
• Increased visibility over unit inventory
• Reduced risk of human error
• Improved customer service
If you are juggling with an excel sheets and manual processes to keep track of your multiple properties then it's time to hire Indian app developers to get a perfect solution to automate the entire process of selling and managing properties. 
What Technology Trends You Can Choose to Create a Property Management App?
Property management apps are becoming increasingly popular, especially among landlords and real estate agents. To create an effective property management app, you need to understand the technology trends that will make it successful. Here are some of the top tech trends you can use to build a successful property management app:
AI Chatbots: AI chatbots are becoming increasingly popular as they provide a more personalized customer experience. By integrating AI chatbots into your property management app, you can give users a better experience by providing them with accurate, personalized answers to their queries. You can also automate certain processes such as scheduling viewings and collecting payments.
AR for Real-Time Property Viewing: AR (augmented reality) technology allows users to get an immersive experience when viewing properties. This helps them decide quickly whether they want to move in or not, saving time and effort.
Cloud-Based: Cloud-based applications make it easier to access information from anywhere and at any time. It also allows for collaboration between all stakeholders involved in the process such as tenants, landlords, and agents. Plus, cloud-based applications are also more secure, as data is encrypted and stored in the cloud.
These are just some of the technology trends you can choose to create a property management app. By leveraging these trends, you can ensure that your app meets the needs of your users and provides a positive user experience.
What Are the Advanced Functionalities of Property Management App?
Some of the advanced features that you can consider integrating into your property management app are:
Automate the tenant screening process;
Integrating in-app multi-payment methods;
Unlimited property listing;
Uploading quality pictures and video of the property;
Managing rental agreements; 
Sending reminders for rentals;
Uploading documents for screening;
Generating annual reports.
These are the few advanced-level features that you can consider integrating into the app to make it stand apart in the market competition.
How Much Does It Cost To Build a Property Management App?
The average cost to create a property management app is ranging from $12,000 to $17,000+ depending on the various factors and the complexity of the app. The more complex app requirements will lead to higher development costs and time.