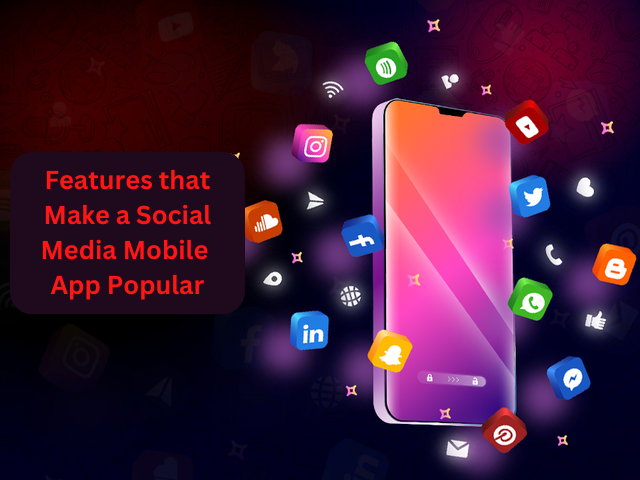 Social media apps are no more limited to chatting and communication. With the integration of such advanced features of social media, these applications have become powerful marketing tools. This blog is here to guide you about the modern social media features that you can implement in your app to enhance user engagement and generate better ROI. 
So what features of social media apps can make them stand out from the crowd? If you're planning to create an app that will allow your customers to interact with your brand on the go, chances are you've heard of social media mobile apps like Instagram, Twitter, and Facebook.
The features of social media apps like post feed, photo filters, gamification, video post, post sharing, commenting and more are the real attraction of these apps. 
Social media apps have become increasingly popular in the last few years, with thousands of new social media apps hitting the market each year. At their core, many of these apps help users share photos and videos, chat online with friends, and more.
Many are free to use, but many also offer premium subscriptions that give users access to additional features of social media app and its capabilities.
Market Overview of Social Media Apps
With the increasing number of social media app users, it has become important to launch a social media app with such features that help you make a mark. Here are some statistics that you need to know: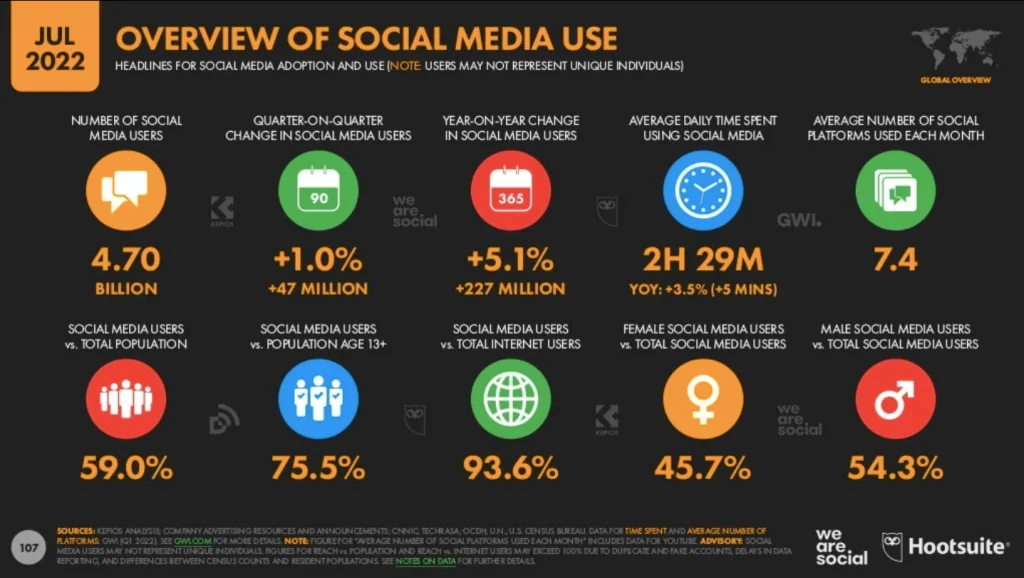 Image Source: smartinsights.com
Among various social media apps, Facebook and YouTube are the most popular applications.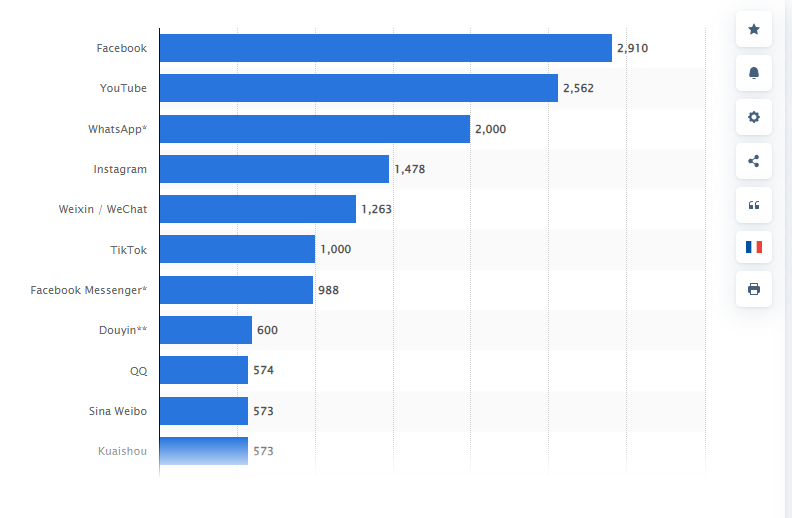 Image Source: statista.com
In a nutshell: These statistics are enough to interpret how far social media apps have come and where they are expected to grow. So before you hire a mobile app developer in India to create a social media app you need to know the mantra to make it successful.
Make sure you have such features in social media apps that immediately connect your audience and encourage them towards quick action. But what are the top ten features of social media apps that help you improve your social media presence? How much will it cost you to integrate?
If you have yet to create an app or are still planning to do so, then make sure that you consider these top 10 features of social media app before proceeding further. These features will not only help improve the user experience of your app but will also allow you to monetize it effectively without putting in too much effort. So what are they? Keep reading!
Top 10 Features of Social Media App and Its Integration Cost 
If you're looking to improve your social media presence, here are the top 10 features of social media mobile apps and how much they'll cost you. These are some common features that many businesses use to take their presence on social media to the next level, but they do require investment in order to provide value to your business and its customers.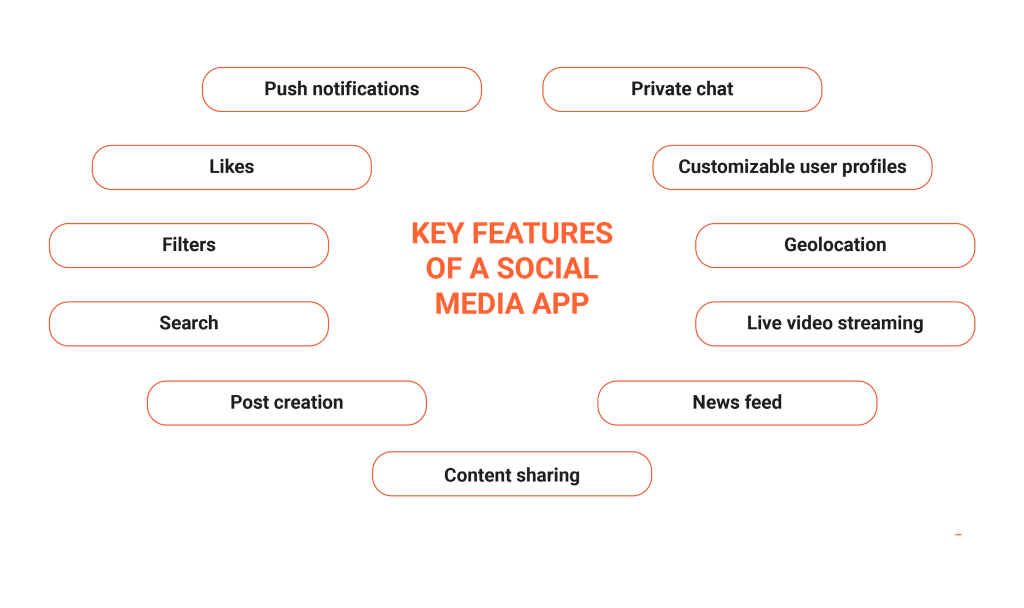 Image Source: aimprosoft.com
So let's get started with the most important features of social media app:
1. User Sign Up (Average Cost of Integration – $50 to $150)
Social media apps are all about connecting people with peers, friends and family. To get started with an app, users have to sign up. You can hire an app developer in India to offer an easy, quick and simple signup interface. Be sure to offer more than one option to sign up on the site, like an email address, a phone number, and a password. 
To ensure a better user experience, apps need a Forgot Password option to make them more user-friendly, as they could use either Facebook or Google SDKs. One could also use text verification, or register with a mobile phone number.
2. Profile Setting and Personalization (Average Cost of Integration – $100 – $150)
Users always look for the features in social media that allow them to personalize the app setting in accordance with their mood, current activities, current interests, or the environment. For example, it could be a great features of social media apps that allow them to upload their favorite photo or describe themselves briefly, and more. 
With this additional feature, customers will be more eager to sign up. By hiring a mobile app developer in India you can easily integrate these features in social media app. Furthermore, with this additional option, the customer will have a sense of control and pride over their profiles and will, as a result, be more likely to be loyal to your company.
3. News Feed  (Average Cost of Integration – $150 – $170)
One benefit of this feature is that it will make your social media experience richer. This means that you'll see all the recent posts from everyone who you're subscribed in one place, rather than having to check them individually. 
The downside is that this can make your feed cluttered with content, so it's best to limit how many feeds you follow and set some limits on the types of posts you want to see in your feed.
Social media apps are free! So you can offer these features of a social media app with a premium subscription package. Users can have access to features like posting longer statuses, unlimited followers, editing photos before sharing them or managing influencers' accounts.
4. Push Notification (Average Cost of Integration – $15 – 40)
Push notifications are a powerful marketing feature that not only keeps your customers feel more involved in your company. But also let them stay tuned for the latest updates.
Whether there are any sales or discounts, or any latest message pops up, the app will send a push notification to the users. To customize this feature, you can choose to hire an Android app developer in India. 
However, this feature comes with a potential risk that consumers might be annoyed by too many notifications. Make sure you hire professionals to use this strategy in a very successful way. 
The push notification is customizable as well so you can only send out messages which will interest your customers. Customization of push notifications cost from $15-$40 depending on how often you need the service for your business and how complicated the service becomes. 

5. Content Sharing (Average Cost of Integration – $200 – $250)
One essential feature of any social media app is the ability to share updates with your followers. The social sharing features are now some of the most popular ways to share information on your phone. 
While most free apps will offer at least basic social sharing abilities, many will also offer additional features such as cross-posting or a story feed that displays everyone's posts on one page. These can be nice, but they often require you to pay for premium features that may not be necessary for you right now. 
Depending upon what type of social media app you are trying to develop, you can choose what social media features works best for you. But don't forget this is one of the most premium features of social media apps, if you are using it for business purposes.
6. In-App Chat/ Calling
When it comes to the best social media features, the In-app chat/Calling feature is a standard. These features of social media app allow users to communicate with each other either through live chat or by phone. 
If you opt for one of these types of features, your annual operating cost will be $40,000-$110,000 (according to Appcues). Chatting is less expensive than calling, but keep in mind that this type of social media app can offer great convenience of communication.
7. Photo Filters
People love sharing your photos on social media but want them to be filtered first. Therefore, considering adding this feature of social media to your app might be a wonderful decision. You can simply hire a Software developer in India to implement this feature in your app.
Some apps allow you to filter your images before uploading. The photo filter effect can range from minor changes to dramatic effects. One social media app is Snapchat, and they offer 100+ filters with their basic membership at no cost, while other apps like Unfold charge $6 per month for access to their filter. 
8. Send Friend Request/ Follow Request
To increase your social media engagement rate, you might want to add in the Send Friend Request feature. This means that you will be able to see people who you have been invited by another member or accept invitations to join their group conversations. 
Though this is an option on Facebook and Instagram, it is not available on Twitter, LinkedIn, or Pinterest. With the Send Friend Request function on a social media mobile app, it's easy for someone to find new people with whom they might want to start engaging with in real-time discussions.
 This is because the number of members within each network can vary so dramatically from one social media mobile app platform to another.
Read More: How Much Does It Cost To Create A Social Media App?
9. Geolocation Feature (Average Cost to Add this Feature Starts From $100+)
One of the most crucial features of social media app is its geolocation feature. This allows you to add where you are to posts, pictures, messages, whatever you want.  It also makes it easier for other users to find out where you're at when posting something that they're interested in. 
The best part about this is that it's free! 
There are many apps like Instagram, Snapchat, or Facebook that all offer this same functionality but with varying degrees of quality. 
If you want the best possible experience though, I would recommend using Facebook since it has better algorithms for figuring out what people will like based on location data.
10. Status Disappear Feature
This feature allows you to choose how long others can see your post or comment. This will be great for those who want to share something they don't want people reading too deeply into, or if you just need a little break from the internet. You can hire iPhone app developers in India to enhance the customer experience. 
You can set the amount of time you want your posts to stay visible in someone's feed before it fades away with this option: anywhere from 15 seconds, 1 hour, 2 hours, up to 24 hours. But if the most important thing to you is privacy, there's an option where posts only appear for yourself when using the app!
In a Nutshell: These are the few most important features of social media app that you need to consider in social media app development. But the choice of features and functionality can go beyond this list depending upon the app type and budget.
Advanced Features of Social Media App That Trends in 2023
If you're keen to know the trick to make your social media app trending in 2023, then you need to look for these advanced features of social media apps. It might be a little expensive but the cost can be covered laters with the app's success. 
Let's get started:

1. Text-to-Speech Feature
 Do you find it frustrating when reading text in an email or tweet? Sometimes it can take too much time or just not make sense. With text-to-speech features, these problems will disappear because the app will read the content aloud in a human voice. 
Just tap on the play button to listen! Not all apps come equipped with this awesome tool but some popular ones include WhatsApp, Twitter, Google Drive and Facebook Messenger (the messenger has limited support).
To provide comfort with this feature, you can charge a premium subscription fee from the user. It can range from $30 to $50 per month. 

2. AR-Based Face Filters
Augmented reality and face filters are two cool features that not many social apps offer. It can take photos from your camera or from Instagram or Snapchat (depending on the app) and insert them into any virtual setting you want. 
The sky is the limit with these, so don't be afraid to experiment with all the different settings for some pretty awesome results. The only drawback is it doesn't save these altered photos as stand-alone files, so when you share them on Facebook, they will still be just the original photo with a filter over it.
3. Language Translation 
Communication is key in today's world. This is why social media apps provide language translation. It can help your brand reach more people, which in turn expands your audience and improves the likelihood that you will convert leads into customers. 
But what if your company wants to have a worldwide presence without learning all these different languages?
Thankfully, there are ways to translate other languages. There are plenty of apps on the market that offer this service for an affordable price. It doesn't come with any hefty monthly fees either, so you can use it just when you need it! 
Wondering what some of the best translation apps are? Check out SayHi Translate, LingoChamp, Google Translate, or Word Lens. These apps will do the work for you while they're running in the background and won't cost much at all!
But the major challenge is how will you integrate it. That is where you need to hire an Indian software developer to customize this feature. 
4. Artificial Intelligence and Chatbots
Artificial intelligence is not only transforming how we search for content, but it also is taking over the way people communicate. 
Facebook has brought chatbots to their platform so that users can automate simple tasks like reporting fake news articles or scheduling posts without having to leave the Facebook app.  The bots are designed to make life easier by providing customers with personalized experiences, where they don't have to talk with someone from customer service all the time. 
Bots also provide companies an opportunity to offer personalized products and services in a more convenient manner. As these AI's become smarter through machine learning, companies will be able to streamline conversations with customers for both sides – human-to-bot and bot-to-human. 
Integration of AI based chatbots can be very simple by hiring a dedicated Indian app developer!
Chatbots have already been used in several ways such as improving customer service by saving call center employees time on basic questions or helping increase sales by suggesting what items customers might want next based on their purchase history.

5. Photo Editor
The photo editor offers different filters to choose from, cropping options, as well as the ability to rotate pictures taken vertically. With these features, users can show off their photos on their profile page for all to see. The average cost to add this feature to a social media app may range from $12 to $30 depending upon the quality of the tool. 
Read More: 60+ Top App Ideas For Startups To Launch In 2023
6. Birthday Reminders
To keep your users connected with their followers, you can prefer integrating this feature of social media apps. With this option turned on, you will receive reminders about your friends' birthdays before they happen so you know who to send a message too. 
Some people might not want their birthday announced to everyone through Facebook so they opt out of this service but it's completely up to you! To integrate this feature in your app, you need to spend around $20 to $50.
How To Monetize It and Make Profit?
There are many ways you can monetize your app, from in-app purchases to advertising. Some methods are better than others, depending on what features the app is offering. Advertising would be less effective for apps that don't offer in-app purchases or content that can be purchased outside the app. 
In-App Advertising – Display ads on the app, including banners and video ads 
Offer In-App Purchases – Offer virtual goods for purchase within the app 
Premium Content – Charge customers a fee to access additional content 
Now, what should you charge? In order to make an informed decision about pricing, it's important to consider both your target audience as well as the nature of the app.
How Much Does It Cost to Create a Social Media App?
Many of the best mobile app development companies will have their own pricing model that charges clients based on the complexity and popularity of their social media apps. Some costs may be negotiable while others are set in stone depending on how many apps they already have developed in your niche. 
The more popular an app is, the more expensive it will be to create. 
There are also some free/cost-effective apps out there for individuals who want to keep social media accessible for their friends, family members or business ventures. However, these types of apps might not offer as many features or opportunities for growth as a paid social media mobile app would afford you. 
Usually the average cost to build a social media app is starting from $10,000 and can go beyond $50,000+. The actual cost of app development is dependent on the type of app you are developing.
What's important is that you weigh all your options to see which type of mobile app will work best for your business now and in the future!
Conclusion: Where To Go Next?
It may take time to construct and implement a successful social media platform even if you know exactly how to do it, because this sort of thing can be difficult and complex. Apps like Facebook, Instagram, and Twitter were not developed overnight and they certainly did not create themselves; so be patient and start small.
Creating a social media app and then making it a success would be wise. To make your app developed rightly, firstly you need to hire a mobile app developer in India that can understand your needs.
At AppsDevPro, we have a team that specializes in creating social network apps with advanced features. You can discuss your project details with our experts, they will guide you to the best suitable solution and create an app that has a simple and engaging user interface.
So if you already have an idea of social media app development, then you can contact us or drop the query below.
FAQs
What Are Social Media Apps?
A social media app is designed to help you stay up to date with your social media profiles on the go. These apps are great for staying connected with followers and users who like your business. If you're looking for the best features of a social media apps, you can consider post.
What Are the Fundamentals of Creating a Successful Social Media App?
There are five major factors to think about when developing your app, including having an intuitive user interface, reliable performance, personalized content, constant engagement opportunities, and rewarding users with discounts or rewards. Once you have these fundamentals in place, it's time to focus on making your idea accessible. Choose which platforms your app will be available on and what operating systems it will work on. The more devices you make compatible, the higher the likelihood of reaching a broader audience.
How To Create a Social Media App?
There are five major factors to think about when developing your app, including having an intuitive user interface, reliable performance, personalized content, constant engagement opportunities, and rewarding users with discounts or rewards. Once you have these fundamentals in place, it's time to focus on making your idea accessible. Choose which platforms your app will be available on and what operating systems it will work on. The more devices you make compatible, the higher the likelihood of reaching a broader audience.
How To Calculate The Cost of Social Media App Development?
Creating an app can be expensive depending on which social media features you choose to implement. These expenses typically fall into four categories: design costs, application programming interface (API) integration costs, hosting costs and marketing costs.
Design costs account for up to 50 percent of total project cost, while API integration accounts for 25 percent; this means that hosting accounts for only 10 percent while marketing accounts for 20 percent.
You can also check our other services:
Hire Mobile App Developers, Hire Xamarin App Developer, Hire iPhone App Developers, Hire Android App Developers, Hire Flutter App Developer, Hire React Native Developer, Hire Kotlin Developer, Hire Web Developer, Hire PHP Developer, Hire Laravel Developer, Hire Nodejs Developer, Hire Microsoft Developer, Hire ASP.NET Developer, Hire Angularj.s Developer, Hire React.js Developer, Hire Vue.js Developer, Hire E-commerce Developer, Hire Magento Developer, Hire WordPress Developer, Hire MERN Stack Developers, Hire MEAN Stack Developers, Hire App Developers, Hire C# Developers, Hire CMS Developers, Hire Open Source Developers, Hire Vue.js Developers, Hire Knockout.js Developers