The best food delivery app ideas in 2023 are just one tap away from all startups who are planning to establish their business in the food delivery industry.    
The online food delivery industry has seen tremendous growth in the past few years. It's projected to grow by 17% in the United States alone over the next five years. 
In fact, as per survey reports, the food delivery industry is expected to make a steep shift and reach more than $192.16 billion in sales by 2025, up from $126.91 billion in 2021. 
Moreover, the food delivery industry is expected to make an estimated $323.30 billion in 2022. 
In the online food delivery segment, the number of users is expected to reach 2613.2 million users by 2027.
With these statistics, it is clear that the food delivery industry is thriving and opening doors for startups with wide opportunities. 
Today, food delivery apps have become the most in-demand app type, and that's not going to change anytime soon. These statistics are clearly inspiring for startups and encourage them to make a strong mark in the industry.
So how will you make your mark on this industry? What type of food delivery app ideas can you come up with? How to hire a software developer in India?  In this article, we'll look at the best food delivery app ideas in 2023 that you can use to help you dominate the competition.
What Are The Best Food Delivery App Ideas in 2023?
So if you have finally decided to launch an app for food delivery but are not sure where to start and what type of application you need to build? 
Well, many startups are also in a dilemma about whether launching an app will be a worthwhile decision. Before you get straight to figuring out the best food delivery app ideas in 2023 and hiring an Indian software developer, it is better to know the market situation.
The food delivery app industry is already dominated by big players like Zomato, Swiggy, UberEats, FoodPanda, and more. But still, the rising demand for online food delivery services is creating an opportunity for budding entrepreneurs. All they have to do is to come up with the best food delivery app idea in 2023 to establish a benchmark.
So, considering the market needs and analyzing the competition, we have rounded up the best food delivery app ideas below. Each one has the potential to make you money in 2023. 
Top Food Delivery App Ideas For Startups in 2023
1. Restaurant Food Delivery App
Are you running a restaurant and looking for ways to bring a boost to your sales? If yes, then developing a restaurant food delivery app is one of the best food delivery app ideas in 2023. 
With a busy lifestyle, people don't always have time to stop by your favorite restaurant. With this food delivery app idea, customers can browse menus and get deliveries of quality meals for pick-up or delivery! 
From regular customers to new arrivals on a search for the best eats around town, let your customers enjoy exceptional cuisine with restaurant meal delivery.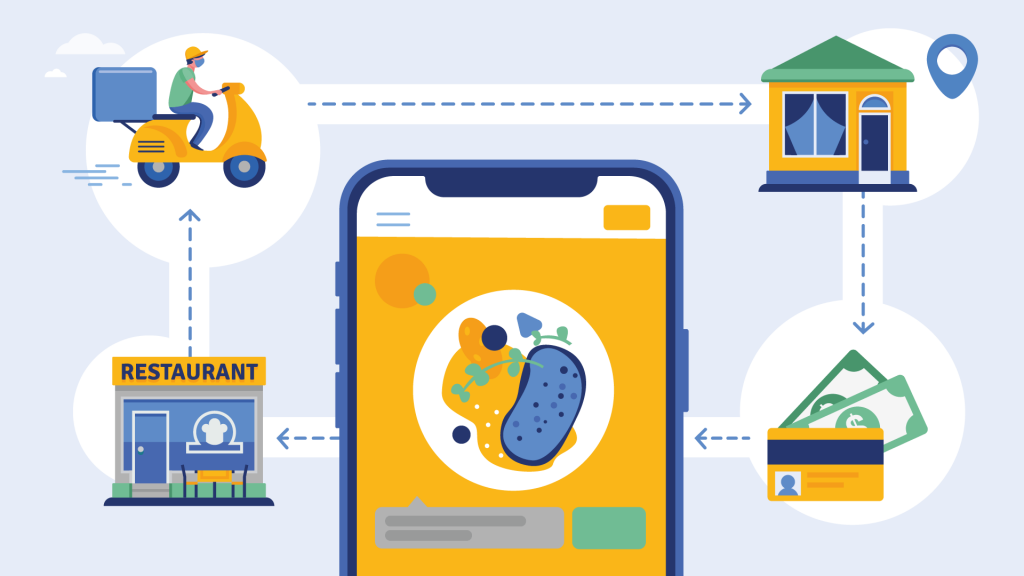 Image Source: redwerk.es
Tips to Make it Successful:
Integrate personalized features like push notifications by using AI and ML technology. This technology will keep tracking the user's behavior and accordingly send a personalized notification. You can hire a mobile app developer in India for seamless app customizations. Like, if a user often orders their lunch meal, then an app will send a notification around the same time to remind them of the order. 

Introducing personalized offers to customers, such as heavy discounts on pre-orders, package offers for a week, promo codes for their next orders, and more.

Offer free delivery and pickup in under 15 minutes. 

Allow customers to pay bills by using the in-app multi-payment integration feature.
A restaurant food delivery app can be the best food delivery app in 2023 if you integrate the right features into it.
The Impact of Launching a Restaurant App on Your Business
Here's how a restaurant food delivery app can help your business to grow:
Create an online presence.

Allow targeting a large number of customers.

Target multiple locations.

Better revenue generation.
2023 is bringing all new opportunities for restaurants. You can create a restaurant delivery app with a minimum budget of $10,000 and can go above $25,000+. The cost and functionalities can greatly vary according to your business needs.
2. On-Demand App For Food Delivery from Grocery Stores and Community Markets
Individual Orders From Restaurants, Grocery Stores, and Community Markets is a business idea that will help you dominate your competition in the year 2023. 
This is done by providing individual orders from multiple places: grocery stores, restaurants, and community markets. What makes this idea unique is that with one order, you'll be able to purchase everything you need for a complete meal all at once. 
This could be the best food delivery app ideas in 2023 for businesses planning to join this thriving industry. 
This idea takes away the hassle of going from place to place and gathering up ingredients for one meal at a time. All you have to do is to hire an iPhone app developer in India that helps you integrate the best features to make it stand out from the competition.
Moreover, this will make it easier for customers because they can search by location or type of store which saves them time and energy when cooking their own meals.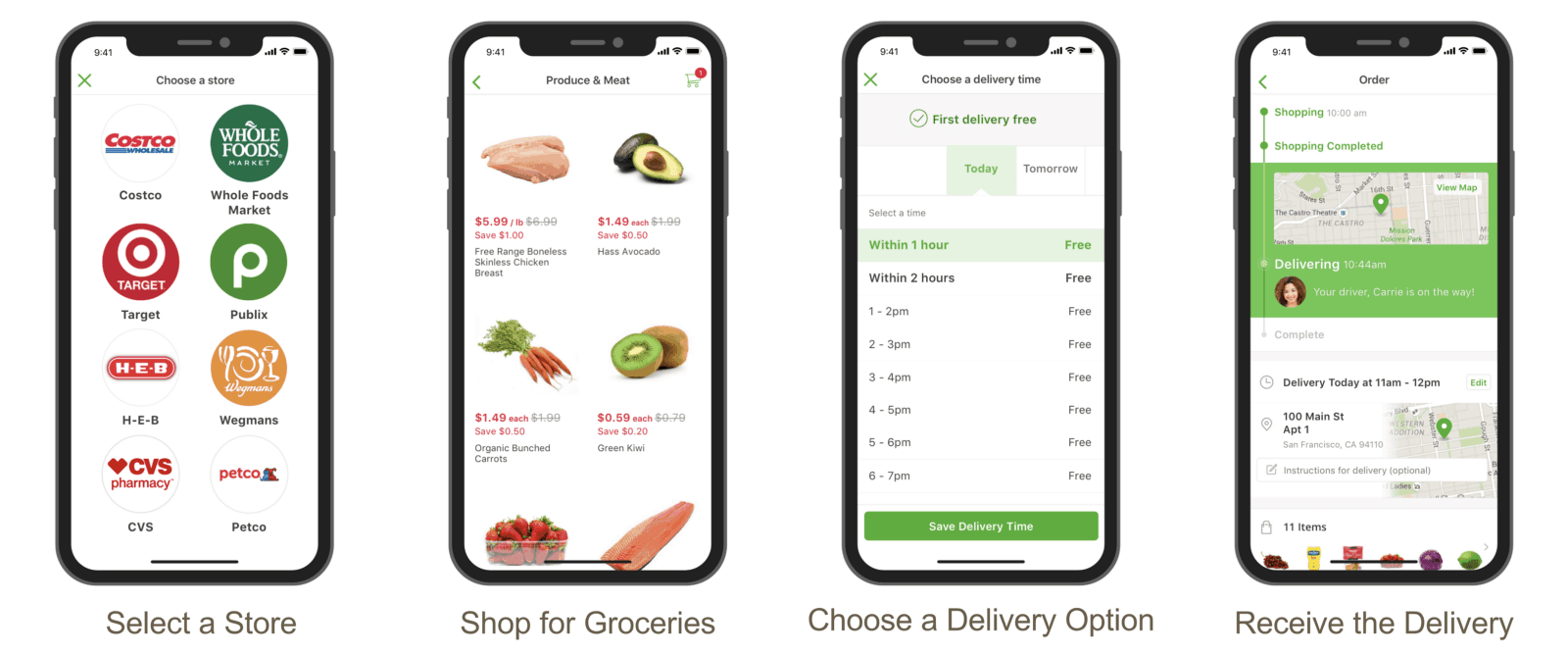 Image Source: hurbantastebud.com
Expert Tips To Monetize This App Idea
The ultimate goal of launching this app is to make money from the solution. This could be the best food delivery app idea in 2023, especially for those businesses who are willing to launch an aggregator model. So here's how you can make money with this app solution: 
In-app Advertising: Offer advertising space in your mobile app to third-party businesses and make money in return.

Offer Subscription Plans: Let your customers pick a subscription plan based on monthly, quarterly and yearly basis and avail of special discounts on orders. You can charge a subscription fee from the customers.

Featuring Fees: There are many grocery stores, restaurants, and community markets that always want to be on the top of the list. You can charge a featuring fee and keep them on top for a certain period. 
These are the fewest and most practical and proven ways of making money from the mobile app solution. This could be the best food delivery app idea in 2023 to make money. But, the only thing you need to take care of is to hire an Indian app developer that can understand your needs.
3. On-Demand Food App For Farm Stand Deliveries
Searching for the out-of-the-box best food delivery app ideas in 2023? End your search here, as farm stand delivery can be a brilliant app idea to make money in 2023. 
Farm Stand Deliveries is an app that connects you with farmers and fresh, seasonal produce. Browse through different vegetables, fruits, grains, nuts, mushrooms, and herbs! You can order what you need for a recipe or just get a box of fresh food to try something new. 
With Farm Stand Deliveries, you never have to worry about not being able to find that perfect ingredient again! Make sure you hire a mobile app developer in India to make your farm stand delivery app available on the App Store and Google Play. 
If you're looking for a brilliant app for the food delivery segment, then this could be one of the best food delivery app ideas in 2023.
How Do Farm Stand Deliveries Work?
To make this app idea work flawlessly, you need to have drivers, farmers, and an admin panel for the app.
Food delivery drivers go from farm to door, picking up vegetables and fruit from local growers, bringing them back to the kitchen, and then delivering them fresh to your doorstep. 

Your customers could even pick out what they want from pictures on your app, so it would be as easy as going through an online grocery store or supermarket while they sit back on their couches.
The average cost to build a farm stand delivery app will range between $10,000 and $15,000+ and may take 3 to 4 months to develop. To make a profit from the best food delivery apps in 2023, it is best to set a commission fee with farmers and drivers. Also, you can take advantage of subscription plans and more. 
Read More: Create A Food Delivery App: How Much Does It Cost?
4. An App To Get All My Grocery Delivered
The food delivery business is heating up. New players are popping up left and right, each with their own approach to how they want customers to use their app. As a result, it's never been more difficult for customers to figure out what service they should be using. Our solution? 
Deliver all my groceries straight from the store, of course! This could be one of the best food delivery app ideas in 2023 that helps you set a trend in the market.
By partnering with grocery stores, we offer an easier way for people on-the-go who don't have time (or know) how to cook yet crave healthy and delicious food. Customers simply place their order through our app, and our delivery staff will get the groceries and drop them off on your doorstep. It's that easy! 
Simply put together your list of groceries online, tell us when they should be delivered, and then relax while we take care of everything else. 
Pro Tips To Make It a Winning App
Having the best food delivery app ideas in 2023 is not just enough to be competitive in the market. You need to have the right strategies to engage customers and encourage them to shop. So here are the few tips that you can consider to become successful:
Easy and quick user onboarding.

Offer instant item selection and add-to-cart option.

Privilege your customers with multi-payment features.

Offer super fast food delivery service.

Add an option to pre-schedule the grocery delivery by accessing the in-app calendar.
With the implementation of the right set of features, this idea could prove to be one of the best food delivery app ideas in 2023. The average cost to create this app type is floating around $12,000 to $15,000. It can go lower or higher than these estimations depending on your unique business needs. 
Click on this video link to know more about the unique food delivery app ideas in 2023.
Top Food Delivery App Ideas For Startups in 2023
5. On-Demand Dietary Meal Delivery For Aging People
Looking for the best food delivery app ideas in 2023? This could be a perfect choice for you!
The aging population needs personalized, high-quality care that is not always conveniently available. There are no food or cooking services for seniors, which makes it difficult for them to have all their meals prepared for them.
The growth of a service like this would lead to health benefits for our aging population and reduce hospital stay lengths by giving hospitalized seniors what they need without having to leave. 
Visits from dieticians can be both time-consuming and expensive. This is why startups can think of offering convenient food and lifestyle choices to patients with clinical needs. This way, people from different walks of life would be able to benefit from a food delivery service with doctor supervision.
All-in-all, launching an app for food delivery in 2023 for aging people could be a brilliant idea for startups. 
Features and Functionalities to Develop Dietary Meals Delivery App For Patients
It is an excellent idea to develop an app for food delivery, especially for patients and the elderly with special care. It could be the best food delivery app idea in 2023 as it helps patients to eat healthier while also minimizing their time at the hospital. 
Patients have access to personalized dietary meals that are made based on their needs and preferences. 

Patients are able to create meal plans by using the application, choosing menu items and adapting them accordingly – breakfast, lunch, dinner, snacks, and desserts. 

Patient memberships can be set up with a variety of pre-paid options, such as three weeks of menus per month, monthly subscriptions billed annually, or monthly subscriptions billed monthly. 

Dietary plans also have five categories: low-sugar diets, low-carb diets, diabetic diets, high-protein diets, and low-calorie diets.

The patient has a way to track his or her weight with the device in order to provide continuous feedback about how their body responds to different foods and how it reacts to changes in eating habits. 

It's easy for doctors and nurses who want to talk about what he/she should eat without forcing him/her out of bed. 

A system will notify them when it's time for their next scheduled meal so that he/she does not forget about it.
Developing a dietary meal delivery app can be the best food delivery app ideas in 2023 for the startups if they choose to customize it with these features. 
Add-on Best Food Delivery App Ideas in 2023 for Startups
6. Green and Organic Food Delivery App
Salad greens are hardy and can grow just about anywhere – which is why it's no surprise that thousands of organic farms have popped up across the country in recent years. If you are one of those and looking for the best food delivery app ideas in 2023, then this could be the perfect fit for you. 
Creating an app that connects consumers with nearby salad growers and farms can help fill this underserved need and provide solutions for our increasingly food-conscious world. You can hire an Android app developer in India that can integrate all such features into it.
A user would use this online app to locate and order high quality, organic lettuce from one of a growing number of certified farms or gardens nearby.
7. Pet Food Delivery
It is estimated that by 2027, the on-demand pet food delivery business will be worth USD 127.71 billion. So, you can imagine the potential growth of such a business today.
The name of the business implies customers can order pet food, and in addition, you can offer self-service or delivery options.
8. Frozen Food Delivery
By 2025, the global frozen food market is expected to reach $312.3 billion and to grow at a compound annual growth rate of 5.0%. Hence, developing a frozen food delivery app can be one of the best food delivery app ideas in 2023 to follow.
If you want to launch your own frozen food ordering service, you'll need to decide who your target market is and establish a partnership with a food supplier.
Some food items you can include in your frozen food delivery business are frozen seafood, potatoes, snacks, vegetables, and meals. Moreover, you can include foods like low fat, egg-free, nut-free, low salt, organic foods, and low calories.
Read More: 60+ Top App Ideas For Startups To Launch In 2023
9. Corporate Food Delivery app
When starting a food delivery business, one of the smartest ways to do so is through a corporate food delivery business. As long as you are able to provide quality food, it'll gain a loyal customer base who loves it.
Developing an app for a food delivery business requires lots of planning, but this is one of the best food delivery app ideas in 2023 that help you make a profit. 
With this business, make sure to use fresh and high-quality ingredients to maintain repeat customers from the corporate world. It may be a food delivery app or an online store at first. Be sure to include your menu, use several methods of payment, and advertise your business in local business zones.
10. Developing a Lunch Delivery App
The industry is currently dominated by giants like Grubhub, Seamless, and UberEats. In order to find success in this competitive industry, it's important that you build an app that makes ordering food as easy as possible for your customers.
With the increasing demand for lunch deliveries, it could be one of the best food delivery app ideas in 2023 to create a lunch delivery app. 
Let them make their order with a few clicks, have them pick a convenient time for pickup, choose from local restaurants, or search for their favorite dish. 
Additionally, make sure your app stands out on social media platforms. Find ways of getting mentions on Facebook or Twitter so you can grow your customer base before launch day.
How Do Food Delivery Apps Work?

Image Source: i.pinimg.com
Conclusion
Hopefully, this blog has given you a plethora of the best food delivery app ideas in 2023. No matter which app for the food delivery business you choose to develop, each idea has its own potential. All you need to do is to look for experts that can help you transform your idea into a scalable, secure, and robust product.
AppsDevPro can be one of the leading platforms to hire app developers in India with a minimum of 5+ years of experience. Leveraging the industry's best practices and technologies, they are experts in customizing unmatched quality solutions.
If you have picked up an idea to build a food delivery app and are looking for the best resources to create a winning app solution, then AppsDevPro could be a good choice for you.
FAQs
1. Which food delivery app is most used?
A study from Munchonomics shows that 41% of Americans have used at least one type of food delivery app. One of the most popular apps is Grubhub. The four key services that Grubhub offers are for customers to order ahead, order quickly and pay by credit card or mobile. 
For most startups, Grubhub could be the best food delivery app in 2023. But developing an app like Grubhub requires a huge investment.
For restaurants, Grubhub has helped them reach an audience they could not otherwise get. In Chicago alone, there are over 250 different restaurants on the app making it easy for consumers to choose what they want and where they want it delivered from.
2. Which food delivery service is best for small businesses?
It's always difficult for small businesses. Especially when it comes to deciding which online food delivery service is best for them. Sure, you could use Seamless and Postmates as your sole provider for on-demand restaurant delivery, but what if you decide that Shake Shack should be your biggest priority?
Well then, you might be faced with a membership fee that doesn't line up with how often you order from the restaurant. So different businesses have different goals to achieve. If you are still confused about what is the best food delivery app idea in 2023 for your business, then you can contact us. 
3. How Much Does It Cost to Build a Food Delivery App?
Developing an app for a food delivery business requires the best food delivery app ideas in 2023. But how much does it cost to create an app?
It can cost anywhere from $5,000 to $30,000 (on average) to build a food delivery app. The main areas that companies looking for a food delivery app should be focusing on are payment integration (such as accepting credit cards or partnering with an established payments company), customer acquisition channels, customer experience and logistics.
You can also check our other services:
Hire Mobile App Developers, Hire Xamarin App Developer, Hire iPhone App Developers, Hire Android App Developers, Hire Flutter App Developer, Hire React Native Developer, Hire Kotlin Developer, Hire Web Developer, Hire PHP Developer, Hire Laravel Developer, Hire Nodejs Developer, Hire Microsoft Developer, Hire ASP.NET Developer, Hire Angularjs Developer, Hire Reactjs Developer, Hire Vue.js Developer, Hire E-commerce Developer, Hire Magento Developer, Hire WordPress Developer, Hire MERN Stack Developers, Hire MEAN Stack Developers, Hire Dedicated App Developer