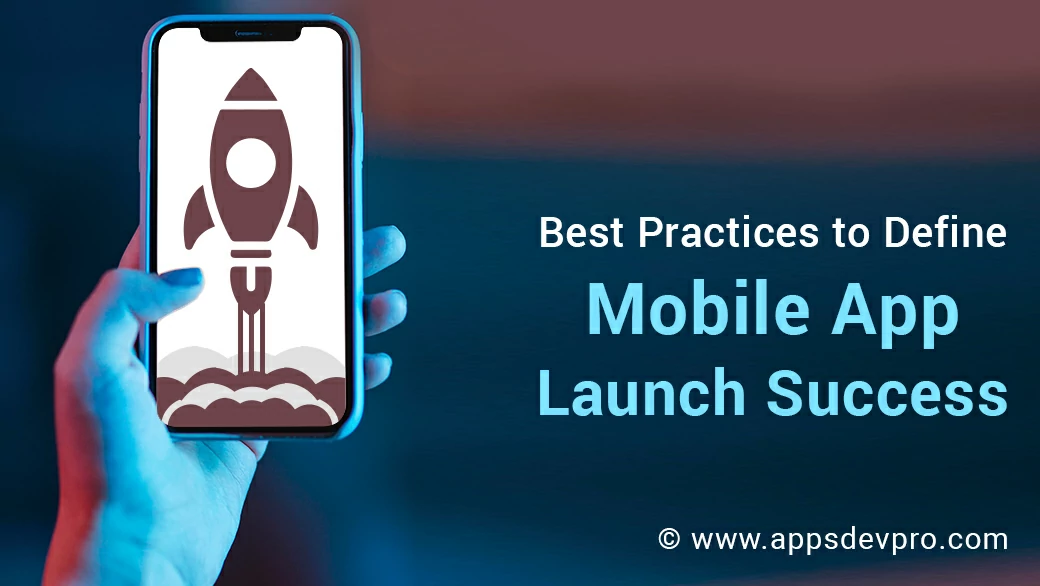 You've defined your big APP IDEA. Your mobile app Strategy for development has paved way for the now looking fabulous app design and development stage. So, you think everything is set for launch, right? Well, we all love our babies (our app idea) but are you sure the idea is marketable to make money or an impact at the App market?
This makes Pre-launch and Post-Launch app strategy as much critical as the Mobile app launch checklist. Here are a few fundamental points that can give your mobile app launch the direction for success:
Don't go tapping the entire customer base at a go when who decide to give wings to your app idea.
Start initially to target a small number of users – observe their behavior through analytics and implement the observations into product enhancement.
Your business competitors are always on the lookout for 'brilliant app concept with poor execution'. A low-profile start will save intimating your competitors to cash in on your app idea, till you resolve the bugs and make the required enhancements.
Statistics reveal that 90 percent of apps are built as a hobby and are left to chance or luck when it comes to success. However, logically speaking businesses need to focus on building an app that make money or any difference to your customers' lives. It's all about building a product that customers want and a business that is sustainable and growing. In short, adapting to changing strategy without a change in vision, could be the answer to building a successful mobile app.
One of the many reasons why the most anticipated products (mobile apps in this case) fail is because entrepreneurs absurdly overvalue their innovation, compared to consumers who overvalue what they've been already using. Although, there is no cut-and-paste rule as to how mobile app success can be guaranteed; validating your app idea forms the basis to creating a pre-launch app strategy that deliver results.
Mobile app idea can only attain its logical success, when supported by proven mobile app development expertise. This will help create a viable mobile ecosystem that harnesses the power and potential of mobile technologies to create intelligent business solution that make a difference and maximizes ROI.
Ideation to App
Once your app idea is validated after due research and evaluation by team of experts harnessing the potential of the app to cut across demographic barriers, user interest and demand; the next most important aspect is creating an appealing Mobile app design or Mobile UI with creativity, and pixel-perfection remaining at the focus in creating breakthrough mobile UX design.
Designing & Developing mobile applications
Mobile app design is now considered to be a crucial part of mobile app development as it contributes to creating a great user experience and enhance customer engagement – driving user adoption. This makes it all the more important for businesses to create apps that are diverse by design and concept.
Once the mobile app prototype design is complete, businesses should concentrate on the app development process while keeping end-user experience in priority. From app development to performing usability testing, it is important for enterprises to stay updated with the latest technologies and platforms so as to meet any developmental challenges.
Fix Bugs & Launch Apps
Most of the top app developers choose to have a closed beta-test before their official launch. This forms the perfect platform to find bugs that need to be fixed or the user interface enhancements that need to be made.
The Key to Successful Mobile App Launch Strategy
The realization of your mobile app idea reaches its logical conclusion with deployment at the App Store and a proper App Launch. An app store launch is just the beginning of your app getting showcased to the world; but to get your app positioned at the top of the App stores that helps maximize downloads, it involves creating a result-oriented App Marketing process that helps your app get found.
Pre-Launch App Marketing – Create the Buzz!
Most leading providers of mobile application development services are now offering pre-launch app marketing as part of their overall mobile app development package. Pre-launch mobile app marketing process primarily involves market research and roadmap documentation, which besides being the most understated part of the entire process is nonetheless the most powerful. Some of the proven tactics to create pre-launch buzz or a successful teaser campaign includes:
Identifying and designing for your target market
Creating a stunning App Icon that enthralls and sells
Finalizing a strategic App Name that hits the popularity chart
Determining marketing techniques for app products
Chalking out a social media strategy before launch
Choosing keywords wisely, with limited Characters to play
Enticing users with smart app description that is crisp and compelling
Giving a window to your app with responsive mobile app website
Mobile App Launch – Make the best of the D-day!
Strategic launch is all about reaching out to your press list enroute to your target audience through strategic press release and well-defined blogs posted to authority blogs for publication. Also, sending app information to review sites can help give your app maximum coverage on launch day. Make the maximum use of social media channels like Facebook, Twitter, Pinterest, Instagram and YouTube as well to garner maximum exposure.
And in case you are already a big brand in mobile app development with an existing community of loyalists, there can be nothing better than tapping your existing user base, as they are the best conduit for viral promotions. Not to forget conventional marketing techniques like billboards, banner, media advertorials and TV advertisements that helps drive downloads.
Synopsis
A successful mobile app launch cannot be measured by the just one factor – be it a great app idea, design, features, the pre-launch buzz or in-app campaigns – in fact, it is an amalgamation of all the strategies that can make the way for your mobile app success.
Mobile app marketers are also actively focusing on post-launch app strategies like App review, video campaigns, App Monetization, Mobile Retargeting, etc. to improve the visibility of their mobile application and make the big dream of making their app idea a success.
————————————————————————————————————————————————–
You can also check our other services:
Hire Mobile App Developers, Hire Xamarin App Developer, Hire iPhone App Developers, Hire Android App Developers, Hire Flutter App Developer, Hire React Native Developer, Hire Kotlin Developer, Hire Web Developer, Hire PHP Developer, Hire Laravel Developer, Hire Nodejs Developer, Hire Microsoft Developer, Hire ASP.NET Developer, Hire Angularjs Developer, Hire Reactjs Developer, Hire Vue.js Developer, Hire E-commerce Developer, Hire Magento Developer, Hire WordPress Developer, Hire MERN Stack Developers, Hire MEAN Stack Developers, Hire App Developers