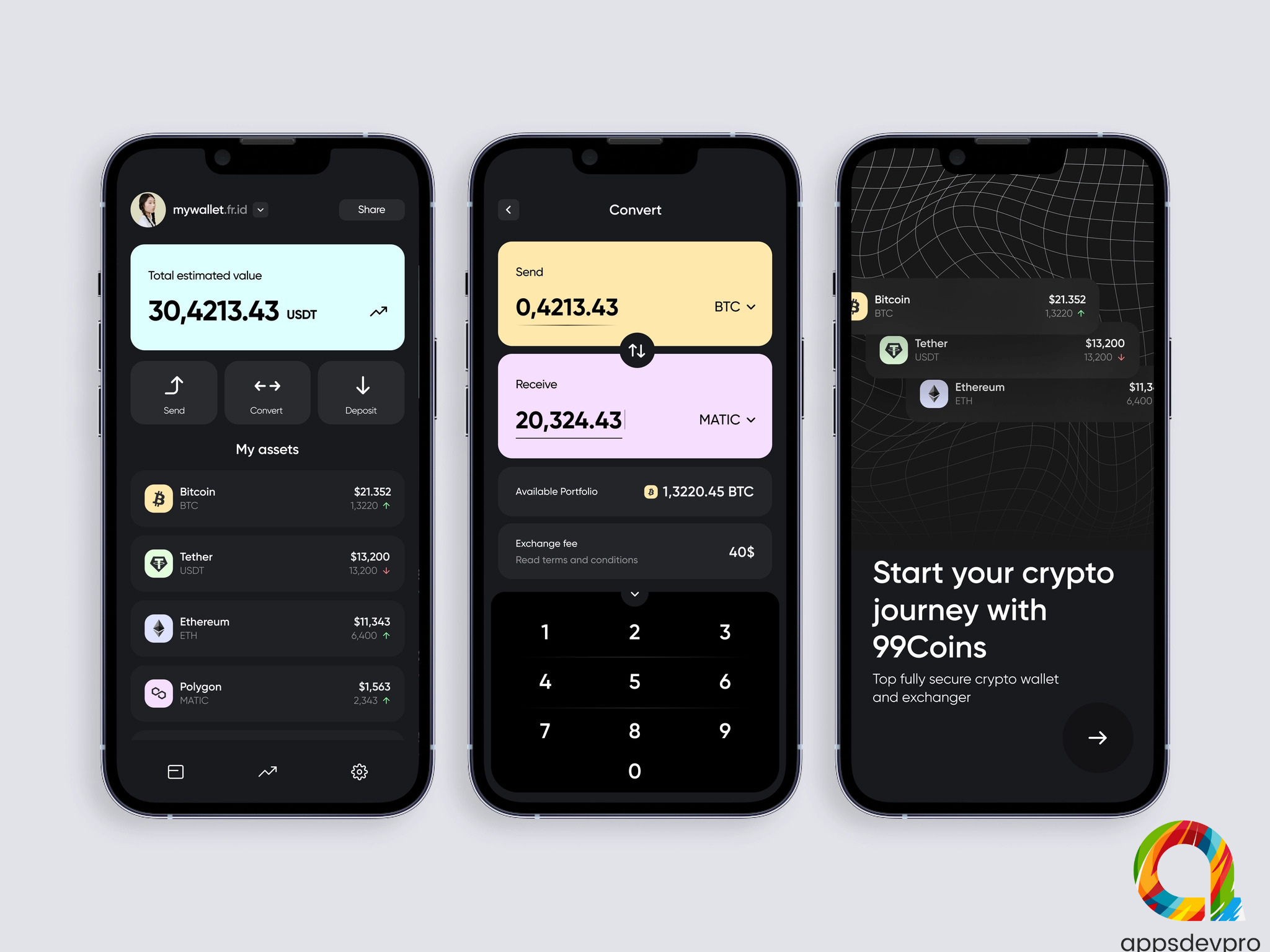 Online stock trading apps have become a hot trend in recent years as it offers convenience and accessibility to stock trading. With a stock trading application, people can manage their investments on the go. So if you have finally made a decision to create an app like Robinhood, then you can refer to this blog guide. Everything has been explained here including the cost to create a trading app like Robinhood, its features, tech-stack, monetizing model, and more.
So finally you made a decision to create an app like Robinhood but are not sure how to build it rightly? If yes, then you are at the right place.
According to the survey report of FMI, the stock trading app market was estimated to be worth $13.6 billion in 2022 which is expected to reach $89.8 billion by 2032.
With these statistics, it is clear that the demand for online trading apps like Robinhood is surging with each passing year.
In fact, it won't be wrong to say that the financial sector has undergone a serious transformation with the launch of the Robinhood app. Various financial institutions have lost their value in the eyes of millennials. Just assume how many youngers you see waiting at the banking desk to deposit or withdraw their money.
Surely there won't be more than 1%. The majority of youngers prefer investing their money in online trading apps. In addition, a trading app like Robinhood has 40% of its users from the millennials category.
And every Fintech is changing and demanding new solutions. But what's so unique about Robinhood that encourages to you create an app like Robinhood?
Robinhood plans to use this funding round to enhance its financial platform and improve customer experience by adding new products. Robinhood's key features include:
Allowing users to create an investment portfolio without any cost. 
Users can stay updated with the market data.
Robinhood sends timely reminders and notifications for trading.
Surely these key highlights are enough to convenience you to make a decision to make a trading app like Robinhood. But before you hire a mobile app developer in India and get straight into the development process, you need to understand where you should start and what important things will be a part of your app development process.
How To Create a Stock Trading App Like Robinhood?
With so many trading apps available in the market, it becomes challenging to build an app that offers a unique experience to users and set a benchmark in the industry. To make it easier for you, you can choose to hire software developers in India that can understand your project idea and are able to customize an app accordingly. But still, to bring out your app idea, you can follow these few steps to create an app like Robinhood. 
Image Source: ebizneeds.com
Step-By-Step Guide To Create An App Like Robinhood:
1. Conduct a Market Research and Understand Your Business Goals
Generally, people skip this step while developing an app without recognizing the importance of conducting marketing research. To build a profitable, full-featured stock trading application like Robinhood, make sure you have an in-depth understanding of the stock market.
Therefore, make sure you start by conducting market research to predict future trends, identify a promising new feature, and choose a winning business model. To make it easy, try getting an answer to these questions:
What is the purpose of developing a trading app like Robinhood?
To whom you are trying to target in the market?
What is your budget limit and how early do you want to launch an app?
What are the technical requirements?
Who are your competitors in the market?
This way you will get an idea about the basic things and be able to plan your app development process much more efficiently.
2. Decide Upon Development Approach
The second step for building an online trading app is to pick a reliable development approach. Decide whether you want to build an app from scratch or look for the pre-build modules that enable you to launch an app in a fast time frame.
If you are a startup and managing things with limited resources then it is worth going for ready-made solutions. This will help you kickstart your project in a week but impose a limitation on app scalability.
Another way is to hire an Indian software developer to build an app, integrate the features of your choice, integrate third-party APIs, and more.
Also, before you kickstart your development project or decide upon the development approach, you need to decide on which operating platform you are launching an app. Whether it's for Native Android/iOS or Hybrid.
3. Create a Seamless UI/UX Design
Once you finalize the app development approach and work on the roadmap, then now is the time to create an app wireframe and prototype that help you turn your users into potential customers. Ensure that your app interface must be user-friendly, interactive, and straightforward to access.
4. Choosing the Right Software Development Team
To create an app like Robinhood, make sure you are choosing a capable app development team. The success of the app majorly depends upon the skills and expertise of the developers that they pour into the project.
So when you hire app developers in India, make sure the team must include a Business analyst, project manager, app developer, UI/UX designer, and quality assurance engineer.
In fact, the team composition for the online trading platform development will greatly vary depending upon the needs and complexity of the project.
5. Follow Regulatory Requirements
When it comes to building a trading app, you need to follow the regulatory guidelines to avoid legal penalties and make it run legally.
Meet all of the regulatory requirements of your Robinhood-like app so that the app operates in a legal and ethical way. In different regions of operation, your app should follow the requirements of different governmental or financial institutions, and adhere to anti-money laundering mobile app regulations.
If you are developing a trading app in the USA, then here are the few legal compliances that you need to meet before you market your app:
CFTC, the Commodity Futures Trading Commission, regulates the futures and derivative markets.
The Financial Crimes Enforcement Network, or FinCEN.
The Bank Secrecy Act (BSA).
NFAA-National Futures Association of America
6. Test and Deploy Your App
With the help of the app development team, you can easily complete the process of coding. Once it's completed, it's time to carry out the app testing process to identify bugs and errors. Make sure the testing team performs both manual and automated testing methodologies to ensure that your app will work as expected.
Once the app testing is done, it's time for app deployment. Allow your team to publish an app on the right platform as needed.
So when you decided to make a traditional app like Robinhood, you need to put your focus on the features you are planning to integrate into your app. So let's jump straight into the features of the app. 
Important Features to Create a Stock Trading App Like
With so many trading apps available in the market, many of you are often asked the development company whether there is the scope of launching another trading app. Well, the fact is, the demand for hiring Indian app developers and online trading apps is surging with each passing year, so there is a need for more and more trading apps. But the success of the app is majorly dependent upon the choice of features you integrate into your trading app.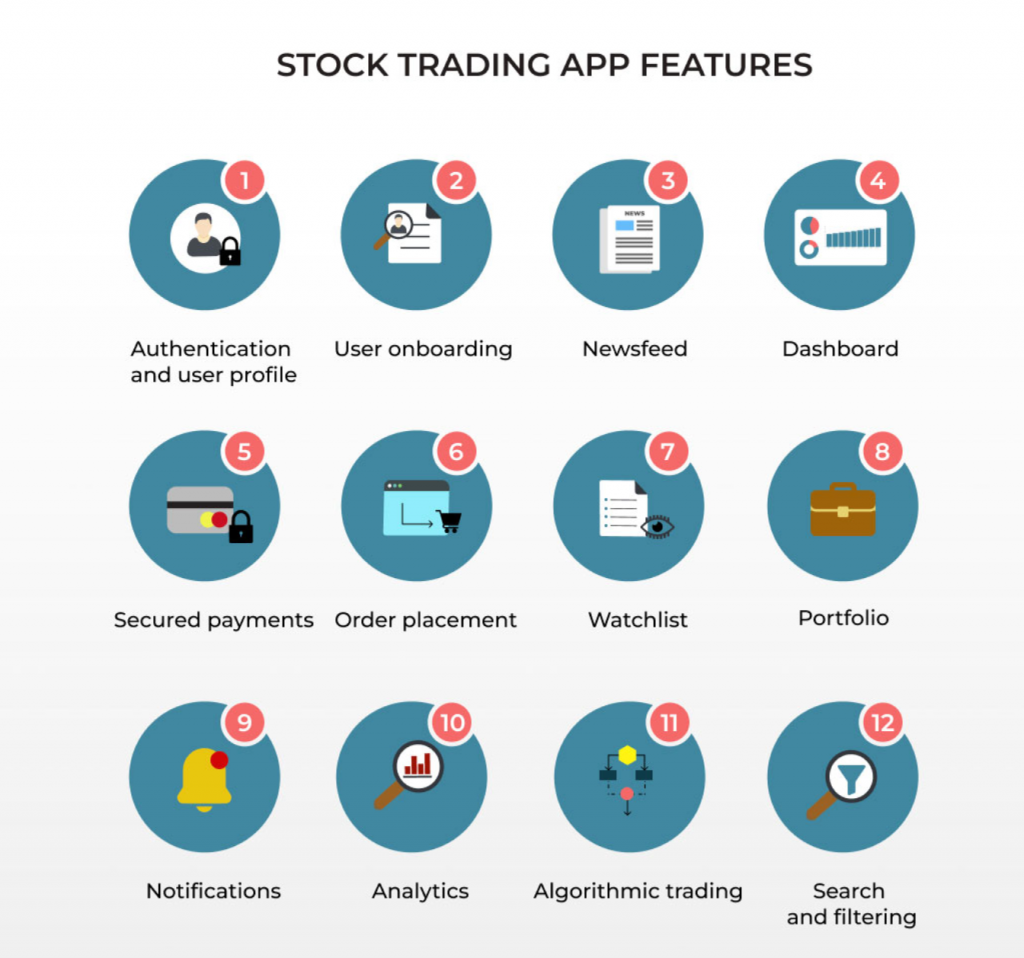 Image Source: codeit.us
So let's get started with the list of features required to create an app like Robinhood:
Verified User-login process: Since this is a major money-transaction app, it's important that users can register via several different routes, like phone numbers, social networking sites, or email IDs. With a system involving biometrics or touch ID authentication, the user is better protected.
Dashboard: Once the user login your app, they will directly land on the homepage of the app. Make sure to create this space very informative for the investors. Usually, it carries everything that investors want to know including order status, watchlist, balance, charts, holdings, and so on. Since there is so much to add to the screen, so make sure that users won't get confused with overloaded information.
Create Portfolio: This functionality will enable the investors to build and manage their own portfolios, relying on no outside agents to do it for them. Filtering and sorting in this mode will enable them to easily find what they want.
Sorting and Filtering the Stocks: With this feature, investors can analyze stocks by sorting and filtering relevant details from the ledger that describe each trade record. User-friendly navigation will make navigating the stock market easier.
Transaction Tracking: It's an essential feature that helps to keep track of all transactions. With this approach, users can handle their payments and securely view their order executions without any difficulty. Whether it be deposits or withdrawals of currencies, every transaction would provide the appropriate information.
Payment Gateway: A money transfer and payment gateway are the most crucial parts of any trading app as it required to purchase or sell stock. It must be highly secure, and you should add several payment gateways.
Real-Time Graphs: These programs let people visualize and track the performance of individual stocks and other financial instruments. The crucial part of the development is to connect to a financial data API to retrieve real-time data for the charts; the program will need to connect to a financial data API.
Watch List: Keeping track of stocks through watch lists allows users to plan future investments as well as see changes in price, volume, bid price, and percentage. Stock research requires a watch list.
Recent Market News: The stock market is all about making instant financial decisions. To minimize the risk, make sure you have an in-app news feature that helps users to take informed financial decisions with recent market news. Stock trading apps enable users to access real-time, relevant news in their watchlist right from their stock trading apps.
Calendar and Stock Notification: An app for stock trading provides users with calendar and stock notifications, real-time tracking, and 24-hour availability. Keeping track of various alerts is important, of course.
Notification and Alerts: This feature allows users to receive vital information regarding events, earnings, and growth and fall of stocks. Most users can set up custom alerts for a particular stock value, for instance.
There are endless features that you can consider integrating in the trading app. But before you start adding on the features, keep in mind that it is one of the major cost-driving factors. Now let's consider how much it cost to create an app like Robinhood.
How Much Does It Cost To Create a Trading App Like Robinhood?
The average cost to create an app like Robinhood is usually ranging from $12,000 to $15,000 and may go up to $30,000.
Here you will get confused that why there is a huge variation in the app development cost.
Well, developing an app is more like buying a car. The cost of any car is depending upon the car model, its features, and variations. In the same way, the cost to create a trading app like Robinhood is depending upon various factors.
Here are the few major cost key driving factors are:
Deciding upon the operating systems
Choosing the features and functionalities of the app
The complexity of UI/UX design
App testing and deployment
The choice of the app development team and their location.
So depending on the complexity of the app, here we have a cost estimation for trading app development.
Simple Trading App With Basic Features: $10,000 to $15,000 and may take around 3 months to develop.
Mid-Level Trading App With All Necessary Features: $15,000 to $20,000 and will take 6 to 8 months to develop.
Advance Level Trading App with All Modern Features: $25,000 to $30,000 and will take 9+ months in development.
These are the rough estimations and can go low and above depending upon the unique project requirements. To get a real estimation of your app, you can book a free consultation slot with our experts.
What Are the Best Monetizing Strategies for the Trading App?
Just like we mentioned at the beginning of this article, the Robinhood app allows users to create a profile completely free and able to start trading immediately.
Then the immediate question that sprung up to your mind is "How does Robinhood make money if they don't charge trading fees?
The primary source of revenue for the Robinhood app is a premium subscription plan known as Robinhood Gold. It is an advanced app version ideal for expert investors and those who are willing to take more risks with trades.
For Robinhood Gold, users have to pay a monthly fee, the upgraded account grants you a whole range of benefits that let you trade more hours per day and with a higher buying limit. This translates into the fact that users can borrow money and invest it as they wish.
You must make monthly payments to Robinhood in order to enjoy Robinhood Gold, with prices starting at $5, or pay securities and cash by installing the Robinhood app and collecting fees the same way that banks take fees from clients who deposit money.
Image Source: uptech
With that being said, if you wish to develop a trading app like Robinhood, here are a few other ways of monetizing:
Best Monetizing Strategies For Online Trading Apps
Traders are not only charged commissions to trade on their platform but they charge them every time they trade. Such commissions are much cheaper than those at traditional brokerage companies, making Robinhood an attractive option for traders.
Commission Fees: In addition to earning money off of commission-based trades, Robinhood can also charge interest on cash balances held on the app. When customers deposit their money into their Robinhood accounts, the company invests that money in short-term, low-risk assets and then uses it to earn a return.
Offering Premium Features: Robinhood offers a number of additional premium features that are only accessible with a paid subscription. These advantages might include access to advanced research tools, greater levels of customer support, or other perks. You can offer customers to choose weekly, monthly, or yearly subscriptions to take advantage of premium features.
Selling Data To Third Parties: Robinhood generates revenue through other strategies including selling market data to third parties. The company has an extensive user base that enables it to generate a great deal of data on trades, which it then sells to organizations such as financial institutions and brokers.
Exploring these few monetization strategies can give insight into what strategies would be most profitable to apply.
Conclusion: How Do AppsDevPro Can Help You Build An Online Trading App Like Robinhood?
Hopefully, with this detailed blog guide, you must have an idea about how to create an app like Robinhood. But with the emerging technologies in the app development market, it is always challenging to meet the growing needs of the market. So that is where you need to hire a mobile app developer in India that can help you build an app using advanced features and functionalities. 
No matter how complex your app requirements are, you can drop your queries below or contact to our experts for any app development requirements.
FAQs
What Is Online Trading?
Online trading is the practice of using an online platform to buy and sell financial securities such as stocks, bonds, mutual funds, and more. It is the buying and selling of these securities over the internet without the need for a broker or middleman. Online trading can be done through a variety of platforms, including desktop applications, web-based services, and mobile apps. 
How Do Trading Apps Like Robinhood Work?
Buying and selling using an electronic trading platform can take just seconds because of the automated process and several other technologies built into the software. Let's examine how an ordinary stock trading app works.
Login to the app and link your account.
You can trade in both short- and long-term timeframes
Trade the market right from your smartphone in real-time
Stages either one-time or recurring financial transfers
When the current trade becomes available, you should buy stocks.
Sell stocks by following the trade trends displayed on your screen.
Buy and sell stocks with no commission
No trading fee for cryptocurrency
A referral program in which registered users get free shares of company stocks.
This is how most trading apps work. You can hire a dedicated app developer in India to build a trading app like Robinhood with a simple workflow.
How To Protect Your Data On Trading Apps?
Since it's a fintech app and everyone beginner is scared of investing money. So here are a few tips that help you protect data on trading apps.
1. Utilize encryption: Encrypting your data is one of the most effective ways to protect it from hackers and other malicious actors. Make sure to use strong encryption standards like TLS and SSL to keep your data safe.
2. Use two-factor authentication: Implement two-factor authentication (2FA) whenever possible to make sure only authorized users can access your app. This adds an extra layer of security to your app and helps prevent unauthorized access.
3. Use firewalls: Implementing firewalls can help protect your app from malware, viruses, and other malicious threats. Firewalls can also help detect suspicious activity and alert you if any potential threats are detected.
4. Monitor user activity: Monitoring user activity can help identify suspicious behavior or unusual activity on your app. It can also help you identify any potential security issues with your app and take steps to fix them before any damage is done.
5. Utilize secure storage solutions: Storing your data securely is essential for protecting it from malicious actors. Make sure to use a secure storage solution, such as Amazon S3, Google Cloud Storage, or Microsoft Azure Storage, to ensure your data is always safe and secure.
This way, you can allow users to freely trade through your app and make money without any risk of data leakage.
How Much Does It Cost to Create a Trading App Like Robinhood?
The average cost to build a trading app like Robinhood will range between $15,000 to $25,000 depending on the complexity of the app and its functionalities. 
How Can Startups Get Started With Trading Apps?
Startups looking to build a trading app like Robinhood can begin by researching the market, understanding the customer needs, and identifying key features that will make their trading app successful. Additionally, startups should focus on developing a secure trading platform and building the right technology stack to power the application. Finally, it's important to develop a solid business model that will ensure profitability and sustainable growth.
You can also check our other services:
Hire Mobile App Developers in India, Hire Xamarin App Developer in India, Hire iPhone App Developers in India, Hire Android App Developers in India, Hire Flutter App Developer in India, Hire React Native Developers in India, Hire Kotlin Developer in India, Hire Web Developer in India, Hire PHP Developer in India, Hire Laravel Developer in India, Hire Nodejs Developer in India, Hire Microsoft Developer, Hire ASP.NET Developer in India, Hire Angular.js Developer in India, Hire React.js Developer, Hire E-commerce Developer in India, Hire Magento Developer in India, Hire WordPress Developer, Hire MERN Stack Developers, Hire MEAN Stack Developers, Hire App Developers in India, Hire C# Developers, Hire CMS Developers, Hire Open Source Developers, Hire Vue.js Developers in India, Hire Knockout.js Developers, Hire AI Developers in India, Hire Java Developers in India, Hire Python Developers in India, Hire Javascript Developer in India