How much will it cost to build a website?
If you have landed on this blog, then surely you have researched well about this question and still not got a satisfactory answer.
So how much should you invest in website development? What is the average cost to develop a successful website?
What if we say, you can build a website for $10,000 to $12,000? Surely, it sounds tempting…
However, before you get excited and jump straight into the process of website development, make sure to verify how to make the right calculation of website development cost and what services have been covered under the cost given by the app development company.
Let's check out the video to get an idea about what type of websites you can develop for your business.
While creating a website has become far simpler than ever before, questions like, how much does it cost to have an online presence in today's fast-paced world? And what factors determine those costs? are still there in the client's mind.
Well, there was a time when having your own website meant spending months or even years writing code from scratch. Today, with emerging technologies, that's no longer the case. If you want to have your own business website, you can create one in just minutes.
Owning a small business does not mean you are exempt from being available online. Whether you're planning on expanding internationally or marketing locally, having a comprehensive website is essential.
You just have to optimize your website for maximum leads and business conversions!
Still, wondering why it has become so important to have a website for your business? Here are the important market statistics you need to know.
Developing a Business Website: Understanding Market Statistics
Before you get straight into website development costs, make sure you understand these statistics. Here are some important statistics to help your site perform well:
71% of small businesses have an online presence in the form of a website. 
1 in 4 small businesses have no website and are clearly missing market competition. 
38% of people will stop interacting with a poorly designed website. 
Nearly 40% of people will stop engaging with a website that takes more than 2 seconds to load. 
Poor user experience drives almost 50% of users to shift to your competitors.
43% of small businesses plan to invest in web performance. 
In a nutshell, developing a website for your business is not enough to be competitive. There are multiple other elements like design, performance, loading speed, etc. that affect your online presence. Therefore, first you need to hire a website developer who is skilled in crafting bespoke websites. They must help you migrate your business model to the digital world without any hiccups. 
With that said, the next question you may ask is how much it costs to build a website. Well, there is no straightforward answer to this question. Let's understand it in better detail.
How Much Will It Cost to Build a Website in 2023?
It can be tricky to know the web development cost, as there are too many cost influential factors. It may include the size, complexity, pages, customization, or design. Without knowing the requirements, it can be impossible to define the exact cost of creating a website.
In addition, the cost of web development can vary depending on whether you use a DIY platform like WordPress or hire a dedicated development team. Web design is one major factor that affects the total cost of building a website.
Even if you appoint a website development company, they will also ask you dozens of questions to estimate the time and cost. And the scope of web development may range from 10 to 100 hours.
The Cost to Build a Website: Average Estimations to Set a Budget
As per market research, the average cost to build a website ranges from $1000 to $45,000 and more. Wondering why there is a huge difference in website development costs?
Different businesses have different requirements, so different websites are crafted to meet various needs.
Small business websites: The cost could be less than $1000 or more than $10,000.
Custom Feature-Rich Website: The cost will depend on your business requirements. It can be as low as $10,000 and can go up to $15,000 or more.
Complex Custom Website: The cost of creating a website with complex features can range between $12,000 and $25,000+.
Well, this is only a backend development cost. The upfront cost of the site includes launching and designing, which may cost between $6,500 and $20,000+. Apart from that, there is a routine website maintenance cost that ranges from $50 to $5000.
I know, gulping down these estimations is quite challenging. So before you go straight to hire a website developer, let's understand how much it costs to build a website for small businesses.…
Cost to Build a Website: Breakdown To Estimate Website Development Cost
With the above estimation, hopefully, it's clear that there are various factors that influence the final website development cost.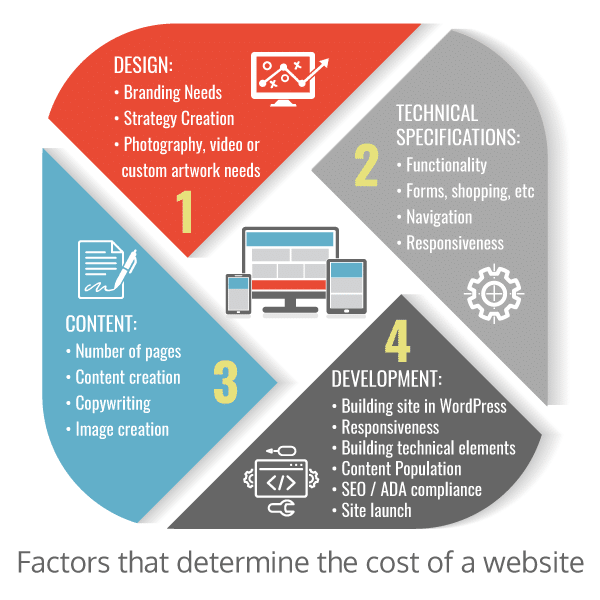 Image Source: network9.biz
Let's get through this phase-wise breakdown to understand what exactly contributes to the development cost.
Phase 1: The Cost of Creating a Website for Business (By Purpose and Types)
The cost of website development can vary depending on the type of website you want to create. A simple website with just a few pages can be created for around $1000, while a more complex website with multiple pages and features can cost upwards of $10,000.
The most important factor in determining the cost of your website will be the level of customization and functionality you require.
Therefore, it is vital to identify your website's purpose before designing it. A defined mission helps you create a website design that helps you engage the maximum number of visitors. The following types of websites are trending in the market.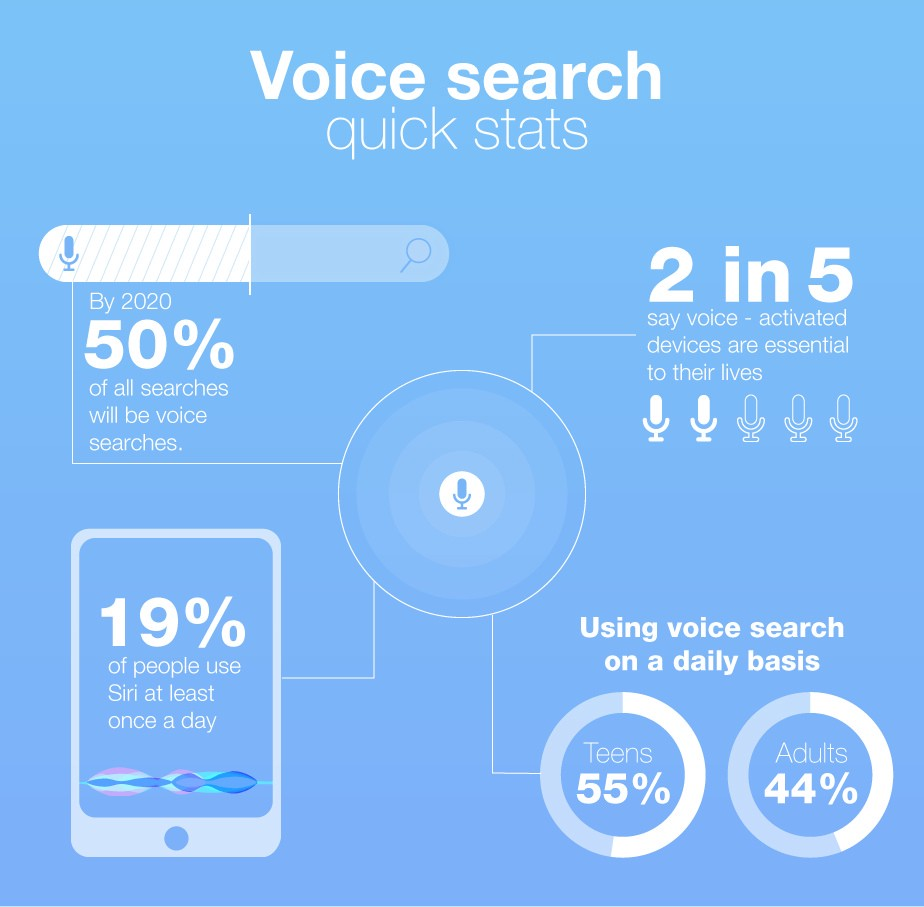 Image Source: static2
1. Personal/ Blog Website
In today's day and age, your personal website is your calling card to the world. It's how you present yourself, your work, and your ideas. So it's no surprise that people are willing to pay a premium for a great personal website. But how much does it actually cost to create a website in 2022? The cost of creating a website depends on many factors: 
What type of site do you want?
How long do you want it to live?
What features do you need?
Who is your target audience?
Is the site just for personal use or for business use as well?
The average cost to create a website for personal blogs can range anywhere from $7,000 to $10,000.
2. Business Website
This type of business website is just an informational site. It primarily focuses on brand promotion, increasing customer loyalty and enhancing business credibility.
Majorly includes: About us, services, contact us page, blogs and client's reviews.
The average cost to create a business website can be as much as a small website, but it also depends on the below features:
SSL Certificate
Live Chat Integrations
On-site search
Admin Panel
Responsiveness
Things usually get more complicated with business website costs when including these features. Therefore, it is always worth hiring a website designer who can help you estimate the cost rightly. 
To build a business website, you can set a budget in between from $12,000 to $15,000+ . But to make a successful website, you can hire a full-stack app developer in India.
Read more about the cost to hire software developers in India.  
3. Ecommerce Website
Ecommerce website development is a complex job. It can be pretty hard to define the average cost of creating a website in this niche. It includes hundreds of pages depending upon the product list like Amazon.
While it includes the following pages: Homepage, Services, Category Pages, Product Pages, Shopping Cart, Checkout, Favorites, Blog page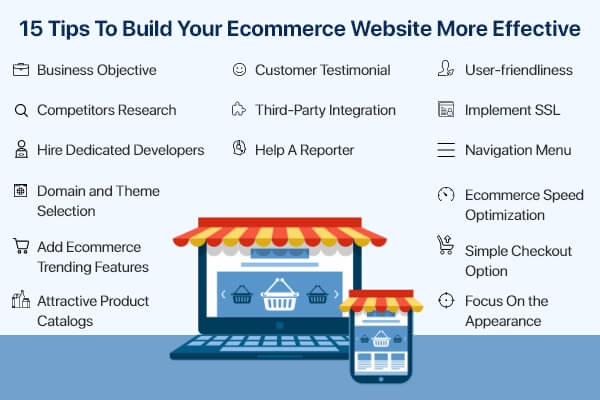 Image Source: consultingwhiz
These are the basic pages of creating an eCommerce website, which may cost between $10,000 and $12,000. However, the real hassle of calculating the website development cost is when you need to integrate such features.
Payment Integration: Google Pay, PayPal, Apple Pay and more.
Customized push notifications
Reviews and ratings
Search filters
Admin panel
Read more: How Much Does It Cost to Create an Ecommerce App Like Amazon and Its Features?
4. Website Landing Page 
The average cost of creating a website landing page is between $2,000 and $5,000. This price can range depending on the complexity of the design, the number of pages, and the amount of content that needs to be included.
If you are looking for a simple site with just a few pages, you can expect to pay at the lower end of this scale. If you need a more complex site with multiple pages and custom functionality, you can expect to pay on the higher end of this scale.
Final Website Development Cost By Type and Purpose:
Below, we are providing you with a rough estimation of how much time and money each website development will take.

Image Source: AppsDevPro
These estimations can be greatly vary depending upon the decision how would you prefer to develop it.
So here comes the second phase of website development…
Phase 2: Choosing The Best Way To Develop Website
Creating a website can be done in a variety of ways, and this is the most significant factor affecting your website's costs. If you do it yourself, you will save money compared to hiring a web developer. Your site might not offer the quality and functionality you want.
The following 3 options are usually available when you want to create a website. Each option can majorly affect the cost to build a website:
Option 1: Hire a Professional Website Developer
Estimated Hourly Cost To Hire Web Developer: $15 to $75
If you are looking for quality software solutions, then hiring web developers will be a great option. They'll build your site and launch it for you. Leveraging their skills, expertise, and experience, they ensure you time bound delivery.
Different types of websites have different hourly rates that range from $15 to $75 depending on location. Some web developers charge a non-refundable advance fee and set the total price based on your needs.
On the other hand, professional website development companies like Appsdevpro offer you a flexible engagement model. 
However, the final cost is determined by the website content as well as the site type that you want, including one-page sites, landing pages, or sites with several pages like homepages, contact, about, and so on.
Option 2: Outsourcing Website Development Company
Average Cost to Outsource Website Development Agency: $5,000 to $10,000
You can tap into a pool of resources by hiring a web agency. They provide you with a pool of professionals experienced in web design, development, graphic design, and marketing. The biggest advantage of outsourcing is that everything will be done under one roof.
It is possible for web design costs to vary between $5000 and $10,000, depending on the agency you choose and the services you need.
You can hire a web design company to take care of your website after it's launched. They may handle backend technical tasks and make sure your website is updated, backed up, and secure.
Read more: AppsDevPro Vs Fiverr: Where To Hire Best App Developers In 2023?
Option 3: Do It Yourself
Average Cost To Build a Website with DIY Platforms: $2.75 to $19
There are many website builders that make it easy for anyone to create a website.
Platforms like Wix and Squarespace offer hosted solutions for as low as $12 to $19 per month, depending on your location. However, they handle web hosting, servers, maintenance, updates, and more.
You can also use free platforms like WordPress and Joomla, but you'll need a domain and hosting plan, which can cost around $2.75 to $20 per month. Maintaining your website will also be your responsibility.
As a result, it is now possible to easily and conveniently make your own website without having to go through the process of learning any programming languages!
In other words, if you are starting a small business and don't want to spend a lot of money on your website, you can still make a website that you can afford.
While the site's design and development becomes easier with these platform. However, you can't compare the quality with that of professionally-made websites.
Final Estimations of developing a website in different ways:

Image Source: AppsDevPro
In a Nutshell: Naturally, the lowest cost of creating a website seems to be tempting. But, keep in mind that your business website is your brand image. A poorly designed or performing website can increase your bounce rate by 80%. 
So, outsourcing to a professional website development company is always a worthwhile decision. It may cost you a bit, but the initial cost can be easily covered up with the success later.
Phase 3: What Do You Want to Build A Website?
There are several additional expenses that you'll face with website development. Here are the names of few major ones.
– Domain Name
A domain name is your web address and is how customers will find your site. You can purchase a domain name through a registrar such as GoDaddy for around $10 per year. In addition to the domain name, you will also need to pay for hosting, which can cost anywhere from $5 to $100 per month. If you want to hire a web designer to design and build your website, you can expect to pay several hundred, or even thousands, of dollars.
Your designer will create wireframes based on your specifications and then hire an experienced web developer to code your design into HTML/CSS code. At that point, they'll be able to help you with updates and changes by taking care of any coding issues that come up on their end.
– Web Hosting 
Web hosting services will quickly add up to the cost to build a website. The price of web hosting services has come down significantly over the past decade. In general, you can expect to pay around $10 per month for shared hosting, which is more than enough for most small businesses and personal websites.
However, if you need more features or faster speeds, you may need to pay more. VPS hosting starts at around $30 per month, while dedicated servers can cost hundreds, or even thousands, of dollars per month.
– Website Maintenance Services
If you're running a business, you're going to need a website. And if you want that website to be successful, you're going to need to invest in website maintenance services. But how much will those services cost in 2022?
It depends on the type of site and what kind of plan you're looking for. Yearly website maintenance expenses can be from basic to advanced web versions. Your yearly expense will range from $500-$2000 depending on what they offer and what kind of plan they offer it under.
For example, a basic package at WordPress might be $500/year but at Squarespace, the same service would run $2000/year because Squarespace has more features included in their pricing.
Summary: How Can AppsDevPro Help You Create a Website on a Budget?
AppsDevPro is a professional website development service provider in India. With years of experience in crafting unmatched quality web development solutions, we have empowered hundreds of businesses in different industries.
We have our expertise in :
Custom web development services
Custom eCommerce web development solutions
Landing page development
Website development for startups
Corporate website development
Complex custom web development
Feature-rich web development
Our solutions aim to eliminate the traditional barriers to your business model. They are carefully crafted to enhance business conversions and lead to better ROI. So whether you want to build a website from scratch or need upgrades, you can hire web developers.
The cost to build a website will vary depending upon the business requirements. So it is worth booking a free consultation slot with our experts to discuss details. Also, you can contact us for real-life estimations.  
FAQs
How Much Does It Cost to Build a Website For Small Businesses?
When you factor in the costs of domain registration, web hosting, design, and ongoing maintenance, the average cost of a website can range from $100-$500 per year. 
However, if you plan to use your website for e-commerce or other transactional purposes, your costs could be much higher. For example, if you need to purchase an SSL certificate and/or PCI compliance services, your costs could range from $500-$2000 per year.
How Much Does It Cost to Build Online Web Store?
It's no secret that having an online presence is important for businesses today. But what many business owners don't know is how much it will cost them to have a website up and running in 2022. While the price of web design and development services vary, we've compiled some data to give you a rough estimate of what you can expect to pay. 
On average, most businesses can expect to pay between $10,000-$15,000 for a basic website.
How much does it cost to build an advanced website?
As technology advances, so does the cost of building a website. It will cost you more money in 2022 than it would have cost in 2020 to have an advanced website. However, the price is still relatively affordable and will continue to drop as time goes on. 
The costs for web design include things like hosting fees, domain registration fees, and programming fees. These are all separate from the actual design itself, which can vary from designer to designer. All-in-all, your average site should cost between $7-$10K but could be more depending on who you hire or what type of site you're wanting to create.
How Much Does It Cost to Hire a Website Development Company?
The cost of developing and maintaining a website can vary greatly depending on the size and complexity of the site, as well as the needs of the business. In general, however, it is possible to ballpark the cost of having a website developed by a professional company. For a small or simple site, expect to pay around $5,000-$10,000. For a medium-sized or more complex site, the cost could be $15,000-$20,000 or more.
You can also check our other services:
Hire Mobile App Developers in India, Hire Xamarin App Developer in India, Hire iPhone App Developers in India, Hire Android App Developers in India, Hire Flutter App Developer in India, Hire React Native Developers in India, Hire Kotlin Developer in India, Hire Web Developer in India, Hire PHP Developer in India, Hire Laravel Developer in India, Hire Nodejs Developer in India, Hire Microsoft Developer, Hire ASP.NET Developer in India, Hire Angular.js Developer in India, Hire React.js Developer, Hire E-commerce Developer in India, Hire Magento Developer in India, Hire WordPress Developer, Hire AI Developers in India, Hire Java Developers in India, Hire Python Developers in India, Hire Javascript Developer in India, Hire AR/VR Developers in India, Hire Blockchain Developers in India