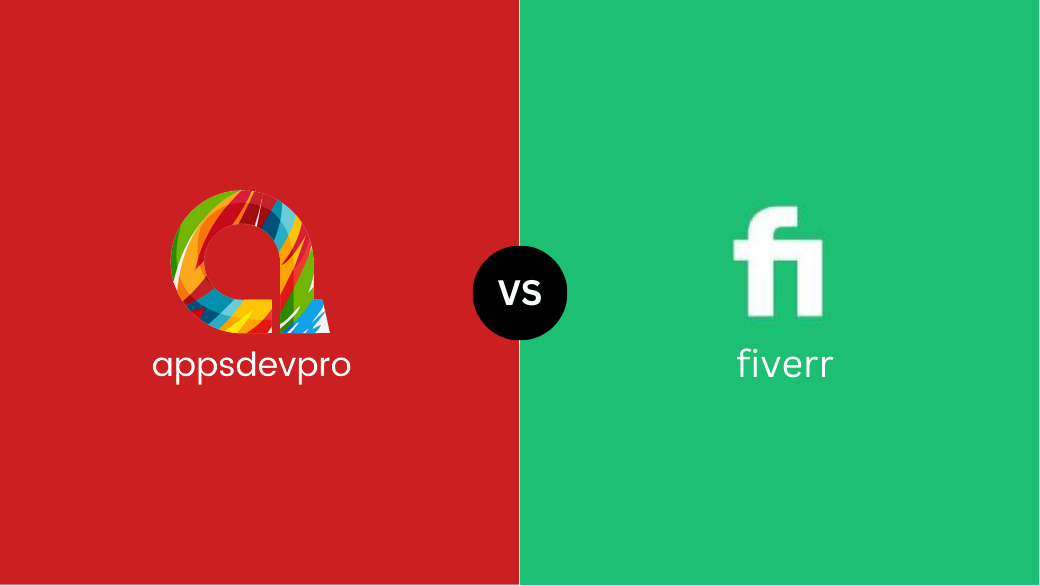 Have you been looking for the best app developers for hire in India in 2023 but nit sure where to begin your search? AppsDevPro and Fiverr are the are two popular options. But AppsDevPro Vs Fiverr, which is the best place to hire developers? Here is a complete guide to help you make a right decision. 
AppsDevPro Vs Fiverr- where to hire the best talent for app development in 2023? Well, choosing between them is great challenge. 
So finally you made a decision to create an app! But the question is where to get started and how to accomplish the task. 
The success of any app majorly depends on the app idea and the resources you choose for the app development process. Moreover, it won't be wrong to say that the expertise that app developers pour into app development, can bring a huge difference in any product.
For example, there are more than a thousand social media apps available on the app store. But when it comes to the best social media apps– Facebook, Instagram, and Snapchat are the few that are dominating the field of social media. 
Have you noticed what makes them stand out from the crowd? Yes, it's seamless UI/UX, well-planned and executive features, and a powerful backend that never goes down. 
So if you are also planning to build an app, then firstly you need to look for the best app development team.
When it comes to hiring software developers in India, you have two broad choices – either hire dedicated app developers or hire freelancers. And for that AppsDevPro and Fiverr are the two leading places to hire app developers.
But which is the best place to hire mobile app developers in India?
Let's compare both options and understand the Fiverr alternative's AppsDevPro hiring process and features…
AppsDevPro Vs Fiverr: Discover the Difference Between Both Options
When it comes to hiring app developers, you have two main options: AppsDevPro and Fiverr. Both of these services offer an array of developers to choose from, but they differ in a few ways. It's important to know the differences between these two options to make sure that you're getting the best fit for your business needs.
AppsDevPro: A Leading Place to Hire Dedicated Development Teams
Fiverr alternative's AppsDevPro is a globally recognized place to hire dedicated app development teams in India. Their team is made up of talented developers who are experienced and dedicated to delivering the best apps on time. They provide 500+ app developers with expertise in different niches and industries. No matter whether you want to launch a mobile or web app, you can hire a dedicated app developer in India at affordable prices.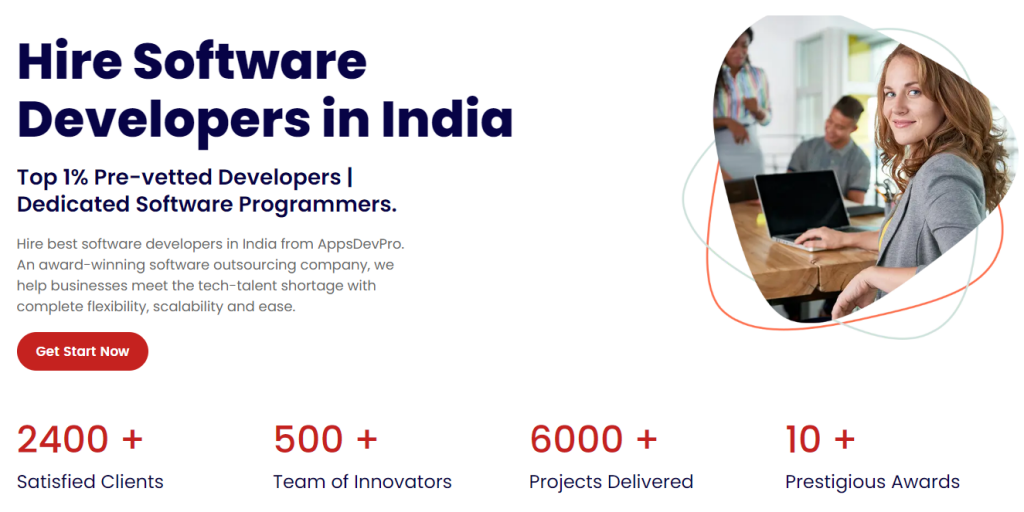 Image Source: appsdevpro
Key Highlights of AppsDevPro That Makes Them Best Over Others
AppsDevPro offers highly flexible contracts and payment terms.

You can choose to hire app developers in India from a variety of plans based on your budget and requirements. 

Their commitment to quality and customer service is unparalleled. 

Flexibility to choose from the pool of in-house development teams.

Provide a full-control over project quality.

On-time project progress reports and seamless communication.

Sign NDA and undertake all security measures to ensure project safety.
Let's check out how Fiverr is different from AppsDevPro when it comes to hiring app developers.
Fiverr: A Reputed Platform To Hire Freelance Developers
Fiverr is an online marketplace where a whole world of freelance talent is at your fingertips. Businesses can find talented freelancers that begin working on your project within minutes. It is one of the most popular and well-known platforms that help you hire freelance developers on project-based pricing. Businesses can narrow down their searches by browsing profiles based on skills, experience, and expertise.
Key Highlights of Fiverr that make it popular worldwide
Fiverr makes it easy to search for freelancers based on their skills, experience, and ratings.

Fiverr enables you to hire iOS app developers in India at a fixed project-based pricing model.

Offering 24*7 support to the clients.

Get matched with the perfect talent with the assistance of a customer success manager.
In a nutshell, now you know both are great sources for hiring mobile app developers in India. Each option has its own benefits and limitations, but the major difference is Fiverr is only for hiring freelance developers. On the other hand, Fiverr alternative's AppsDevPro is known for hiring a dedicated development team. 
So how would you understand whether hiring freelancers or dedicated app developers is the best choice in 2023?
Let's compare both options with different parameters to make the right decision.
Detailed Comparison: Hiring Dedicated App Development Team (AppsDevPro) Vs Freelance Developers (Fiverr)
When it comes to developing a mobile app, one of the biggest decisions you have to make is who to hire to do the job. There are two main ways you can go down; either hire a dedicated team from a company like AppsDevPro or hire remote developers from Fiverr.
But to make the right decision, let's get into the detailed comparison and evaluate each option with different parameters.

1. Hiring Dedicated App Development Team (AppsDevPro) Vs Freelancers (Fiverr): Quality of Work
When it comes to the quality of work, AppsDevPro and Fiverr are two different places. 
With Fiverr alternative's AppsDevPro, you have the advantage of hiring a dedicated team of experienced app developers that can provide a high level of professionalism, attention to detail, and technical expertise. 
This team works exclusively for you, allowing them to quickly understand your project's requirements and develop an app that meets your specific needs. Moreover, they also provide ongoing support and maintenance services as part of their package.
On the other hand, Fiverr is primarily a platform that connects freelancers and businesses on one platform. While it allows businesses to find some great developers on Fiverr but there is no guarantee of quality. Furthermore, since the platform does not offer any sort of oversight or monitoring system, it is impossible to know whether the developer you hired has the necessary skillset for the job. 
Additionally, when hiring on Fiverr you often have to manage and coordinate between several different contractors, which can lead to issues such as communication breakdowns and missed deadlines.
2. Hiring a Dedicated App Development Team (AppsDevPro) Vs Freelancers (Fiverr): Security of Project
When deciding where to hire software developer in India, project security should be a top priority.
Fiverr alternative's AppsDevPro offers a secure environment for app development as they begin the process by signing a Non-Disclosure Agreement(NDA) with the clients. As they only work with teams of dedicated developers, they guarantee that all information is kept secure and confidential. 
Their team of developers will provide you with a safe and secure environment in which to develop your app. They also adhere to strict guidelines and standards when it comes to data storage and security protocols.
On the other hand, Fiverr provides access to freelancers that may not have the same level of security as a dedicated team. While there is no way to guarantee the safety of your project when using freelancers, Fiverr does have some measures in place to ensure the safety of your data and project.
In conclusion, Fiverr alternative's AppsDevPro provides a more secure solution than Fiverr for projects that require higher levels of security and data protection. However, both platforms have measures in place to ensure the safety of your project. Ultimately, it's up to you to decide which platform is right for your project needs.
3. Hiring a Dedicated App Development Team (AppsDevPro) Vs Freelancers (Fiverr):  Service Cost
When it comes to hiring a dedicated app development team versus freelancers, the cost can be an important factor in your decision.
Hiring an app development team through AppsDevPro will generally be more expensive than going the freelancer route with Fiverr. This is because you are paying for a professional team of experienced developers who have likely worked on several successful apps before, and are more knowledgeable about the entire process. 
Moreover, they will be dedicatedly working on your project and customising solutions as per your needs. For this reason, Fiverr alternative's AppsDevPro usually offers competitive rates, and you have the added benefit of knowing that your project will be taken care of from start to finish by a unified team.
On the other hand, Fiverr freelancers often offer cheaper rates since they are working independently and have no guarantee of success. It is also worth noting that many Fiverr freelancers are not native English speakers and are not bound to follow any security measures. Nevertheless, if your budget is limited, Fiverr may be the better option for you.
In a nutshell, these are the few major points that you need to evaluate to understand whether hiring dedicated developers from Fiverr alternative's AppsDevPro will be a worthy choice or whether you need to hire freelancers. But the question is when and what type of development team you need to appoint to your project.
AppsDevPro Vs Fiverr: When to Choose What Option?
When it comes to hiring dedicated app developers or freelancers, two of the most popular options are AppsDevPro and Fiverr. But which option is the right one for your business?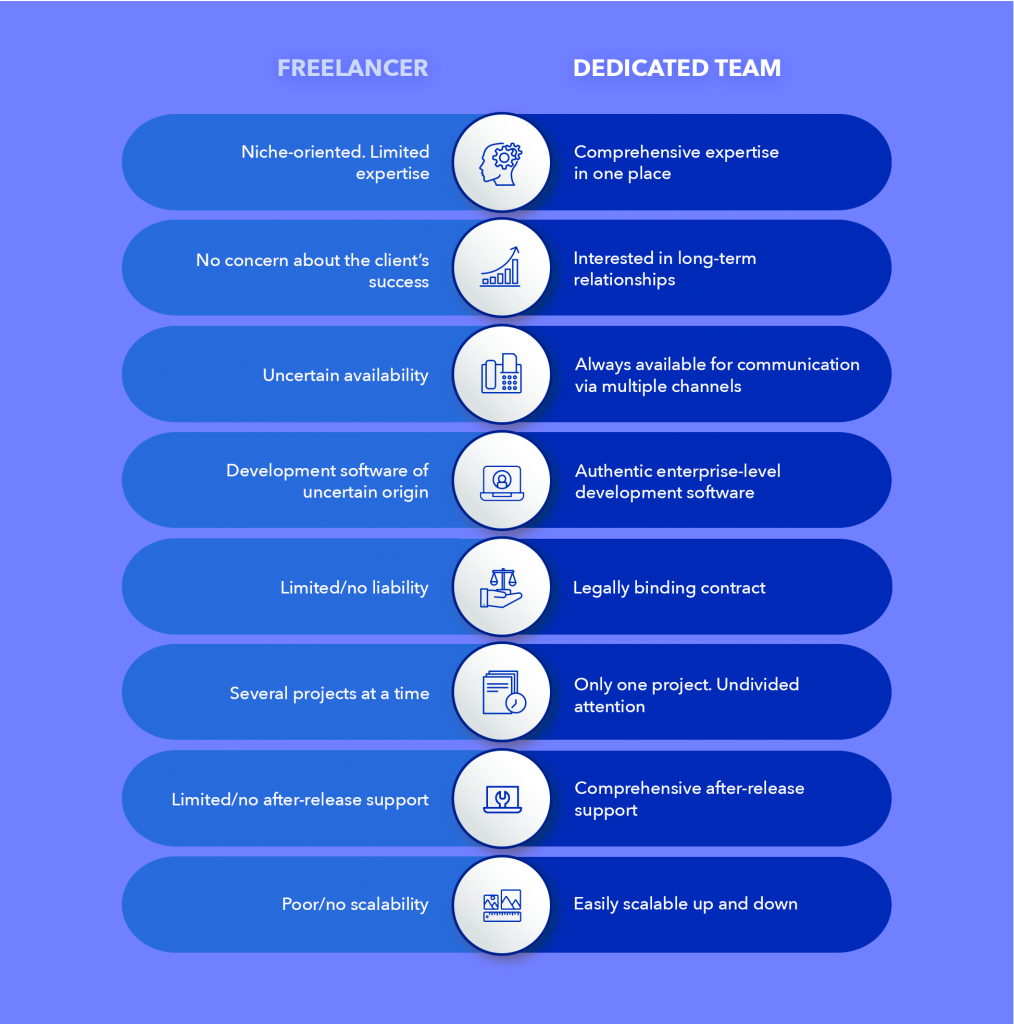 Image Source: amazonaws.com
When it comes to cost, it's important to keep in mind that AppsDevPro's services can be availed with the flexible pricing model while Fiverr's services are offered at a variable rate.

AppsDevPro can provide you with a complete app development solution, including design and coding, for a single fee. On the other hand, Fiverr allows you to negotiate with individual freelancers for each individual task. This means that you have to calculate the total cost on your own depending on the complexity of the project.

In terms of user experience, AppsDevPro provides a more comprehensive service. They have a team of experts who understand the intricacies of app development and can provide you with valuable guidance throughout the process. On the other hand, Fiverr offers a more DIY approach as you are dealing with individual freelancers. This may be attractive for some businesses but others may find it difficult to coordinate multiple people without any support from an experienced team.
In a nutshell, ultimately, the decision between AppsDevPro and Fiverr depends on your specific needs. For projects that require hiring Android app developers in India, AppsDevPro is the better option. However, if you are looking for a budget-friendly solution and have the time to manage multiple freelancers, then Fiverr might be the right choice for you. Ultimately, it's important to consider all of your options before making a decision.
Conclusion: AppsDevPro vs Fiverr: From Where To Get The Best App Developers in 2023?
At the end of this blog, it is fair enough to say that we have tried to provide fair details of each hiring option. Instead of being biased with any single option, we have a complete guide about whether you should hire a freelancer or a dedicated development team for your app development needs.
While both are popular options to hire mobile app developers in India, Fiverr alternative's AppsDevPro offers dedicated app development teams who specialize in creating high-quality mobile applications.
They provide a comprehensive suite of tools and resources for their clients and boast an impressive client portfolio. Their cost-effective services are tailored to the individual needs of each project, making them a great choice for those who want a fully dedicated team of developers.
Fiverr, on the other hand, will be a great option when businesses are on a tight budget since most of the services are priced at an hourly rate. However, since these freelancers are often juggling multiple projects, they might not always be available when you need them most.
Overall, when it comes to hiring Indian app developers, AppsDevPro is generally the better option due to its dedicated teams, tailored services, and impressive portfolio. However, if budget is a concern, Fiverr can also be a great way to get the job done.
Ultimately, the decision between AppsDevPro and Fiverr comes down to personal preference, but with both options available, you can rest assured knowing you'll get the best app developers in 2023.