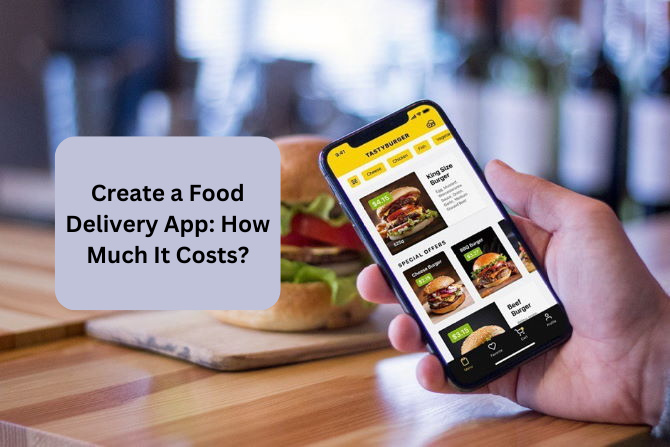 With the increasing popularity of food delivery apps, businesses from all across the world are looking for ways to create a food delivery app in 2023. But what if you are clueless about how to get started, how much does it cost you and what type of app you need to build? Don't worry, we have all the answers in this blog.
Create a food delivery app in 2023. Wondering why on-demand food delivery app development has become a new hue in the market?
After the server attack of the pandemic, things have drastically changed. By choice or by force, a major segment of smartphone users has shifted to mobile apps to manage their essential needs. And one such industry that has to witness unexpected demand is food delivery apps. 
Time has changed the way people eat. The rapid evolution of food delivery has unlocked multiple opportunities for startups planning to create a food delivery app in 2023. But to succeed in the fast-growing food-delivery ecosystem will require understanding how to create an on-demand food delivery app.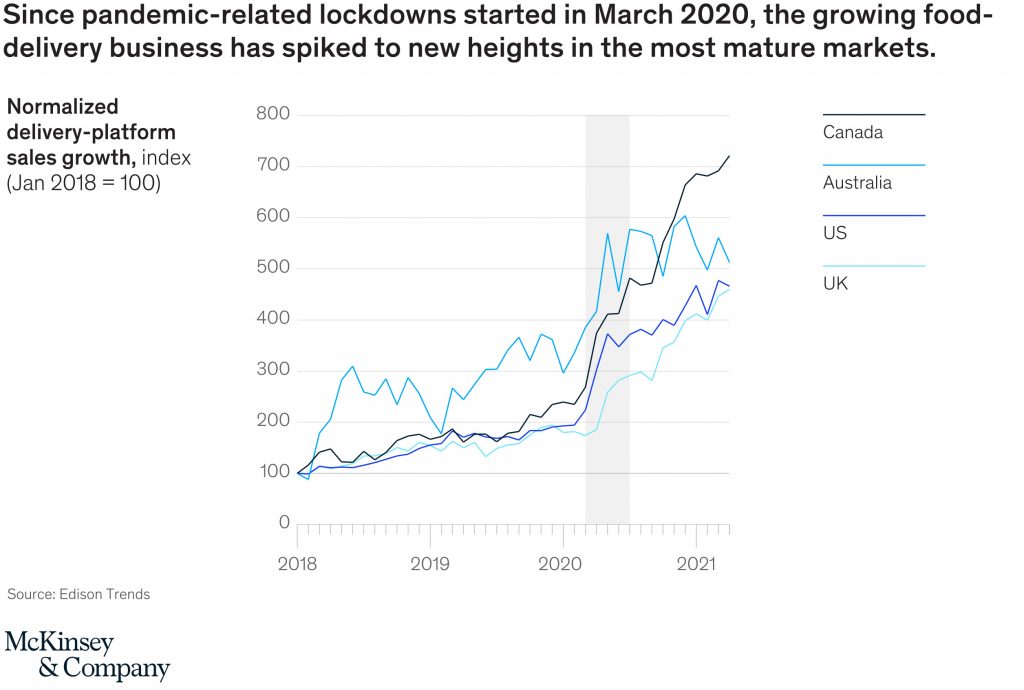 Image Source: mckinsey.com
We've all seen the headlines recently "Food Delivery Apps Are Booming" .
Why On-Demand Food Delivery App Development is Surging Demand?
Before you hire a mobile app developer in India to create a food delivery app, you must be curious to know why these apps are creating a buzzword.
According to the reports, 30% of Restaurants Use Delivery Apps, and gain tractions.
It is the food delivery segment is projected to reach $323.30 billion in 2022. The online food delivery segment is expected to have 2613.2 million users by 2027. 
In addition, the report According to one report in 2017, it was projected that by 2020 about $30 billion dollars was spent annually on food delivery apps like Postmates, UberEats, DoorDash, and GrubHub.
Delivery apps have become incredibly popular in the food industry, with companies like UberEats or Bite Squad revolutionizing the way we get our food. 
With the food delivery app economy expected to reach $103 billion by 2020, it's no surprise that entrepreneurs are thinking about how they can get in on this growing industry and create a food delivery app. 
Hopefully, these statistics are inspiring you to become a part of this thriving food delivery industry.
But before you get to know how to create a food delivery app, you also want to know just how much it will cost to create a food delivery app in 2023. To get complete details about the development process, features, technologies, and its development cost, read further!
How To Create a Food Delivery App Like Uber Eats in 2023?
Before you can create a food delivery app, you'll need to map out your thoughts and make a list of features you'd like your app to have. One way to go about this is to make a flowchart to show how the app will function from start to finish. 
Brainstorm what specific needs people might have when they use the app. Does your food delivery service come with incentives for ordering at certain times or during a specific day? Once you've brainstormed these ideas, research the industry before setting up meetings with developers.
Here's an infographic explaining the 5 simple steps to create a food delivery app: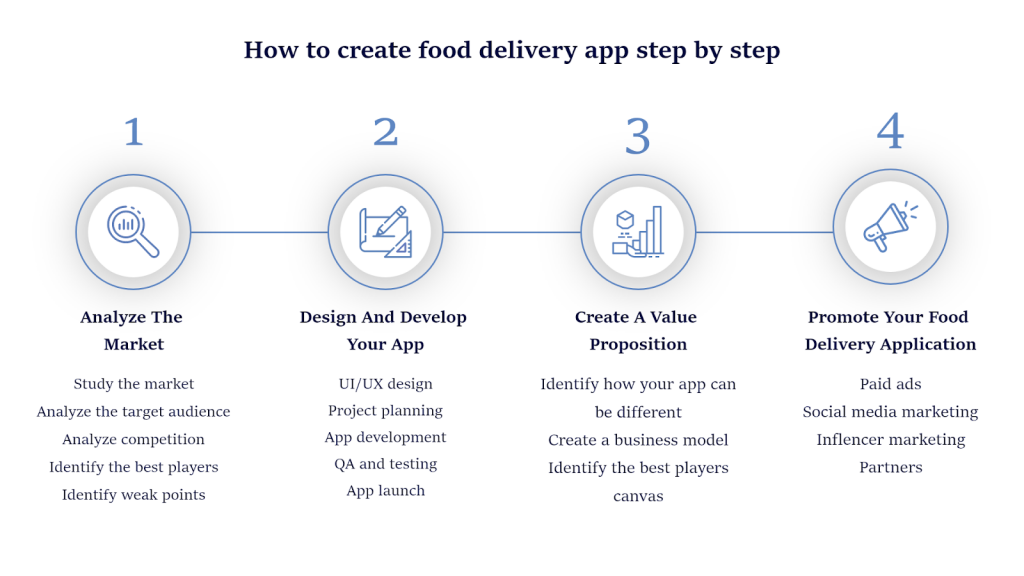 Image Source: addevice.io
But if you are planning to create a food delivery app like UberEats; then you need to go beyond such basic steps to create an on-demand food delivery app:
Researching and Analyse the Market:

What does a successful food delivery app look like? What features do people want? What exactly are you planning to offer in the app?
Here are the few questions that you need to find answers to:
a) Who are your competitors, and what are their strategies?
b) Who are your potential customers?
c) Tips for figuring out how to reach potential customers?
d) What are the spending and spending habits of your target demographic?
e) Get an understanding of what technology trends your competitors are using to further their app clone.
f) How can I make the ordering process simple and hassle-free?
g) Would it be possible to add chatbots to chat orders as messages?
h) Hire a software development company to integrate food delivery apps with smartwatches and other wearables.
Understand Your Business Requirements:

When meeting the needs of your users, make sure you understand your business goals. There are basically two types of food delivery app models
a) The Food Order model
b) Service Model: Food Order and Delivery
Still, if you choose to go with the clone of UberEats or Postmates then the Order and Delivery model is a worthwhile option. It will allow restaurants to work together with a delivery company and be able to target a large user segment.
Identifying which features should be included:

Before you create a food delivery app make sure you offer custom orders, menus, and personalized customer service. 

Naming the App: If you don't already have one picked out, this is an important decision. Make sure it's something simple and easy to remember. You can hire a software developer in India to help you choose the best name of your app. You don't want to get stuck with having to change your name down the line because someone else has taken it on as their own business name. 
Find Developers:

To create an on-demand food delivery app, you need to look at an app development company that provides a complete team under one roof. Make sure you hire app developers in India with a minimum 5+ years of experience.

Creating user profiles:

Set up profiles for customers so they're able to order quickly without having to provide any personal information. Be sure to also set up profiles for drivers so they know who's expecting them when they arrive at their destination. The last thing you want is for someone who ordered a meal to open the door only to find no driver waiting there.

Pricing structure:

How much will it cost to create a food delivery app like UberEats? There are many different pricing structures that work well, but they all depend on two main factors: what your goals are and how much risk you're willing to take on. 
Do you want a flat fee each month with unlimited transactions, or would you rather charge a transaction fee each time someone uses the app? For example, some companies charge $0.25 per transaction while others charge $5 per month with no transactions allowed. 
In a nutshell: To create a perfect food delivery app that can shake the world, you need to plan well in advance. Also you must have that special ingredient in your app that helps you grab the attention of the users. So here are the features and functionalities that will be a big part of how to create a food delivery app that ensures success.
Must-Have Features to Create a Food Delivery App in 2023?
How to create a food delivery app like UberEats? Surely, after witnessing its success, your concern will be the same. But before you dig deep into knowing the features to create a food delivery app like UberEats, it is worth understanding that there is no use in creating a replica. 
The uniqueness and hassle-free functionality of your app can easily attract users. All you can do is hire an Android App Developer in India that can understand your requirements and help in integrating the best features.
Here are the most important features represented in the below infographic.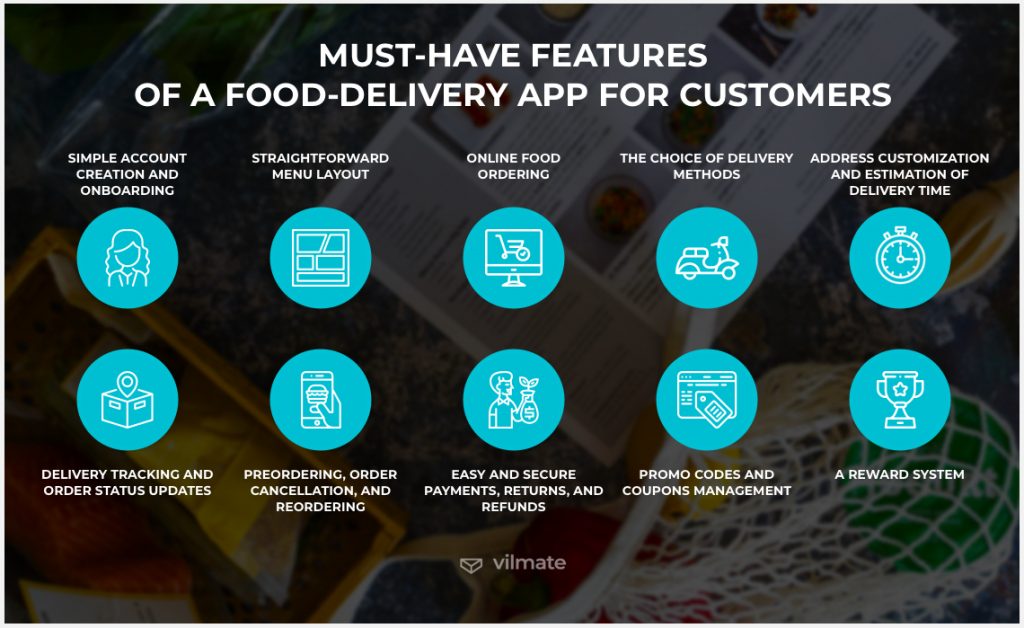 Image Source: vilmate.com
However, when you are planning to create a food delivery app like Postmate or Doordash, then you need to create four app panels: User Panel, Restaurant panel, and Delivery Boy panel.
Features for Customer Panel
The user has to register after downloading the food delivery app. Typically, the following sections need to be there in the app:
Login: Allow Users to log in the app by using a simple and quick interface. You can provide an option to log in by using email id, phone number or any social media account.
Location: Allow users to add their location manually or automatically using the in-app GPS feature for setting the pickup or delivery point from the map
Homepage: To create a food delivery app make sure you have an attractive homepage with a search box, so that users can quickly sort their search.
Menu: Define the menu of each restaurant under a defined category to make it easier to access. You can hire app developer in India for specific app customizations.
Cart selection: Let users quickly add the food item to their cart without leaving the current page.
Payment options: Make sure you integrate multiple payment options and provide the flexibility to pay using various payment methods. It may include credit card, paypal, debit card, Google Pay and more.
Reviews And Ratings: Based upon the app experience, allow users to share feedback and provide ratings to the driver and restaurant.
Track Order History: Allow users to track their past history and help them reorder the food items without having to research the items from the starting.
Discounts and offers: Keep your users engaged with your app by using push notifications and let them know about the promo codes and discount offers.
Support 24*7: Allow users to raise their query on the app in case of any assistance. Also you can hire an Indian mobile app developer to create AI-driven chatbot for instant assistance.

Tracking the delivery: To create your app successfully, make sure you have a feature to track time location of the food delivery.
Make sure you integrate as many features in user interface as possible to delivery seamless onboarding experience. 
Features for Restaurants
Features we would want our app to have in the restaurant panel section:
Upload Menu: Allow restaurants to upload detailed menus with prices and items on sale currently.
Track Order History:  To create a food delivery app like UberEats make sure you have a feature of order history of all past orders. 
Advanced Search Option: Add filters and search options, so users don't have to scroll through every dish if there's not enough time before close. 
Ratings and Review: Allow restaurants to view all the reviews from people who eat at this restaurant regularly, such as Yelp reviews. 
GPS Maps: Integrate maps to help you find your way to the nearest location of the order. 
Seamless order System: An online ordering system should be easy to access, which allows users to put in your order by tapping or swiping the screen. 
Accept Multi–Payment: Have a feature in the app to accept payment through multiple payment modules such as Apple Pay or PayPal via Apple Wallet. 
Tax Calculation: Add a feature to automatically calculate the tax and add it into the billing amount when paying. 
Order Tracking: To ensure seamless food delivery services, let restaurants keep tracking orders on a map until they're delivered. 
Set Order Reminders: You should be able to set reminders for when you need food again or have an order coming up soon.
Referral Points: Customers get points for every dollar spent on their account, redeemable for freebies and deals at local stores. 
The choice of features can go beyond this list depending on the budget and complexity of the app.
Features For Delivery Boy Panel
In order to be able to deliver from one restaurant to pick up from another restaurant, the delivery person must first download the app, complete registration and verification with the restaurant and service provider, and upload to his own panel:
Login: Allow them to login the app with the credentials provided by the admin panel. The credentials should be issued once they are done with a background check.
Order Request: Depending upon their availability, provide them a flexibility to accept or reject the order request.
Order Delivery: Once the order is confirmed, share the delivery address details with them to ensure seamless food delivery services.
Order history: Make sure to add a feature in the app to keep a track of their orders delivered till date.
Chat/Call: Ensure seamless communication by offering in-app chat or calling options. 
Push Notifications: Have a feature in the app that keeps them informed about the order request, delivery details, order completed, payment received and more.
Google Map Navigation: With the help of this feature, they can easily locate the pickup and delivery location. Also they can pick the shortest way to ensure fastest delivery.
These are the common features and functionalities to look for when you are planning to create a food delivery app for your business. Let's look for the technologies that you need to create an on-demand food delivery app.
Read More: 10 Best Food Delivery App Ideas For Startups In 2023
Tech-Stack To Create a Food Delivery App
In order to create a successful on-demand food delivery app like UberEats or Doordash, you need a smooth backend, an engaging frontend, data management on the server, and so on. with the right technology, the app will provide consumers with a seamless experience of ordering food.
So here are a few technologies that can help you create a food delivery application for your business:
Programming Language for Android and iOS:

React Native, Flutter, Kotlin, Java

Development of the backend:

Node.js, Express.js, MongoDB, Nginx, Sockets

Frontend development:

ReactJs and Material UI

Third-party APIs:

Twilio SMS, Google Maps

Registration:

Google Sign-In, Facebook Login SDK

Payment Integration:

Stripe, Square, PayPal, Google Wallet and WePay

Restaurant Listing:

Foursquare API, Grubhub API, Yelp Fusion API

Analytics:

Google Analytics, Localytics, Apple Analytics

Maps and Locations:

Google Maps, OpenStreetMap, Mapbox, Mapkit JS
By integrating all these technologies together, app designers are able to create an app that suits your business needs perfectly and allows you to stand out from your competitors.
App Development Team Required To Create a Food Delivery App
No matter whether you are planning to create a food delivery app with basic features or with complex functionalities, you need to have the right app development team. The expertise and skills of understanding your requirements.
To create an on-demand food delivery app, you need a team consisting of:
Hire iOS App developers in India as well as android developers if you are building an app for both native platforms.

With the complexity of delivering food, we recommend you to hire two developers. 

In order to meet the deadline, you should hire developers who specialize in back-end development (building your servers and API) as well as front-end development (building what users see). 

We also recommend two QA testers, one operations manager, and a project manager who can lead the team. 

To design flawless interfaces of the app, you can hire a UI/UX designer.
The average cost to hire dedicated developers in India will be starting from $15 per hour and can go above $50 per hour. To know the cost to create a food delivery app, you need to decide on the complexity of the app. Accordingly, you can get to know the hourly cost of the hour. 
How To Monetize Your Food Delivery App and Make Profit?
There are many different monetizing models you can use for your food delivery app. If you are planning to build an on-demand food delivery app like UberEats, DoorDash or Postmates, then you can choose a commission fee model. Here below how much do these popular food delivery app charges: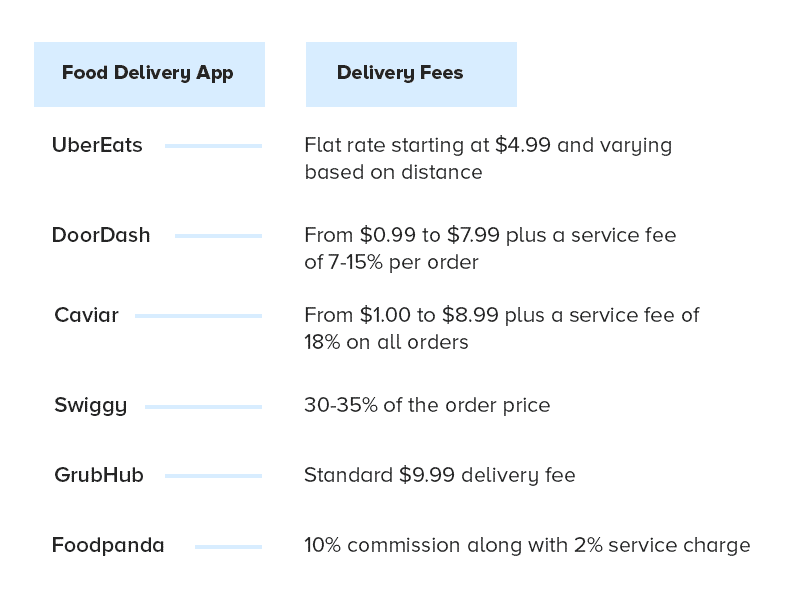 Image Source: zoplay.com
Apart from just using a commission fee monetization strategy, you can go through these below strategies to make money from food delivery app:
Paid Subscriptions:

some apps charge users on a monthly or yearly basis, with benefits like access to exclusive content, no ads, and more 

Premium Features:

some apps charge users a one-time fee for premium features like expedited deliveries or special menus 

Sell products:

many food apps also sell their own branded products as well as products from other companies 

Marketing contracts:

some companies will pay an app company money just to have their logo on the home screen -Marketplace: some apps allow people to order food for pickup at restaurants instead of delivering it themselves, meaning they'll get paid by both parties 

Sponsorships:

often local restaurants will sponsor events hosted by the app company and receive advertising exposure in return -Content subscriptions: some food apps give away free recipes in exchange for access to videos and articles 

Freemium model:

some apps offer a free version but also offer optional features for purchase that only work with the full version. They might advertise this feature as features available for all levels, which refers to the freemium model
Choose your monetizing model wisely so that you can make the best profit from your food delivery app. 
How Much Does It Cost To Create a Food Delivery App?
Predicting the cost to create a food delivery app without even knowing the business requires is like asking an invalid question to the experts.
Estimating a mobile app development cost is more like buying a new car. The car's cost depends on the model, its features, machinery and more. In the same way, cost to create a food delivery app vary depending on different factors.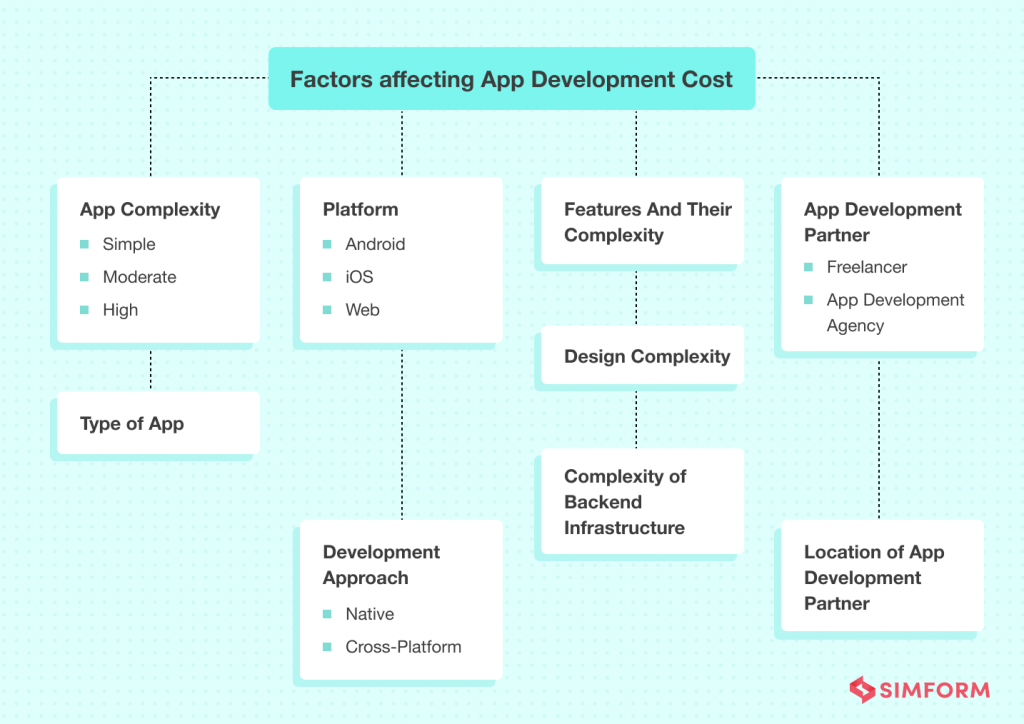 Image Source: simform.com
Majorly app will depend on how it is designed. Costs will vary, depending on factors such as if the app is a native or hybrid app, or what services are offered. Typical food delivery app like UberEats would cost around $20,000+ and require an investment of $500-$1,000/month for hosting and maintenance. 
The entire process can take up to four months from start to finish and includes. The process may include: conceptualizing the idea for the app; creating a team of three-five members (UI/UX designer, developer, and project manager); developing the UX; building prototypes; wireframing; designing graphics and icons; coding (native and hybrid apps). 
In general, costs may range from $10,000 to $12,000 for a basic food delivery app. Larger enterprises with more resources and funding may spend upwards of $25,000 to create their own custom app. 
Further cost estimations may include the cost to advertise the app. For example, Facebook ads ($300-$500 per day), TV ads ($7,500+ per 30 seconds), and print ads ($5,000+ per full page) can be significant expenses. 
The startup cost for a food delivery service ranges from $5,000 -$15,000. It is worth starting with an MVP solution and later scale it up with advanced features.
Read More: 60+ Top App Ideas For Startups To Launch In 2023
Conclusion:
How Can AppsDevPro Help You Create a Food Delivery App Under Budget?
Looking for ways to become a part of this thriving food delivery industry? Hopefully, this blog has answered all of your questions. 
AppsDevPro is a globally recognized software development company in India, equipped with 500+ developers. They can help you transform your app idea into a perfect solution that gives a perfect boost to your business. You can hire an Indian app developer in India at AppsDevPro to build a food delivery app integrated with the best technologies and features. 
All you need to do is to discuss your app idea with our experts, they will develop a roadmap and provide you with a cost estimation. If you have any specific queries or requirements, then you can contact us or drop your query below.
FAQs
How Much Does It Cost to Build a Startup Food Delivery App?
In order to create the perfect food delivery app, you'll need two main ingredients: A great mobile app development company and all the necessary funding. The first of these, the team of developers who will design and create your app, is key; without them, it won't get past the drawing board. 
They will also be responsible for maintenance and updates as new functionality or security threats arise. As for the cost to create a food delivery app, you can expect this process to cost anywhere from $10,000 – $12,000 with basic features.
How Long Does It Take To Build a Food Delivery App?
It takes an average of 2-6 months, with most coding and design projects taking three months. Newer projects have been taking less time because they start with a base code, but that doesn't mean they're easier or less costly. 
How To Make Your Food Delivery App Successful?
Here are two major things that you need to consider when you create a food delivery app:
Make sure that you have all the costs accounted for, with room for growth. You will need to figure out how much your food deliveries are going to cost and make sure that you have an app budget that can cover it. The higher quality of your app will depend on how much you spend. 

Keep it up-to-date! As the market changes, there is an increased likelihood of bugs or loopholes being exploited or errors arising from outdated software libraries. By making sure that you are staying current with updates, new features, and security updates, you can help ensure the longevity of your app. 
You can get in touch with AppsDevPro's team for post-launch app maintenance services. 
You can also check our other services:
Hire Mobile App Developers, Hire Xamarin App Developer, Hire iPhone App Developers, Hire Android App Developers, Hire Flutter App Developer, Hire React Native Developer, Hire Kotlin Developer, Hire Web Developer, Hire PHP Developer, Hire Laravel Developer, Hire Nodejs Developer, Hire Microsoft Developer, Hire ASP.NET Developer, Hire Angularjs Developer, Hire Reactjs Developer, Hire Vue.js Developer, Hire E-commerce Developer, Hire Magento Developer, Hire WordPress Developer, Hire MERN Stack Developers, Hire MEAN Stack Developers, Hire Indian App Developer