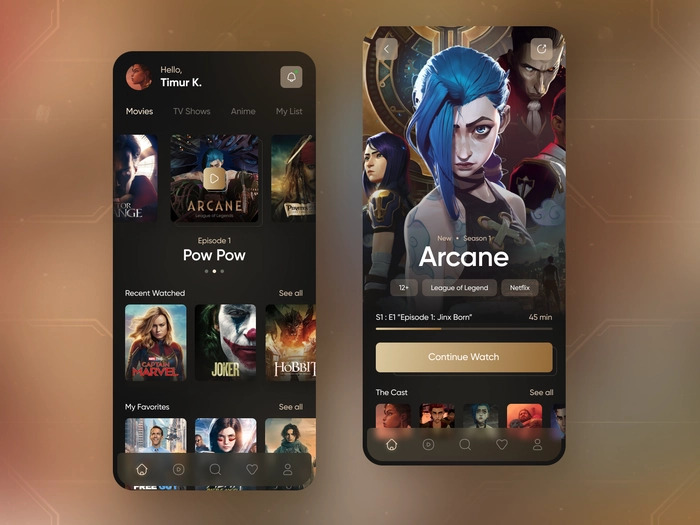 In today's digital world, video streaming apps have become more popular than ever before. Companies are relying heavily on these platforms to showcase their product or service offerings because they know it will have a bigger impact than just putting up a basic website.
If you're considering launching your own video streaming app but you're still unsure where to start, then check out this blog that breaks down the cost and features you'll need for launching your own video streaming app
Do you want to create a video streaming app but don't know where you can start? This blog will help you with the cost and features of a video streaming app. Nowadays, it's hard to think of a modern business that doesn't need an app these days, and video streaming apps have proved to be some of the most popular. YouTube has more than 1 billion users every month, while Twitch has just shy of 100 million daily viewers. 
Video streaming apps are a surefire way to stay ahead of the competition in your niche, since building an app is something that not every business owner will do. But how much does it cost to create one? How do you decide which features to include? Should you use React Native or another technology? What about the business model? 
These are all important questions that need to be considered in creating an app of this kind, so here's how you can make sure your product turns out the way you want it to.
What is a Video Streaming App?
Video streaming apps allow users to stream videos and content straight from their smart devices. Although most of us use websites for viewing videos, there is still a huge number of mobile users who prefer watching videos directly on their smartphones and tablets. 
Apart from personal entertainment, video streaming services also have business benefits. Some of them include reaching larger audiences and creating new revenue streams in ways that increase customer engagement and loyalty.
The average internet user is spending around 88% of their time online watching videos. Video streaming apps are especially useful in terms of creating content for businesses and companies who want to use video advertising on various platforms such as Youtube, Facebook, Instagram and more.
Streaming apps allow companies to reach more customers by providing their viewers with high-quality advertisement videos which help generate leads and convert sales.
What are the business models of video streaming apps?
There are many different business models for video streaming apps but the two most popular are:
Charging users for the app itself
Offering the service for free but including ads.
Freemium model
If you want your business model to be profitable you'll need to factor in the number of time users will spend on your app. 
For example, if your app is just for finding movies then it will make more sense to charge people money so they can save time that they would have spent searching. 
For apps with lots of content like Netflix or Hulu Plus, you should consider adding an ad-supported model so that you can gain an audience quickly without having to spend tons of money marketing your business.
There are other business models of video streaming apps that exist like the freemium model which allows both free access as well as paid access for some of its features; the subscription model which allows unlimited downloads for a fee and the ad-supported model where users can browse but with ads showing up on the screen. 
To start your own video streaming app it is better that you consider what will be your business model so that you can market accordingly.
Understand the 4 Types of Video Streaming Applications
There are many different types of streaming applications on the market today, each offering its own unique value propositions and target audiences. You can hire cross-platform app developers as well as native app developers to build your own video streaming applications.
If you're new to the streaming industry or just want to get a better understanding of what streaming applications are available out there, check out this list of 7 types of streaming applications you probably didn't know existed.
Live broadcasting is an old concept that's been made increasingly possible with technological innovations. In a nutshell, a live broadcaster usually creates and distributes live media from real-time events through apps like Periscope, Meerkat, or Facebook Live.
A big difference between these apps and other forms of streaming (such as on-demand or recorded content) is that anyone can tune in to a broadcast at any time by scanning their feed or inputting specific URLs. 
It's important to note that many broadcasters view live broadcasting as more of an opportunity to share experiences with their followers than just another platform for traditional media distribution.
However, technology allows users to embed these streams into websites and other platforms so they are on-demand content as well.
Streaming is an emerging type of technology where music and other entertainment is transmitted over a network. Common examples include Internet radio, satellite radio and music streaming services like Pandora. The term streaming is often used interchangeably with broadcasting. 
However, in reality, broadcasting involves distributing content to a large number of people at once — such as televisions through cable networks or computers via wi-fi. Streaming, on the other hand, involves sending audio or video to only one user at a time.
Streaming media can also refer to films and TV shows that are downloaded rather than broadcasted. 
For example, a streaming video service would allow users to purchase their favorite film or show online for instant viewing on any device that supports streaming services (such as Amazon Video).
Video on Demand Streaming (VOD)
Video on Demand Streaming is one of the more basic types of streaming application. VOD streaming focuses on how people want to watch video content and offers shows or films on demand at any time with no pre-scheduled time slots. 
Shows are available for a set amount of time, typically ranging from 24 hours to seven days, and users can fast forward or rewind as they see fit.
For example, Netflix is a popular Video on Demand Streaming service. With it you can choose from thousands upon thousands of titles which range in topics such as anime, horror films and documentaries. 
Users can watch shows whenever they want, allowing them to binge-watch whole seasons overnight if they're so inclined or space out viewing sessions over an extended period of time if they prefer a more relaxed viewing experience.
A TV live streaming app lets you watch live TV on your mobile device. These apps usually offer both a free tier and paid tiers, with extra features for paying customers.
If you have a cable subscription and want to keep it, but still enjoy watching shows away from home, a TV live streaming app might be perfect for you. 
For example, SlingTV offers multiple packages with different channel packages and prices, allowing users to pay only for what they watch most.
SlingTV also offers an on-demand service that lets users stream shows on-demand without needing to know when they're airing.
How Live-Streaming is Taking Over Various Industries?
Live streaming has quickly taken over various industries, including the music industry and the sports industry. Now, it's starting to branch out into more common businesses as well, such as restaurants and construction companies.
Learn about what live-streaming can do for your business, and whether or not you should give it a try in your own company.
There are many reasons that streaming services like live courses can make it easier for students to connect with their teachers in real time. But here's a fun fact: not all of them have to do with education.
For example, did you know that live streaming can actually help make students more accountable? It's true! 
One of today's biggest problems in education is cheating. Streaming services create a record of each student's attendance at every class and allow for easy online exams so students can show their progress and commitment.
Because of these benefits, streaming has become extremely popular among both teachers and students—and many schools now use services like Zoom to live-stream lectures as they happen during class time.
Recent figures estimate that in 2021, more than 5 million hours of live streaming were consumed on Facebook alone. That's an increase of over 1 million hours from 2018, and it shows that more and more people are choosing to watch live content, creating a significant market for live streaming services. 
Live streaming has taken entertainment by storm, giving a whole new meaning to online streaming. Many well-known entertainment brands have begun to embrace live video and increase their presence on social media. 
For example, Hollywood powerhouses Disney and Netflix made headlines when they announced separate live-streaming deals with video game producer Blizzard Entertainment. 
Live streaming also makes it possible for brands to connect with audiences who are unable to attend events in person, bringing excitement to remote viewers around the world.
If you're looking for inspiration from industry leaders, take a look at what major companies like Disney and Netflix are doing with live-streaming today!
Fitness instructors, trainers, and coaches can use live streaming to offer visual demonstrations for their clients. Dietitians and nutritionists can educate their audience about healthy eating and even incorporate recipes into their broadcasts to help people stay in shape by showing them what a healthy meal looks like. 
And finally, natural health therapists can take patients on virtual tours of their clinics so that potential clients have a feel for what it's like inside.
All three of these industries are still in their infancy when it comes to live streaming but expect them to explode in popularity as more and more consumers catch on to how convenient it is to learn from your favorite experts whenever you want—and wherever you want.
One obvious use case for live streaming is in eCommerce and retail. Consumers are always looking for more convenient ways to shop, and a live stream of your products could help bridge that gap.
It's also relatively easy to integrate live streaming into your existing eCommerce website. 
For example, you can add widgets like a chat box or webcam onto your product pages and link them directly to your live stream channel so shoppers can see how an item looks on someone and ask questions before they buy it.
You could even host demonstrations via video as a way to showcase how products are used or point out any special features.
According to research from Penn Medicine, live streaming can lead to faster diagnoses, better compliance with prescriptions and even reduced complications. In an age when doctors are increasingly being pushed for time and information, live-streaming lets patients get answers immediately. 
It's become a convenient solution for providers and patients alike who want to address symptoms more efficiently – especially in emergency cases where lives hang in the balance.
Must-Have Features for Any Video Streaming App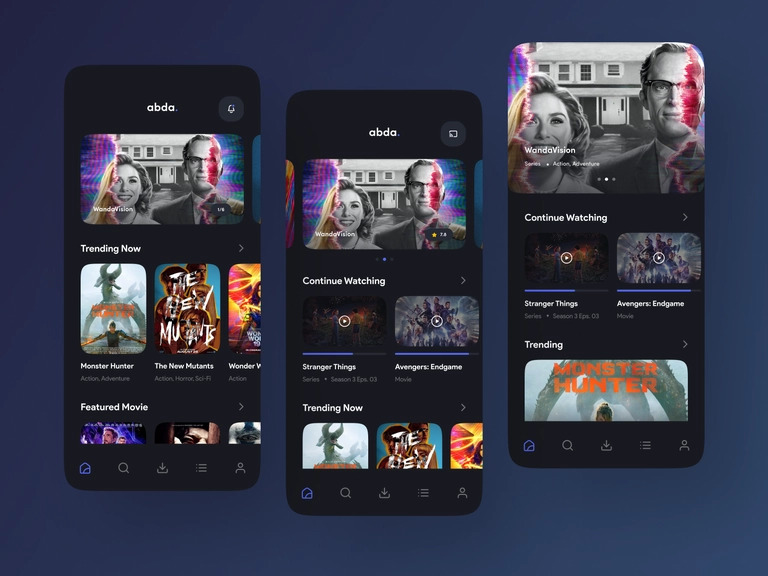 Image Source: Dribble
How can you know if a video streaming app has what it takes to compete in today's crowded industry? You can hire Indian software developers to ensure that you get the best features at affordable prices for your project. Let's take a look at some must-have features that any great video streaming app should have.
One of your app's most basic features is its Registration process. You can think of it as a digital handshake: The user gives you their name and email in order to start using your app, while you get their contact information to market additional content and services later on. 
It's easy to overlook Registration as an afterthought, but much like traditional face-to-face introductions, a smooth Registration process is a key to developing your long-term relationship with new users.
Once you have a video library set up, it's important to make sure it can sync across your devices. This means you should be able to watch any show or movie on any device at any time—and anything in your library should show up on every device and app where you have an account. 
Similarly, when you add a new title from another app or streaming service, that title should automatically show up in your library without having to download it.
Most of today's video apps will do all of these things without much fuss; but if yours doesn't, then find one that does!
Easy streaming from social media accounts
Simply being able to log in with your Facebook or Twitter account is crucial; these social media giants are popular because they're so accessible. 
Your app should provide an easy way to see what videos people have posted on their social media accounts, as well as a simple way to post a video yourself.
If your app has its own Video Library, you should be able to access and browse it from within your app as well. But don't stop there!
Backed up on multiple servers
Backing up video files on multiple servers means you'll always have a copy of your videos (and data) stored somewhere in case something happens to one of your drives. 
This way, if your laptop crashes or gets stolen, you won't lose all of your important media files. If multiple servers are too expensive for you to buy yourself, most online storage solutions (including Dropbox and Google Drive) let you upload data on multiple devices.
No one wants to spend their time on an app wandering from page to page, looking at title after title. Your video streaming app should have Watch Lists features that allow users to organize videos into lists and manage their personal library of content. 
This way, your users can browse content by genre or subject—or search based on a specific phrase or keyword—and focus on what they want to watch instead of everything in your database.
To start, a video streaming app should have ratings and reviews that are searchable by title. Additionally, anyone creating content must have a way to respond to user comments left on their content (because otherwise, you're going to end up with a bunch of trolls). 
Ratings and review systems play an important role in identifying which shows, genres or creators are popular (or not) with your audience. You can use these data points to make strategic decisions about what kind of programming you should acquire and fund next.
Apps should have search and discover features so that users can browse through thousands of videos available. Search features help you find relevant content, while Discover helps users find new videos and channels to follow. Make sure your app supports these two features in order to ensure optimum usability.
If you have a sizable audience and want to serve them well, adding a Downloads section is key. Give viewers quick access to get your videos in popular formats. This way, they can easily load clips onto their devices without clogging up your server with heavy downloads. 
You'll want to make sure there are plenty of options and that each format loads fast on all devices so as not to frustrate your viewers and scare them away from returning to your site.
Streaming boxes like Apple TV and Roku already offer DVR capabilities through cloud-based services, but when you have multiple devices in your home, keeping track of where your recordings are stored can be a nightmare. 
If you're going to provide users with DVR functionality, make sure it's easy to use and that they don't have to worry about syncing content across their devices. It's also important to include a search function so users can quickly locate specific shows and episodes.
The world is big and there are a lot of people speaking a lot of different languages. If you want to get your app out there, it should have multi-language support so that you can capture customers from around the globe. 
No matter what language they speak, if they want to use your app and enjoy content on it, they should be able to. This is an essential feature that everyone should have in their apps these days.
With multiple languages comes many different features which we will discuss next
A great app has to have a subscription option. People will not purchase your app if they can access it for free elsewhere. They'll stick with what they know unless you give them a reason to leave their comfort zone, and an ever-growing collection of videos is just that reason. 
In addition, even if people do choose to subscribe to your service, chances are there will be some nonpayers looking in on your content too — either at no cost or with limits to which features they can take advantage of.
One of the most important features any video streaming app should have is a chat feature. It's something many people have gotten used to in other apps, and if your app doesn't have it, there's a good chance they'll head over to one that does. 
Since Twitch has been able to do so well with its chat-first approach, more and more apps are moving towards providing chat functionality.
You may not always have reliable internet access, and there are still many parts of the world that don't have high-speed mobile data. If your video streaming app doesn't support offline viewing, it won't be a very useful tool for you or for those around you.
What is the cost to create a video streaming app?
The cost of video streaming apps depends on various factors like functionalities, complexities, country of development, etc. If you hire iOS app developers in India, your app will cost cheaper compared to other countries around the globe. Let's break down the cost of a video streaming app into different stages:
Estimation, Research & UI/UX design
The design process begins with an estimation of time and money required, as well as confirmation of project feasibility. A team that understands user experience and information architecture is also essential; clients that are new to mobile app development should seek outside help here. And in terms of research, data from competitors and industry trends can help inform ideas. 
For example, if you notice another business is developing multiple apps with similar functions, those observations can be used to justify your own plans. Such insights will help your app stand out in an already-crowded market, while working against unnecessary features or ideas that aren't needed by users could reduce costs significantly. 
Considering these points can make it easier for clients to determine how much work their budget allows them during each phase of development before moving on.
The app development process is where we start making your idea into an actual product that people can use. This involves creating wireframes and then developing a working prototype—the mobile application itself. You can hire Android developers in India for your custom video streaming applications if you want to save cost and time in your video streaming app development project. 
On mobile apps, there is no room for error. Remember that quality control and user experience are key. With that in mind, you will want to test your app thoroughly before releasing it. 
There are several different methods you can use, including private beta testing with invited users and staged rollouts. If you do choose a staged rollout, make sure there is always someone available to respond quickly to any issues found by early adopters so they don't impact later stages of your launch.
Note: A simple video streaming app costs around $25k – $30k whereas a medium complexity app costs around $40k  to $60k. If you want to create a complex and enterprise-grade video streaming app with all the latest features like Netflix, it will cost you between $80k  to $150k.
Conclusion
Today, users are always ready for streaming videos of any kind. Whether it is news broadcasts or entertainment clips, viewers expect them in real-time. There are many video streaming apps but you should always know what you want before investing money in it. 
Before building your app you should learn how many people will use it before investing your money in it. But if you hire Indian mobile app developers from AppsDevPro then there is no need to worry about anything because they have done similar work for several other clients that are now making great profits due to video streaming apps developed by our expert developers.. So go ahead with confidence!
————————————————————————————————————————————————–
You can also check our other services:
Hire Mobile App Developers, Hire Xamarin App Developer, Hire iPhone App Developers, Hire Android App Developers, Hire Flutter App Developer, Hire React Native Developer, Hire Kotlin Developer, Hire Web Developer, Hire PHP Developer, Hire Laravel Developer, Hire Nodejs Developer, Hire Microsoft Developer, Hire ASP.NET Developer, Hire Angularjs Developer, Hire Reactjs Developer, Hire Vue.js Developer, Hire E-commerce Developer, Hire Magento Developer, Hire WordPress Developer, Hire MERN Stack Developers, Hire MEAN Stack Developers, Hire App Developers