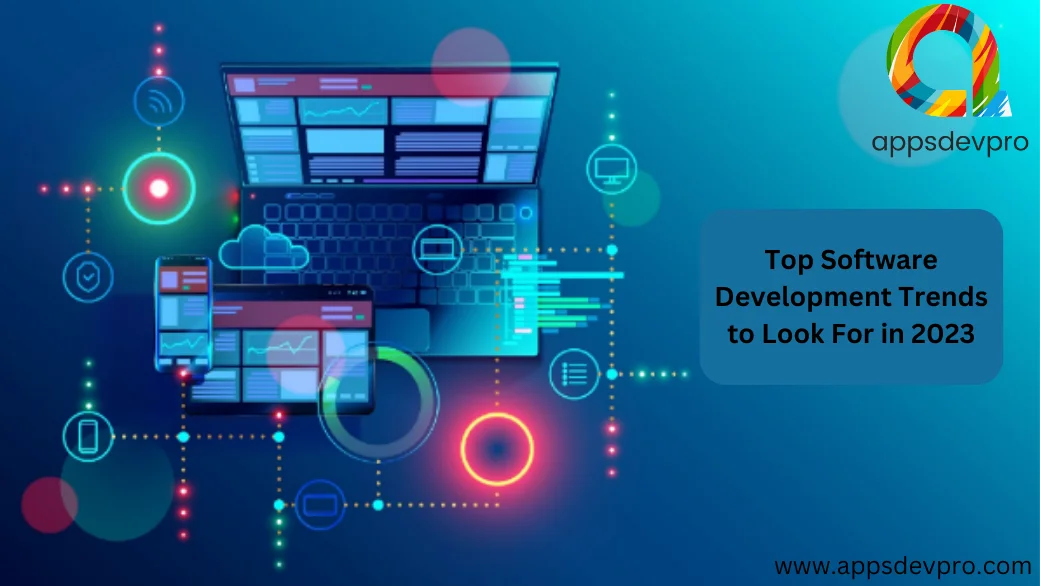 Quick Summary of the Blog:
As the year 2024 is just around the corner, we are seeing more and more software development trends that will set the tone for what's to come over the next five years. Some of them are obvious, while others might surprise you. Let's take a look at some of the top software development trends that will be roaring in 2023, based on feedback from industry experts, surveys, and other relevant information.
Looking for top software development trends in 2023? There is no doubt that the software development industry is fastly evolving under the pressure of various emerging technologies.
According to Statista, global IT spending from 2005 to 2024 has significantly shifted from $2.4 billion to $4.6 trillion in 2023.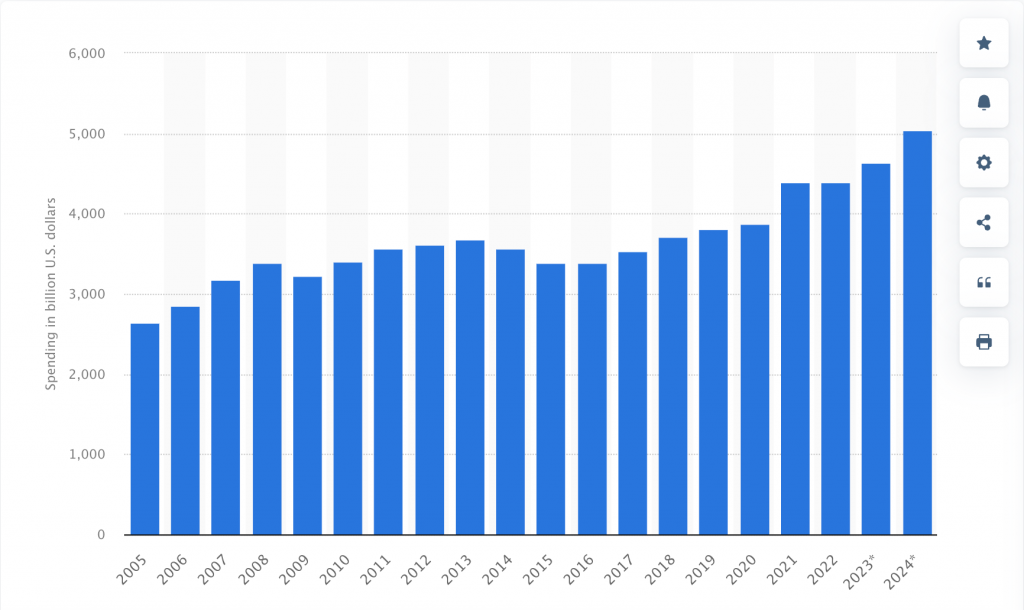 Image Source: statista.com
If you take a look at this graph, a major rise will be noticed from 2022 to 2023 which is 5.5% approx. With that, it is fair enough to say that mobile applications have come a long way.
From upgrading society to building software applications with almost no experience, streamlining the hospital process to keeping a real-time track of riders. There is an app for everything.
But the question is, how far these software development trends will take our lives in 2024?
Latest Software Development Trends and Techs That Will Take Over in 2023
So if you have finally made a decision to build an app and wanted to become a part of this thriving industry, then get ready to take a sneak peek over the top software development trends in 2023. With emerging technologies and constantly changing user behavior, it becomes highly challenging for businesses to pace up with the latest software development technologies that enable them to meet the growing needs of the market.
On one side the way AI/ML is reshaping the healthcare industry and Blockchain is paving its way in the banking sector, on other side AR/VR is revamping the eCommerce stores.
While the software development industry is fastly evolving, it is sure that trends in the software development industry will continue to change in the coming years. But the central question is how the latest trends in software development will look in 2023.
This blog has covered all the top software development trends 2023 that may help you redefine the business procedure and hit success.
You don't have to trust our words!
According to the survey report statistics, the mobile app development industry is expected to generate 613,433 million dollars by 2025.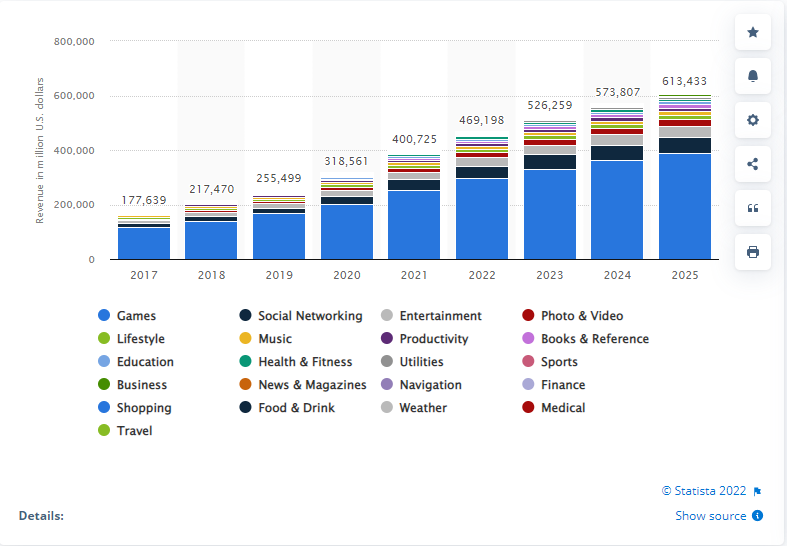 With stats, it is clear that the software development industry is roaring and expected to take a steep jump in the near future.
Therefore, to gain an edge over the competition and ensure your business remains relevant, you need to know what's coming next- and have time to prepare your software development company accordingly.
That's why we asked industry leaders what they think the top software development trends will be in 2023, and their answers may surprise you. Let's see what they had to say!
20+ Latest Software Development Trends To Checkout in 2023
1. Remote Working Increases The Demand for Cloud Computing
Have you been looking for top trends in software development? Cloud computing is the new hue for businesses working remotely.
In the wake of Covid-19, the landscape of working has changed dramatically and permanently. By force or by choice, businesses have shifted to remote working models. Having a choice of the work environment and location is now a key factor for many job seekers when it comes to work-life balance.
But the central question is whether organizations are able to cope with these expanding work capabilities.
A Gallup Survey report in 2022 says that 8 in 10 people are working remotely and 2 in 10 are entirely on-site.
Another report says that the hybrid work model is expected to grow from 42% in 2021 to 81% in 2024.
Cloud computing is one such top software development trends in 2024 and a perfect tool for companies that are ready to shift their work model to the "New Normal"
Cloud computing provides remote teams with the necessary infrastructure, storage, and software applications needed to collaborate effectively and access resources from anywhere.
It offers the flexibility to scale resources up or down based on the organization's needs, eliminating the need for on-premises infrastructure and enabling remote workers to easily access and share data.
As far as data security is concerned, Cloud computing ensures the continuity of operations and enables businesses to adapt to the demands of remote work effectively by keeping the data backup on the cloud.
2. More Organizations Are Turning To Outsource To Quickly Adopt a Real Change
Outsourcing has become an increasingly popular software development trend and a strategy for organizations aiming to quickly adopt real change. According to a study conducted by Deloitte, 78% of businesses surveyed reported that outsourcing gave them the ability to quickly access the expertise needed to drive transformation initiatives.
Additionally, a report by Statista revealed that the global outsourcing market reached a value of $92.5 billion in 2020, and it is projected to continue growing at a compound annual growth rate of 5.8% from 2021 to 2028.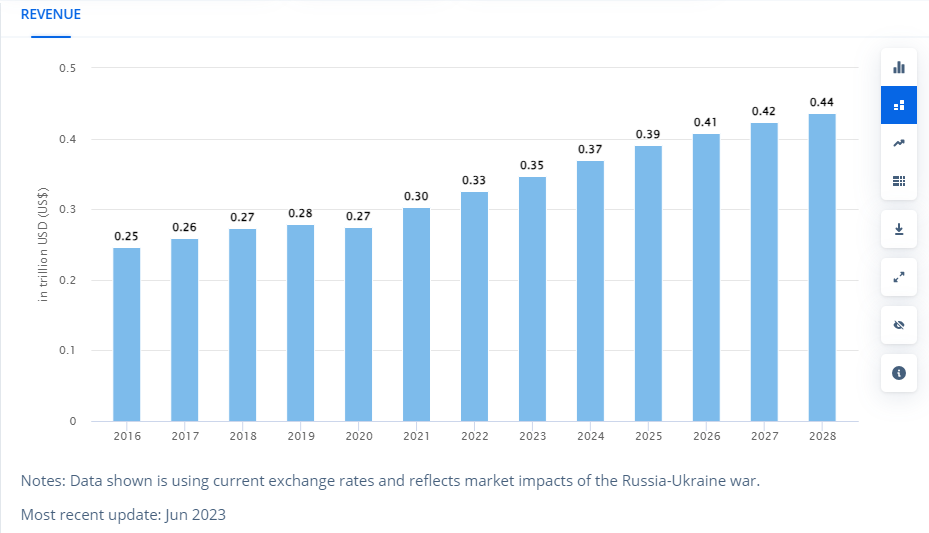 Image Source: statista.com
These statistics highlight the widespread recognition of outsourcing as a valuable tool for organizations seeking to leverage external talent, specialized skills, and cost-effective solutions to accelerate their transformation efforts.
Are you wondering why there is a sudden increase in outsourcing?
At the pace latest software development trends are hitting the market, organizations are lacking to recruit in-house engineers for every latest technology. That's where outsourcing takes place and allows businesses to tap into a global talent pool, reduce time-to-market, and achieve agility, ultimately driving real change and staying competitive in today's rapidly evolving market.
Read more to understand how outsourcing software development services can help you build these on-demand industry apps.
3. Progressive Web Apps(PWAs) Are Expected To Offer Better User Experience
In recent years, PWAs have taken center stage and have been considered as top software development trends in 2024.
In this highly competitive market with hundreds of apps for every single service, one way to keep your business ahead is to offer an excellent user experience.
And PWAs hold immense potential in offering a better user experience!
Wondering if PWAs are transforming the user experience and how it could be ranked as top trends in software development?
PWAs combine the best features of both web and mobile applications, providing businesses with a powerful tool to engage users and drive customer satisfaction. By delivering a seamless, app-like experience across devices and platforms, PWAs eliminate the need for users to download and install traditional mobile apps, reducing friction and improving accessibility.
This ease of use translates into higher user retention rates, increased engagement, and ultimately, better business outcomes. Moreover, PWAs can be developed and deployed more efficiently compared to native apps, resulting in cost savings for businesses.
With features like offline functionality and push notifications, PWAs enable personalized and timely interactions, enhancing customer loyalty and fostering brand advocacy. By hiring full-stack developers in India you can develop PWAs, and businesses can unlock a competitive advantage, boost conversions, and establish a strong digital presence that resonates with their target audience.
4. Python Is Surging in Demand
While looking for the top software development trends in 2024 – it is worth saying that Python continues to surge in demand and holds a high rank in software development due to several reasons. According to the Stack Overflow Developer Survey 2021, Python has been consistently ranked as one of the most popular programming languages, with a strong community and extensive library ecosystem.
Its simplicity, readability, and versatility make it an ideal choice for a wide range of applications, from web development and data analysis to Machine learning and Artificial intelligence.
The TIOBE Index report says that the popularity of programming languages consistently ranks Python in the top three.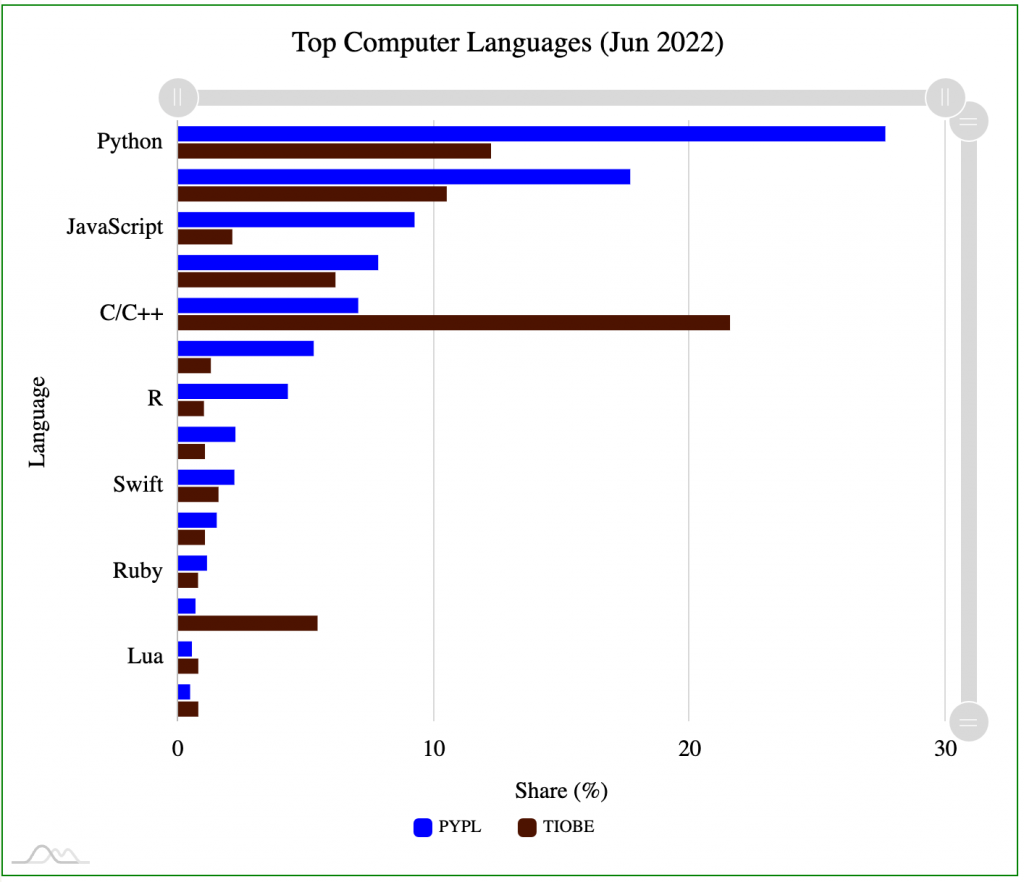 Image Source: statistictimes.com
Its importance in software development lies in its ease of use, scalability, and extensive support for various frameworks and libraries, enabling developers to write efficient and robust code, streamline development processes, and accelerate time to market.
Read More to know "how to build an app using Python and its cost".
5. Integrate Better Security With DevSecOps Approach
Companies are relying on DevOps practice for years when it comes to software development. But now DevSecOps approach has become crucial in today's software development cycle and being considered top software development trends in 2024..
But what is DevSecOps and how it is different from DevOps?
DevSecOps, an extension of DevOps, emphasizes the integration of security practices throughout the entire software development lifecycle. By incorporating security as an integral part of the development process, organizations can proactively identify and address vulnerabilities, minimize the risk of security breaches, and protect sensitive data.
This approach promotes collaboration between development, operations, and security teams, fostering a shared responsibility for security. With continuous monitoring, automated security testing, and code analysis, DevSecOps ensures that security measures are implemented early and consistently.
The best benefits of embracing a DevSecOps approach are businesses can enhance their ability to respond to emerging threats, maintain regulatory compliance, build customer trust, and ultimately deliver more secure and reliable software solutions.
6. Artificial Intelligence (AI) Powered Interactions With Predictive Analytics
So when we talk about that what software development trends will look like in 2023, then AI technology would be a definite answer to the experts…
With emerging technologies, mobile applications are strongly changing the way they were operating 10 years ago. And AI-powered interactions are one of the top software development trends in 2023 to be watched out for!
In 2023, voice recognition and response systems are going to be a standard feature in all devices, so expect to see more AI-powered interactions. In 2020, 30% of all searches have been conducted through voice commands.
According to the survey report, 78% of brands have already implemented AI tools in their online stores and the remaining are planning to do in the nearest future.
This happened due to the major advancement in natural language processing(NLP) technology which has allowed for conversations with machines as if they were humans.
The main reason for this is that it's a much faster way of getting information than typing or scrolling through endless pages on our phones. Plus, it's just plain easier and more convenient when you're driving or cooking dinner.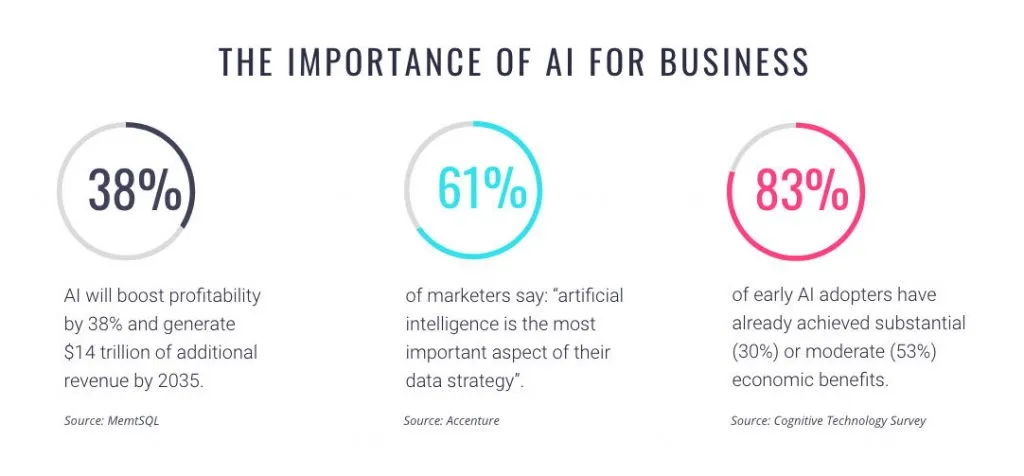 Image Source: thekeenfolks.com
No matter whether you have a mobile application or a business website, you can easily adopt this software development trend in 2023. You can hire software developers in India to integrate this feature into your existing business model.
7. Businesses are Adopting Low-Code and No-Code Development As The Latest Trends in Software Development
Low-code and no-code development is another one of the top software development trends in 2023 to shake up the software development space. With low-code platforms, you can quickly build a prototype or a simple app without any coding experience.
According to the Statics, Low-code and No-Code development can reduce mobile app development time by 90%. Therefore, this could be one of the trends in software development that most businesses are curious to adopt in 2023.
Furthermore, it this trend is expected to make $187 billion in revenue by 2030 which is 65% higher than it will generate in 2024.

Image Source: userguiding.com
This means that new developers can get a start in the industry, and companies can rapidly develop prototypes and MVPs without having to put much effort in place. The big players in this space are Appian, Wix, and Microsoft PowerApps.
8. The Use of 5G Technology Is Surging in 2023
You must have heard about the 5G Technology but wondering how it has secured its place in top software development trends in 2023 and remain popular beyond 2025. Let's learn the reality!
5G technology is going to have a major impact on how we use the internet. With 5G, you will be able to download a movie in less than 10 seconds. Your home will no longer feel like a dead zone and it will be possible to download movies from any place, anytime.
5G is also going to pave the way for new developments in artificial intelligence and virtual reality. All you need is to hire an app developer in India to get started. These technologies are continuing to evolve at an incredible rate, but with 5G they're going to be able to grow exponentially faster. If there's anything to watch out for in 2023, this software development trend would be the one.
9. The Rise of Cross-Platform App Development
Cross-platform app development is on the rise, and it's not hard to see why. After all, this approach offers developers the benefits of both Android and iOS platforms without the drawbacks of having to learn a new development language or skill set.
Additionally, this type of approach enables developers to create apps that can be ported between Android and iOS with ease. This makes for a seamless experience for users who may want to switch back and forth between devices. So cross-platform app development is increasingly becoming the top software development trends in 2023.
With more individuals owning multiple devices for work, gaming, etc., cross-platform mobile app development will likely continue to grow in popularity in years to come. So if you are interested in adopting these latest trends in software development then you can use the below technologies:
React Native

– Developed by Facebook, React Native allows developers to create mobile apps using JavaScript and allows them to focus on creating an interface instead of rewriting code. Whether you hire Android app developers or React Native developers, make sure they have good javascript knowledge.

Xamarin

– One of the most popular cross-platform frameworks available, Xamarin enables developers to use C# and share up to 90% of code across Android, iOS, macOS, tvOS, and watchOS.

Flutter

– Flutter is a cross-platform mobile app development framework that has been gaining significant traction in the developer community. Though still new, Flutter has a number of advantages over other mobile frameworks.

These include better performance than React Native, more customization than Xamarin, and improved hot reloading than React Native.
These are the few top rated frameworks that have become developer's choice. But you can explore end number of frameworks that suits your business requirements.
10. The Expansion of IoT will Continue in 2023
The expansion of IoT will continue to be prevalent, with more and more devices being connected all the time. This, in turn, means more data for companies to collect and analyze. The need for companies to stay ahead of the technological curve will only increase with each passing year.
Integrating an IoT technology into your existing software solution will be a top software development trends in 2023. To make the integration process easier you can choose to hire Indian android app developers.
11. Augmented Reality Is A New Reality In the Ecommerce Industry
As more and more people adopt AR technology into their daily lives, the number of companies that are integrating it into their offerings is set to explode.
According to statistics,

34% of customers

are already using AR technology while shopping.

63% of customers

say that Augmented Reality would improve their shopping experience.

Therefore,

90% of companies

with annual revenues of $100 million to $1 billion dollars are now leveraging AR technology or VR technology.
With these statistics in mind, it is safe enough to say that AR will be one of the top software development trends in 2023.
We can expect to see an increasing number of online retailers develop virtual shopping experiences for consumers who want to be able to see what they would look like in the outfit before buying it.
In addition to the increased use of AR for eCommerce, there's also going to be a shift toward voice-controlled interfaces. Therefore, we recommend you go with the process of hiring dedicated Indian app developers to see better results.
12. Virtual Reality (VR) Will Continue To Trend in 2023
Virtual Reality (VR) is the newest trend in interactive technology. The popularity of VR has been steadily increasing over the past few years, and it shows no signs of slowing down in the near future.
Whether you are a startup or a leading entrepreneur, VR will be one of the latest trends in software development that you need to watch out for in 2023!
VR allows you to take yourself into an entirely new world that feels as if it were real life. You are able to explore this new world with your own eyes, rather than through a monitor or television screen. Therefore, VR technology will be one of the top software development trends in 2023.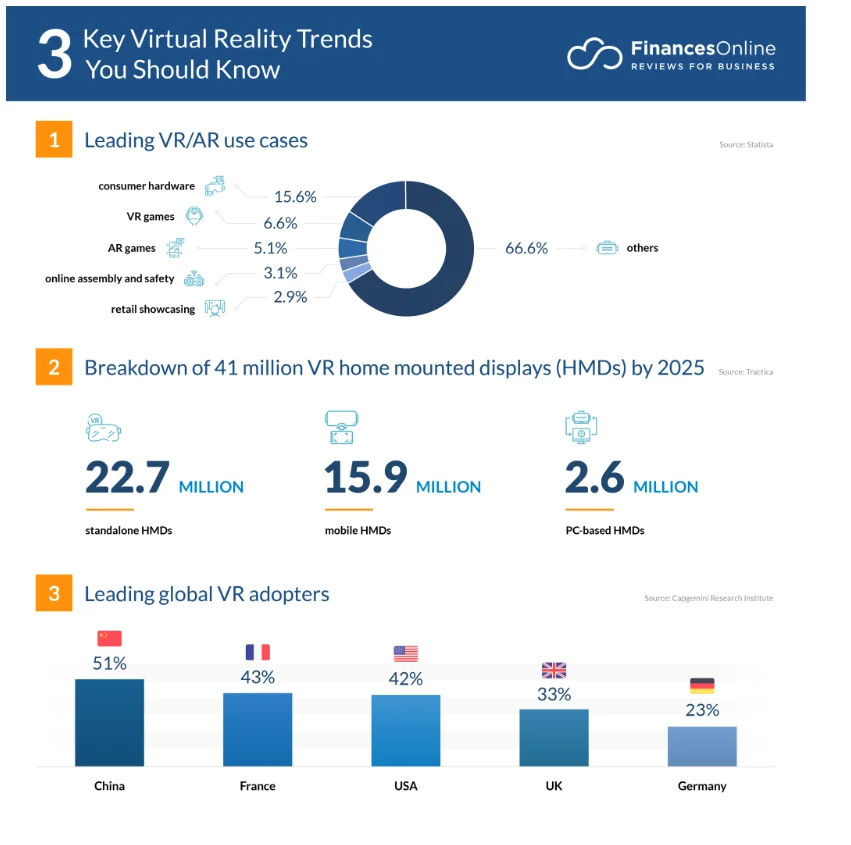 Image Source: financesonline.com
If you're wondering where Virtual Reality will be helpful and in which sector it will be going to work then read below:
Travel Agency: Gone are those days when travel agencies were limited to making a profit on travel tickets. Now they can leverage this technology and offer world tours to their customers. All they need is to hire an Indian Software developer to create an app and a headset to deliver an incredible travel experience to users.
Gaming:

The immersive gaming experience offered by VR is unlike anything else on the market today, making it one of the top software development trends for 2023 and beyond. In addition to gaming, some businesses have found creative ways to incorporate VR into their day-to-day operations.

Medical Industry:

In the medical field, surgeons can use VR simulations to rehearse complex procedures before performing them in person. Similarly, engineers at NASA use it as part of their design process when building aircrafts and satellites.
If you are looking for ways to bring a steep shift in your business then you need to watch these top software development trends in 2023!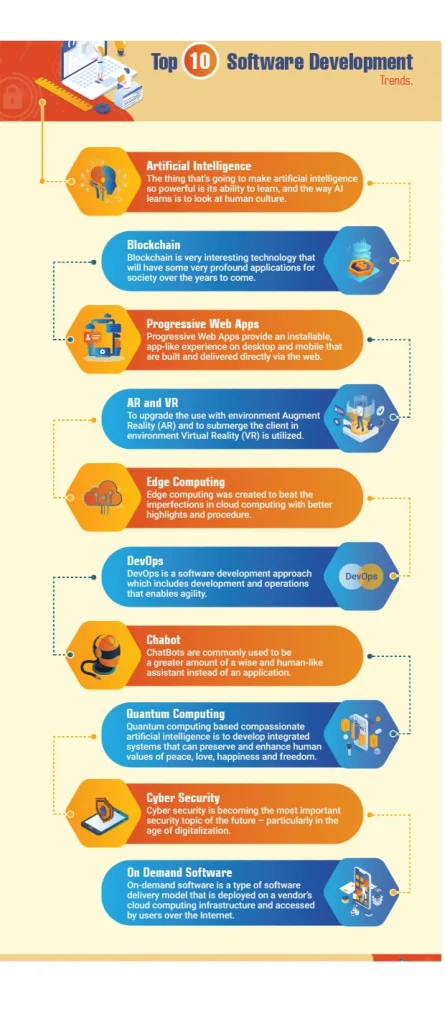 Image Source: latestinfographics.com
13. Cyber Security is Going To Be Thriving Field in Software Development in 2023
Implementing Cyber security in the mobile app will be one of the top software development trends in 2023 as security concerns are the top priority for businesses.
Every year, there are a lot of software development companies that either get hacked or fail completely as a result of not taking security seriously. As more and more businesses are moving their operations online and using cloud-based systems for day-to-day activities, cyber security has become one of the top software development trends in 2023 and an important issue.
Cybercriminals have also become smarter with time, especially when it comes to exploiting new vulnerabilities in mobile applications that can be used to steal information and money from users. This makes cyber security in software development very crucial for any organization if they want to avoid heavy losses from sensitive data being breached or monetary funds being stolen.
14. Machine Learning (ML) Is Going To Be the Top Software Development Trend in 2023
ML is one of the top software development trends in 2023 to watch out for. This technology has been around for quite some time, but it's only now that developers are beginning to take notice and put it to use.
One of the reasons ML has so much potential is its ability to process large amounts of data quickly, which allows organizations to make predictions about trends and other events with a high degree of accuracy.
One example of this is Amazon's use of ML technology in order to predict what products customers will like based on their previous buying history. Predictive analytics can be used to answer various questions commonly asked by users.
15. Internet of Behavior (IoB) is Boldly Entering Into The Market
Internet of Behavior (IoB) is a new communication protocol and ecosystem being developed to enable the monitoring, control, and modeling of human behavior. It's basically an extension of the Internet that will allow devices to react to human emotion by analyzing how they use their digital tools. It could be used in business settings as a way to monitor and understand the customer experience.
As this technology is going to empower businesses to better predict their customer behavior, therefore it will be considered one of the latest trends in software development.
IoB uses apps, sensors, wearables, etc., that collect information about how people interact with their devices and then translate that into meaningful data for businesses. The technology has been slowly coming out over the last few years with some reports suggesting that it will be worth $2 trillion by 2030.
16. Blockchain is an Influential Trend In Software Development
Blockchain is a relatively new technology that offers an alternative to traditional financial institutions. It provides high-speed, low-cost payments and transactions between two parties without the need for any intermediaries.
But today, Blockchain has become an influential buzzword for many industries. Therefore, you should consider it as the latest trend in software development. All you need is to hire a blockchain app developer to kickstart your project.
Blockchain is being used in a variety of industries, including finance, food safety, and healthcare. The software development industry is no exception and has seen great success with blockchain implementations. Therefore, it won't be wrong to say that Blockchain will be a top software development trend in 2023!
Take IBM's recent partnership with Walmart where they are utilizing blockchain to manage their supply chain, from sourcing raw materials all the way through delivery to their stores. With this method, they will be able to more easily track items, verify them as safe and increase efficiency in product delivery times.
17. Outsourcing is a New Trend In Software Development Industry
Outsourcing is a new trend in the software development industry. The company that has to find a developer for their project can turn to an outsourced labor market where they will have access to thousands of developers from all around the world.
This approach has many advantages: developers work remotely, which means there is no need for them to relocate and companies can hire iPhone app developers in India at any given time; it's much easier to find someone who specializes in a certain programming language or skill set; and finally, outsourcing allows companies to save money by paying less than what they would have paid if they had hired local talent.
18. QA Automation is Increasing in Demand
QA Automation has become increasingly popular in software development for a variety of reasons. One of the most common reasons is to simplify the process of quality assurance by automating the testing process. But there are also other reasons, such as increased efficiency, increased productivity, and lower costs. For example, when QA Automation is introduced into an organization's workflow, it can lead to cost savings of up to 40%. QA Automation can also help accelerate the software development process by speeding up test cycles.
19. Big Data Is Becoming a Big Thing
In the past few years, many organizations have been creating their own databases to store data captured by their various channels such as app usage, social media engagement, and website traffic. The data is then analyzed to find patterns that could help in developing strategies for future products or services.
Today, big data has become an essential part of how companies do business.
Organizations are now working on ways to optimize their collection and analysis. Some are using AI programs to mine it for relevant insights. Others are exploring blockchain technology so they can make the process more secure.
No matter what technique is used, big data will only get bigger over time and continue changing marketing, product development, and other sectors of a company's work.
Read More: 12 Top Mobile App Development Trends You Can't Ignore In 2023
20. Rapid Agile Development Methodologies
Rapid Agile Development is a process that encompasses customer collaboration, iterative and incremental development, and frequent delivery of software. Developers will use these methods to create better software in less time. This method is used by some of the most successful companies in the world today, including Facebook, Microsoft, Netflix, and Amazon.
Rapid Agile Development uses customer collaboration for ideas to make better products faster. They do this by involving customers throughout the development process. Another way they involve customers is through their software development lifecycle (SDLC). The SDLC has two main phases: Plan and Build.
21. JavaScript Is Still Go-To-Language For Enterprises For Web App Development
JavaScript continues to lead the software development trends in 2023-25 when it comes to web app development. Its widespread adoption can be attributed to several factors as mentioned below:
JavaScript will remain the popular language of the web, supported by all major browsers. This ubiquity ensures that applications built with JavaScript are accessible to a wide range of users.
Secondly, JavaScript has a vast ecosystem of libraries, frameworks, and tools, such as React, Angular, and Vue.js, which empower developers to build scalable and interactive web applications efficiently.
Moreover, JavaScript's versatility extends beyond the browser, with the advent of technologies like Node.js, enabling server-side and full-stack development. Additionally, JavaScript's active community and extensive documentation make it easy for enterprises to find resources, resolve issues, and stay updated with the latest trends.
With its versatility, broad support, and thriving ecosystem, JavaScript remains the language of choice for enterprises seeking to develop robust and feature-rich web applications.
Why It is Important to Consider the Latest Trends in Software Development?
Software development is always changing, with new trends and technologies emerging every year. If you want to stay ahead of the curve in your industry, it's important to keep up with the latest developments and integrate them into your business. Let's take a look at some of the benefits of top software development trends in 2023.
It helps you stay ahead from the competitors.
Reduce the risk of data breaching and keep the frauds at the bay.
Enhance business production and efficiency.
Reduce labor cost and lead to higher productivity.
Bring the latest technologies to the business and open up better opportunities to generate ROI.
With these benefits and perks of implementing latest development trends, businesses and startups can quickly add an edge in the competitive market.
How Do These Top Software Development Trends in 2023 Help Your Business To Grow?
Software development trends are constantly evolving. In order to keep up with these changes, it's important to stay aware of the top software development trends in 2023. But the question is how they might affect your business. There will be more opportunities for growth in software development over the next few years than ever before.
The future of the software development industry is not certain, but there are few unique ways that these trends will have an impact on the world. Here are some top software development trends in 2023 that empower your business:
Machine Learning Is Simplifying the Complex Data Gathering: The rise of machine learning-based artificial intelligence (AI) means that businesses will be able to anticipate and respond to customer needs more effectively than ever before. AI will make it possible for companies to tailor their products and services according to customers' needs. 
Voice Recognition is Improving the Customer Interaction: Voice recognition technology may change how we interact with computers, making it easier for people with disabilities or who cannot see well because of age or disability. Businesses that build voice-activated technologies are sure to be successful. 
Software Development Trends Can Help You Make Better Predictions: It is predicted that augmented reality and virtual reality technologies will advance at a rapid pace in the coming years, revolutionizing many different industries including healthcare, retailing, manufacturing, education, engineering and entertainment. 
Automation is Simplifying and Speeding up the business process: Robots are expected to play a bigger role in our lives as their programming becomes more sophisticated. Robotic workers could reduce the need for human labour in factories and warehouses. And, if cars drive themselves in 2030, automation will free up time for other tasks.
For example, Robo-taxis could enable people to work remotely from home while commuting from one city to another. And video conferencing would allow people all over the world to participate in meetings simultaneously. If these predictions come true, employees won't just benefit from increased leisure time; they'll also enjoy an improved quality of life!
This is how top software development trends can affect to various industries and empower that them with better opportunities.
How To Get Started With These Software Development Trends in 2023?
Software development is always evolving. There are new technologies, processes and techniques for software development coming out every year. Just like any other industry, the pace of software development is constantly changing and there are a lot of trends to watch out for in the next few years.
So whether you are a startup or a leading entrepreneur, staying ahead of the curve is always challenging. However, by hiring a software developer in India, you can easily cope up with the latest trends in software development.
"Wondering How does Software Development company help you integrate the latest app development trends?"
The app development trends of today will probably not be the same in a year or two. But, if you choose an app development company that is familiar with all possible app development trends and the latest technologies, then you are going to develop an application, which will stand out from others and have higher chances of success.
The ability to build state-of-the-art apps for various devices and platforms is what makes such companies special. An expert app developer can easily assist you to integrate top software development trends in 2023 into your application and make it stand out from others.
However, you should also keep track of new trends and advancements in the industry as they are coming up every now and then. Technologies such as augmented reality, virtual reality, AI chatbots, VR headsets etc. were never considered before but they are quickly catching up with everything else in the market today.
These apps demand more expertise than ever before but they also provide exciting opportunities for developers to experiment with new ways to engage users on different platforms like mobile phones and other digital devices.
Conclusion
In this tech-driven world, staying competitive is always a big challenge for businesses.
The software development industry is continuously evolving, and while some trends may be on the decline, others will only continue to grow. To keep up with the latest trends in software development, it is worth hiring an Indian software developer and integrating the best suitable technologies into your business.
If you are still confused that what is the best technology to pick, then you AppsDevPro can be your trusted platform to hire app developers in India. By evaluating your business requirements, they will further assist you with the best solution.
If you still have a query, then you can contact our experts!
FAQs
What Are The Latest Trends In Software Development This Year 2023?
With new technologies emerging, it's hard to keep up with what's hot and what's not. Here is a list of five of the most popular software development trends for 2023.
– Blockchain: Blockchain is one of the hottest topics in technology right now. It was originally used as a way to facilitate Bitcoin transactions but has since evolved into a full-fledged system that can be used to verify and store information. It uses cryptography techniques to provide a high level of security while keeping data accessible at all times. 
– Cybersecurity: Cybersecurity continues to grow more complex as hackers constantly evolve their strategies. As threats continue to evolve, so should your company's cybersecurity measures. 
– AI and Machine Learning: Artificial intelligence (AI) and machine learning have become an integral part of enterprise organizations around the world.
These are the top software development trends in 2023 to follow. No matter in which industry you're working, there is something new to adopt in every industry.
What Type Of Technology Are Most People Buying At This Moment In Time?
Listed below are the hottest new trends in technology, 2023.
– Processing Capacity.
– More Smart Devices
– Quantum Computation.
– The term is called datification.
– Algorithms and computational algorithms.
– Complete, complex, blended reality.
– Digital Relationships.
– Three-Dimensional Printing.
So probably these are the few top software development trends in 2023 to be followed by most businesses to stay ahead in the market competition.
Which Technology Is Best For Software Development In 2023?
In terms of which technologies are best for software developers, it would be crucial to mention that JavaScript will stay as a popular choice. The reason is that JavaScript is not just an excellent programming language but also because it's used by many other languages and frameworks such as NodeJS, Python, and Angular.
So What Would Be The Top Software Development Trends In 2023?
Moreover, web developers use JavaScript as their default programming language because they can create dynamic web pages or apps with it. It's even possible to use JavaScript libraries like React to build fast-loading mobile apps. Other reasons why Javascript is good for programmers: It runs on any device; it's free and open source; there are online communities dedicated to teaching beginners how to program; it supports object-oriented programming with well-known frameworks like React and VueJS.
You can also check our other services:
Hire Mobile App Developers in India, Hire Xamarin App Developer in India, Hire iPhone App Developers in India, Hire Android App Developers in India, Hire Flutter App Developer in India, Hire React Native Developers in India, Hire Kotlin Developer in India, Hire Web Developer in India, Hire PHP Developer in India, Hire Laravel Developer in India, Hire Nodejs Developer in India, Hire Microsoft Developer, Hire ASP.NET Developer in India, Hire Angular.js Developer in India, Hire React.js Developer, Hire E-commerce Developer in India, Hire Magento Developer in India, Hire WordPress Developer, Hire AI Developers in India, Hire Java Developers in India, Hire Python Developers in India, Hire Javascript Developer in India, Hire AR/VR Developers in India, Hire Blockchain Developers in India