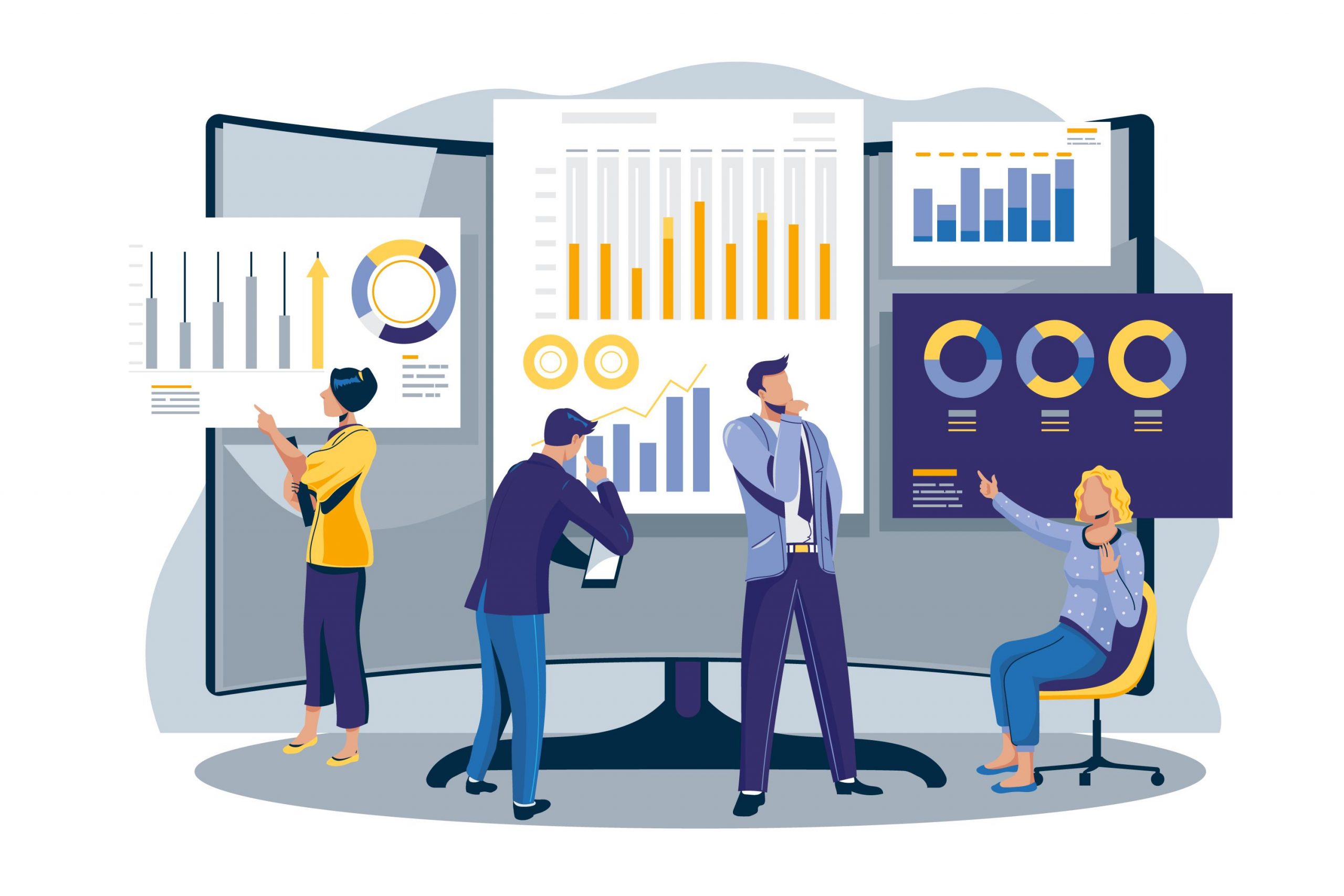 Quick Summary Blog:
Indeed, the IT outsourcing market grew to nearly $100 billion in 2020, and these statements prove that the IT outsourcing market is expanding globally. But what are IT outsourcing models, the primary types of IT outsourcing models, and their benefits are crucial to understand. Being rooted in developing and customizing enterprise-level solutions and offering IT outsourcing services, AppsDevPro is well-equipped to provide these insights.
No matter how big or small your business may be, you'll likely encounter some form of IT outsourcing at some point during its growth cycle.
Also at some point in time, you probably don't have the budget to build out your own IT department or take on the full cost of running your own servers and data centers in-house, which can make outsourcing your IT solutions seem like the best way to go.
Here's what type of projects you can outsource..
In addition, talent shortage is also a pain area for businesses across the globe. Have a look at below stat: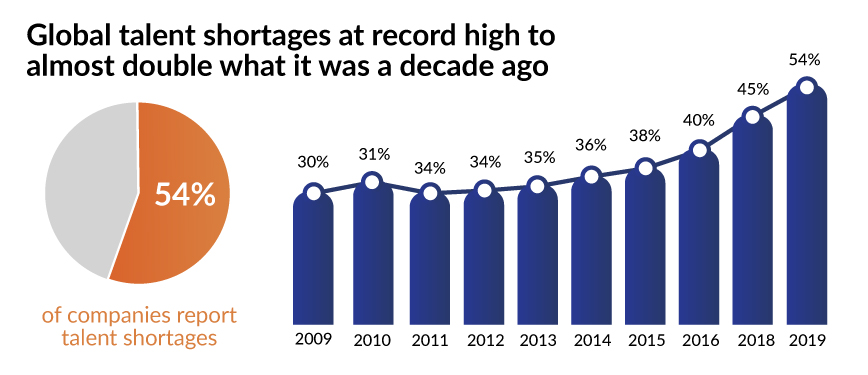 Source: kruschecompany
Therefore outsourcing is the best way to save time & cost and get the required talent for your project. However, it's important to figure out what type of IT outsourcing model will be the best fit for your business before you decide which outsourcing company you're going to work with.
Here are seven types of IT outsourcing models you should be aware of before signing on with an IT services provider to grow your startup and keep costs down in the process.
What are IT Outsourcing Services?
IT outsourcing is a way for businesses to use IT services and expertise without having them in-house. For example, a startup may choose to outsource their IT department completely—or just specific tasks, such as website hosting or email services.
Outsourcing can be particularly beneficial for startups because they have limited resources and often don't need comprehensive IT services initially.
Once your company has solidified its operations and has begun generating revenue, it might be time to reevaluate your current relationship with your IT provider and decide whether you should bring certain tasks back in-house or focus on expanding current outsourced relationships into a more comprehensive arrangement.
Have a look at some prevalent outsourcing models as per the Kruschecompany survey: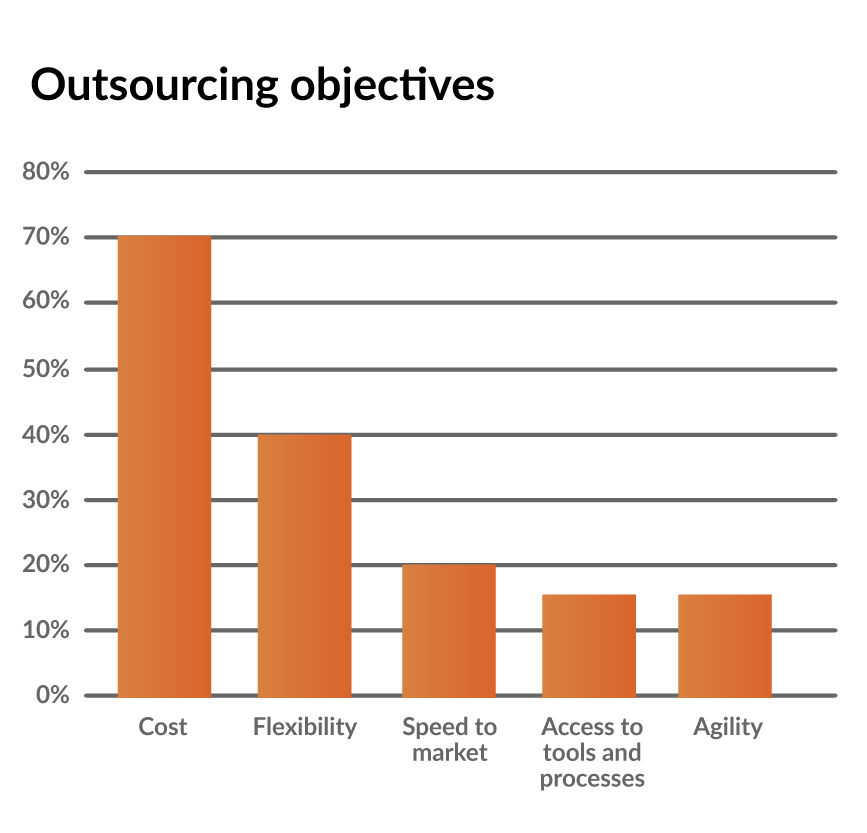 Source: kruschecompany
As technology continues to evolve and startup needs change, so does our approach to sourcing solutions.
Read more to know the cost to hire software developers in India.
Types of IT Outsourcing Models
Different businesses have different project development requirements, so there is no one-fit hiring model for all businesses. Keeping in mind everything your location, budget (hourly cost of hiring full-stack app developers in India, USA, Canada, and more), and project requirements, – here we have broadly categorized it into 3 types of IT outsourcing models.
Type 1: Location-Based Types of Outsourcing
1. Onshore/ Nearshore Outsourcing
Onshore outsourcing typically means partnering with a business or service provider within your country, but not in your home city.
Many new businesses and start-ups hire mobile app developers in India with onshore outsourcing as this is one of the most convenient ways of working with an extended team while just sitting in the home city.
"The best highlight of nearshore IT outsourcing model is, there is no time gap, no communication barrier, and cultural differences."
But still, in countries like the USA, Canada, Europe, and Australia- you may encounter these gaps so onshore development costs might be higher in comparison to other countries like India, Ukraine, or the Philippians.
"Usually building any app with complex features will take around 800 to 1000 hours and the hourly cost of the developer is ranging between $100 to $150. So the overall cost of the project may fall between $100,000 to $120,000. And no startup or entrepreneur is ready to spend this huge amount at the initial level."
Read more to know how much it cost to build a food delivery app like Uber Eats with an Onshore IT outsourcing model in India.
Top Benefits of Onshore Outsourcing
You get a competitive edge because you can react quickly and pivot faster without having to outsource your information technology.
You will also have less obstacles with onshore outsourcing since they are located in your time zone.
Onshore outsourcers are less expensive than offshore outsourcing. As they charge you a rate that is close to your budget. Instead of charging an average rate for each task performed based on how far away from your region they are located.
Enhanced productivity & improved flexibility,
Reduced cost of running business operations. As you can communicate more effectively with team members who are within close proximity or present in the same city.
In a nutshell: The average cost of an onshore outsourcing company ranges between $50 and $150/hour. The cost can vary greatly depending on experience, knowledge and their track record.
2. Nearshore Outsourcing
Nearshore outsourcing is not a physical place. It is a type of outsourcing that involves getting work done in another country, closer to home country.
Companies who are thinking about nearshoring tend to get more value out of their operations. An advantage of nearshoring is that when you hire Android app developers in India – for example– they don't have to travel as far and can still live at home.
This also means that they aren't away from their families as often. If you choose to outsource offshore, you can expect communication and face-to-face meetings with your partners will be few and far between because of these long distances.
Benefits of Nearshore Outsourcing
If you're starting a new company, you may want to consider nearshore outsourcing as an option.
It can help save money by lowering your cost of doing business and provide greater flexibility over where you can establish your startup.
Nearshore outsourcing makes it possible for startups to get off the ground without having a brick-and-mortar office location.
With benefits such as low costs, easy communication and a highly skilled workforce, it is a great budget-friendly option. You can avail it without losing the quality of services and exceeding budget.
In a Nutshell: The average cost of a nearshore outsourcing company is depending on the work requirements and the dedicated team you hire for the project. You can expect to spend anywhere from $20 per hour to $200 per hour, depending upon the complexity of the task.
3. Offshore Outsourcing
When you hire app developers in India with an offshore outsourcing model, you work with a third party. It would usually happen in another country like India, which hires either full-time or part-time employees for you. This is another popular type of IT outsourcing model. Because overseas workers are hired independently by companies in other countries, you can lower costs and increase performance.
Offshore outsourcing is typically used for repetitive work. It is an ideal option if you require a high degree of specialization. But it doesn't involve intensive one-on-one communication.
It's perfect for those who need professionals outside their time zone. Typically, all you have to do is outline what your business needs, and then find someone who can offer it; it takes care of everything else after that!
Benefits of Offshore Outsourcing 
The primary benefit of outsourcing your projects and your business needs is going to be cost savings.
In some cases, it can also be about improving productivity and getting a wider variety of options.
Offshore outsourcing removes borders from access, allowing companies and businesses around the world to work together seamlessly.
The truth is that there are many options for outsourcing your projects and needs, whether it's domestically or globally.
Offshore outsourcing is becoming more popular as companies seek cheaper labor in other countries and avoid expensive hiring practices at home.
The offshoring trend began in India also. But has since expanded and now includes many other regions. It may include like Latin America, Southeast Asia, Eastern Europe and Western Europe.
In a Nutshell: Offshore hiring model is a bit cheaper than other options as you don't need to conduct face-to-face meetings. It is more like hiring a third-party team from any location. For example in India, the starting cost would be anywhere from $20 per hour.
Read more to know the top software development ideas in 2023 that may require an offshore IT outsourcing model.
Type 2: Relationship-Based IT Outsourcing Models
1. Staff Augmentation Model
When counting upon the most common types of IT outsourcing models, the Staff Augmentation Model is quite familiar to businesses. It is a flexible model and allow client or an outsourcing service provider to obtain key skills and experience by hiring iOS developers– for example– on a full-time, part-time or project basis.
This model generally involves no long-term commitment from either party. If a client hires permanent staff from an outsourcing service provider, it's classified as a staff augmentation model; if employees are hired on a short-term basis, it's known as project team staffing.
This is recommended for startups who want ready-made resources but do not want any long-term commitment associated with them.
Benefits of Staff Augmentation Model 
This model is typically what most startups choose.
The reason for that is because you have flexibility in size and time when staffing up with the Staff Augmentation Model.
You can add more people as you hire new employees and find new positions as needed, which means it's easy to take advantage of hiring only when you need it.
You don't pay a lot up front, but there are also no long-term commitments or ongoing costs associated with having a full team of staff members on board.
It's perfect for companies that need support in specific areas but don't want to worry about creating a full-time job if they outgrow those needs down the road.
It gives you access to a steady stream of talent without needing to hire employees on your own payroll (who might burn out in their first few months).
In a nutshell: Since you can hire the augmented team for a specific task, the cost can be anywhere from $15 to $50+. It all depends on what type of requirements you have.
2. Dedicated Team Model
If you are planning to develop an app right from scratch and looking for experts who can handle everything from conceptualization to planning, development to designing, and deployment to maintenance, then hiring a dedicated development team is a perfect option.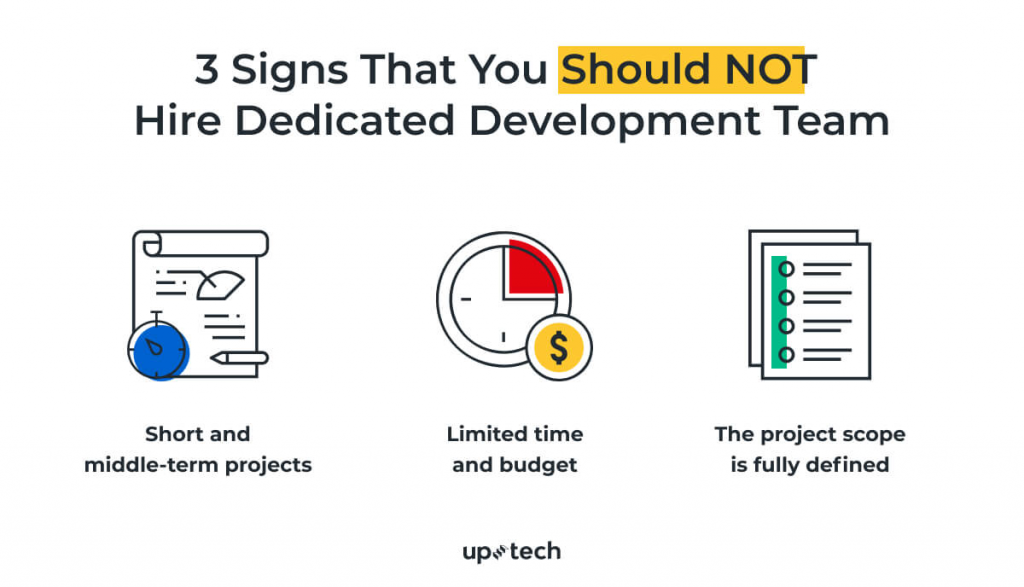 Image Source: uptech
Startups, SMEs to entrepreneurs, and anyone can choose a dedicated IT outsourcing model and be able to recruit their own development team that will be dedicatedly working on your project.
The biggest perk of this IT outsourcing model is that you will have a complete IT team including business analysts, project manager, backend developers, frontend developers, UI/UX designers, and app testers working with close collaboration under one roof.
Usually, the hourly cost of hiring dedicated developers in the USA and Canada is starting from $150 to $175+ depending upon the skills. But in the Indian market, you can hire coders with the right experience anywhere from $50 to $75 per hour at AppsDevPro. And the best thing is, clients can get business analyst services at a complimentary.
Benefits of Dedicated Team Model 
You can build a team for your organization and then assign different types of work, such as web design or customer service.
This option is flexible because you're not buying pre-packaged services.
You'll get exactly what you need for your project and it will cost only for that time period.
Once your project is complete, the firm returns those dedicated resources back into their pool until they're needed again in other projects.
Dedicated teams are known for their efficiency and speed—both of which are important when building a product from scratch.
This outsourced model makes it easier to focus on what matters: building a product or service that helps your company achieve its mission.
In a Nutshell: Dedicated team model consists of a developer, designer, tester, business analyst, and project manager. Since the team is dedicated to working on your project right from scratch to final development. So the final cost of hiring can be starting from $50+ per hour to $150+ per hour.
Read more to know about hiring dedicated developers in India
Type 3: Project-Based Model
Project-based outsourcing is a model in which a company pays a vendor per project. This model is very popular among companies with high transaction volumes and cash flow or those who need additional technical expertise that they don't have internally.
Project-based models usually involve initial scope definition and periodic planning meetings throughout development to track progress and ensure that goals are being met. After delivery, clients often receive ongoing maintenance services with no additional charge (other than what has already been negotiated).
For companies seeking software or solutions developed in-house, project-based contracting can be an attractive way to outsource specific projects instead of hiring full-time staff for these activities.
Let's check out how project-based IT Outsourcing model is different from dedicated outsourcing model.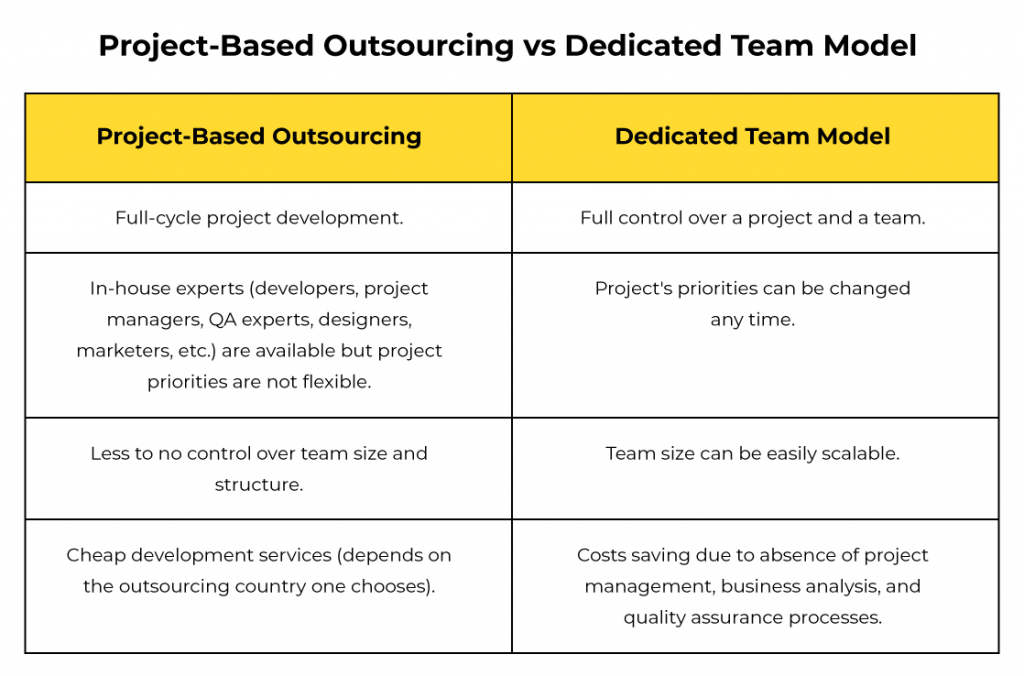 Image Source: uplers
Benefits of Project-Based Model 
Project-based work is a high-end choice of outsourcing model.
You can outsource your project needs at a cost that fits your budget.
Project based models also offer flexibility as you can hire people who share your focus and expertise for only a specific project rather than getting someone with skill sets outside of what you need for a longer time.
This approach allows businesses to scale their resources and staff up or down on demand, therefore saving money and time when it comes time to scale back from a high growth period into more predictable times.
Also known as fixed price contracts, customers choose specific outcomes instead of focusing on costs by utilizing fixed price contracts where possible.
In a nutshell: The average cost to hire developers on a project basis simply ranges from $15 to $75 per hour. The cost can vary depending on the location and skills of the developers.
Conclusion
The most successful businesses are those that find their unique sweet spot—the match between their offering and market need. But what makes a business successful is more than just how well it fills its niche.
An increasingly important part of launching a new company involves finding your way to cut costs, grow revenue, increase time for research and development, attract talent, and protect assets. If you're at any stage in your startup's journey from conception to established success, your path may be full of twists and turns.
No matter what kind of software development model you choose, there's no denying that outsourcing is an increasingly popular approach to business. As your startup grows and adds more features and products, so will your needs for developers.
At that point, it may be time to look at outsourcing. You should hire software developers in India as they can streamline production and improve efficiency while saving money.
FAQs
What are the different types of IT outsourcing models?
There are three main types:
a. Onshore Outsourcing: Hiring a third-party provider within your own country.
b. Nearshore Outsourcing: Engaging a provider in a nearby country, often with shared time zones and cultural similarities.
c. Offshore Outsourcing: Collaborating with a provider in a distant country, typically with cost advantages.
How do I choose the best IT outsourcing model for my business?
Consider factors like budget, project complexity, communication preferences, and data security requirements. Onshore offers proximity, nearshore balances cost and proximity, while offshore can provide significant cost savings.
Can I switch between outsourcing models as my business needs change?
Yes, many businesses adapt their outsourcing approach based on evolving requirements, project demands, and economic factors.
What are the potential challenges of each outsourcing model?
– Onshore: Higher costs compared to offshore, limited access to specialized skills.
– Nearshore: Moderate cost savings, potential timezone differences.
– Offshore: Possible communication hurdles, time zone disparities, and cultural differences.
How do I manage communication and collaboration with an offshore team?
Employ tools like video conferencing, project management software, and establish clear communication protocols to bridge the geographical gap.
Is there a one-size-fits-all solution for IT outsourcing?
No, the best outsourcing model varies based on your organization's unique needs, goals, and project specifics. It's crucial to assess each option and choose the one that aligns best with your requirements.
You can also check our other services:
Hire Mobile App Developers in India, Hire Xamarin App Developer in India, Hire iPhone App Developers in India, Hire Android App Developers in India, Hire Flutter App Developer in India, Hire React Native Developers in India, Hire Kotlin Developer in India, Hire Web Developer in India, Hire PHP Developer in India, Hire Laravel Developer in India, Hire Nodejs Developer in India, Hire Microsoft Developer, Hire ASP.NET Developer in India, Hire Angular.js Developer in India, Hire React.js Developer, Hire E-commerce Developer in India, Hire Magento Developer in India, Hire WordPress Developer, Hire AI Developers in India, Hire Java Developers in India, Hire Python Developers in India, Hire Javascript Developer in India, Hire AR/VR Developers in India, Hire Blockchain Developers in India