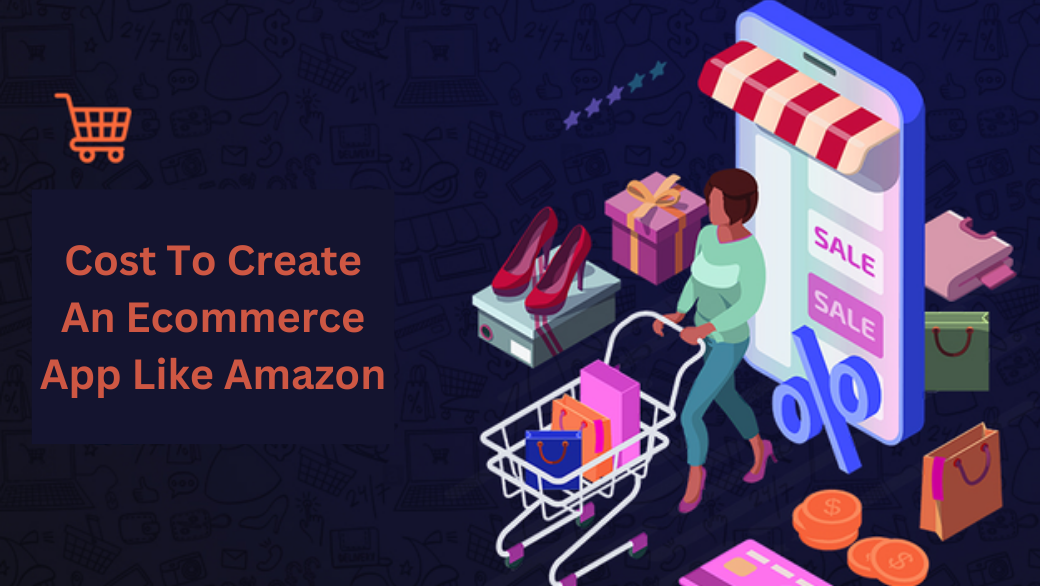 Looking to create an eCommerce app like Amazon or eBay that help you stand apart in the competitive marketplace? How much will it cost to develop an eCommerce app like Amazon? If your struggling with these questions then you have landed at the right place. Here we will share a complete guide to developing an eCommerce app and its cost.
Do you have a plan to create an eCommerce app like Amazon? How much would it cost to build an eCommerce app like Amazon? 
As per the survey report, well the average cost to create an eCommerce app can start from $15,000 and goes beyond $50,000. At the same time, another market analysis reveals that the cost can go up to $100,000. Different app developers will quote you different prices. 
Knowing these estimations, two questions immediately hit your mind:
Why there is a huge difference between these app development costs?

What makes these cost estimations?
Well answering this question is not as straightforward as you are expecting. There are a number of factors contributing to the eCommerce app development cost. To get insights into eCommerce app development costs, let's start with the basics.
Why Developing an E-commerce App Like Amazon Become Important For Retailers?
No matter whether you are a startup or an entrepreneur, migrating your retail business to the marketplace platform has become an urgent need of an hour. 
And when it comes to entering the world of the eCommerce industry, the Amazon app is predominantly ruling the eCommerce landscape. It is a marketplace app that brings sellers and buyers together on the same platform and allows marketers to access millions of customer-base in one place. Here are a few statistics that help you understand the market statistics of Amazon.
These inspiring figures of Amazon is encouraging startups and businesses to build an eCommerce app and become a part of this thriving industry.
It's no secret that Amazon has changed the way we buy almost everything, from our daily cup of coffee to the toilet paper we use on a daily basis. There are a number of software developers to hire in India that can help you build an app like Amazon. Being one of the largest eCommerce sites on the internet, Amazon has truly become one of the most successful shopping apps out there. 
But estimating how much does it cost to build an eCommerce app like Amazon? That depends on what your business goals are and what your biggest challenges will be along the way. However, before you get straight into the process of eCommerce app development, let's understand the success mantra of Amazon. 
What Makes Amazon Marketplace Successful in the Industry?
Amazon has been in the eCommerce industry for over 20 years and over time Amazon has become the king of eCommerce industry. With a number of practices and updation, Amazon turned out in a huge multi-marketplace app that has been selling everything right from groceries to electronics.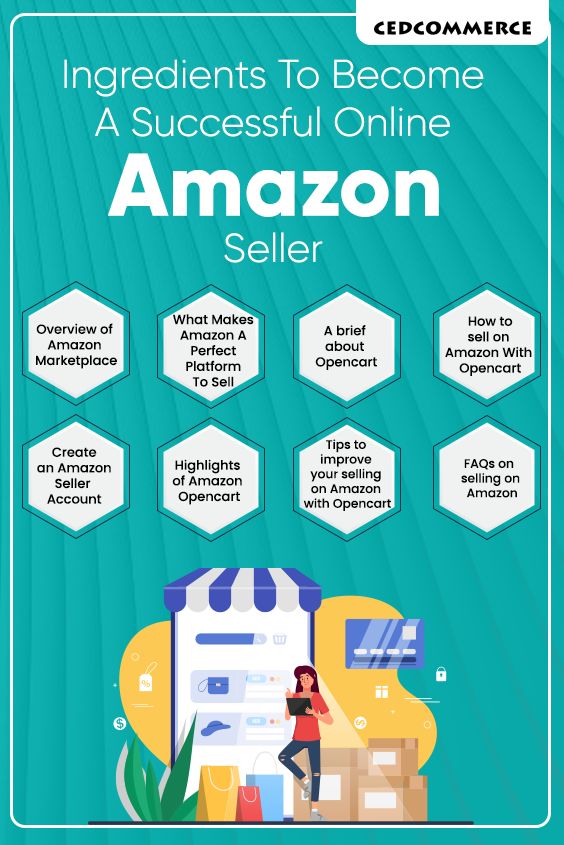 Image Source: Cedcommerce
To create an e-commerce app like Amazon, you need to know what exactly makes it so popular. You may hire mobile app developers in India to build an online shopping app like Amazon. However, you won't get success until or unless you don't know their business model. 
So here are the tips to create a successful online shopping app like Amazon:
Amazon Marketplace is a place where third-party sellers can list and sell items. The marketplace offers products in almost every category imaginable, from electronics to clothing. 

It allows millions of third firms to sell on their site, so there's always plenty of competition for buyers. 

Sellers can also use Amazon Fulfillment Services (AFS), which allows them to store their inventory at an Amazon fulfillment center as opposed to their own warehouse or store.

This service costs around $1 per item per month depending on the size of the order and how long it will take to ship the product once it's ordered by a customer.

Amazon has a lot of customer data as well and this helps them with merchandising products to their customers. 

The company's focus on customer service and satisfaction also contributes to its success because this makes customers come back again and again.

The Amazon app marketplace runs on Linux-based technology and has the largest database capacity in the world.

In order to provide a personalized shopping experience, Amazon utilizes customer tracking.

Almost anyone can sell anything using this platform thanks to its multi-level business procedure.

There are 28 HPS in Amazon's main data warehouse.

To ensure incredible security, Amazon utilizes Netscape Secure Commerce Server with SSL convention, since many users entered their credit card details into this application.
In order to build an eCommerce app like Amazon, you would need a lot of resources and money in order to compete with them. First, you would need enough capital to get started – which is typically around $5 million just for the initial costs of getting the app up and running. 
But before that many of you are wondering if Amazon is already ruling the domain then what's the need of launching a replica of an eCommerce app? Will it be worth your time, cost and effort?
Let's get into the details of this blog:
Understanding the Ecommerce Market Statistics and Its Scope
How To Determine The Amazon Clone App Cost?
– Major Factors Affecting The App Development Cost of Marketplace App Like Amazon
– Features and Functionalities To Create an Ecommerce App Like Amazon
– Tech-Stack Required To Build An E-commerce App Like Amazon?
– App Development Team Required To Build An App
What Are The Best Strategies to Monetize Your Marketplace App?
Let's get started with the details of each point for better understanding:
Understanding the Ecommerce Market Statistics and Its Scope
When it comes to e-commerce, people are prone to mention Amazon. Not only are they a clear innovator in online retail sales for decades and of continuing dominance in their niche, but their reputation precedes them.
Nonetheless, in recent years, an abundance of digital marketplaces has emerged and popularized the concept of the one-stop-shop online mall for everything. So before you hire a software developer in India, you must be worried about why now is the right time to create an eCommerce app like Amazon.
There are 58.4% of internet users buy something online every week. 
According to the market survey report, online retail sales amounted to $4.9 trillion worldwide which is expected to grow by over 50% in the next four years.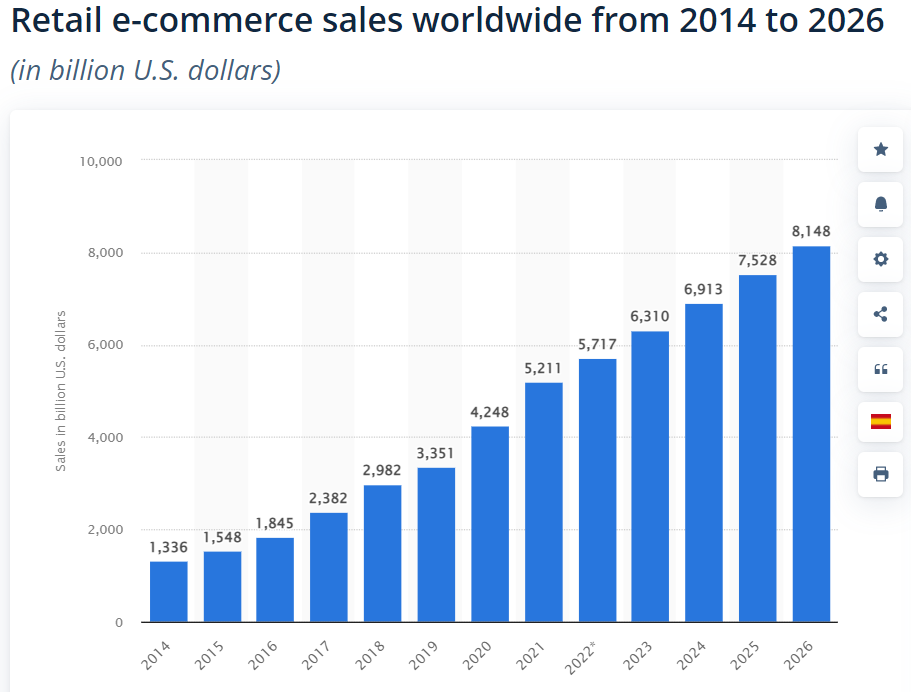 Image Source: statista.com
In a nutshell, the eCommerce market is growing at a rapid pace. Despite having multiple players in the industry, it still has room for multiple startups. All you need is to hire an Indian software developer to customize an eCommerce app that can add an edge to your business. In addition, instead, of replicating the clone app of Amazon, make sure you bring something unique to your app. 
But the central question will remain the same, how much does it cost to create an eCommerce app like Amazon?
How To Determine The Amazon Clone App Cost?
Determining the cost to develop an eCommerce app like amazon, is never been an easy task. Amazon is such a big app integrated with highly advanced technology, a powerful backend, and magical features.
The average cost revealed to build an eCommerce app like Amazon is ranging from $20,000 to $25,000 depending on the various factors.
So to determine how much it will cost to build an eCommerce app like Amazon, you need to figure out the following: 
Firstly, there is the cost of the development time. The more time that is put into the project, the more expensive it becomes.  

The type of app you want. There are three major types of eCommerce apps: shopping cart, product catalogue, and retail management system. 

The features you want the app to have. The more complex feature you have the higher cost of the app development.

UI/UX design of the app. Always keep in mind that simple design is always appreciated by the users and takes less time to build. 
A great way to estimate the number of hours needed for design and programming tasks is at least 10% higher than what most people would usually think it takes. Before you hire eCommerce app developers in India, you need to understand that if allocating more hours would mean that one of these things wouldn't get done or would be rushed, don't increase them! 
Remember, too much work equals poor quality work. So here is the simple formula that you can pick to calculate the cost estimation.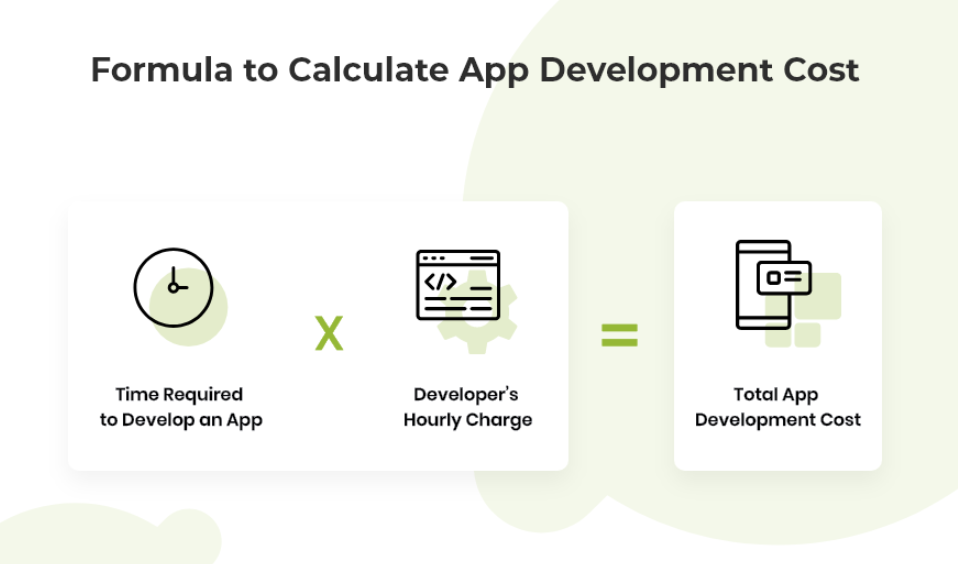 Image Source: spaceotechnologies.com
All these factors can greatly affect the cost which means careful planning needs to happen beforehand if you want an accurate estimate of what your Amazon clone app costs would be! 
Major Factors Affecting The App Development Cost of Marketplace App Like Amazon
Now the time has come to answer the question raised above in the introduction, why there is a huge difference in the cost estimation of eCommerce app development?
The simple answer to this question is – there are multiple factors contributing to the app development cost. And different businesses have different requirements, so there is no standard eCommerce app that fits all and no fixed cost to develop it.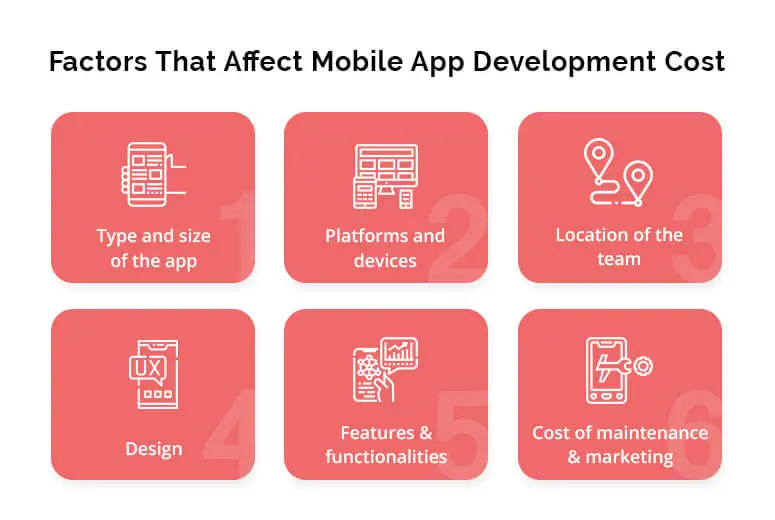 Image Source: i0.wp.com
So to estimate how much will it cost to develop an online platform application in 2023, you need to understand the significant factors affecting the app development cost. It may include:
Market Research and Analysis: To save on development cost, most startups skip this stage of app development which may lead to blunders later.
At this stage of app development, you can hire a dedicated app developer in India to conduct in-depth market research and analyse whether your app idea is worthy to development. For this task, a developer may take 150 to 200 hours to analyse app requirements, technology, budget, app development team and more. 
Choice of Operating System: The cost to build an eCommerce app is majorly dependent on whether you are building a Native Android/iOS App or a Hybrid app. The average cost to build a Hybrid or cross-platform app is usually 40% less than building two native apps.
The cost of hiring Android app developer in India may range from $15 to $25+ and uses platform-specific languages to build a native Android app. Whereas, cross-platform app development frameworks are based on a single-code base principle. Once you develop an app, you can make it run on multiple platforms.
UI/UX Design: The app development cost is related to the fact that how complex your app design is. The complicated app design requires more development hours and may need UI/UX designers of high-level skills. 
The complexity of the App: The complexity of the app defines by the choice of features and functionalities you choose to integrate in the app. The advanced level of features may cost you an expensive price as it takes long hours in development.
App Testing: Once you develop an app, the quality assurance engineer will conduct app testing on multiple devices to ensure there are bug-free. 
App Maintenance: To keep your app running smoothly, you need to maintain and upgrade your app with the latest app version. So maintenance is important and may cost 25% of the total app development cost. 
In a nutshell, these are the major factors influencing the cost to create an eCommerce app like Amazon. But before you proceed further to create an online platform application, you need to know what are the important features that you need to integrate into eCommerce app. 
Features and Functionalities To Create an Ecommerce App Like Amazon
The success of eCommerce app is majorly dependent on the success of the features and functionalities. But at the same time, if you load your app with endless features then the cost of app development will jump beyond your expectations. So if you are a startup, then instead of replicating the clone app of Amazon, it is worth kickstarting with the basics.
Basic Features to Create an Ecommerce App like Amazon
To create an eCommerce app like Amazon, you need to understand that eCommerce app is empowered with three panels. It includes – a user panel, seller's panel and admin panel.
Let's discuss the features required for each panel:
Key Features Of Amazon App Clone For User Panel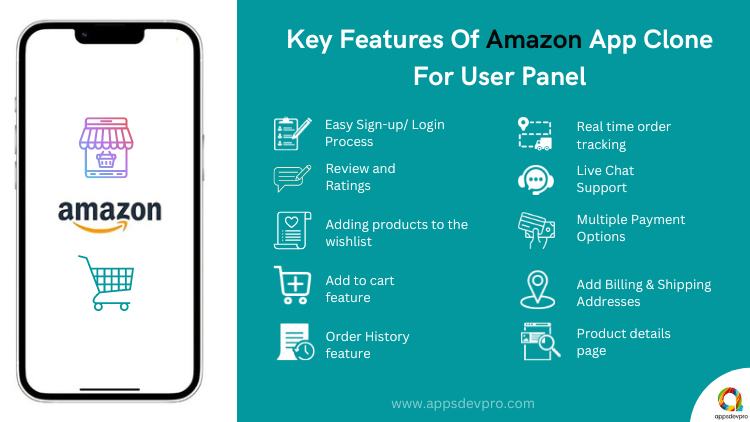 The user panel is where the customers will log in to view their cart, buy items, and make a purchase. This is the most important feature of the app, so it's essential that you spend some time thinking about your customer's experience. Here are a few basic features to include in your user panel: 
Easy Sign-up/ Login process to quickly get started with an app.

Product details page to check out the product description and product catalogue.

Review and Ratings of customers to help other users make shopping confident.

Add a feature of adding products to the wishlist to quickly shortlist the products they may prefer to buy later.

Add to cart feature that allows users to seamlessly add the products into the cart without leaving the store's current page. 

Make sure your app has a feature to add billing & shipping addresses to ensure seamless product delivery. 

Add a feature for user details to specify an email address, mobile number, shipping address more. To customize this feature for iOS devices you can hire an iOS developer in India. 

The order History feature will be helpful in case of reordering the products.

Add a feature for delivery status to provide real-time updates of shipment and provide the expected delivery time.  
There are endless features that you can include in your user panel.
Must-Have Features To Create Seller's Panel of Amazon Like Ecommerce App
A seller's panel is a place for sellers to manage their accounts, listings, and more. The most basic features should include:
A dashboard where they can see everything they need to know about their account at a glance. A list of active and inactive listings so they can easily tell what needs work. 

An order listing where sellers can see all their orders in one place and keep track of their inventory levels.

Add the feature to create new listings, remove earlier products or update the existing ones.

Detailed analytics on both their own and competitor's sales performance with graphs that illustrate changes over time.

Feature for handling returns or exchanges like shipping labels, return authorisation numbers and packing slips (free).

The ability to create products or add information about themselves as the business owner.

Third-party tracking integrations like UPS or FedEx so they don't have to enter shipping information manually every time it changes.

Automated importing from other platforms through product feeds or APIs (a way of integrating data) like Shopify or WooCommerce into the app without having to manually enter it by hand. Customers should be able to access an item's page through a link sent via text message or email instead of going to the site directly.

Fulfillment by Amazon which includes picking, packaging, delivering, and customer service for an annual fee per unit sold. You'll also get access to free ad space on Amazon's website and use its fulfillment centers.

Accessibility across multiple devices like mobile phones, tablets, laptops/desktops and smart speakers with Alexa-enabled devices allowing them to search listings, buy products and more. An onboarding process that guides them through creating their first listing and automates key elements like inventory management and payments.

Integration with credit card processors for accepting payments online. 
You can add more features depending upon the budget and business requirements.
Important Features to Create Amin Panel of Ecommerce App
This is one of the most important aspects of your eCommerce store. 
You have to have the ability to adjust pricing, inventory levels, and product descriptions. 

All these things can be done in your admin panel. You should also make sure that you have a way for customers to contact you and a way for them to put in an order. 

The app should also be able to integrate with all the major shopping carts so that customers can easily buy your products and have them delivered anywhere they choose. 
There are many other features that your ecommerce store needs; however, those are probably going to be some of the more critical ones. By hiring software developers in India you can integrate the advanced features in the app. When starting out with your store, it might not cost much money at all; however, as you grow there will come a point when spending money on software becomes necessary.
Tech-Stack Required To Build An E-commerce App Like Amazon
Amazon is an ecommerce powerhouse, so it's only natural that people want to know what it would cost to build an app like theirs. The answer to that question varies from project to project, but here are the technologies required to make a scalable e-commerce app like Amazon:
Web Server

Database System – e.g., MySQL, Oracle or Microsoft SQL Server

HTML5 and CSS3 for the web front end and mobile web interface

Node.js for server-side scripting – Swift for iOS apps

Android Studio to create Android apps – Objective-C or Swift to develop iOS apps

JavaScript libraries such as AngularJS and jQuery Mobile to enhance the user experience on all platforms

Solid understanding of HTML, PHP, JavaScript and Python

Extensive experience in developing scalable database systems 

Strong knowledge of backend programming languages 
Understanding of how to deploy applications into production environments What Does It Cost To Build An E-commerce App Like Amazon?
The cost vary depending on the number of features and complexity involved. For example, building a basic shopping cart with no product images will cost anywhere between $10k to $20k, while building an application with more advanced features may go upto $30,000.
App Development Team Required To Build An App
Building an app like Amazon would require an experienced app development team and several months of development time. The cost of this type of project is largely dependent on the app development team you hire for the eCommerce application. Even to create a basic eCommerce app version, you need to hire a team that consists of :
Business Analyst

Project Manager

Front-end Developer

Back-end Developer

UI/UX Design

Quality Assurance Engineer
The cost to hire mobile app developers in India majorly depends upon the location of the app developers, experience and skills of the app developer. The hourly cost of the app developer can be starting from $15 and goes beyond $75+ per hour. 
What Are The Best Strategies to Monetize Your Marketplace App?
It is difficult to answer how much it would cost to build an eCommerce app like amazon without knowing more about the specifics of the app. 
Amazon has many complex features, which means that the development process will be lengthy and expensive. However, there are a few monetizing strategies that you could adopt from amazon that may help you make money from the e-commerce app may include:
One way to monetize your app is by using a freemium model, where customers can download your app for free but pay for upgrades. 
Another strategy is affiliate marketing – this allows developers to make money off other people's products without having to create their own product line or buy inventory.
Moreover, you can charge a convenience fee from the customers or charge a commission fee on every transaction.
Make sure you pick your monetizing strategy wisely. The right choice of monetizing strategy will help you earn good amount of money.
Conclusion
It can cost anywhere from $7,000 to $200,000 to build an eCommerce app. The cost depends on the features and complexity of the app. No matter whether you are planning to create an MVP eCommerce solution or a full-fledged app, you need to hire an Indian mobile app developer to know the right estimation. The experts will discuss your project idea in depth and evaluate whether it is actually demanding and what requires to build an app.
So if you have a brilliant eCommerce app idea in mind but are not sure how much it costs to create an app, then #AppsDevPro will be your ultimate tech partner. They have a team of dedicated app developers that can help you customize your app as per your requirement. For more details you can drop a query below.
FAQs
What Is An E-commerce App?
An eCommerce app is a mobile application designed to facilitate shopping. It allows users to buy products and services directly from their phones, without the need to visit a physical store. E-commerce apps provide a range of features, including product search and discovery, secure payment processing, user account management, personalized recommendations, and order tracking.
How Much Does It Cost to Create a Marketplace App Like Amazon?
Building an ecommerce app like Amazon may sound like a daunting task, but with the right resources and some creative thinking, it can be done. But how much will it cost to create an ecommerce marketplace app like Amazon?
The cost of creating an eCommerce app like Amazon depends on a variety of factors. 
For example, the size of your team, the complexity of the features, and the platform you choose will all affect the final price tag. Additionally, the design of your app, the hosting fees, and any third-party services you might need (such as payment processing or analytics) can also add to your costs.
A basic eCommerce app like Amazon will cost anywhere from $50,000 to $150,000. This includes basic features such as a product catalog, shopping cart, user account management, and payment processing. If you want more advanced features such as personalization, loyalty programs, and marketing automation, then the cost could easily go up by several thousand dollars.
The development time of an eCommerce app also varies depending on its features. A simple marketplace app with basic features could take about 4-6 months to develop, while an app with complex features could take up to 12 months. In addition to development time, remember to factor in any design or marketing costs you might incur.
Overall, creating an eCommerce app like Amazon is a challenging but rewarding endeavor. With careful planning and realistic expectations, you can successfully launch your own eCommerce marketplace app and start seeing returns on your investment.
You can also check our other services:
Hire Mobile App Developers in India, Hire Xamarin App Developer in India, Hire iPhone App Developers in India, Hire Android App Developers in India, Hire Flutter App Developer in India, Hire React Native Developers in India, Hire Kotlin Developer in India, Hire Web Developer in India, Hire PHP Developer in India, Hire Laravel Developer in India, Hire Nodejs Developer in India, Hire Microsoft Developer, Hire ASP.NET Developer in India, Hire Angular.js Developer in India, Hire React.js Developer, Hire E-commerce Developer in India, Hire Magento Developer in India, Hire WordPress Developer, Hire MERN Stack Developers, Hire MEAN Stack Developers, Hire App Developers in India, Hire C# Developers, Hire CMS Developers, Hire Open Source Developers, Hire Vue.js Developers in India, Hire Knockout.js Developers