Why and how to build an Android app? As mobile phones become increasingly popular, using a mobile app to promote your business can be a smart idea. 
To get started with a mobile app, you may have got the million-dollar app idea and have done your research. Is it the right time to build your app?
But where do you start? What do you need to know? How can you keep your costs down? The last thing you want is to spend thousands of dollars building something no one will ever use! 
In last, your all efforts will be a drain! Developing a mobile app is an exciting task but soon that excitement will turn into a blunder if you have no idea about how to begin your journey.
Whether you're an app developer with years of experience under your belt or a startup that is planning to become a part of the thriving mobile app development industry, this guide is perfect for anybody looking to start building Android apps.
The Google Play Store boasts well over 3 million apps and continues to grow at an astonishing rate, which means there's never been a better time to build your own Android app and make it available to the world on Google Play. 
But the central question is how to build an Android app. Before you get straight into the process to hire Android app developers in India, you need to understand why to build an Android app for your business.
Here is a complete beginners' guide that will take you through all of the steps required to design, develop, test, and publish your first-ever Android app.
Key Highlights of the Blog:
Why Build Android App For Your Business?
What Makes Android The Best Choice for Mobile App Development for Startups
What Are The Best Android Apps For The Startups?
How To Build An Android App in 2023 (Expert Solution)
Let's get into the details of each point for a better understanding…
Why Build Android App For Your Business? 
With the increasing usage of smartphones, creating a mobile app to promote your business will be a worthy decision. But before you get into the process to know how to build an Android app, let's get into the facts that why to develop an Android Application.
You don't have to trust our words, here are the market statistics for you…
Important Key Statistics of Android Market Share 
Android is the world's most popular operating system for smartphones and tablets. Here are some important key statistics about the market share of android: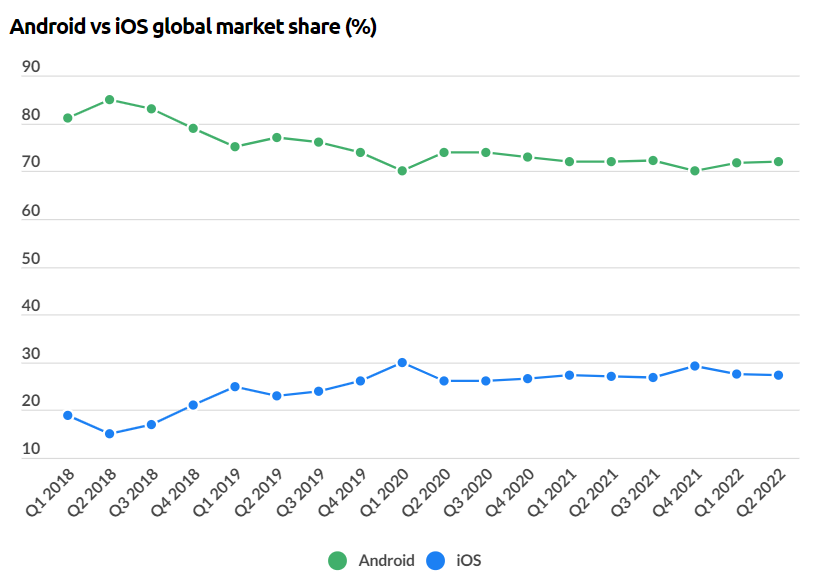 Image Source: businessofapps.com
In a nutshell, with these encouraging statistics, it is clear that hiring Indian mobile app developers will be a worthy decision. Since Android users are rapidly increasing, therefore, developing an Android app for your company to succeed will be the right decision. But the question is how to build an Android app and what makes Android apps the best choice for app development.
What Makes Android The Best Choice for Mobile App Development for Startups?
The Android platform is the best choice for startups because it has a higher market share than iOS, which will make your app more visible to users. Another reason is that Android has more active users than iOS does. The features and availability on the platform are also better for startups since the cost of development is lower and you can release your apps more quickly.
There are many reasons to develop an android app for your startup, but we will be focusing on four technical reasons:
The android market share is the largest in the mobile app space. 

The Google Play store offers more features and benefits than Apple's store.

iOS is less open which can be frustrating when trying to customize certain aspects of your app. 

There is a larger population that owns android devices than iPhones or iPads globally.
Top Reasons To Develop Android Applications
Deployment Quickly:

Android apps are developed quickly, making them appealing to business organizations. They last for a short period of time, allowing the company to stand out from the competition. One of the most important benefits of Android app development is the quick release into the market.
Cost-Effective Solution: Developing android apps is one of the best ways to get a high ROI since the Android SDK allows developers to create interactive, dynamic, and reliable apps.  There are many software developers to hire in India that can help you create an app that too without causing any burden on your budget. In order to do this, developers must pay a registration fee. Since this is a one-time payment, you will not have to invest again. As a result, your investment costs will be significantly reduced.
Using Open-Source Software:

In the Android community, you can take advantage of open-source technology that facilitates the development of applications with a variety of requirements. Additionally, developers can interact with the active community and get to know more about new expansions coming soon. That's why Android app development has become increasingly popular.
Multiple Channels for Marketing:

It is even more appealing to customers when a third-party application marketplace is used for Android app marketing. A wide range of users can be reached with the help of the right promotional strategies as well.
Integration is easy:

When it comes to question that how to build an Android app, you will always want to create an app that is easy to personalise. What if you need complex Android app customizations? Would you like to customize an existing app? If the market demands and business needs change, Android apps are the easiest solution for businesses. They can easily be updated according to changing market demands. In addition, background processes can make it easier to integrate apps.
High- Scalability:

Thanks to the development of the Android Studio, the system has gained an increase in its user-friendliness. More specifically, it's available to more users due to its accessibility, to a wide range of digital devices, such as smartphones, televisions, and wearables.
Built-in Security Features:

With the Android platform, developers are granted access to a number of security features. This has to lead to the creation of apps that offer adequate protection from viruses and malware. If reliability matters to you, these android apps will not disappoint.
Therefore, it makes sense to create an app for this audience first before branching out to other markets such as iOS or Windows Phone users. By hiring Android app developers in India you can easily build applications for Android. It ultimately means developing a wider range of device types from different manufacturers with different screen sizes and operating systems. 
After knowing such facts, many of you are curious to know how to build an Android app in 2023. But before that let's understand, what type of Android applications you can build in 2023.
What Are The Best Android Apps For The Startups?
Today, there is an app for everything and making the mobile app development industry highly competitive. So the question is, what are the best Android apps that you can build in 2023? 
According to reports, the below graphic represents the leading Android app in 2019: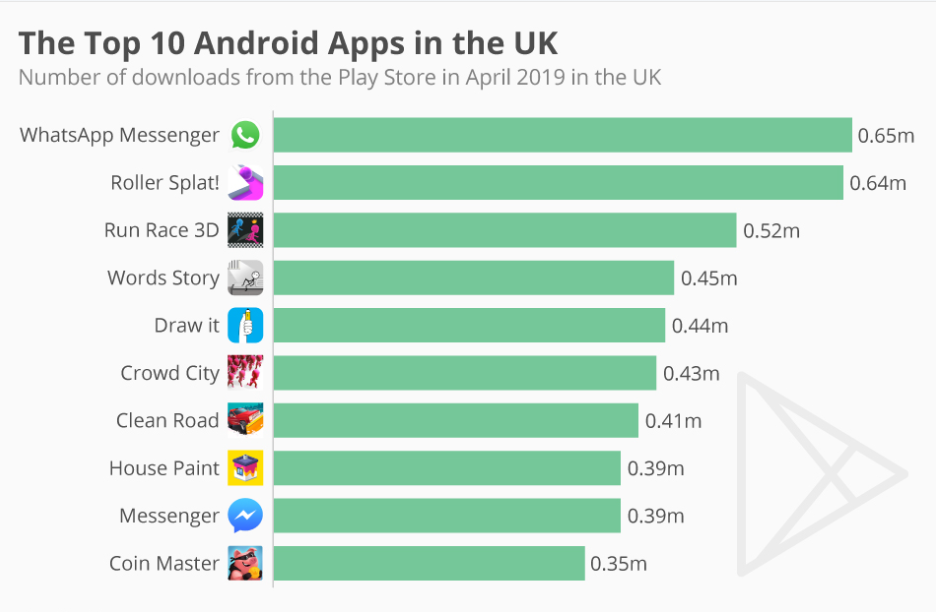 Image Source: Statista.com
Before you get started with a guide about how to build an Android app, you must be concerned to know what type of Android applications you should build to succeed in the market competition.
Best 30+ Android App Development Ideas That Can Help You Set a Benchmark in 2023
There are many types of Android applications that a startup can consider.
Chat App like Facebook, Whatsapp

Social Media Apps like Instagram, Twitter, Gmail

Navigation Apps like Google Maps

On-demand appointment booking apps for the beauty industry, hospitals, clinics

Online cab booking app like Uber, Ola

Blockchain based-payment transfer app

An app to provide expert business investment plans

Electric Vehicle Charging Station Finder Application

Money lending platform

An astrology app that uses Artificial Intelligence and Machine Learning

Blockchain Medical Service

Virtual Reality-Based Virtual Travel App

Virtual Reality Based Interior Designing App

Toy Exchange for All Ages

 An App to offer legal updates

A Blockchain-Powered Tax Calculator

Easy and mobile fitness on demand

Cloud Meeting App

Nutritious donation app.

Transportation Service for e-scooters

Smartphone-controlled Online Milk Delivery Application

Free apps for price comparisons

Jewellery Shopping App using Augmented Reality

Keep Track of Symptoms Tracking Apps

Apps that Promote Relaxation

An App to Find Parking Space

This mobile app guides women through every stage of their pregnancy.

iOS App: With Home Security

Online Market for Commodities.

Application with personalized on-demand pet care services

Manually based stock trading application

Virtual Reality-Based Wedding Planner App
In a nutshell, the list of Android app development ideas is not ending here. There are thousands of app ideas awaiting launch yet. All you need to do is to hire app developers in India that can understand your business needs and able to launch a quality app. Once you pick the idea, the next step is to jump on how to build an Android app. 
How To Build An Android App in 2023 (Expert Solutions)
When it comes to developing a first-ever Android application for your business, you need to understand the basic highlights of the development process. So how to build an android app? Where should you start?
To get started with the Android development process you need to decide how will you create an app.
There are two ways to kickstart the project. Since in this section we are going to target both entrepreneurs and developers, therefore will provide multiple options for app development.
A. How To Get Started With Android App Development Process?
Here are the few simple options that help you get started with the Android app development process:
Learn Android App Development Course:

If you are a beginner, looking for ways to write codes for your Android app, then the simple way is to enrol yourself in an android app development course. If you have no coding background and need an app in the near future, you might not want to study the new, popular framework Flatter and learn how to design entirely by yourself. In addition, even if you succeed in completing the project, it will be inferior to that of a professional.

Youtube Channels:

With the advent of technology, everything is easy to access now. So learning the development tricks from youtube channels can be a great way. However, keep in mind that no one will tell you the secret mantra of success.

Hire App Developers in India: Whether you are a startup or an entrepreneur, hiring a professional app developer is always a great choice for your project. Since they always come up with the experience so there is a low risk of any coding mistakes. Expert Android app development agencies provide development, design, and quality assurance services. There is probably no better way to stand out in a highly competitive market than a customized Android app with an attractive design, advanced functionality and brilliant UI.
Look For Professionals:

Freelancers and teams of specialists can do all your work for you. This way is faster and cheaper but has risks like timeline slippages and unpredictable program quality.
Whichever option you may choose for app development, keep in mind that your app will go through different phases before its final launch.
B. How To Start Building An Android App?
So where should you start the development process? To start coding, Android SDK is the main tool that provides you with all the widgets and flexibility of coding.
So here is a quick guide to follow:
Android Studio is a free program available for Windows, Mac OS X and Linux. It is the official development environment (IDE) for Android. When developing Android programs, other environments besides Android Studio are also available.
Step 1: You will be prompted to install the Android SDK if you don't have it installed on your computer. Android SDK is an environment for developing Android applications, so it must be installed with the IDE. Among the SDK's components are libraries, executables, scripts, and documentation.
Step 2: To run APK applications later on your computer, you should also install an Android emulator. The emulator comes with Android Studio by default.
Step 3: It is possible to create your first project once all the tools are installed. However, you need to be familiar with the basic concepts of what constitutes an Android application before you can get started.
Kotlin, a language that could replace Java as the standard programming language for Android applications, is being actively promoted by Google.
Step 4: APK files (Android packages) contain all the files you need to install the application on your Android device and are created by the Android SDK tools.
So basically these points will help you get ready for the app development environment.
3. How To Build an Android App: A Step-by-Step Guide For Startups
There are various tools and technologies available to build an Android application. But here we are sharing the most basic steps of developing an Android app.
Step 1: Research and decide what type of app you want to create. 
Step 2: Determine your total budget for the project, as well as how much time you want to dedicate to it on a weekly basis. 
Step 3: Make a list of all the features you want your app to have, and determine if each one is feasible to add. 
Step 4: After deciding what features are feasible, ask yourself if you need an experienced developer or if it's something that can be done with a beginner-level programmer.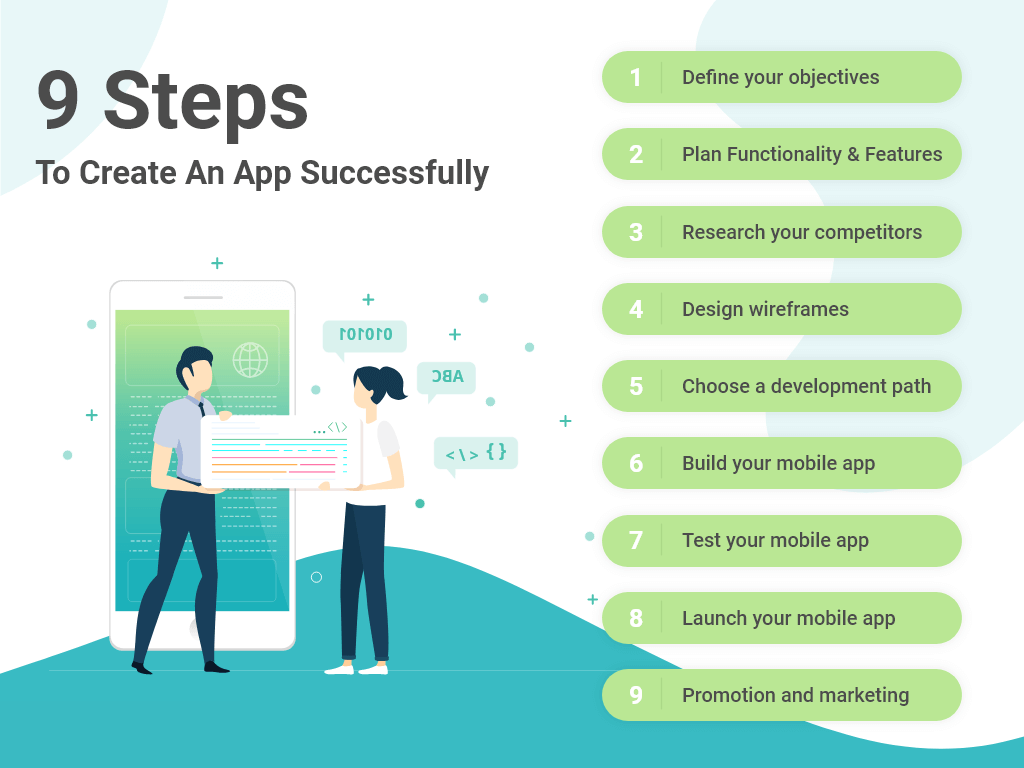 Image Source: spaceotechnologies.com
Step 5: Start generating ideas for your app's name and logo. 
Step 6: Select which mobile platform(s) you will release the app on. 
Step 7: Decide whether you're going to make use of in-app purchases. 
Step 8: Determine if you'll make use of push notifications. 
Step 9: Set up the development environment. 
Step 10: Decide which programming language best suits your needs. 
Step 11: Build out wireframes, develop prototypes or choose to hire someone to design graphics. 
Step 12: Hire someone to develop the application. 
Step 13: Create your marketing strategy. 
Step 14: Submit your application on the Google Play store.
So these are the most basic and simple steps to understand how to create an Android app for your business. If you still have doubts then you can get in touch with our experts.
Conclusion: What To Do Next?
As you can see, the market for Android apps is huge and it's only getting bigger. Google Play has a variety of tools to help you develop your idea and get it on the market. Whether you're a startup or a leading firm, by hiring a mobile app developer in India, you will have all the resources and tools that will let you turn your dream into an app success story. The professional developers will help you integrate the best choice of features and functionalities in the app that ensures your success.
So if you still have doubts about why and how to build an Android app for your business then AppsDevPro can be your trusted app development partner. You can discuss your project details without experts or drop your query to us for more details. 
FAQs
What Are Tips For Success When Building Your First Android App?
Android is the most used mobile operating system in the world, with a market share of 78%. This means that if you want to reach a large audience, there's no better option than Android. 
The trick is getting your app approved and into Google Play Store because the store has over one million apps available. When building an Android app, it's important to remember these two things: 
Test your app before submitting it to Google Play Store because they will not approve it if there are any bugs or glitches.

Keep your app updated with new features and bug fixes after release.
Hopefully, with these tricks and tips in mind, you can launch an app that can ensure your success. 
What Do You Need To Build An Android App?
The first step is to download the SDK Tools package. You'll also need to download and install Java Platform, JDK, Apache Ant, and Eclipse. Once you have downloaded the SDK Tools package, extract it on your computer. 
All these steps are outlined in the README file that was included in the installation file. This will allow you to create an emulator for testing your app and install any necessary software packages.
How Much Does It Cost To Build an Android Application?
Building an app for the Android platform is an excellent way to reach a global audience. Start by identifying what type of app you want to make and then decide which features are most important to you. You can then decide whether you want to create the app yourself or hire a development company. 
You'll also need to identify how much money you're willing to invest in your app's development, as this will affect how quickly it's built, what features are included, and your return on investment. 
Costs vary depending on factors like the scope of the project, geographic location, team size, experience level, and the number of hours worked per week by developers.
What Are the Best Android Application Distribution Platforms To Launch Your App?
After you have built your app, the next step is to think about how you are going to distribute it. There are a number of different options for distribution platforms, some free and others that require payment. It's important to choose the platform that will best suit your needs and provide the most exposure for your app. 
For example, Apple only allows apps in their App Store that meet certain specifications and Google Play has a higher market share than iTunes (93% vs 7%).
You can also check our other services:
Hire Mobile App Developers in India, Hire Xamarin App Developer in India, Hire iPhone App Developers in India, Hire Android App Developers in India, Hire Flutter App Developer in India, Hire React Native Developers in India, Hire Kotlin Developer in India, Hire Web Developer in India, Hire PHP Developer in India, Hire Laravel Developer in India, Hire Nodejs Developer in India, Hire Microsoft Developer, Hire ASP.NET Developer in India, Hire Angular.js Developer in India, Hire React.js Developer, Hire E-commerce Developer in India, Hire Magento Developer in India, Hire WordPress Developer, Hire MERN Stack Developers, Hire MEAN Stack Developers, Hire App Developers in India, Hire C# Developers, Hire CMS Developers, Hire Open Source Developers, Hire Vue.js Developers in India, Hire Knockout.js Developers