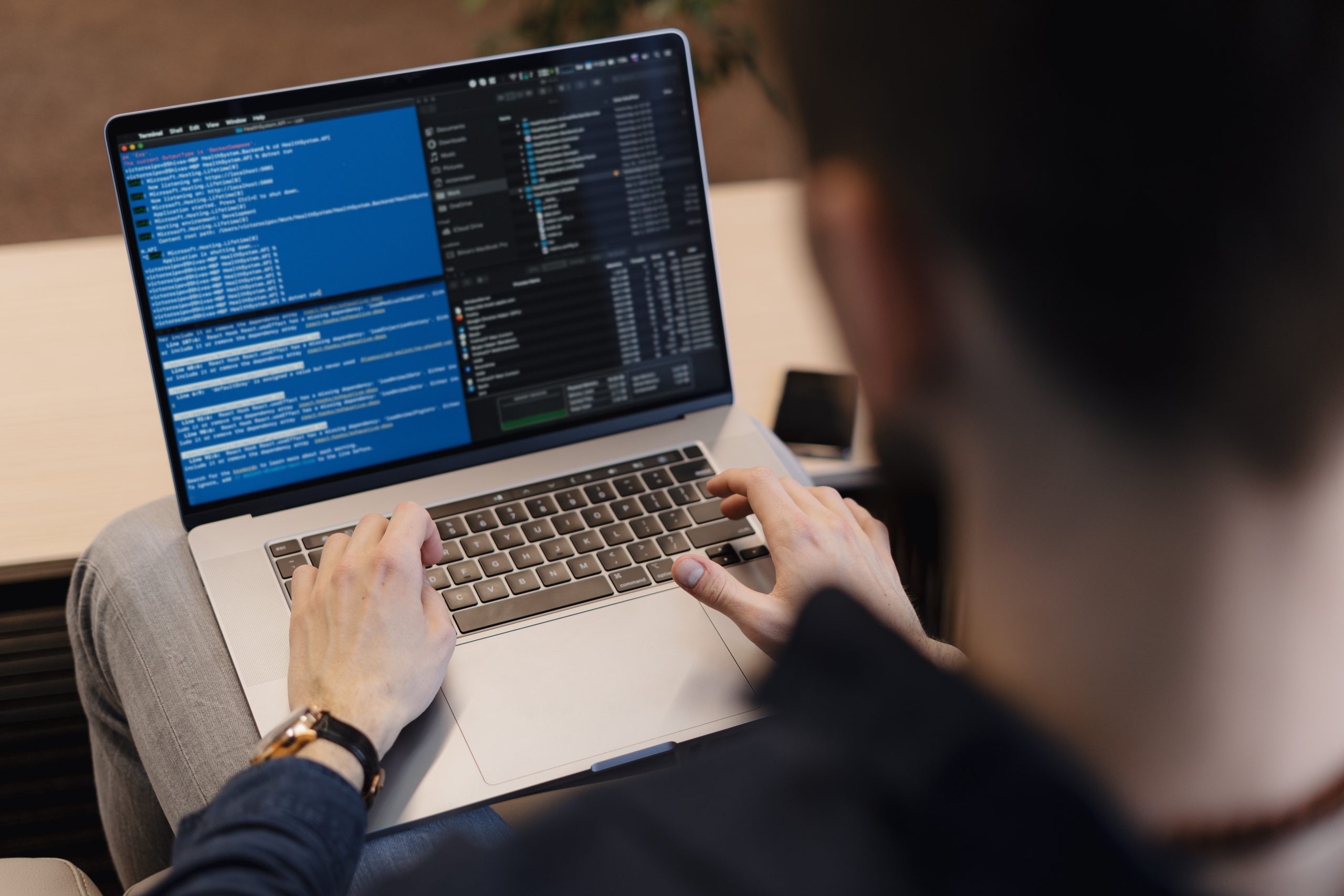 Flutter is one of the newest open-source frameworks launched by Google that enables you to build cross-platform apps. Flutter proves to be an outstanding option for startups, packed with rich features and advanced APIs. But how much it costs to hire a flutter app developer, is one of the biggest constraints for businesses. So this blog will guide you through each factor affecting its cost.
How much does it cost to hire Flutter developer actually depends on various factors. If you're expecting a straightforward answer to this question, then you might be in a dilemma. Here in this blog, we have covered all such factors that help you determine how much it costs to hire a Flutter app developer.
An Overview of the Mobile App Development Industry
There is a strong prediction that the mobile app development industry will make 630 billion dollars in revenue by 2025. With that being said, businesses from all across the world are quickly transforming their traditional ventures into digital business models. 
But when it comes to deciding what type of app you need to create, startups would preferably go for cross-platform applications. 
A statistic indicates that the Google Play Store and Apple App Store occupy almost 89% of the market share.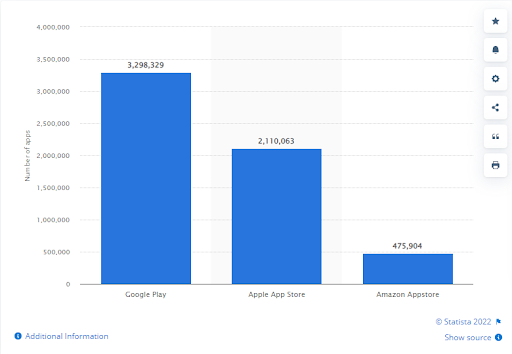 With the increasing trend of digitization, the mobile app market size is projected to take an abrupt shift from $206.73 billion in 2022 to $565.40 billion by 2030. 
With these inspiring stats and facts, many startups have grabbed the opportunity and finally decided to build a mobile app.
Well, as you have landed on this blog guide, surely you must have doubts about how much it costs to build a cross-platform app. In addition, how much will it cost to hire flutter developer? But due to cut-through competition in the market, businesses are under huge pressure to choose the ideal technology for cross-platform app development.
If we consider the market research, then Flutter is the standalone cross-platform framework that has become a choice of 42% of developers in a short time.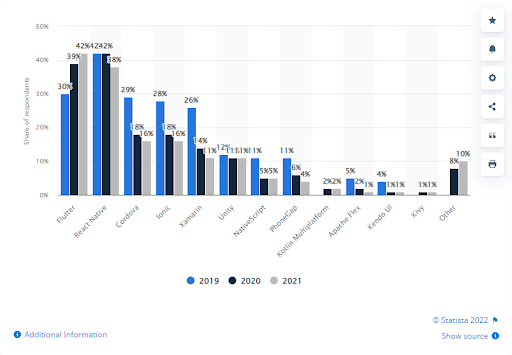 Many of you are curious to know why Flutter has become such a booming framework for app development these days. 
But before answering these questions, let's have a look at the key highlights of the blog:
How Much Does it Cost to Hire Flutter Developer?
How To Hire the Best Flutter App Developer?
FAQs
– What is Flutter: Understanding the Philosophy Behind
– Why Do Businesses Choose Flutter for App Development?
– Why Choose India to Hire Flutter App Developers Rather Than the Philippines or Ukraine?
Let's begin with it!
How Much Does it Cost to Hire a Flutter App Developer?
When it comes to developing a Flutter application, then ADP is the most reputed Flutter app development company in India or the USA to hire the best Flutter programmers. 
But before stepping ahead to onboard experts, surely the first question that popped into your mind is the cost of hiring a Flutter app developer. Well, the fact is that there is no straightforward answer to this question. To better understand its calculation and cost structure, we have summed the factors in detail here.
Let's drill straight into the factors influencing the cost of hiring a Flutter app developer:
1. Cost to Hire Flutter App Developer As Per Experience and Skills
The hourly cost of the Flutter developer differs greatly as per their experience, expertise, and skills. The more experience they have in handling the number of projects, the higher their charges will be. 
Based on your proficiency and expertise, the first option is to hire junior developers with approx 0-2 years of experience. The second option is to hire a senior developer with 5+ years of experience. 
However, as Flutter has been around for some time now, you can look for a middle-level experienced developer. A developer with 2 to 4 years of experience will be highly capable of handling complex projects. 
Nevertheless, the salary of a Flutter developer depends on skills, experience, and knowledge. Apart from that, the choice of location for hiring an app developer can make a big difference in the overall cost of hiring. 
Here you can check the average salary of Flutter app developers in different regions, but again, the ball is in your court. Depending on your project needs, these estimations can be varied again.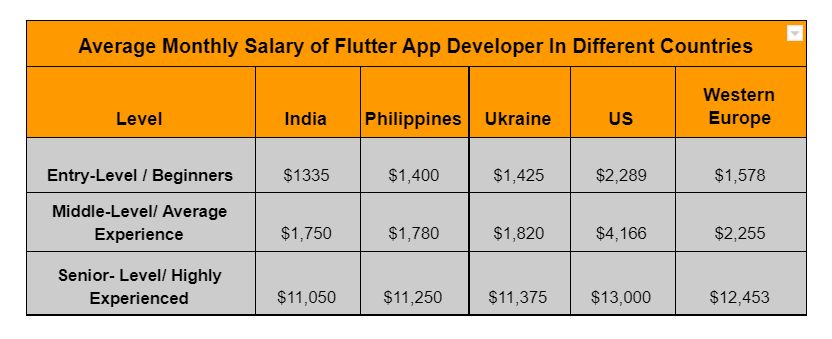 2. Cost to Hire Flutter App Developer By Geographically 
The location factor plays a significant role in determining the cost of hiring a Flutter developer. When calculating the cost of a software developer, the living costs of the programmer's location definitely impact its hourly cost.
It can vary greatly from one location to another. So, if you are planning to hire a mobile app developer, then AppsDevPro can help you onboard the best talent at competitive prices. But before that, you should keep in mind that the location from where you are hiring a developer will influence the overall estimation. 
Various regions have various rates, so let's have a look at the average hourly cost of developers in India and other countries.

Depending upon the experience of the Flutter developer, the hourly cost greatly fluctuates from region to region. However, if we come to the conclusion, the average hourly cost of the Flutter developers ranges from $20 to $75+.
But you can end your search and research by choosing to hire a Flutter developer at AppsDevPro, which has been offering $20-$25+ hourly rates. 
Read More: 60+ Top App Ideas For Startups To Launch In 2023
3. Hiring Cost of Flutter Developer Depends upon Complexity of App
The choice of an app developer majorly depends upon the complexity of the project. The higher the complexity of the app, the more expensive the hourly rate of the developer. The same concept applies to Flutter app development.
So, you must be wondering how the complexity of the app can be defined. Well, app development involves various phases, including
Market research and analysis

Wireframing of the app

Features and functionalities of the app

Designing and developing of the app

Quality Assurance

Launching an app on the app store
The basic app idea involves low-level complexity as it can be developed with general features. So, to create a simple Flutter app, we can offer you to hire junior developers with hourly costs. ranging from $15 to $20+. The app may take 3 to 4 months to develop, so the overall budget will be lower. 
On the other hand, if you are trying to create a full-fledged competitive app like Amazon or Talabat, then we recommend you hire senior app developers with an average hourly cost of $25+. Since advanced apps involve all such modern features, the complexity of the app is high and it takes approximately 9+ months for development. 
Now the question is, how to calculate the app cost depending on the complexity? Here is the simple formula you need to implement to check how much it cost to hire flutter developer.
"Hourly Cost of the Developer x Total Number of hours in development = Final app development cost"
Now the question is what type of Flutter app you are trying to create and how long does it take to build?
Flutter App Development Time Estimation According to App Type:
Basic Apps such as Calculator or Clock
It will be crafted with simple and necessary features and functionalities, which may take around 3 to 4 months. 
Moderate Apps such as Weather Apps
It includes a few advanced features and works with a network connection. It may take around 4 to 5 months to develop.
Multifaceted Apps Like Facebook, Linkedin, or Tinder
These apps have a significant number of screens and different panels. Each panel requires user authentication to access the app. Therefore, the complexity of these apps is quite high. It may take 7 to 9 months for development.
On-Demand Apps Like Uber Or Doordash
On-demand apps are highly multifaceted apps that take more than 9 months to develop as they include a plethora of advanced features and functionalities like voice command, AI, ML, image scanning, and more.
4. Cost of Hiring a Flutter App Developer Depending on Engagement Models
With the availability of a massive number of Flutter app development companies in the US and India, startups can now leverage the flexibility of hiring app developers on different packages. 
These packages are called "engagement models" and are designed to suit the different app development needs of entrepreneurs. So, majorly, you will find three types of engagement models- hiring a dedicated development team, on an hourly basis, and on a part-time basis.
The cost of hiring professionals may depend on the package you choose to hire experts and your project type. All-in-all, each model comes with its own perks and limits. So you need to evaluate your business requirements to make a perfect choice. 
Here we provide you with a quick estimation and explanation of each engagement model:
This engagement model works best when you already have a mobile app and are looking for ongoing support. You can hire a Flutter developer for a certain number of hours depending on the type of work. Therefore, this will cost you less as compared to hiring a dedicated app development team. They will start working on the project on the mutually agreed schedule and you will have complete control during that period. 
If you are looking for experts temporarily to upgrade features or to migrate your app from one platform to another, then this model works well. You can hire Flutter developers on an hourly basis, and they will work as you instruct. The final billing will be done as per actual hours worked on the project. So it needs to be done in advance to avoid adding extra billing.
Dedicated App Development Team:
If you are following the hiring trends, then outsourcing a dedicated app development team is one of the most successful models. Your team will consist of a project manager, developers, designers, QA, and other resources required for the app's development. An outstanding feature of this model is that you will have a full-fledged team working on your project. Basically, this model will work for long-term yet larger projects. 
In a nutshell, these factors will help you understand the calculation of the hourly rate of the Flutter app developer. Now let's move straight to the next question…
Read More: Ionic Vs Flutter: Which One Is Better For Hybrid App Development In 2023?
How to Hire the Best Flutter App Developer?
No matter how brilliant your app idea is, the success of the app always depends on the skills that experts put into the project. To launch a successful app, you need to hire a flutter app developer who should have a combination of soft and hard skills.
Hard skills refer to the extensive knowledge of frameworks and the capability of building complex and challenging applications. However, this isn't only enough to hire an app developer.
Apart from this, here we have gathered some important questions that you need to ask while hiring a Flutter app developer:
How many years of experience do you have with mobile app development?

Do they have any experience working on Flutter app development?

Could you please share your portfolio of Flutter apps?

What's your experience working with the Dart Programming Language?

Is Any of your Flutter apps available in the App Store?

How many downloads are on your Flutter App?
In order to seamlessly work with your team, make sure Flutter app developers have some skills like cooperation, teamwork, creativity, work management, and conflict management.  
Apart from this information here, we have covered all the important facts that make it easier to hire the best app developers for your next project.
FAQs
1. What is Flutter: Understanding the Philosophy Behind
Flutter is Google's framework that uses the Dart programming language and enables you to develop high-performing cross-platform applications. It offers an SDK to developers to build applications for Android and iOS, but also for macOS, Windows, and Linux. 
It was launched in 2015 and is the newest framework for developers. But the ease of accessibility and comprehensive features of this framework makes it stand out in the market. Businesses from all domains prefer to hire Flutter developers to build an app.
As the Flutter community and its documentation provide a faster learning curve to the developers, therefore it will better chance to launch an app faster to the market.
2. Why Do Businesses Choose Flutter for App Development?
As stated above, Flutter is clearly becoming the prime choice of developers. But the question is why startups are inclined towards Flutter for cross-platform app development.
Here are a few good reasons why startups should think of inventing Flutter for app development:
Lower Efforts Involved in App Development
Developing a native app for both platforms is always challenging. Since Android and iOS apps are built with platform-specific programming languages, so it will be time-consuming.
However, when you hire cross-platform app developers, you can save up to 40% on app development time. With the Flutter framework, developers have to work on a single code base and make the same app run on multiple platforms.
Lower Testing Time and Easy App Maintenance
When it comes to developing a full-fledged mobile app, it takes a huge effort to test the app on multiple platforms. Using a cross-platform app development framework like Flutter, QA only has to test one version of the application. Instead of checking the app's performance on fifty devices and operating systems, they can test a single code base. 
Enhance Your App's Performance Instantly With Hot Reload
The hot reload feature of Flutter makes it far easier for developers to instantly uplift the app's performance. It allows developers to fix the bug in the app without experiencing any downtime. They can make changes in live code based on the backend and keep the app running smoothly. 
Reducing App Development Cost
The app development cost is majorly concerned with the time consumed for writing codes and testing the codebase. However, when startups decide to hire Flutter developers, they can easily reduce the app development cost. As Flutter is attached with low development and lower testing efforts. 
Flutter Ensures A Faster Time To Market
Flutter mobile apps are developed with a single codebase and involve less testing time as compared to native apps. Therefore, entrepreneurs are able to launch apps faster to the market and able to capture a wider target audience with a single app version.
Easy Access to Third-Party Plugins
Mobile apps can be easily scalable as Flutter app development comes with a wide choice of free-to-use plugins and widgets. The availability of the UI toolkit makes the development process seamless and smoother. 
Maintained and Supported By Google
Undoubtedly, Flutter is comparable to a new framework, but Google is constantly investing in Flutter to make it a primary technology. And being supported by Google means developers will get outstanding documentation and quick solutions to resolve issues. 
In a nutshell, these are a few potential reasons why startups and entrepreneurs are more inclined towards Flutter. On the other hand, a few businesses are worried about whether they will stay in the future. 
Even brands like Alibaba, Tencent, and more have already adopted Flutter. In addition, it is a baby of Google and the constant feature updates of Flutter are showing a positive rise. So let's start digging to find out how much it costs to hire a Flutter app developer. 
3. Why Choose India to Hire Flutter App Developers Rather Than the Philippines or Ukraine?
According to various facts and stats, India has become a popular choice of location to hire the best app developers at competitive prices. And AppsDevPro is one of the leading platforms to outsource Indian Flutter developers as they have a pool of experienced developers.
But the question is, why choose India to hire app developers instead of the Philippines or Ukraine?
Well, the matter of fact is, whether you are a startup or an entrepreneur, money is always the biggest constraint. But never compromise the quality of service over money. So here is the major difference between hiring programmers from India and the Philippines or Ukraine:
Communication is the key to success in the app development process. Any kind of communication gap can lead to blunders and easily ruin your project. Whether you hire a Philipino or Ukrainian Flutter developer, the language barrier is the major problem. Whereas, Indian app developers are fluent in the English language and are able to understand your project development needs without any gap.
It is globally accepted that the Indian market is the most affordable location to hire mobile app developers. But it doesn't mean they have low skills. Instead, due to the excessive competition, highly skilled app developers are ready to work at affordable prices.
Flexible To Work In Different Time Zones
The biggest perks of working with Indian team is they are flexible to work with different time zones. In fact, they deliver you assured project quality and strive to meet the deadline.
Conclusion: How AppsDevPro Help You Hire a Flutter App Developer?
As discussed above, the cost of hiring a Flutter app developer depends upon various factors and choices. But AppsDevPro is one of the early adopters of Flutter technology and allows you to hire Flutter developers with 5+ years of experience.
We have a pool of dedicated mobile app developers that you can hire at an hourly rate of $20 to $25+. Leveraging the domain experience, we help our clients create apps as they have envisioned to achieve their business goals.  
————————————————————————————————————————————————–
You can also check our other services:
Hire Mobile App Developers, Hire Xamarin App Developer, Hire iPhone App Developers, Hire Android App Developers, Hire Flutter App Developer, Hire React Native Developer, Hire Kotlin Developer, Hire Web Developer, Hire PHP Developer, Hire Laravel Developer, Hire Nodejs Developer, Hire Microsoft Developer, Hire ASP.NET Developer, Hire Angularjs Developer, Hire Reactjs Developer, Hire Vue.js Developer, Hire E-commerce Developer, Hire Magento Developer, Hire WordPress Developer, Hire MERN Stack Developers, Hire MEAN Stack Developers, Hire App Developers